Even if you are an experienced hiker it is super easy to forget something that you really need. This is our ultimate hiking packing list. Post it on your wall, and check off these key items before you hit the trails!
Different hikes call for different gear and hiking clothing. You can use this complete hiking packing list as a starting point to create a day hike packing list, or for longer hiking trips like overnight hikes, weekend hikes, multi-day backpacking trips, and thru-hikes. Simply add or subtract items from your pack depending on how long you will be out on the hiking trails.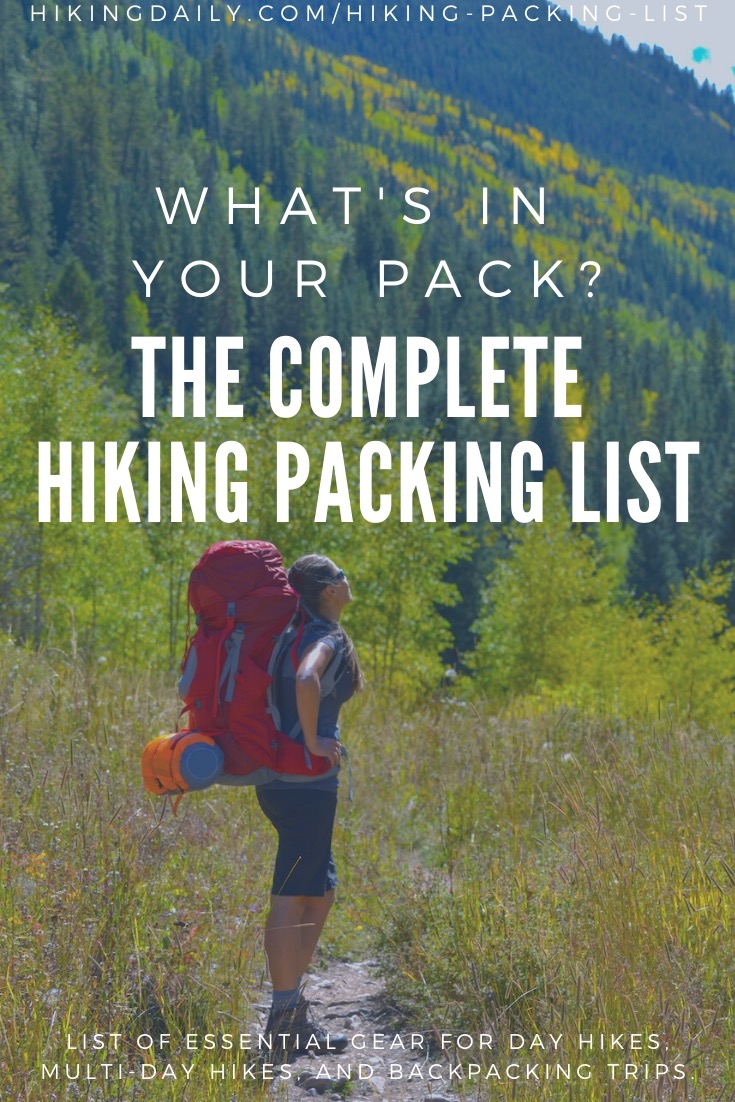 The Ultimate Hiking Packing List
Bags/Packs
The first thing you are going to need is a variety of bags to organize your hiking gear and clothing.
Shelter and sleeping gear
Tent or camping hammock
Tarp or tent foot print
Sleeping bag
Sleeping bag liner
Sleeping pad
Pillow
Food + Drink
Next, it's time to think about what will keep you powered up. Bring a variety of hiking food and hiking snacks if you are going to be out on the trails for longer periods of time. More options make eating more interesting. Okay, this is what you need:
Meals (plan by the number of days of your trip)
Snacks (energy bars, nuts, chips, etc.)
Beverages (coffee, tea, powdered drinks)
Water supply (bring what you can)
Water bottles or water bladders
Water treatment device
Your outdoor kitchen (cooking gear)
Heading out for a multi-day hike or backpacking adventure? Then you will need to bring along some gear to prepare your meals.
Backpacking stove and fuel
Matches and lighters
Cookware set (pots and pans)
Dinnerware set (plates, bowls)
Utensils (for eating and cooking)
Biodegradable dish soap
Steel wool and sponge
Coffee maker (mini Bialetti or titanium french press)
If you are going to get the Bialetti (do, they rule), get the one we recommend with the extra rubber gaskets and filter plates. They will break down eventually, and nobody wants a situation where they can't make coffee, correct? Indeed, indeed.
Whether you are out on a day hike or extended hiking or backpacking trip, hiking navigation gear is super important. Nobody wants to get lost, right?
This is what you should have in your arsenal:
Paper maps
Trail guides
Map bag or case
Compass
Binoculars
Clothing
First, check out our guide to hiking clothes for a complete overview. It covers everything you should have in your closet for all seasons of hiking.
Warm weather clothing
During the summer or hot climates staying cool will retain your energy and comfort.
Cold weather clothing
In the winter or cold climates, you must stay warm to avoid hypothermia. Make sure to bring a collection of layers that you can add or remove to maintain a comfortable body temperature.
Wicking base layer (long sleeve shirt )
Wicking leggings or long underwear
Fleece jacket or vest
Wool hat, beanie, or balaclava
Face mask (for extreme cold and wind)
For additional information on what you should bring in very cold weather check out our snow hiking guide, winter hiking gear list, and our guide to the newest winter hiking boots.
Rain protection for wet weather
At some point, it could rain, and you must stay dry. Get high-quality rain gear for your hiking adventures. Staying dry could save your life. In some hiking destinations (such as the Pacific North West), you may be hiking in the rain for days. In other climates, like here in Colorado, rain and thunderstorms can suddenly appear in the high country during Summer months. Be prepared!
Rain jacket and rain pants(waterproof/windproof)
Waterproof gloves
Rain hat (with large brim)
Be sure to check out our guide to hiking in the rain for more on wet weather hiking.
Hiking footwear
Before you hit the trails, make sure you have appropriate hiking footwear.
Safety gear for hiking
Safety for you and your hiking party is essential. Make sure you are fully prepared for the worst-case scenario. Brush up on your first aid skills so you know how to take care of yourself or a fellow hiker. Super important. Devise an emergency plan. Next, get the right gear and understand how to use it before you go hiking. Also, be sure to review out the ten essentials of hiking.
Emergency communication device
Personal locator beacon
Cell phone
Survival bracelet
Extra days worth of food
Sun protection (sunblock/sunscreen, sunglasses)
Bear spray
Personal Items
Watch
Flashlight
Trekking poles (for long hikes, backpacking, thru-hikes)
Hiking knife or multi-tool
Parts for stove
Spare batteries for electronics
Solar charger
Towel and face cloth
Tooth brush and toothpaste
Biodegradable soap
Skin moisturizer
Lip balm
Toilet paper
Trowel aka mini shovel
Insect repellant
Pen and paper
ID or Passport
Permits
Money (cash and coins), ATM/credit cards
Trip itinerary left with family/friends
There you have it, the ultimate hiking packing list. Never forget a key item again.
We use affiliate links and may receive a small commission on purchases. Please read our disclosure.