The pumpkin spice latte is back and that means summer is on its way out. In most places, fall means cooler temperatures and more precipitation, whether that is rain or snow. To stay comfortable and safe, fall hiking outfits need to be ready for anything.
With layers to shed for warmer weather and add when the temperature drops, it doesn't matter if the weather forecast is accurate. Fall also requires heavier hiking bottoms, warm socks and footwear, and accessories like gloves and hats.
Of course, spring weather is very similar to autumn so these hiking outfits work for both shoulder seasons.
Here's how to build a hiking outfit for all the weather you might encounter in autumn. As always, these recommendations combine function and style.
Fall Hiking Outfits
There are three layers that make up a fall hiking outfit – on top anyway. There is the base layer to wick away moisture, a mid-layer to keep in the heat, and an outer layer to block out wind, rain, and snow.
On the bottom half, pants or leggings need to block the wind. And stay warm from head to toe with a beanie, gloves, and wool socks.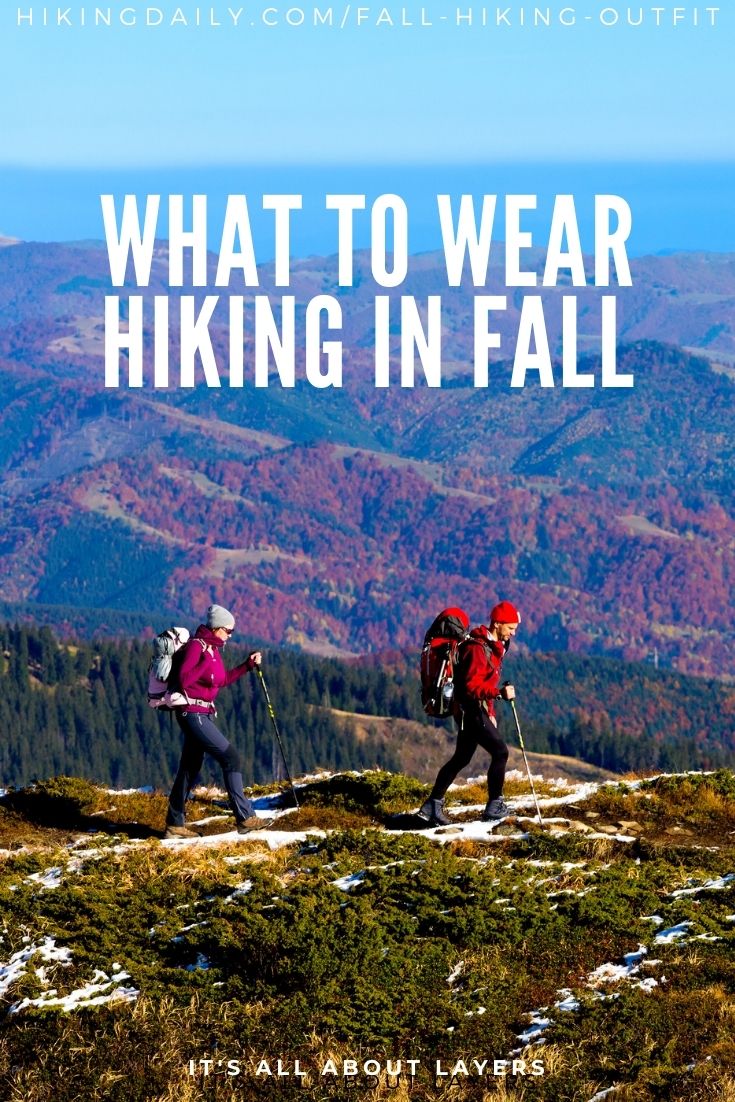 Be sure to also check out our guides to hiking outfits for women and all-season hiking outfits.
Base Layers
The key to hiking in every season is layers. The base layer is the first one you put on and the closest to the skin. Comfort is essential as well as moving perspiration away from the body.
Moisture-wicking fabrics aren't just for summer. They keep you warm in winter and cool in summer. In cooler conditions, wicking layers keep your skin dry. This prevents overheating as well as getting cold, or even worse hypothermic.
If you prefer t-shirts, the same summer hiking shirt works. Or upgrade to a long-sleeved silk, wool, synthetic, or blend base layer. All base layers are lightweight but you can go for a thinner or thicker shirt, depending on your preference and location.
Fall Base Layer Tops For Men
Silk
The ultimate breathable fabric, silk is softer and lighter than wool or synthetics, but also pricier. Like most silk garments, base layers usually need to be hand-washed.
Wool
Wool is renowned for combining warmth and breathability without creating odors. Base layers sometimes label the the wool content. For fall, a lightweight 125g up to medium 200g is adequate.
Smartwool Classic Thermal Long-Sleeve Top (WOMEN | MEN) This mid-weight merino shirt is one of the most popular base layers with extended sizes. The updated shape plus a range of colors and designs look like a shirt instead of long underwear. The original classic with limited colors and a lower price is also available for men and women.
Synthetic
Synthetics will usually be cheaper and softer than wool. These polyester blends can get smelly but some shirts use an anti-microbial finish to minimize odors. Synthetics should be changed daily
Patagonia Capilene Midweight Crew Layer Top (MEN | WOMEN) The Capilene fabric balances weight, breathability, and performance while the slim cut style fits under layers. Size up for a looser fit. If you prefer a blended fabric, Capilene Air adds 51% Merino wool to the recycled polyester.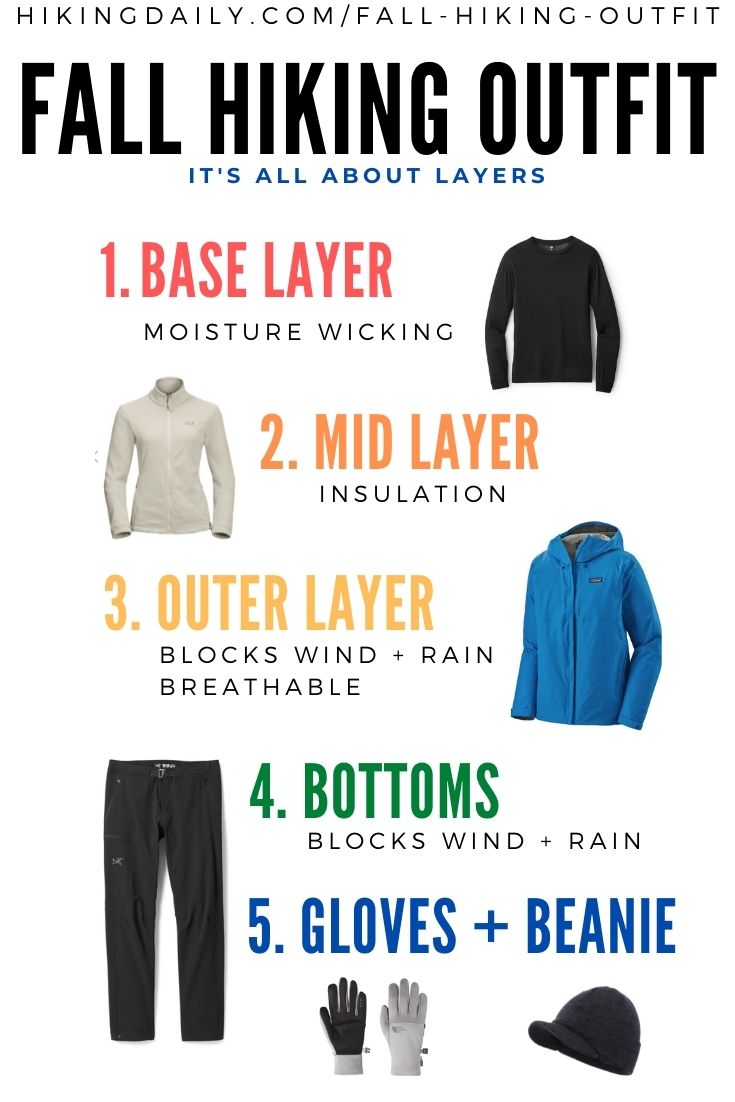 Midweight Layers
The goal of midweight layers is warmth, without sacrificing breathability. Mid-layers should be insulated but not bulky so they are still lightweight and easy to layer.
Vests are a great choice that maintains warmth without overheating. Fleeces and lightweight jackets are excellent too. If you run hot, look for pit zips to vent heat. You don't have to go buy something new though. Wool and cashmere sweaters also get the job done.
Sometimes the mid-layer is all you need and is worn on the outside. Some of these options are treated with durable water repellent, or DWR, a treatment that helps moisture bead up on the surface. This is not the same as waterproofing but helps keep water out. Wool naturally does the same thing.
Vests
Vests are ideal for keeping warm without overheating. It's a jacket without arms and therefore made of all the same materials as jackets – synthetic, wool, down, and fleece
Synthetic Vests
Patagonia Nano Puff Insulated Vest (MEN | WOMEN) – A good synthetic vest should have adequate warmth without the bulk that synthetic insulation can have. The Nano Puff makes you look good with a flattering cut slim brick quilting and feel good with PrimaLoft Gold Insulation Eco, 100% post-consumer recycled filling.
Wool Vests
Smartwool Smartloft Vest (MEN | WOMEN) – Wool is a popular material for hiking clothes and now it is being used as insulation. This vest combines wool and polyester insulation for a lightweight, breathable, and packable vest. The outer layer is made of wind-resistant nylon has a durable water repellent (DWR) coating. The women's version comes with a hood.
Down Vests
REI Co-op 650 Down Vest 2.0 (MEN | WOMEN) I generally avoid budget down because of the unknown conditions and higher percentage of feathers vs down. However, REI uses responsibly sourced sown, recycled materials, and a Fair Trade Certified factory while making a stylish vest that rings well under $100. With 650 fill down and durable ripstop nylon with DWR, this vest can be a mid or outer layer. The men's vest goes to XXL and women's vest includes 3X.
Fleece
Fleece is warm and breathable but doesn't block the wind. This makes it an ideal mid-layer. Look for light or midweight fleece vests or jackets that can add a shell over top.
Fleece Vests
The North Face Cragmont Fleece Vest (WOMEN) Most fleece vests for women are boxy and unflattering. This high-pile vest is warm, trendy, and cut to skim over wider hips.
Kuhl Interceptr Vest (MEN) Men's fleece can also be boxy but not this one. The cut and side panels add maximum warmth while cutting down on bulk. Pair it with a fleece jacket in town or your favorite base layer on the trails.
Fleece Jackets
Lightweight Insulated Jackets
Like a fleece, light jackets can be a mid or outer layer. Jackets use down or synthetic material for insulation. Down is lighter weight and packs down smaller but costs more and may not come from ethical sources. Synthetic filling is more waterproof, hypoallergenic, and cheaper but heavier, bulkier, and not as durable.
Here are the best hiking jackets to help you choose.
Outer Layers
A shell jacket is an outer layer that blocks wind, rain, and snow. Shells are not insulated and designed to be worn on top of other layers.
Water-resistant shells are adequate for most places but get a waterproof shell if rain or snow is expected. Hard shells, commonly known as rain jackets, are completely waterproof but also breathable. A soft shell jacket is somewhere in between a hardshell and a fleece. They are more breathable than a hardshell, more wind- and water-resistant than a fleece, but not as weather-resistant as a hard shell.
Hard Shells: Waterproof and breathable
Outdoor Research Helium Rain Jacket (MEN | WOMEN) – This ultralight rain jacket is designed for rainy hikes. When you don't need it, it packs into its chest pocket and weighs only 6 ounces. Sizing ranges from XS to XXXL.

REI Co-op REI Co-op Rainier Rain Jacket (MEN | WOMEN/WOMEN'S LONG LINE) – As always, this REI jacket is affordable and functional. Made of recycled ripstop nylon shell, it blocks rain and wind up to 60 mph. The shell is also breathable and has pit zips.

Outdoor Research Foray II GORE-TEX Jacket Gore-Tex is the gold standard in waterproof, windproof, and durable shells. The guaranteed protection comes with extra weight, noise, and cost. This shell uses a lighter version of the fabric for a feel and price that is closer to a rain jacket. The women's version is called the Aspire II and is also available as a longer trench coat-style. These jackets range in size from XS to XXXL.
Soft Shells: Water-resistant and breathable
Hiking Bottoms For Fall
For fall, hiking bottoms need to block the wind but still have the other qualities of summer outdoor gear – stretch, dry quickly. Can wear summer hiking pants with thin long johns underneath or invest in a heavier pair. For even more weather protection, check out these winter hiking pants.
Fall Hiking Pants for Men
Outdoor Research Balebreaker Pants – Winner of Outside Magazine's Best Hiking Gear of 2021, these nylon/spandex blend pants combine durability, stretch, and style. They are water- and wind-resistant as well as breathable, quick-dry, and UPF 50+.

Kuhl Revolvr Rogue – These straight-leg pants feel like cotton but are lightweight, stretchy, and durable. They look good enough to wear in town, feel good enough to lounge around in, and are durable enough to wear on epic outdoor adventures.

Arc'teryx Gamma LT Pants – For cooler weather, these lightweight pants shed rain and keep you warm. Arc'teryx is known for a longer, slimmer fit.
Fall Hiking Pants and Leggings For Women
For women, alternatives to pants include fleece-lined tights, worn with or without a skirt.
Fjallraven Abisko Trekking Tights – This Swedish company knows how to design for tough weather. These tights are no exception. These leggings feature water-resistant fabric, reinforced knees and seat, and side pockets.

REI Co-op Hybrid Flash Tights and Plus Size – Somewhere in-between tights and pants, these rugged bottoms are comfortable and have a convenient phone pocket.

REI Co-op Trailsmith Jogger Pants – Co-op brand clothing has upped their style game while maintaining the low prices and high quality it is known for. These joggers add 2% elastic to cotton for extra stretch. Reinforced knees and pockets extend the life of these pants, even when worn for week long camping trips and every day style.
Hats + Gloves
The extremities are the first to get cold. That includes the feet, hands, and head, especially the ears. Wool socks will keep the toes toasty.
Gloves
For many people, the hands are the first part of the body to get cold. Walking with hands in pockets can increase the risk of falls so always bring gloves. Here are the best hiking gloves for a range of conditions plus a pair that don't need to be removed to use a phone.
Beanies + Headbands
A fleece headband keeps the ears warm while letting heat out. For more protection, try an itch-free wool beanie. For when it is sunny and cold, a beanie with a brim combines warmth with the coverage of a baseball hat. And of course, you can just pull up your hood.
Hiking Footwear For Fall Weather
Cooler and wetter weather affects the feet too. Put away the hiking sandals and mesh shoes and put on something with full coverage to keep out the wind and water. Here is our hiking footwear guide to get you started. Also be sure to check out these complete and up-to-date guides: Best hiking shoes for men, best hiking shoes for women, best hiking boots for men, best hiking boots for women, best winter hiking boots, and hiking shoes for kids.
---
Colder weather hiking
Before we know it the snow hiking and winter hiking season will be here too. Check out our complete guides to winter hiking gear, winter hiking pants, winter hiking boots. Be prepared, stay warm, safe, and be comfortable in the colder weather.