Hiking outfits for women need to be comfortable and functional but they should also look good. Between new outdoor brands starting all the time and established go-to favorites, it is easier than ever to find clothes that feel and look good for short walks and long hikes.
As much as has changed in style and clothing, many things stay the same. The crisp and classic hiking outfit with a white shirt, khakis, and leather boots will never go out of style. It just gets updated with new materials.
If you prefer the latest look, modern hiking clothes don't sacrifice performance for style. The same flattering cuts and attractive colors as current trends are just made from durable and moisture-wicking materials.
In the past and today, hiking outfits for women means a skirt. Instead of long, woolen skirts, modern hiking skirts are knee length with stretchy, water-repellent, and long-lasting fabric that also block the sun.
Check out these three hiking outfits that are inspired by the past but use today's technology.
1. Classic Women's Hiking Outfit
Before official hiking clothes were created, the typical outdoor outfit for men and women was a collared shirt, khaki bottoms, wool socks, leather boots, and a rucksack. That classic look is still functional and stylish, and maybe even more comfortable than ever, with lightweight materials and cuts designed for women.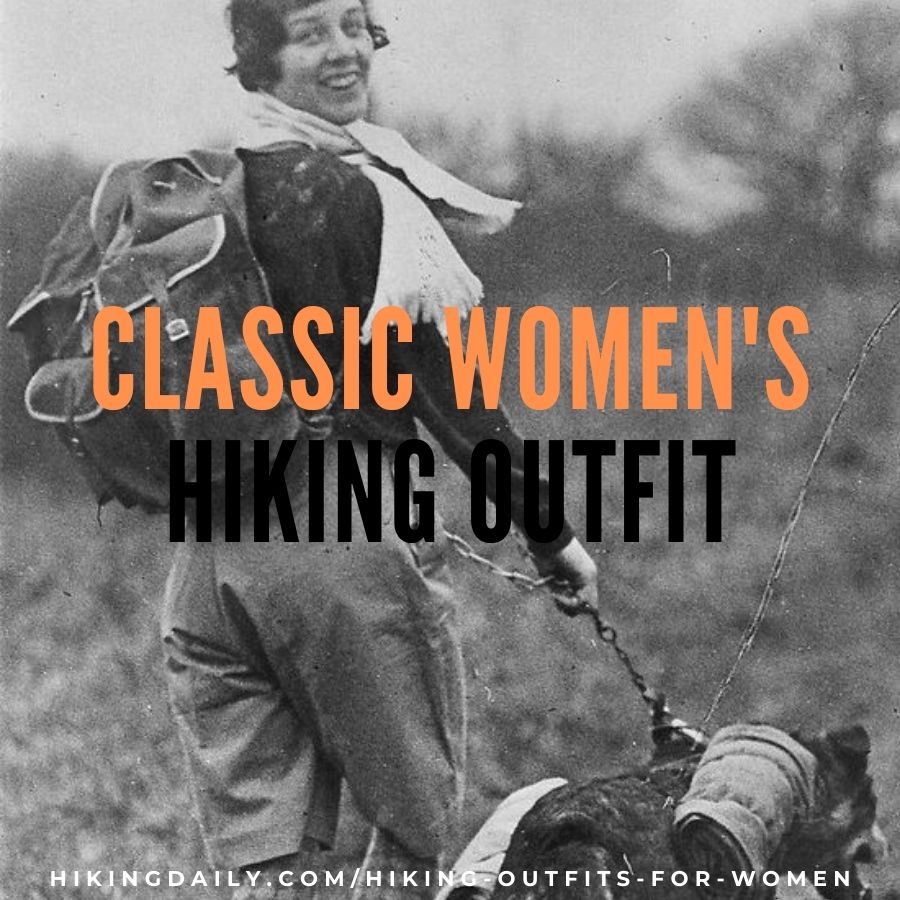 It's easy to adapt this style for every season. Long pants and sleeves keep out the chill of the spring and fall as well protecting skin from the sun and scratches over the summer.
For summer heat, long sleeves can be rolled up and down as the weather changes. When it's really hot, wear a t-shirt and shorts or capris.
For fall, flannel is a warmer fabric, and add a vest or jacket for warmth. On the bottom, add some thin long johns or wear wool hiking pants.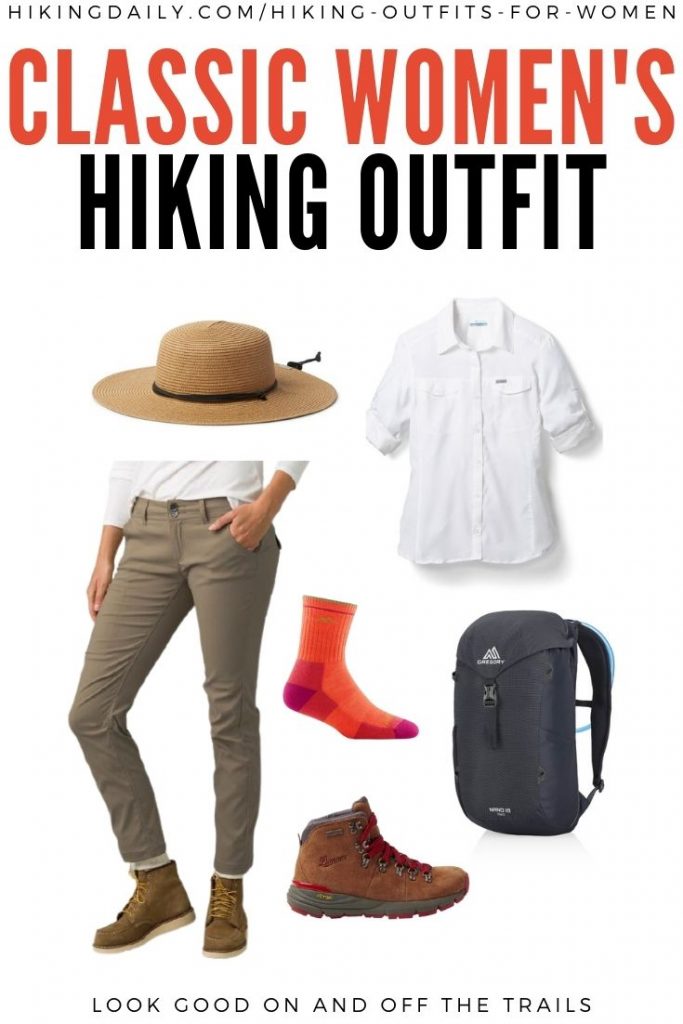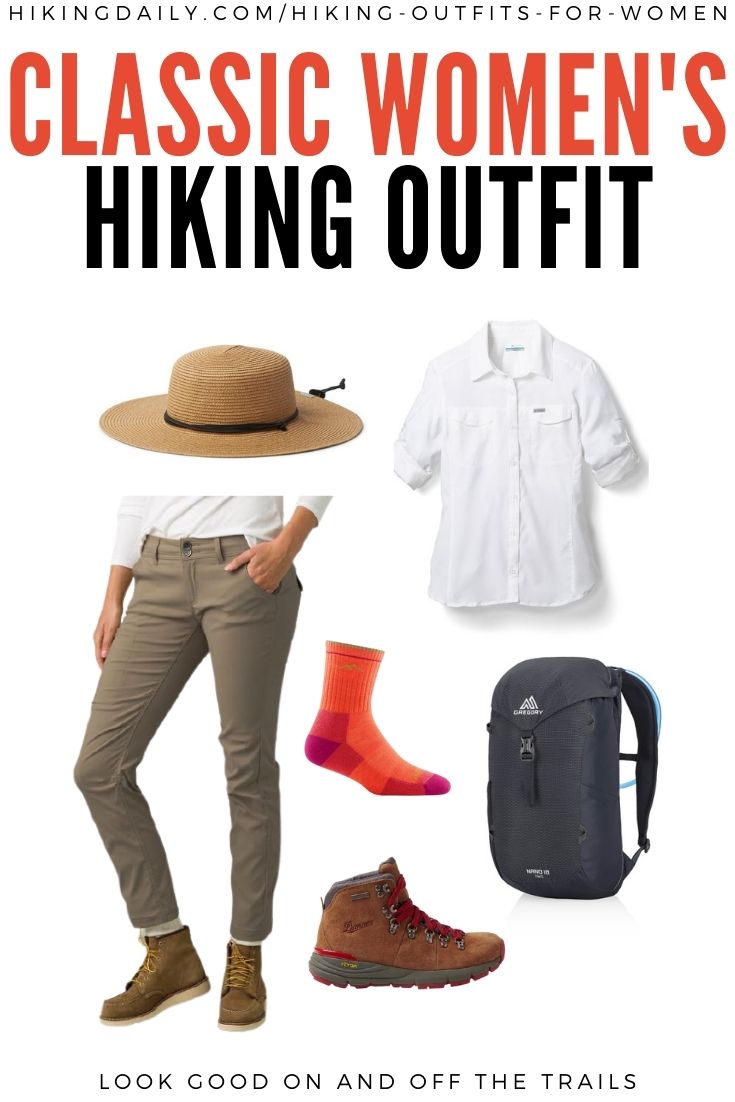 Get The Look
From top to bottom:
Straw Hat
Columbia Global Adventure Packable Hat II – A 360º brim keeps the sun off the face and back of the neck. This version rolls up to pack so take it on every adventure.
White Shirt
Columbia Silver Ridge Lite Long-Sleeve Shirt – Made of ripstop polyester, this classic button-up is designed for the heat. It wicks away moisture, dries quickly, and blocks the sun. Tabs keep rolled-up sleeves in place.
Rucksack
Gregory Nano 18 H2O Hydration Pack – This pack keeps it simple with a drawcord opening and holds 3L of gear. It also comes with a 101-ounce hydration bladder.
Khaki Pants
prAna Halle Straight Pants – These look like regular pants but theStretch Zion fabric protects from sun, water, and scratches from rocks. The cut is fitted but relaxed with articulated knees to enhance mobility. Inner tabs keep pants rolled up to the knee for a transition to capris without the zipper.
Wool Socks
Darn Tough Hiker Micro Crew Cushion Socks – Today's wool socks add nylon and spandex for a more comfortable fit. The price point is high but these socks are worth it for the comfort, look, and lifetime guarantee. Plus they frequently go on sale.
Leather Hiking Boots
Danner Mountain 600 Hiking Boots – This shoe uses modern materials to recreate the classic leather boot with red laces. These hikers are lightweight, waterproof, with soles that provide plenty of rebound and support.
2. Modern Hiking Outfit
Athletic clothes have come a long way since the advent of hiking. Now, these clothes are cute and comfortable as well as high performance. Here are some hiking outfits with modern gear.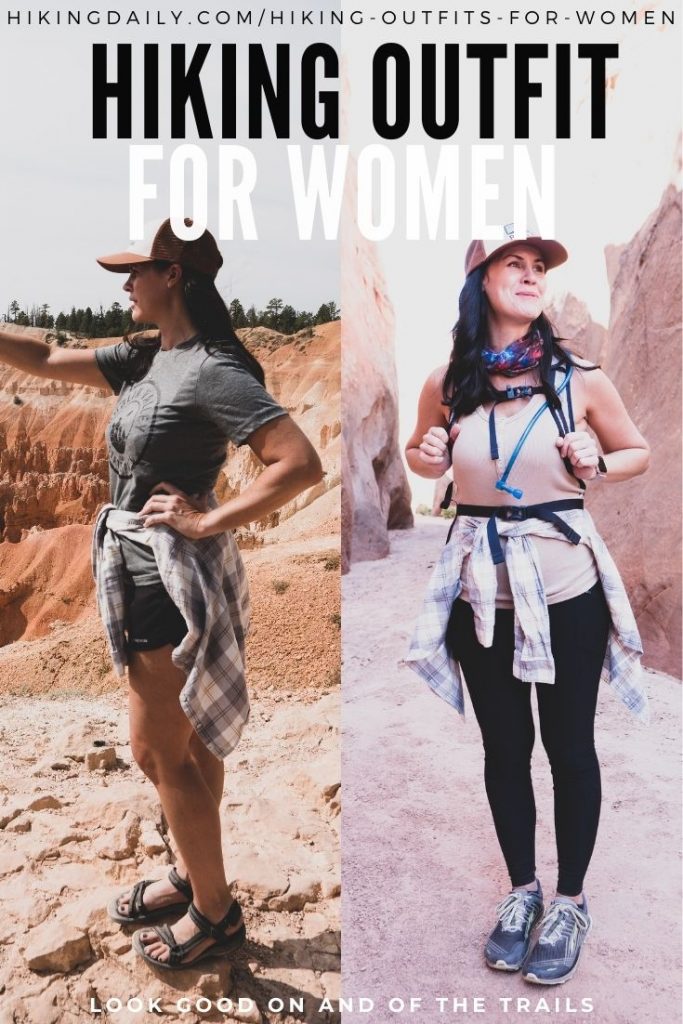 Starting with bottoms, there are so many options for fabric and fit. Stay cool in running shorts, breathable joggers, or lightweight leggings from knee to ankle length.
On top, tanks or tees both work. It's all about the fabric. With leggings, there are plenty of longer tops that cover the tush or a flannel shirt around the waist does the same thing.
For footwear, there are many choices beyond the hiking boot. There are hiking sandals, low-top hiking shoes, and trail runners like Hokas.
For fall and winter, add a vest, anorak, fleece, and/or shell. It's all about layering.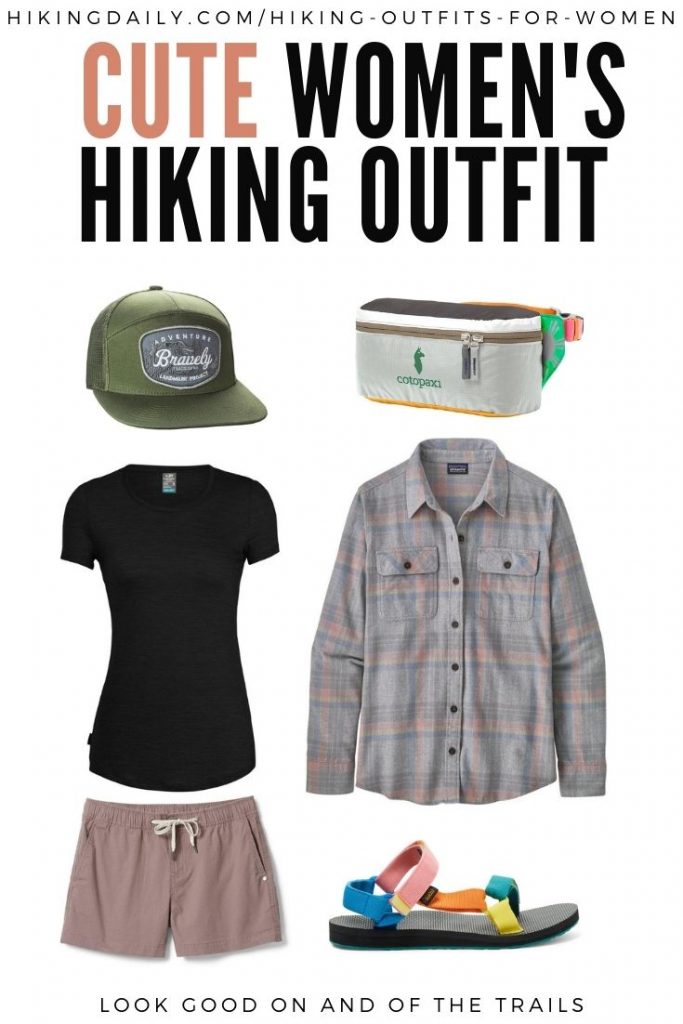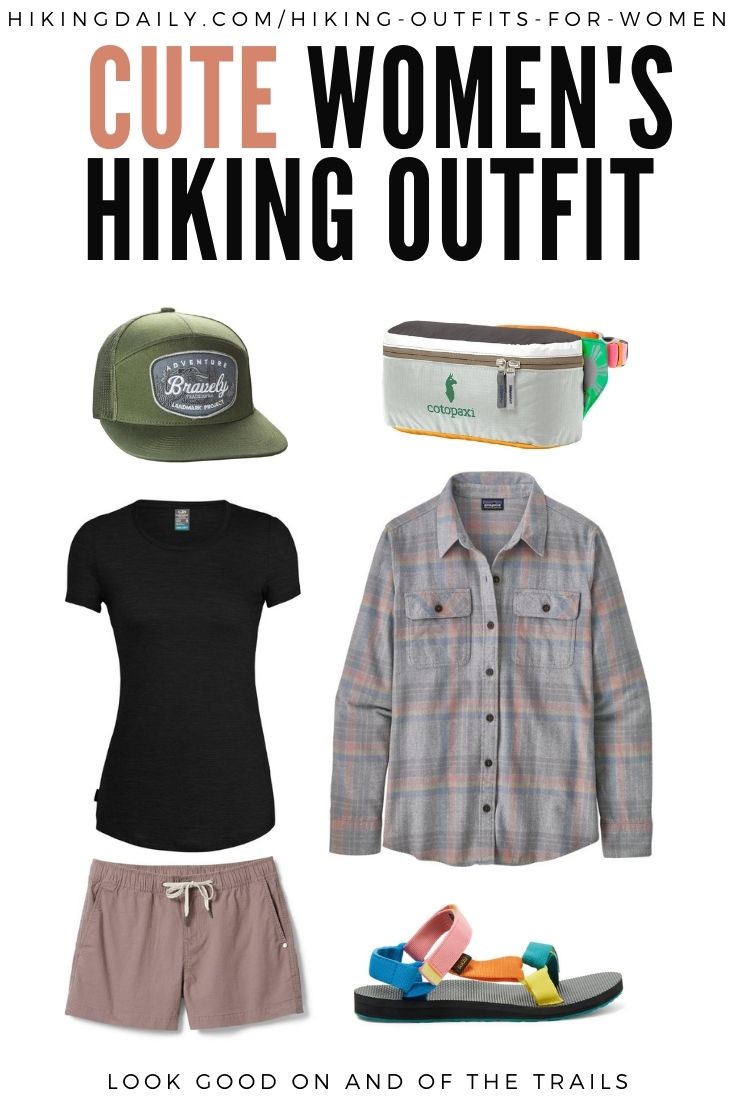 Get The Look
Trucker Hat
Landmark Project Adventure Bravely Hat – The mesh-backed trucker hat helps keep you cool. This South Carolina-designed hat is made of recycled plastic and organic cotton.
Moisture-Wicking T-Shirt
Icebreaker Sphere Low Crewe T-Shirt – Moisture-wicking fabrics are breathable and pull sweat and water away from the body to dry quickly. This keeps you cool and as fresh as possible. The best choices are a wool blend or polyester. I like both but this combination of Merino wool and Tencel fibers has a flattering cut and is naturally odor-resistant.
Hiking Shorts
Vuori Ripstop Shorts – Hiking clothes need to be tougher than your average workout gear. These shorts fit the bill, made of durable ripstop fabric plus five pockets. If the 3.5″ inseam is too short, check out these bermudas or lightweight joggers.
For more shorts, check out our complete guide to hiking shorts.
Waist Pack
A fanny pack is an efficient way to carry the bare necessities for walks or keep items at hand for longer hikes. The Cotopaxi Bataan is still my favorite.
Flannel Shirt
Patagonia Fjord Flannel Shirt – A long sleeve shirt is a must-pack item for every hike. This mid-weight flannel is made of soft organic cotton and will keep you warm on windy peaks and fall days.
Hiking Sandals
Finally, a hiking sandal that is fashionable and functional. I'm partial to this color-block Teva but they offer a great selection of colorways and patterns.
3. Hiking In A Skirt
The first female mountaineers wore skirts and you can too. Then, most skirts were long but today's hiking skirts are knee-length and made of the same durable, waterproof, moisture-wicking fabric as other hiking bottoms
Here's Emmeline Freda du Faur, the first female mountaineer to climb New Zealand's highest peak Aoraki (Mount Cook) in 1910. Like many of us, she enjoyed the escape from the constraints and frustrations of family and society that hiking and mountaineering provided.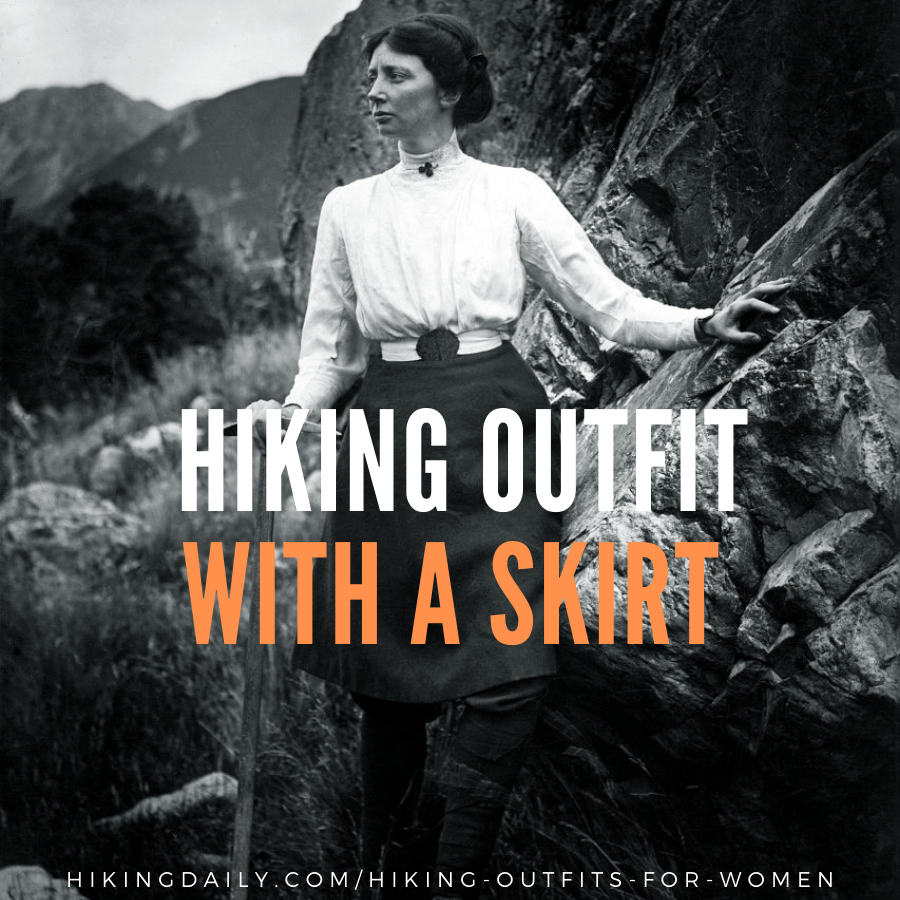 Du Faur's skirt wasn't her first choice of hiking attire. At the time, being alone with her male guide as an unmarried woman was considered inappropriate. She conceded to wearing a knee-length skirt over knickerbockers and chaperone for her summit.
Following her achievement, she continued to mountaineer without the chaperone but kept the signature outfit because she appreciated the femininity as well to challenge the ideas of physically active women. We've come a long way since then but many of those stereotypes still exist. Perhaps wearing a skirt during rigorous exercise continues to send the same message.
Why wear a hiking skirt?
Hiking skirts are so comfortable that some men wear them too. Or kilts, anyway.
Skirts get the most airflow, even when worn with something underneath. It can be easier to use the "facilities" in a skirt. And finally, skirts are also more modest if you need to get changed at a campground or parking lot.
Modern hiking skirts are usually cut to the knee and/or A-line for a full range of mobility. Although, longer skirts are also available. Some hiking skirts and skorts come with built-in bottoms. That is a personal preference but interior shorts can ride up and don't let you choose or leave out lower layers.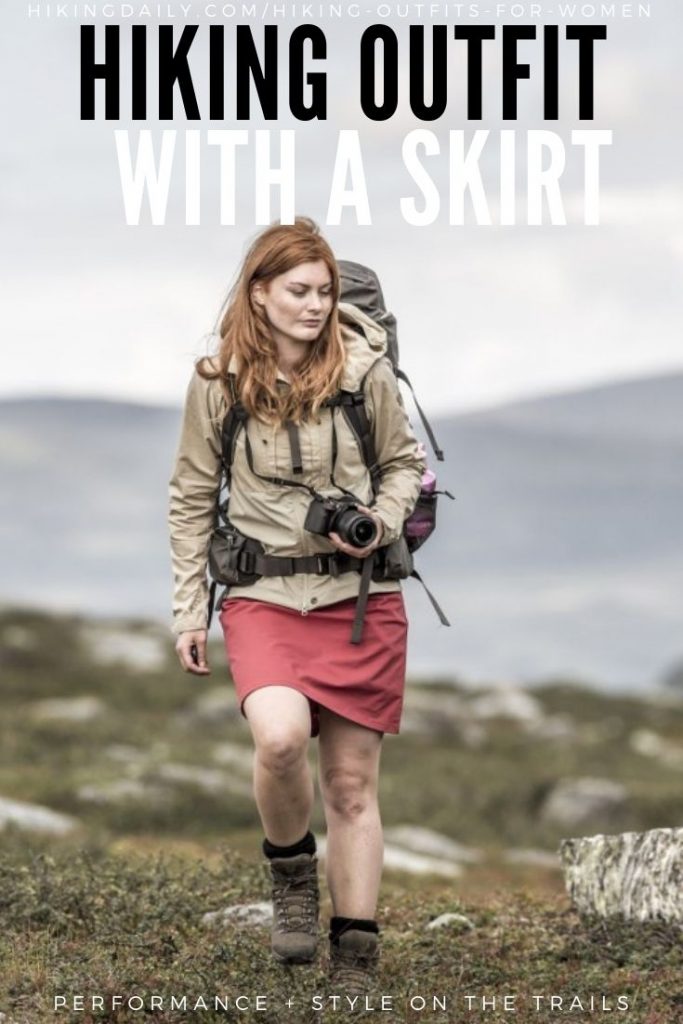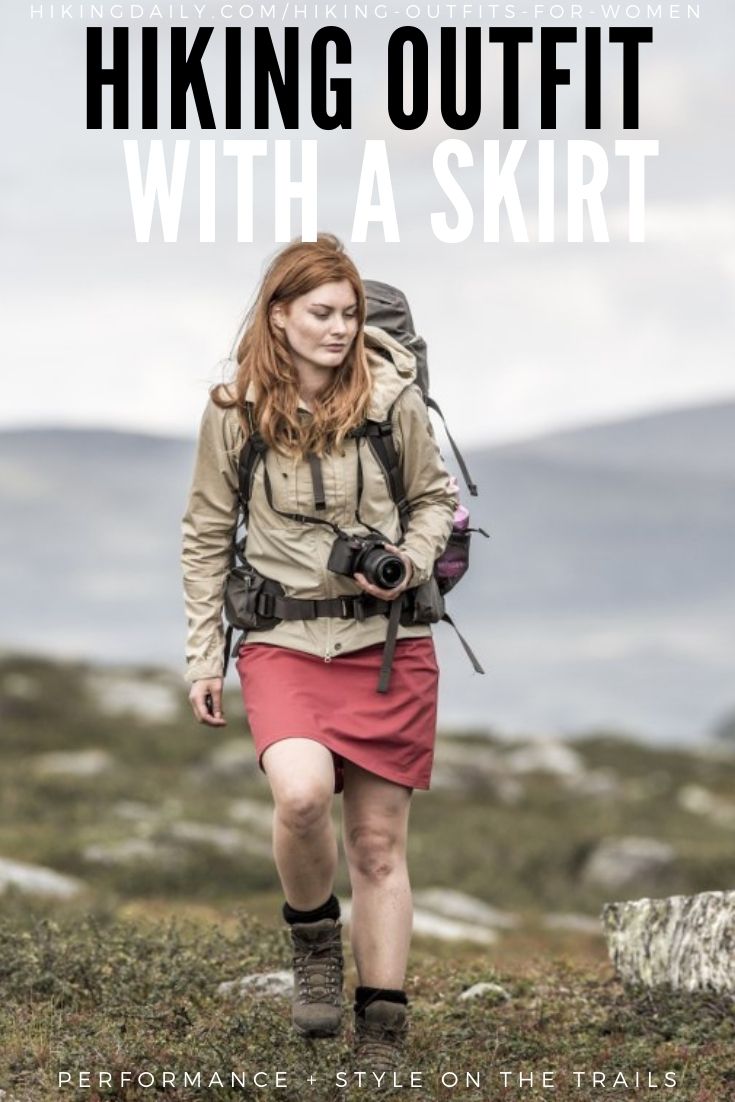 A hiking skirt is just like any hiking bottom and can be worn with a tank top, t-shirt, long sleeve, or your preferred layers. For more coverage or to prevent chub rub, wear compression shorts, short leggings, or tight shorts underneath. An anti-chafing formula like BodyGlide also works.
Footwear with hiking skirts is the same as any other outfit. Hiking sandals are cute with a skirt but so are socks and hiking shoes or boots. To protect legs from the underbrush, try wearing taller socks. They can be pushed down for the heat and pulled up as required.
For colder weather, just wear thicker leggings under your hiking skirt. There are also insulated skirts for the coolest months.
Get The Look
Any of the above-mentioned shirts, shoes, hats, and packs work with a skirt. Here are some cute and comfortable hiking skirts and skorts to try on.
Hiking Skirts + Skorts
There aren't as many hiking skirts available as other bottoms but here are some of the best skirts and skorts.
REI Co-op Sahara Guide Skirt – With stretchy and durable fabric that repels water and blocks UPF, this hiking skirt can take you anywhere you want to go.
Jack Wolfskin Sonora Skort – This German outdoors brand is not as well-known stateside but it should be. This stretchy skort features and soft shorts underneath. It is cute enough to wear to a casual dinner and comes in five colors.
Patagonia Fleetwith Skort – Made of a blend of polyester and Spandex and a faux-wrap front, this skort is comfortable and cute. The interior shorts are also stretchy with a 4″ inseam.
Hiking Clothing Tips
You probably already have some of these items in your closet. Choose clothes by type of fabric first. Polyester, spandex, and wool all wick away sweat and dry quickly. Stay away from 100% cotton clothing, which does neither and can even chafe.
Now you're looking good but let's make sure you're ready for anything. Even in summer, the weather can be unpredictable. Always bring extra layers like a long sleeve shirt, shell, or fleece. Maybe even gloves and a hat, depending on where you are hiking.
It is always better to have brought something you don't use than want something you don't have.
Underneath The Outfit
What you don't see is as, or more important, than the clothes on top. While synthetic or wool underwear offer superior performance, anything that won't give you a wedgie will do.
Hiking isn't a high-impact activity so a sports bra isn't always required. Like on top, moisture-wicking fabrics will keep you comfortable. Check out this Merino wool bralette from Branwyn that wicks sweat and odor for day hikes or backpacking trips.
And remember, while it feels good to look good, nothing feels better than the accomplishment of a good hike so just get out there.
---
For additional hiking clothing options, check out our complete guides to Fall hiking outfits, and what to wear hiking.