Colorado's San Juans contain some of the most spectacular, rugged mountains in the lower 48. From alpine lakes to alpine meadows, and towering 14ers, this region of the state literally has it all.
The San Juan mountain range contains many mountains above 14,000 feet and countless other peaks above 12,000 feet. The summer months come with access to the high alpine and beautiful wildflowers. Old mining towns summarize the San Juan region. These are now great places to stay while exploring the great hiking.
While the San Juans contain some of the most rugged mountains in the lower 48, this does not mean that they contain the most challenging hikes in the lower 48. However, the San Juan region has dangerous mountain thunderstorms.
When hiking in this region, it is incredibly important to get below the treeline as early as possible. This is in order to avoid the possibility of a thunderstorm. A lightning strike can be fatal. Mountain weather is unpredictable. Be sure to check the weather before you head out for a hike, but just know that afternoon thunderstorms can form any day. A great rule of thumb is to get below treeline before 1 pm, 2 pm at the latest.
Another important factor to consider for hiking in the San Juans is the snowpack. Snow can be up at high altitudes well into the middle of the summer. It's best to check up on conditions from other trail users on Alltrails.com, or also on 14ers.com.
Something else to consider is vehicle access. Many of the trailheads are accessible only by 4WD cars. We did our best to only list trailheads that are not limited to 4WD drive access, but the road conditions can change. As with snowpack status, be sure to check road status in the user comments. However, having a capable 4WD vehicle can be one of the best ways to experience this area, as there are many passes accessible only by 4WD.
When hiking in the San Juans it is easiest to day hike from one of the former mining towns in the area. Consider staying in Telluride, Ouray, Silverton, Durango, or Lake City to stay centrally located with easy access to hiking in the region. Due to the area's ruggedness, even just driving along the million-dollar highway is spectacular. You will understand very quickly why some people call this area the Switzerland of America!
Due to the region's high altitude, be sure to be educated on the signs and prevention for illnesses associated with high altitude. It can be dangerous to acclimatize too quickly. Be sure to start with some easier hikes before attempting a 14er or something strenuous and at a high altitude!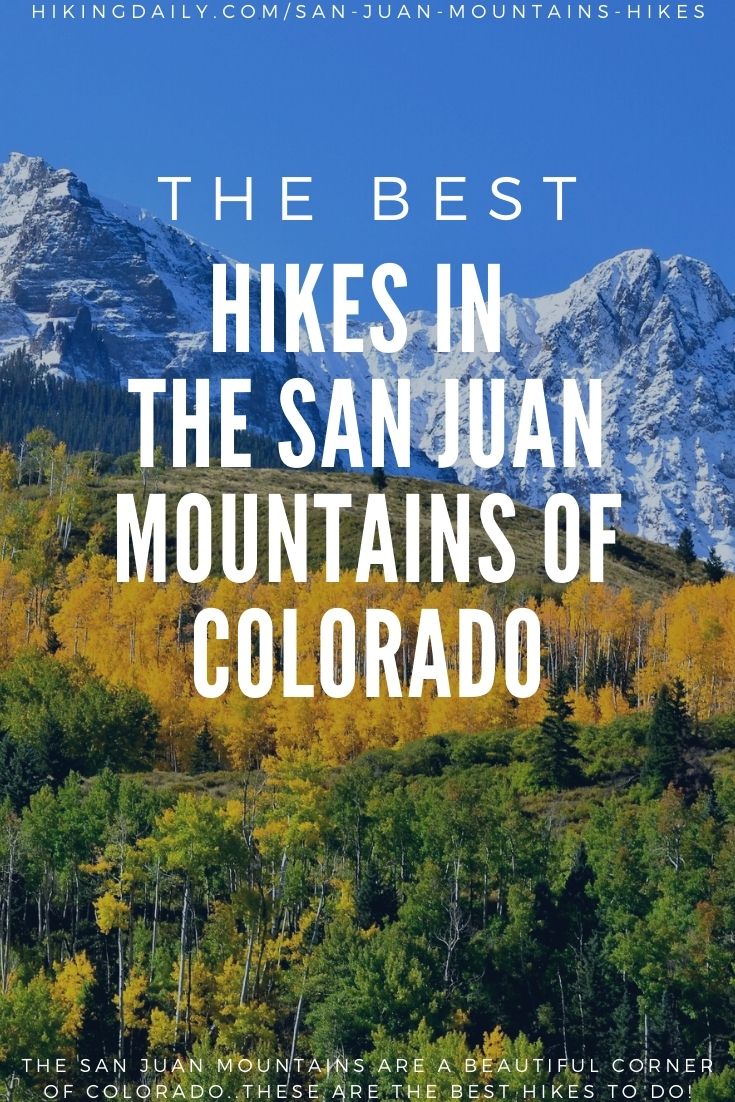 Best Hikes In the San Juan Region
The next section will take a look at some of the most popular hikes in the San Juan region. This will include the great San Juan region except for the Weimuche wilderness, as this popular area deserves its own article!
For the most part, these hikes will go from easiest, to hardest, in order to prepare you for some of the toughest 14ers in the state! Most of the hikes are either to stunning alpine lakes or to towering alpine peaks! Hiking in the Colorado San Juan mountains is an experience not to miss.
Length: 5 miles
Elevation Gain: 1,092 feet
Just flew or drove down to the San Juans? This hike will warm you up for what's to come! This hike literally starts in Telluride. The gradual climb up Bear Creek canyon provides great views of the town and the surrounding mountains. In the fall these Aspens show off their gorgeous colors. At the top of this town, you will be rewarded with a great view of a large waterfall. Welcome to the San Juans!
Length: 5.7 Miles
Elevation Gain: 1,843 feet
This is another popular hike that can be done right from the town of Telluride. This hike is about 75% more elevation than the Bear Creek trail. You will need a high clearance vehicle to make it up to the trailhead, or be prepared to add an additional 6 miles round trip to your hike. On this hike, you will pass by waterfalls, have a great view of the town of Telluride, and the surrounding peaks. The best part about this hike is getting to the stunning Blue Lake, which is rightfully named.
Length: 6 Miles
Elevation Gain: 1,515 feet
This popular trail near the town of Ophir boasts some stunning mountain views as well as access to another gorgeous alpine lake. Due to this lake's location at high altitude, be sure to wait until midsummer to hike this one. Snow can last at this high elevation well into the start of July. Being that this is not that long of a hike, with little elevation gain, this too could be a great hike to start with on your trip to the San Juans.
Length: 4.3 Miles
Elevation Gain: 1,883 feet
This is a great trail to not only check out some of the fantastic views of the town of Ouray and surrounding peaks, but it also gives you an opportunity to explore some of the history of the local mines. This hike also includes a waterfall. While the overall elevation is not too much, be ready for a gradual, steep, section up the switchbacks.
Length: 8.3 Miles
Elevation Gain: 2,933 feet
One of the incredible part about the San Juans is the access to some rather incredible alpine lakes. Not only does this allow you to hike up to a stunning blue lake, but it also gives a stunning view of the mountains just outside of the town of Silverton. Be sure to check out this old mining town. There are quite a bit of tough switchbacks, but the views of the mountains, the wildflowers, and the stunning color of the alpine lake.
Length: 8.6 Miles
Elevation Gain: 3,070 feet
This is another fantastic alpine lake hike with access from just off of the million-dollar highway. While this loop has you visiting multiple lakes, you can certainly do a shorter version of this hike in order to just head up to Ice Lake. This is one of the most famous alpine lakes in the region and spoils you with a deep turquoise blue. Due to the steep nature of the last two miles, lots of people recommended bringing trekking poles to assist with the rough, steep trail.
Length: 5.3 Miles
Elevation Gain: 2,440 feet
Ready for something a little higher in elevation? Try Handies peak, one of the easiest 14ers in the state. With a class 1 rating, a hiking length of just under 5.5 miles, and elevation less than 2,500 vertical feet, this is a great 14er to tackle while in the San Juan region. While this is considered an easy 14er, all 14ers should be taken seriously. Start early with a plan to be back below the treeline before early afternoon.
Length: 8.8 Miles
Elevation Gain: 3,648 feet
Looking for another great hike in the area with some different scenery? Look no further than Redcloud peak. Redcloud peak is another 14er, but this 14er has some different scenery than the rugged San Juans you might be used to. Due to the San Juan's volcanic history, this peak has a desert look to it, with bright reds and yellows. It might sound corny, but the views from Redcloud peak are really "otherworldly."
Length: 13.0 Miles
Elevation Gain: 5,501 feet
Have you hiked everything else in the area and are up for a greater challenge? Get ready for a tough 5,000 feet of vertical up one of Colorado's most famous and daunting 14ers, Mount Sneffels. This hike literally has it all and would be a great final hike before leaving the San Juan mountains. This is the crown jewel of hiking in the San Juan mountains. Not only do you get to hike past the famous blue lakes, but you also get to summit a stunning and famous Colorado 14er. Make sure to do additional research when undertaking this serious hike. It should be noted that this is not the only way to hike Mount Sneffels, there are other trails to climb this peak.
Length: 17.5 Miles
Elevation Gain: 6,407 feet
Did Mount Sneffels and want to continue to challenge yourself? This might be the next hike for you. Unlike the other hikes we have mentioned, this hike calls for class 3 scrambling. Please only attempt this hike if you have experience scrambling at high altitudes. This hike allows you to climb not one, but two 14ers in the area. The elevation gain is rather grueling, be sure to be well-rested and get an early start. Bring lots of water!
We hope this serves as a great primer for sending you off on some fantastic hikes in the San Juan region! This area should be on the bucket list for any serious, or novice hiker alike. Happy hiking!
---
For more on hiking in Colorado, check out these guides: Colorado Trail Gear List, Hiking Colorado's 14ers, Best Hikes in Colorado, Best Hikes In Boulder Colorado, Rocky Mountain National Park, Indian Peaks Wilderness, and Best Winter Hikes in Colorado.