Hiking by yourself is a rewarding and magical experience. I love being lost in my thoughts and surrounded by nothing but nature. Oh, and did I mention the joy of setting your own pace? Despite its many perks, solo hiking can be daunting. While some of you may be seasoned pros, many of us feel more like Cheryl Strayed in the movie Wild – embarking on an epic adventure with little to no experience.
In this article, I share some well-tested tips and tricks from veteran solo female hikers. After reading, I hope you feel a little less like Cheryl and a lot more like Katniss.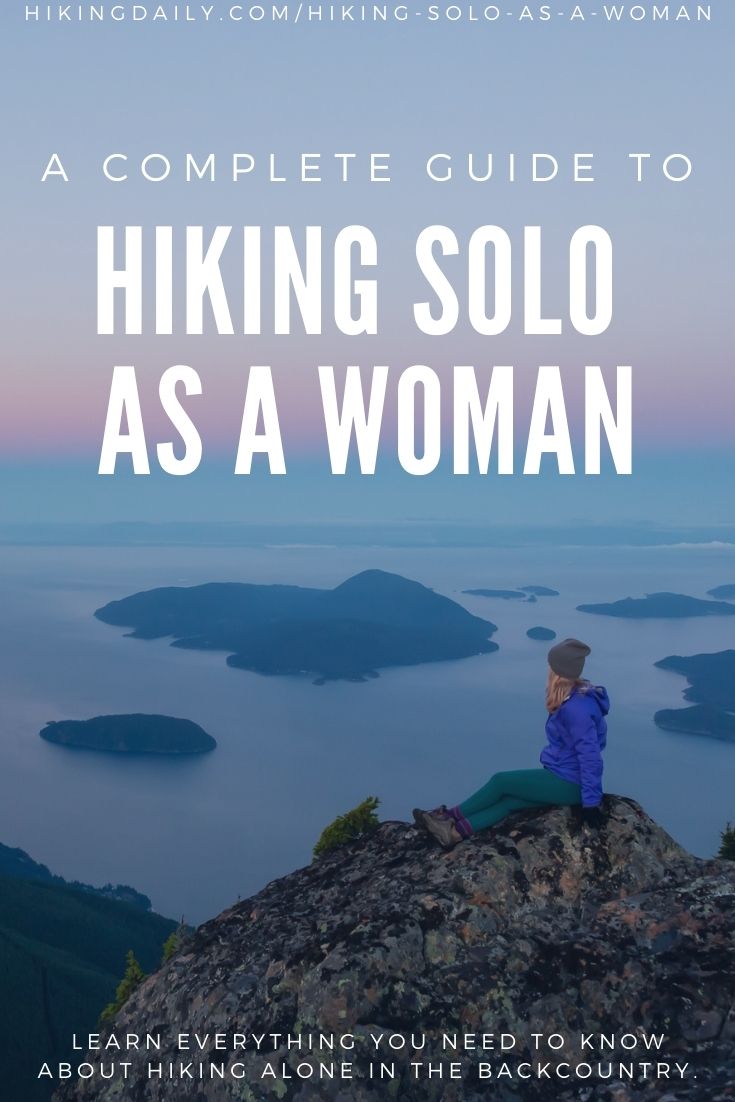 Benefits of Hiking Solo
From following your own plan to peeing whenever you please, the benefits of solo hiking are endless. Some of my favorite perks include:
Build Self Confidence: Solo hiking is daunting at first, but the more you do it, the stronger your skills and the greater your confidence.
Learn From Your Mistakes: When hiking by yourself, there is no one to tell you where to go, what to wear, and where you are. Hiking by yourself allows you to learn from your mistakes, making your skills stronger and building your confidence.
Get Stronger: There is no one else to carry your gear and help you brave the elements.
Learn More About Yourself: Hiking solo gives you the time and space to process all of your thoughts, feelings, and traumas.
Hiking Whenever I Wish: We all have bailed or been bailed on plans. Going out solo ensures that you still get your nature fix!
Hike At Your Own Pace: Whether you are training for an ultramarathon or getting up from a week on the couch, hiking at your own pace brings you closer to your personal goals (rather than waiting for or chasing behind a partner).
Process Your Feelings, Traumas, Anything You Need: In our busy lives, it is challenging to find the space and time to process. Hiking alone gives you more time for thinking, writing, and reading.
Is Hiking Solo Dangerous?
"No American bats an eye in our modern age when women shop alone, drive alone or eat alone. But hike alone, and you are most assuredly going to turn heads and acquire unsolicited lectures." – Karen Somers in her article, "Should Women Hike Solo? Absolutely, Says One Trail Veteran"
I approach fear by diving deep into the pits of Google Scholar. Before my first big solo hike (the Trans Zion Trek), I studied countless academic reports of women's safety in the wilderness. One article from Backpacker articulated that "Your risk of being a victim of a violent crime is thousands of times lower in a national park than in the country as a whole." In the same article, Dr. Jennifer K. Wesley, a professor of criminology and criminal justice at the University of North Florida explained that women are more likely to experience violence by someone they know, rather than a creepy dude hiding behind a tree. To Wesley, "The fear is what's holding women back, not the reality. Women are not in more danger in wild spaces."
Though statistically, women are safer in national parks and wilderness, the backcountry is still perceived as a white, masculine space, and entering one requires a sincere reflection into gendered experiences in the outdoors. Not to mention, these reports focus on the experiences of white, cisgender women. Perceptions of safety and experienced violence are unique and underreported for BIPOC women and LGBTQIA+ women. You can check out Alexa Everson's, "A Black Woman's Guide to Feeling Safe in the Outdoors" from Melanin Basecamp and Maggie Fuller's, "Essential Tips for LGBTQ Travelers in the Great Outdoors" to learn more. If you are interested in dismantling barriers to outdoor access, check out Diversify Outdoors, Native Outdoors, Native Womens Wilderness, Outdoor Afro, and LatinX Hikers. These organizations focus on expanding inclusivity and diversity in the backcountry and amplifying the voices of BIPOC leaders in the outdoors.
The fears of solo hiking are valid, but should not prevent you from experiencing the joys of being alone in the wilderness. Below is a compiled list of what you need to know before a solo hike, so you can follow Eleanore Roosevelt's advice to "do the things you think you cannot do."
Know Yourself and Your Abilities
Challenging yourself is critical to improving fitness and hiking skills. However, a solo hike poses greater risks and should be within or close to your limits. There is no shame in starting small and working up in distance and difficulty. In fact, building a strong foundation keeps you fit, knowledgeable, and safe.
If you are looking to practice hiking solo, try some local and popular trails. It is a great way to learn and test your abilities, and there are more likely to be some helping hands in case you get hurt or lost.
Plan Ahead
Studying a trail route ahead of time builds your confidence and understanding of the local area. You can learn more about the hiking trail from regional guidebooks and websites/apps like AllTrails or Hiking Project.
Before you head out on your adventure, I recommend fiddling with these apps and learning how to use their navigation tools.
Additionally, sites like Accuweather and Mountain Weather Forecasts provide informative, localized weather forecasting to better prepare for future environmental conditions.
To help prepare for your solo hike, review Hiking Daily's 5-Step Hiking Safety Plan. If you do not have a route planned yet, check out The Best Hikes + Hiking Travel for some inspiration!
Before you set off for your adventure, sharing travel details with your friends and family is an important safety precaution. In a shared document, I recommend including details such as:

– The specific dates you intend on leaving and returning
– The planned route (try your best to correspond dates and location, and include possible alternative directions)
– Your car details and license plate number
– An alternative phone number to reach you, such as a GPS/Satellite communicator
– The contact information of local authorities (i.e. the county sheriff's department, local ranger station)

This information is critical in case of an emergency. However, do not share your solo travel details on social media or with strangers.
Leave A Message In Your Car
Before you set off on your adventure, it is good practice to park near the trailhead in a conspicuous spot and include a folded note on the driver's seat. The note should include your departure date, when you plan to return, and what route you are hiking.
Invest in a GPS/Satellite Communicator
No matter the adventure, if you plan to lose service, a GPS/satellite communicator like the Garmin inReach Mini is essential. Not only are they crucial in an emergency when you need to contact law enforcement or search and rescue, but they help your loved ones know you are safe. If I am running late on an adventure, I use my Garmin inReach to contact a parent or friend to let them know I am OK.
There is a wide selection of GPS/satellite communicators on the market, so do your research to find which one is best for you. Here is our Garmin inReach Mini Review and guide to the Best GPS Hiking Watches.
Bring a Furry Friend
Not only are dogs a great deterrence to wildlife and creeps, but they provide some great company. If you would like your dog to become your #1 adventure buddy, check out some Must-Have Dog Hiking Gear to keep you and your furry friend prepared.
Carry Some Protection
Before an adventure, check out a National Park/Forest Service website to understand the local wildlife. Depending on who lives there, you may need extra protection like bear spray. To ward off stalkers and creeps, I often bring a sizeable knife and keep it in my pants pocket (show 'em what you are packing). Knives come with the benefit of multiple uses, and a big one on your leg makes you look like a Charlie's Angel.
Get First Aid Certified
If you are hiking by yourself, there is a greater risk if you get hurt. To prepare for this possibility, it is a smart idea to invest in basic medical training. Programs like the REI Outdoor School and American Red Cross will help you conquer the initial shocks of a medical emergency. Classes through REI will be focused on outdoor recreation and accidents.
Don't Forget the Twelve Essentials:
The Ten Essentials for hiking were likely made by dudes. Here is my expanded, women's version.
You can learn more about the official Ten Essentials for Hiking and Backpacking here.
First Aid
Navigation
Headlamp
Knife or Multi-Purpose Tool
Fire
Extra Water
Emergency Shelter
Sun Protection
Extra Food
Extra Clothes
Birth Control: Even if you don't plan on having a romantic time in the woods (if you know what I mean…), if you are on the pill, it's a good idea to bring your packet along and stay on schedule. If you immediately stop taking them before an adventure, you may experience some unknown side effects.
Menstrual Products: Tampons, pads, a diva cup, extra toilet paper (we have all been there). Sometimes Mother Nature surprises us in the best ways – and the worst. It is best to be prepared. And, if you don't end up needing these products, they could always help a trail sister in need.
Pro Tip: Having the right hiking clothing is also essential. Here are some of the Best Hiking Gear for Men and Women.
When Hiking Solo, What to Do If…
You encounter a creepy person
Though you (unfortunately) may be well accustomed to dealing with creepy dudes, it can be much scarier when hiking solo. In case you encounter a threatening individual, get away from him as quickly and safely as possible. If they follow, turn on your vocal cords and be as loud as you can, screaming "no" or anything you need. When you have found a safe place or a trail buddy, call 911 and/or the nearby ranger station. (This is a case in which a satellite communicator would come in handy).
Remember that you have a right to be angry, a right to fight back, and a right to safety.
You encounter wildlife
All animals are different, but there are some general rules for if you encounter wildlife:
Talk slowly and quietly
Slowly back away
Do not separate a mother and her young
Carry pepper (or bear) spray and know how to use it
To avoid wildlife encounters, try:
Making noise
Avoid hiking at dusk or dawn
Do not wear headphones
You get lost
Getting lost is frustrating and scary. I follow the STOP plan:
Stop what you are doing and take some deep breaths. Remind yourself that you are prepared and confident. Try your best to not panic, so you can better focus on what do next.
Think about where you were last. How long was it until you noticed you were lost? Did you see any landmarks? Was there a fork you may have missed? Before you retrace your steps, do not move until you had enough time to calm down.
Observe your compass or terrain map. Are you on an established trail? If so, follow that trail. Are there any nearby streams or rivers? At last resort (and if safe), follow a water source downstream, as they typically lead to a road or a trail.
Plan your next steps. Are you calm and level headed? Follow the previous steps to get yourself back on track. Is it dark and you are tired? If you can, stay put and reorient yourself in the morning.
Pro Tip: Practice navigating before your solo hike. You can review our guide to Hiking Navigation for Beginners. Additionally, a GPS and/or satellite communicator like the Garmin inReach Mini can be the saving grail in case you get lost.