The Garmin Instinct group of watches has become a fantastic choice for hiking, backpacking, or trail running.
The set of features and capabilities has come a long way in the past few years of its existence.
The Garmin Instinct is a versatile, rugged, solar-charging GPS smartwatch. It is available in two sizes. The larger screen size is the best choice.
Check REI | Check Backcountry | Check Amazon
This watch can track your hikes, runs, and other adventures. It easily syncs up to other apps like Garmin Connect or Strava.
If you want more features in a hiking watch, we recommend the Garmin Fenix 7 GPS watch.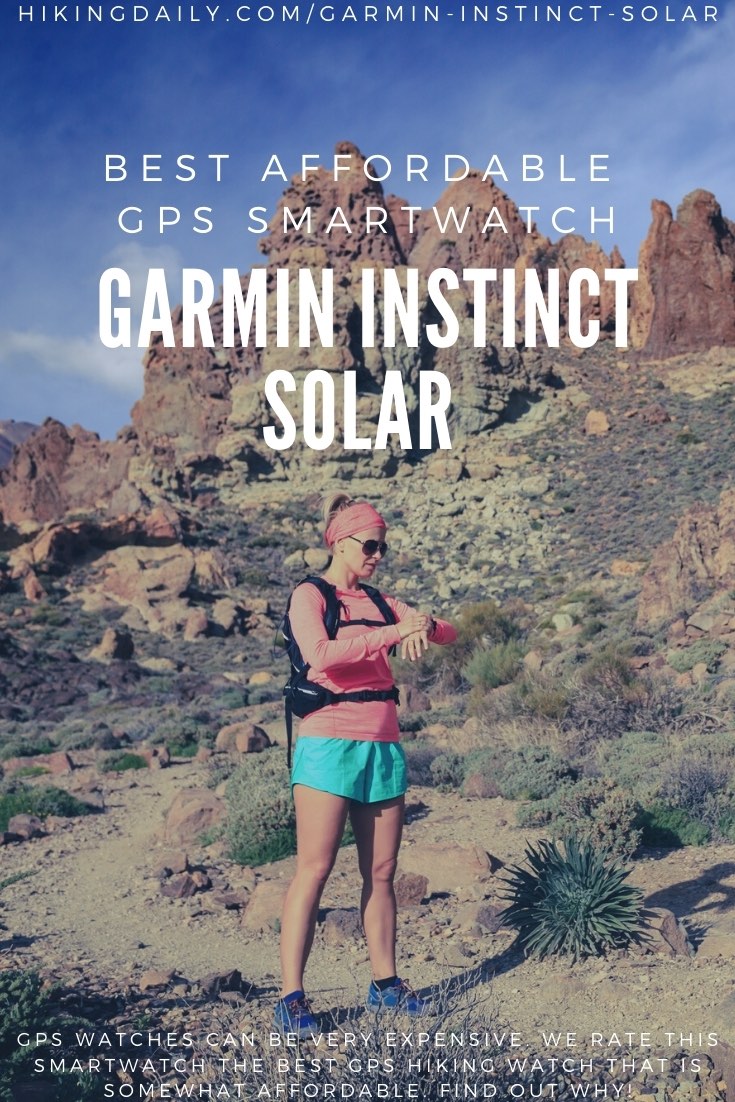 What to love about the Garmin Instinct Solar Watch
Crazy long battery life with solar charging
Super durable U.S. military standard 810 toughness
Water-resistant to 100m (10ATM)
Multi-satellite support from GPS, GLONASS, and Galileo
Built-in sports apps to track your progress and activities
Smartphone notifications on your wrist
Scratch-resistant Corning Gorilla glass
Power manager to further extend battery life
Wrist-based heart monitor
Pulse Ox2 sensor monitors your oxygen absorption
Stress tracking and body energy monitor
ABC sensors (altimeter, barometer, compass)
Tracback routing
Pairs with Garmin InReach Mini and Garmin Explore App
These are some amazing features for a hiking GPS watch that costs less than $400.
Now, take a quick moment to watch Garmin's short video about the brand new Instinct Solar watch.
Now that you have a high-level understanding of what this watch offers, let's now review the details that make this the best most affordable GPS watch.
Top features of the Garmin Instinct Solar
I love it when a company improves its products quickly. I really am amazed at what Garmin has managed to do with the Instinct Solar in just one year. There are so many awesome features that you just could not get on a watch at this price point a year ago.
Extra long battery life
The battery life for this watch is nothing short of incredible. If you are hiking or backpacking in a sunny climate, I would be shocked if this watch power died on you. Essentially, you have very near infinite battery power with this watch.
Smartwatch Mode: Up to 24 days, 54 days with solar
Battery Saver Watch Mode: Up to 56 days, unlimited with solar
Full GPS Mode: Up to 30 hours, 38 hours with solar
Max battery GPS Mode: Up to 70 hours, 145 hours with solar
Expedition GPS Activity: Up to 28 days, 68 days with solar
Amazing! Not only do we think this is a great GPS watch for hikers, but due to this long battery life, we think it is also a great option for trail runners.
Very durable: U.S. military standard 810
This watch is tough and is built to the U.S. military standard 810. This means that it is shockproof and water-resistant to 100 meters. The Corning Gorilla Glass on this watch is scratch-resistant as well for those accidental moments.
Multi GNSS Support
Do you adventure around the world? With the Garmin Instinct Solar, you can access multiple global navigation satellite systems (GPS, GLONASS, and Galileo). Super important if you like to travel.
Built-in Sports Apps
If you are a multi-sport fanatic then you will love the built-in apps for surfing, swimming, running, biking, hiking, rowing, strength training, and more.
Smartphone notifications
This is a superb feature for fast-moving hikers that are constantly on the move. Toss your smartphone in a zipper pocket or your daypack and get going! Now you can see important notifications on your watch as you cruise to your destination. Relay emails, texts, and other data directly to your watch face.
Power manager
Certain settings and sensors drain battery life. Battery life is key in the backcountry. The power manager that is in the Garmin Instinct Solar watch allows you to extend battery life to the max by implementing different combinations of settings. For example, turn off certain sensors you are not using, or make the watch check-in on GPS location less often along the trail. Super simple.
Wrist-based heart monitor
Get heart rate data on the go with alerts from the wrist-based heart monitor. Get an instant idea of how hard your heart is working on your hikes. Adjust your activity accordingly.
Stress tracking and body energy monitor
Usually, hiking reduces stress and invigorates your overall energy levels. Know for certain with the wrist-based heart monitor and get an idea when you might need to take it easy.
Pulse Ox2 sensor
Heading up to high altitude? This watch allows you to gauge how well you are acclimating to the altitude as you hike. The Pulse Ox2 sensor uses light beams fired at your wrist to gauge how well your body is absorbing oxygen. This is an incredible feature, especially for those that are coming from lower altitudes. As you get higher up you will feel the effects of altitude. This feature will help you decide when you need to take a break, drink some water, eat some food, and inhale more oxygen to avoid altitude sickness which can become a serious health concern quickly.
ABC sensors
ABC sensors help you navigate the trail and avoid sudden shifts in weather. What are ABC sensors? The Garmin Instinct Solar has a built-in altimeter to keep track of elevation data. The watch also has a barometer to monitor the weather and alert you of upcoming changes. Finally, keep track of your direction with the three-axis electronic compass. There you have it, ABC.
Tracback routing
Knowing where you are going and where you have been is a mandatory feature of a GPS watch for hiking. As you go, the Garmin Instinct Solar watch drops breadcrumbs that allow you to navigate the same route back to your starting point. You can also use the watch to guide you with point-to-point navigation.
Pairs for satellite communication + maps
Another key feature for hikers that like to get deep into the backcountry for extended trips. The Instinct Solar pairs with Garmin InReach Mini, other Garmin satellite devices, and the Garmin Explore App. This is super important when you are not in an area of mobile phone service. Every hiker that hits the backcountry should have these tools available for use. By integrating these devices you will be safer and will know exactly where you are located on a bigger screen.
This concludes our review of the Garmin Instinct Solar watch that we think is the best GPS hiking watch that is somewhat affordable. Check out our best hiking gear guide for more cool things to take in the wild.
Garmin Instinct Solar Powered Watch
This is the best "affordable GPS smartwatch" for hiking and backpacking.