The HOKA ONE ONE Speedgoat 4 trail running shoes are officially my favorite shoe that I have ever worn hiking. They are an unbelievable blend of comfort and support.
Lately, I have found my regular hiking shoes too heavy, clunky, and overly rigid. I tried on many lightweight hikers and couldn't find one that worked for me. I was looking for a shoe that was lightweight, cushiony, supportive, yet protective enough for the rocky terrain in Colorado. I ended up getting the HOKA Speedgoat 4s this year for my hiking adventures. So far, I am completely overjoyed, to the point that I am running on the trails to cover more terrain. Hike up, run down. Because my Speedgoat 4s have been such a pleasure, I decided to get the GORE-TEX version for wet or snowy conditions. More on those later.
In this review of the HOKA Speedgoat 4 shoes, I will document what happens from the start to the end of their lifespan. Scroll to the bottom to read lifespan updates.
Okay, let's get into the details of this amazing trail running shoe.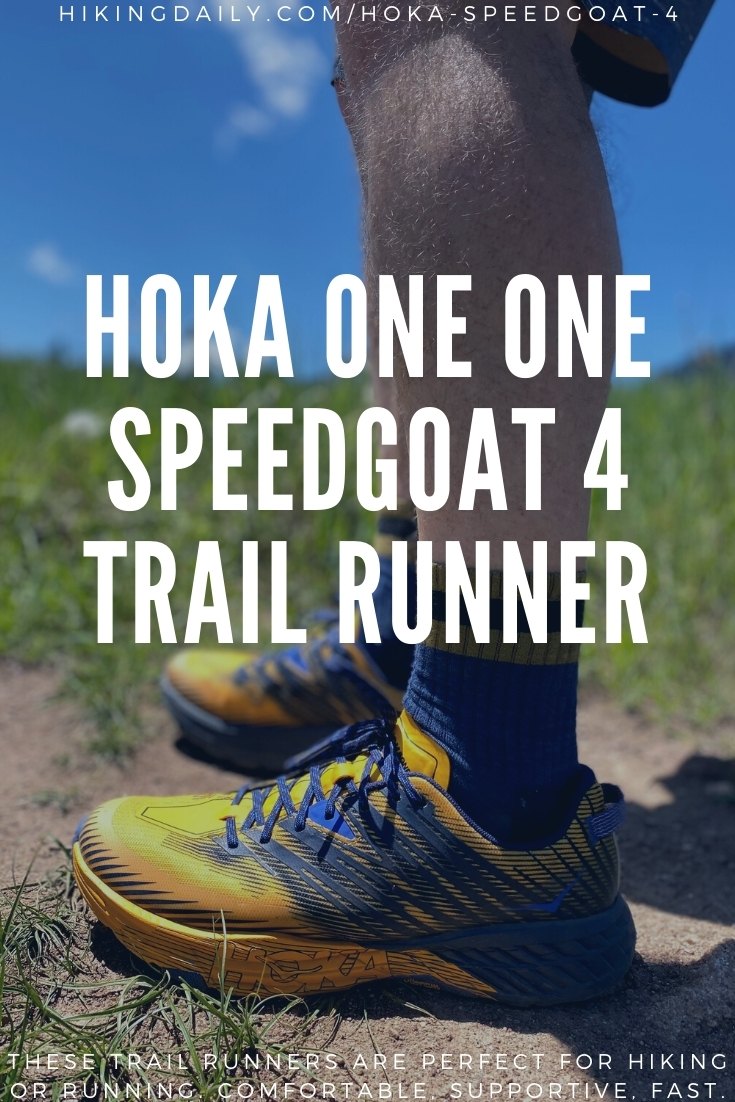 Check REI Price: MEN | MEN GTX | WOMEN | WOMEN GTX
Check Backcountry Price: MEN | MEN GTX | WOMEN | WOMEN GTX
Top features of the Speedgoat 4 shoes
I can't emphasize how great these shoes have been. When I put them on, and get going on the trails they feel like a dream and put a smile on my face.
So far, I have hiked and run most of the best hiking trails in Boulder, Colorado. I have taken the Speedgoat 4s over every type of terrain imaginable including buttery soft trails to steep ascents and descents of tough rocky technical terrain. The comfort, support, and grip have been excellent. I am rough on my shoes so if these ones last the entire Summer, I will be very impressed. We shall see. Okay, check out the specifications of this fantastic trail runner.
Rugged breathable mesh upper
3D printed overlays on uppers

Provide extra mid-foot support
Create a locked down secure fit

Gusseted tongue with cutouts for breathability
Wider forefoot for stability
Available in standard and wide widths (EE)
Lightweight foam midsole delivers a very supportive yet soft cushion
Vibram Megagrip rubber outsole

Works in wet and dry conditions

5mm lug treads lugs grip all terrain types (no slipping or sliding)
Available in GORE-TEX
10.8 ounces in weight
What I like about the Speedgoat 4s
These shoes are great for a number of reasons. Here is what I think is notable and why the HOKA ONE ONE Speedgoat 4s are great trail running shoes that can be worn hiking or running.
The overall fit
First, and most importantly the HOKA Speedgoat 4s are super versatile in their overall fit since they are available in regular and wide (EE) widths. This means they will work for many different shapes and sizes of feet.
In the past, I have used trail runners for hiking and many pairs left my feet slipping around on the inside. This doesn't happen with the HOKA Speedgoat 4s. The overlays and winged component in the lacing eye-rows lock my feet into place even for fast, aggressive, steep descents.
With almost all footwear, I am a size 11 shoe. I have a fairly wide foot. I ended up getting size 11.5 in the standard width. This size and was better for me than a size 11 wide. Do try a variety of sizes and widths to discover the ultimate fit for your foot.
Locked-in feel
I absolutely love how these shoes wrap securely around my foot. Zero slipping in the forefoot or the heel area. The 3D printed overlays and winged components in the lacing eye-rows lock the foot firmly in place.
Grip and traction
The grip of the Vibram Megagrip outsole has been more than impressive.
I have taken these shoes across every type of terrain imaginable with zero slipping, sliding, or falling. The Speedgoat 4s have performed perfectly on squishy muddy trails, sick wet rocks, sandy dry loose conditions, and steep very rocky ascents and descents. They have provided exceptional grip and stability on the most technical terrain imaginable.
Cushion and support
HOKA ONE ONE is known for its cushiony ride. The Speedgoat 4s are both very cushiony and supportive. It is a feeling that I have not experienced before wearing these particular shoes. The sensation of the cushion is both soft, firm, and protective all at the same time. The result is they conform to your feet and the trail all at once. The shoes are excellent for anyone that has plantar fasciitis which I acquired due to a foot injury last year. If you feel like you need more support, check out our complete guide to the best men's hiking shoes.
Breathability
I have worn the Speedgoat 4s in temperatures between 60-90F and they have been great. No hot feet. A welcome change compared to hiking shoes.
Foot protection
When I am hiking or running I never want to feel my foot pounding into rocks. Bruised feet are never fun. So far, I have worn the Speedgoat 4s on many long (12+ miles), difficult, and rocky hikes and I can say they protect my feet entirely. I hope that this protective support continues for this whole Summer. If so, I will be completely satisfied. The foot protection is not as substantial compared to hiking shoes or hiking boots but is totally sufficient.
Waterproof and non-waterproof (breathable) versions
Also, as mentioned, the Speedgoat 4s are also available in a waterproof version using GORE-TEX. The reviews are really positive with respect to performance and breathability. I put them to test during the current snowmelt here in Colorado where trails become streams, and they performed wonderfully. I did not experience any wetness or dampness from water or sweaty feet (breathability was great). These are the best GORE-TEX shoes I have worn. What I really like is the difference compared to leather, or partially leather uppers that you find in most hiking shoes. The synthetic uppers of the Speedgoat 4s do not absorb any water. A synthetic upper keeps that light on your feet feeling all day long. And you don't have that sense of a water-soaked material (leather) pressing up against that GORE-TEX membrane. Your feet will stay dry with these awesome GORE-TEX trail running shoes.
Conclusion
The Hoka Speedgoat 4s are truly excellent shoes for hiking or trail running. The only question I have is how long the greatness will last.
Check REI Price: MEN | MEN GTX | WOMEN | WOMEN GTX
Check Backcountry Price: MEN | MEN GTX | WOMEN | WOMEN GTX
HOKA ONE ONE Speedgoat 4 lifespan updates
August 20th – So far (2 months), I have done numerous hikes for over 100 miles and the overall wear of the Speedgoat 4 trail running shoes has been minimal.
Minimal tread wear, excellent grip over dry or wet slippery conditions
Laces up snugly around my foot for geat stability
No wear across the upper
Midsole still feels supportive and cushiony
Very slight tears in the foam midsole across the outside forefoot and toe area from rocky technical terrain (no big deal)
Breathability is fantastic, no hot feet
---
October 25th – I have now worn these trail runners on hikes for over 200 miles.
Treads are showing some wear (lugs are about 20 percent worn)

Not really an issue except on very dry, loose, sandy terrain

More foam tearing in the midsole forefoot and toe area (simply cosmetic impact, not peroformance)
This trail runner still laces up nice and snug around my foot for great responsiveness
Cushioning is still firm and supportive
---
March 1st 2022 – 300+ miles of use.
Midsole foam is quite torn up in the forefoot
Cushioning has deteriorated in the forefoot so feeling rocks more than in the past
Grip is still good except on dry sandy terrain