There is a lot of dating advice out there, most of it is bad. The only true advice is to be yourself. If part you enjoys nature, a hiking date is an inexpensive and authentic way to have good time and get to know each other.
Hiking on a date adds looking good to the usual goals of being comfortable and prepared for the weather. Fortunately that combination of form and performance is always a consideration for our recommendations.
Here are some tips for hanging out in the great outdoors plus what to wear on a hiking date for men and women.
5 Tips For a Hiking Date
Coffee shops are popular for the first few dates because they are accessible, public, and affordable. Here's how to recreate those conditions on a hike.
Popular Trail Choose a busy hiking area for everybody's comfort and safety.
Easy – Moderate Hike The goal is fun not fitness.
Good Weather Again the goal is fun. Good weather happens year round so don't count out some leaf peeping or sunny winter hike when the conditions are right.
Water + Snacks Be prepared with water and snacks and maybe even bring something to share.
Invite Company Whether it's some friends or a dog, group dates are good too and extra casual.
Keep It Going If there is a coffee shop, restaurant or brewery near by the hike, the fun doesn't have to end right away. This is also a good test of your outfit. If you wouldn't wear it out to eat, don't wear it on a date. Or at least save it for later in the relationship.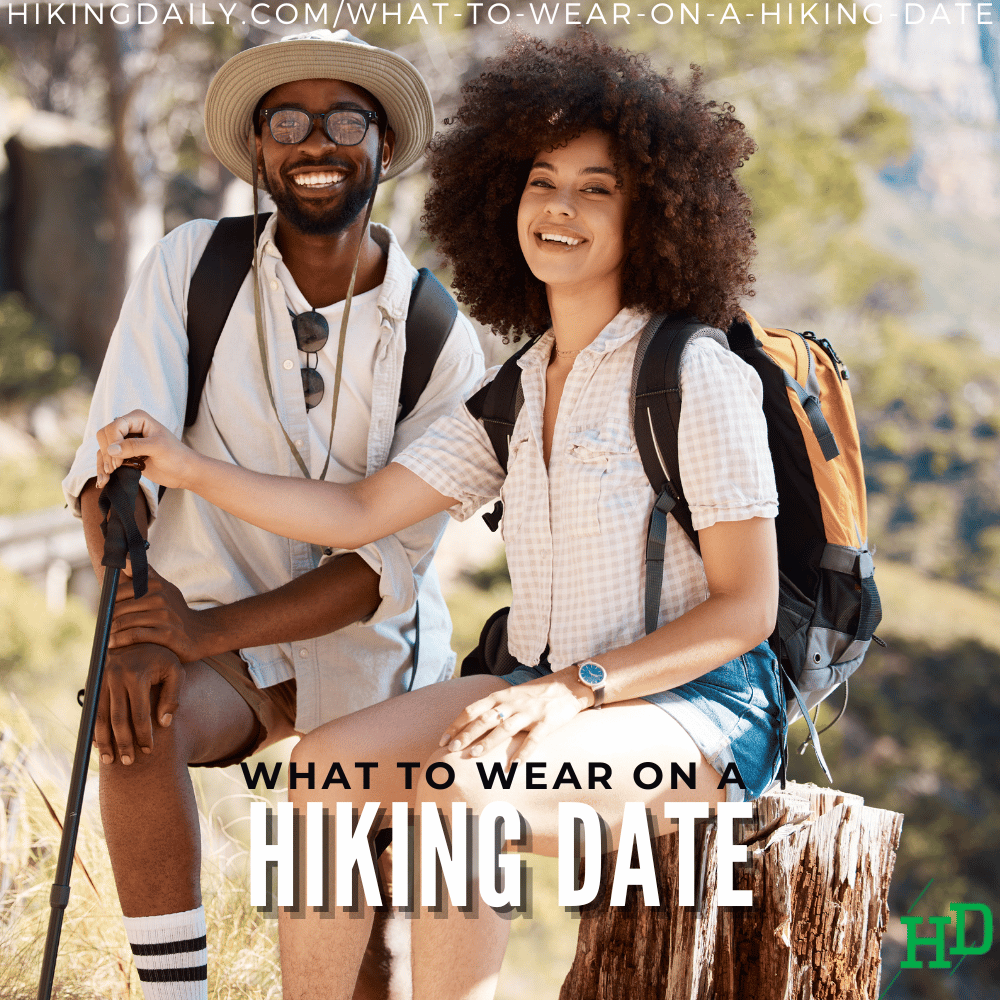 How To Dress For a Hiking Date
If you follow the first 3 tips for hiking on a date, casual clothes should be adequate for an easy hike on a nice day. If your style is athleisure, you might even be hike-ready sitting on the couch right now. Clothes are an important form of self expression so don't hide your personality.
Here are a couple hiking clothing rules you can break for a date and some stylish suggestions.
1. Don't Wear Cotton
The cardinal rule of outdoors wear is avoid cotton. For an hour or two hike, that isn't as essential but a blended fabric will be more comfortable than pure cotton, especially in the heat.
2. Don't Wear Jeans
Another rule that can be broken for a casual walk is wearing jeans. Denim shorts or pants with some polyester and/or Spandex content will be more comfortable than all cotton jeans. Wearing denim for a hiking date is better than wearing pants with zip-off legs, bulky cargo pockets, or too-short-shorts (that goes for men and women).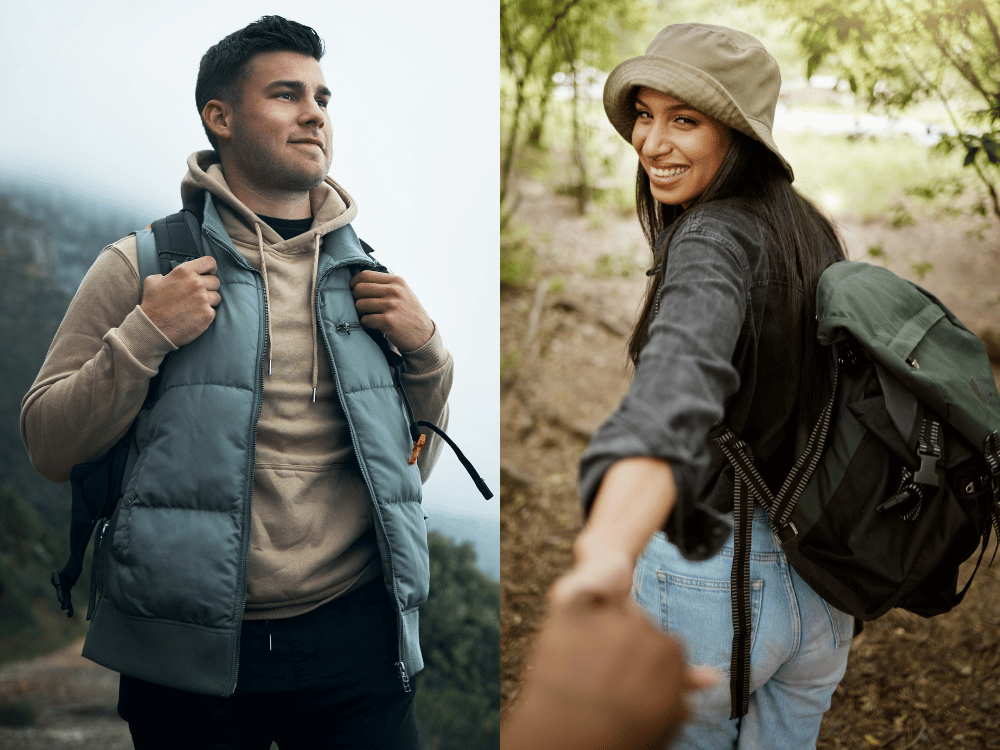 3. Don't Wear Athletic Shoes
Stylish shoes keep getting more comfortable and comfortable shoes keep getting more stylish so you'll be fine whichever way you go.
Stylish Hiking Clothes
T-Shirts
Vuori is a Colorado brand is quickly becoming known for stylish and trendy athletic wear. We're recommending their tops here but Vuori shorts and joggers are also high quality and comfortable.
For men, the Strato Tech t-shirt is fitted up where you want it fitted and loose where you don't. For a slim cut shirt with a pocket, try the Tradewind Performance tee.
For women, try the fitted and cropped Mudra tee or boxy and cropped Energy t-shirt. There is even more selection for Vuori tank tops.
For extended sizes, the new Outdoor Afro + REI Co-op Trail T-Shirt updates the popular Sahara T-shirt with vibrant colors, a flattering rounded hem, and short side vents.
Long Sleeves
A long-sleeved t-shirt or hoodie are casual and date-ready as long as they aren't stained or torn. For a level above, try the classic fall look with a plaid flannel shirt for men and women.
Flannel fabric is designed for warmth but not necessarily for being active. Many modern flannels do both. Look for synthetic fabrics to wick moisture and wool for even more warmth.

Outdoor Research Feedback Flannel This best-seller is the combination of style, performance, and comfort that you will want to wear everywhere.
97% of buyers would recommend it to a friend so consider this our recommendation, friend. It is available in 4 plaid patterns and 4 solid colors.
The shacket, shirt-jacket, is a hot trend for cooler weather. The Feedback Shirt Jacket add sherpa fleece lining to the favorite flannel cut and style. If flannel is too warm for the weather, try the breathable Lightweight Feedback Shirt.

The women's version of the Feedback Flannel is designed for the female figure and has a hemline designed to be worn untucked. Choose between 4 colorful plaids and navy blue up to sizes 1x-4x.
More more options, the all organic cotton Patagonia Fjord Flannel comes in 10 colors and colorways plus a few more on sale.
For some added stretch, check out the with Prana Meadow Run Flannel with 1% Elastane to minimize the button gaps that can happen with button downs. The rounded hem hits just above the waist to pair with the high-waisted bottoms that are on trend right now.
Outer Layers
Keep up the flannel look with a vest over top. If it's too cool for a vest, look your best with a slim cut jacket that flatters rather than adds bulk. Fleece is another good choice.
Hiking Bottoms
If you're not wearing jeans or shorts, try a pair of these stylish hiking pants. We are especially fans of Kühl Freeflex Pants for women and Kühl Radikl Pants for men.
Hiking Date Clothes For Women

As usual, there are many more clothing options for women.
On the bottom, try leggings, joggers, bike shorts, or a skirt instead pants or shorts. A hiking dress is another possibility.
Keep hiking clothes from being boring by adding a fashionable and functional hat and bandana.
Whatever you choose, it's about what makes you feel good and feel like you look good.
What To Bring to a Hiking Date
Even for a short hike, it is always a good idea to bring water. Part of staying comfortable on a hike is quenching thirst as it arises.
While it is possible to carry a water bottle in one hand, that increases the risk of trips and falls. Keys, wallet, and phone also need somewhere to go. Try carrying gear in an on trend hip pack or small backpack.
Now you're all set to enjoy some good company and beautiful nature. Like any date, impressions will be made. Are you prepared or not? Limping in uncomfortable shoes or getting cold without a coat shouldn't be a dealbreaker but you never know. Or it could be a funny story in the future.