It was bound to happen. Trends from the 90s like overalls, bike shorts, and baggy sweatshirts are back. The fanny pack has made a come back too. And like all the aforementioned fashions, the fanny pack is stylish for men and women.
If it makes you feel better, it doesn't have to be called a fanny pack (which is considered rude in some parts of the world). Call it a waist pack, bum bag, hip bag, or belt bag instead.
For outdoors enthusiasts, the waist pack never completely went out of style. They are a staple for hikers, bikers, climbers, skiers, fishers, and anyone who needs to carry stuff without the bulk and heat of a backpack.
What's different? Now they look cool. Enter the Cotopaxi Bataan Del Día. This ideal combination of function and fashion looks and feels great wherever you go.
With bold, bright colors and a mandate for sustainability and ethical production, Cotopaxi has quickly become a popular and trendy outdoor goods company. Of course, the gear doesn't just look good. It is functional, durable, and backed by a full guarantee. Cotopaxi will repair, replace, or trade-in any of its products.
Putting their motto of Do Good into action, every phase of a product's lifecycle, from design through manufacture and sale, is taken into consideration. Enter Cotopaxi's Del Día Collection, which uses leftover ripstop nylon from other companies' production to create new goods. This keeps discards out of the landfill and provides the opportunity for customization.
The Bataan is named for the city in the Philippines where the bags are sewn. Instead of just producing one design, each Cotopaxi fanny pack is unique. Their expert designers select the fabrics, zippers, buckles, straps, and thread to make unique colorways. Cotopaxi employees have fair and sustainable working conditions and the autonomy to add some of their personality to each Bataan fanny pack.
Part of the fun is choosing your own unique waist pack. Be sure to check out the front and the back to see all the different colors. If the number of combinations is overwhelming, click the "Surprise Me" button and Cotopaxi will choose for you.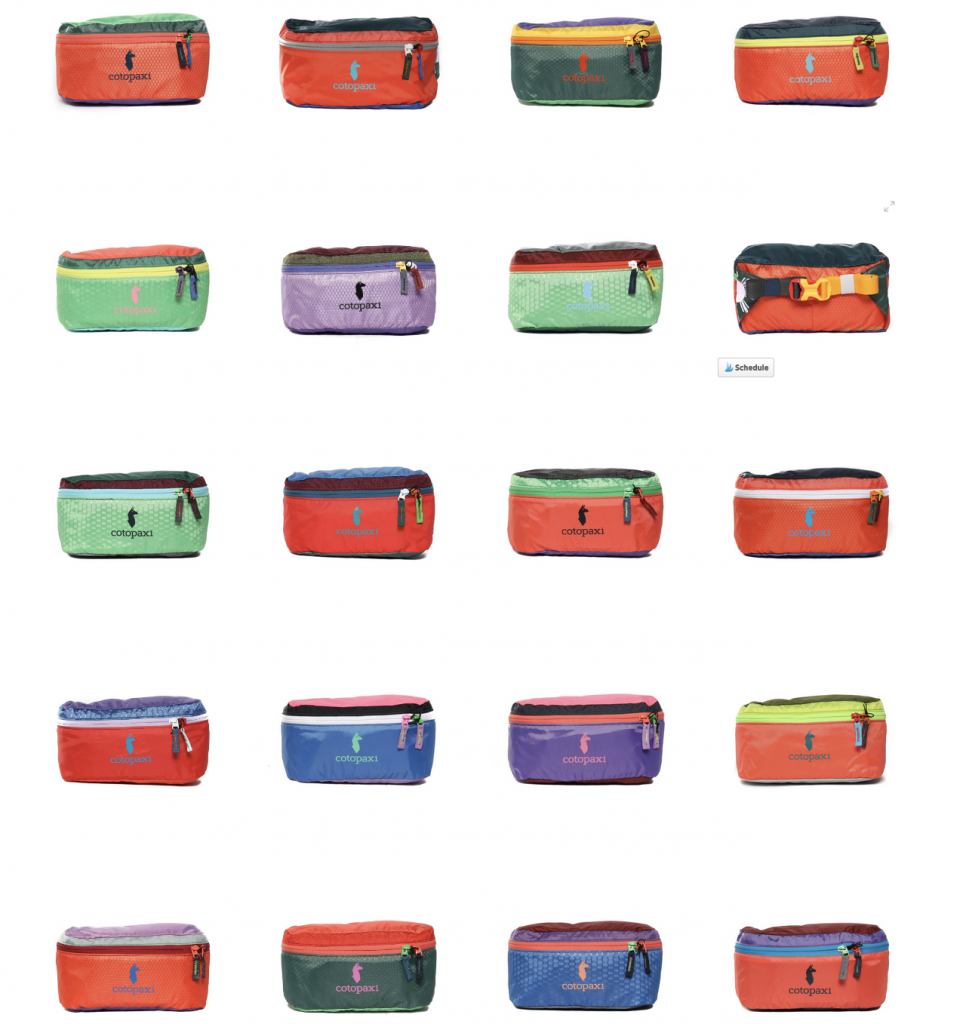 The Bataan holds 3 liters, weighs 4 ounces, and measures 9x5x4 inches. How big is that? Well, big enough to hold 2 bottles of Dr. Pepper, diapers and wipes plus hand sanitizer and a phone, or snacks, a wallet, sunscreen, and a flask. I like to carry a water bottle, keys, mask, and phone for shorter walks.
The Del Dia isn't just for hiking. Use it to keep your hands free in any activity, instead of a purse, carry whatever won't fit in your pockets, carry dog-walking supplies, or keep all your essentials at hand while traveling, at a festival, or wherever you go. It also has two internal mesh pockets to keep small items like keys and credit cards safe and easy to access.
How To Wear A Fanny Pack
Well, you bought the fanny pack. Now what? You want to look as cool wearing the Bataan as it does on its own but how? The adjustable strap fits different bodies and wearing styles.
The fanny pack is the most versatile bag out there, with at least eight ways to wear it. Maybe more if you're really creative.
Choose a look based on your activity or where you're going. Hiking looks and city looks are not the same thing. Or maybe they are. It's all up to you.
Starting with its namesake, wearing this bag over the fanny can mean wearing it at the front or back of the body, depending on where in the world you're from. The most common way to wear a fanny pack is as a waist pack or bum bag, with the strap belted around the middle.
Another take on the belt bag is pulling it over to one side of the body, to be worn on or close to the hip.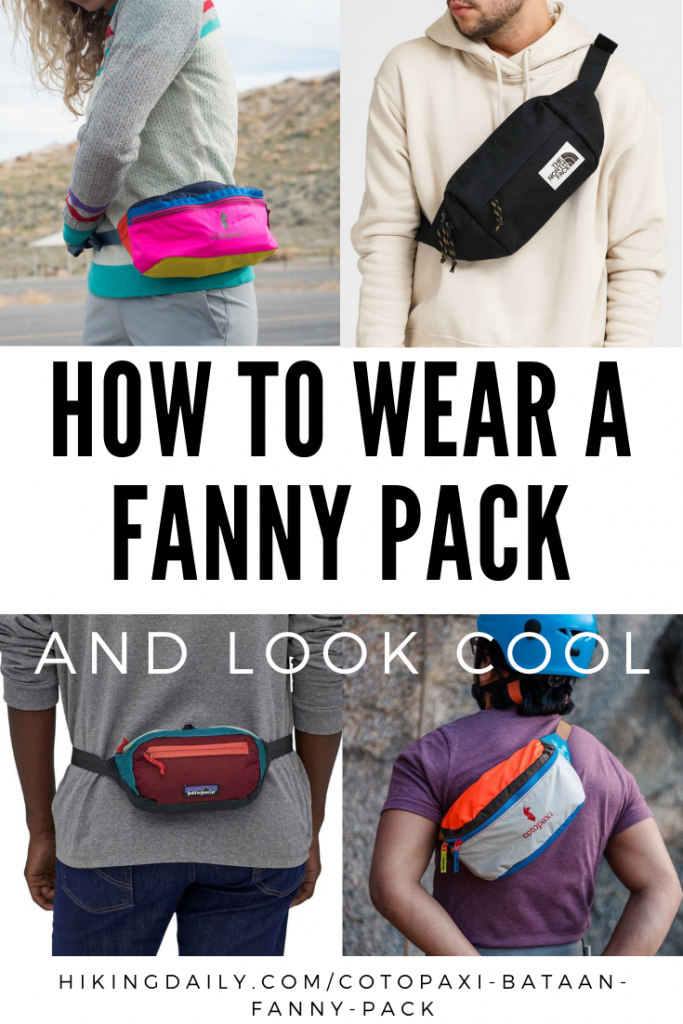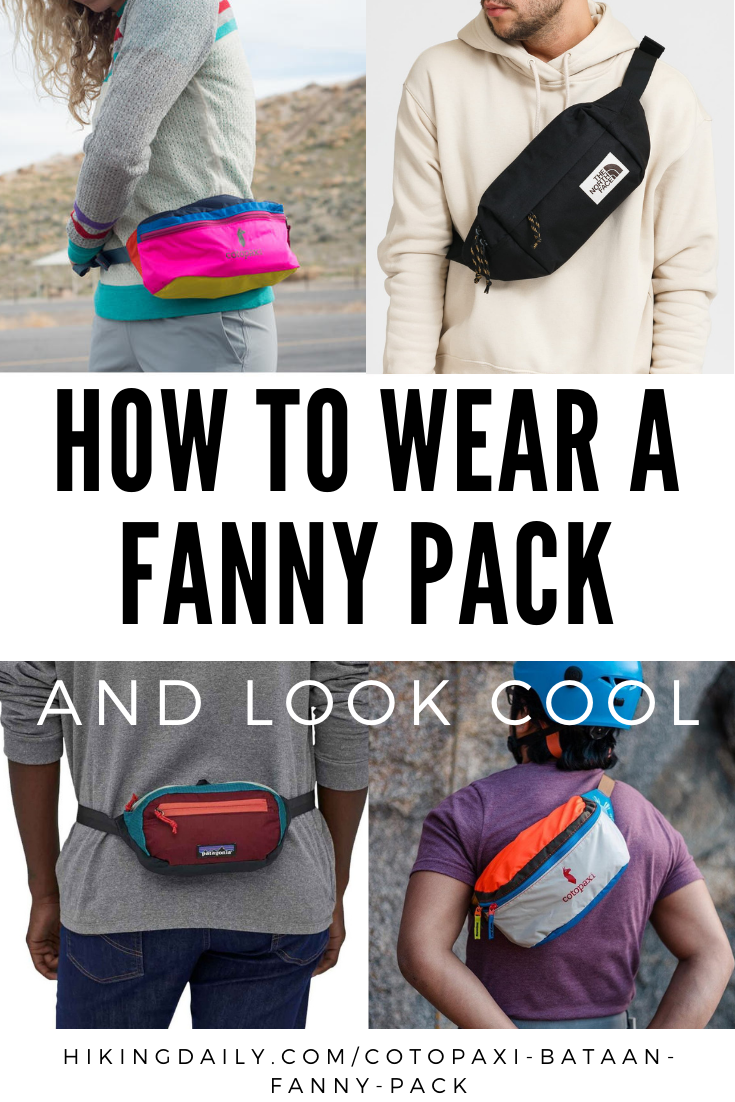 But that's not all. More cool ways to wear these smaller fanny packs are slung loosely over one shoulder so it hangs vertically. Or pull it diagonally across the body, bandolier style. The body of the pack can face forwards or backward.
Which wearing style to choose? Sometimes the contents of the bag will dictate the position. A metal water bottle won't conform to the curve of the hip and could be more comfortable worn over the bum.
Access is another consideration. How often do you need to get stuff out, where do you need it. Weather is something else. The cross body look is cool but just wearing it over one shoulder minimizes contact with the body and the sweat that comes with it.
There's no wrong way to wear and with this cool pack. The Bataan makes everyone look cool.
Why Cotopaxi?
Not sold yet? Here are some more reasons to choose Cotopaxi, beyond their good looks.
Carbon Neutral
Cotopaxi currently offsets all carbon emissions and is taking further steps to reduce emissions. They are working towards using only non-virgin and responsible materials and will eliminate single-use plastics by 2022.
B-Corp Certified
B-Corp companies focus on using the power of business as a force for social, environmental, and economic good.
The Cotopaxi Foundation
The mission of the Cotopaxi Foundation is to support global poverty alleviation through nonprofit grants. Every year, 1% of revenue goes to the Cotopaxi Foundation.
Some grantees include the International Rescue Committee in Salt Lake City, Utah, the Fundación Escuela Nueva in Colombia, the UN Foundation – Nothing But Nets to end malaria in Ecuador and other parts of Latin America, the Mercy Corps in aid of Colombian and Venezuelan refugees, and Utah Refugee Services, including employment opportunities for displaced individuals.
The Cotopaxi Foundation also ensures that the company will remain a dedicated B Corp in perpetuity.