I finished the Colorado Trail about a month ago, in the summer of 2022. The trail is majestic with vibrant wildflowers, epic ridge walks, incredible vistas, and unbeatable wildlife.
If you are searching for an adventure to reinvigorate your love for life, rebuild your trust in humanity, and want to cry over the magic of the mountains then the Colorado Trail is right for you.
I've been a bit of a gearhead for years and have grown to love the nuts and bolts more and more the deeper I get into the thru-hiking and ultralight world.
I did the John Muir Trail in the summer of 2021 and was afraid to weigh my pack as I knew it was heavier than it should be for my body. After months of recovery after this hike, I realized that the ultralight world wasn't about not being strong enough or tough enough to carry a big pack. It's about sustainability. It's about sustaining you and your body for longer, better, more immersive adventures in the alpine for many seasons to come. It's about being a thoughtful and intentional minimalist. I am by no means an expert in thru-hiking or in ultralight gear, but I am 700 thru-hiking miles deep into figuring out what the perfect setup is for me. I hope that my experience can help you better decide what the right gear is for your next adventure.
Let's begin with the big three thru-hiking gear items: Backpack, shelter, and sleep system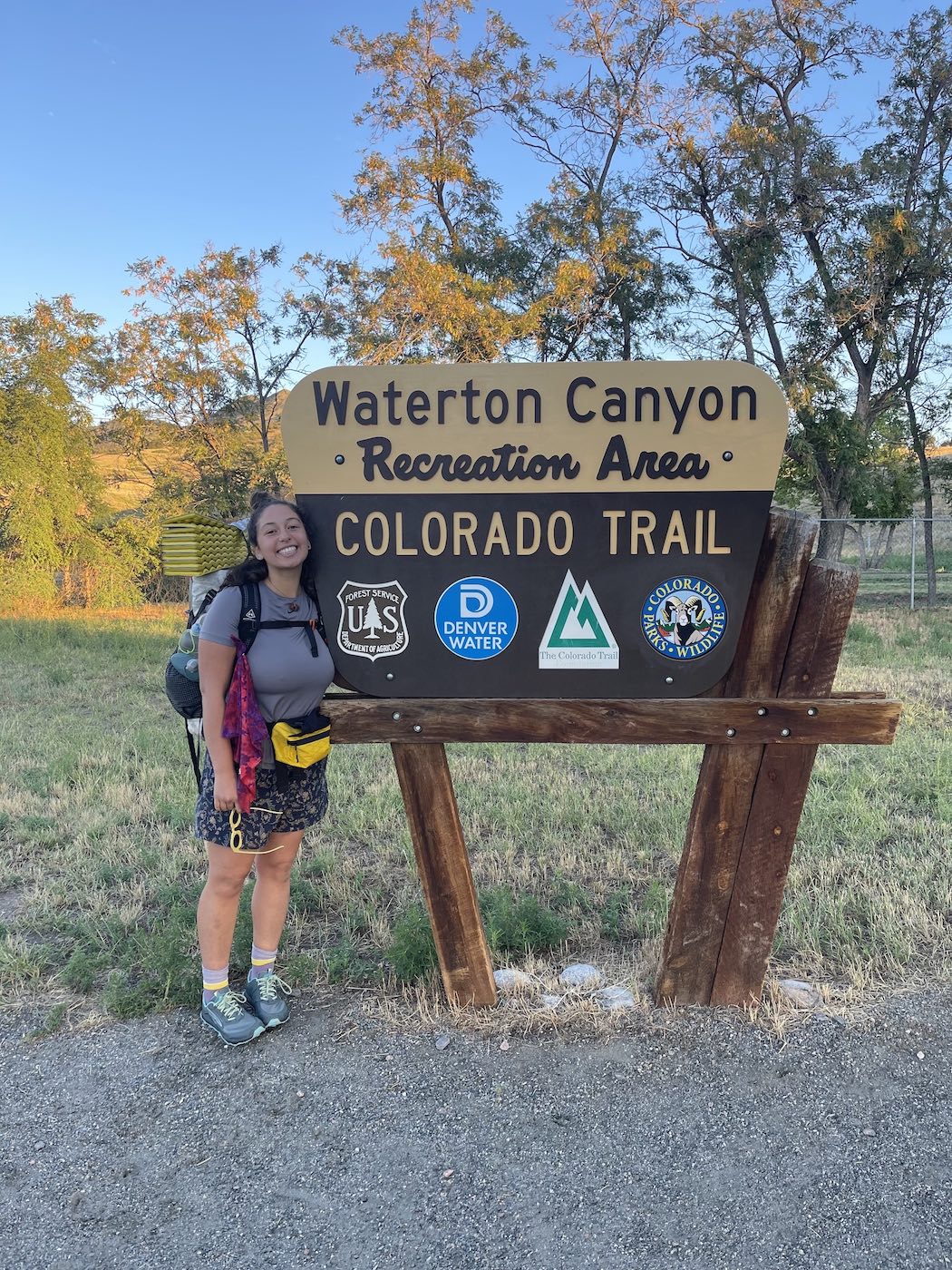 Backpack
On my first thru-hike, I carried an Osprey Aura 65 liter. It was big, heavy, and overall way too clunky for a thru-hike.
After months of research before the Colorado Trail, I upgraded to a Hyperlite Mountain Gear Southwest 2400, which has a 55-liter capacity. Here's why:
Lightweight – this pack weighs in at 1.88 lbs. It is not the lightest pack on the market, but it balances weight, structure, and durability better than other packs due to its Dyneema composite fabric.
Waterproof – When I hiked with my Osprey my gear would get drenched, and there is nothing worse than a wet sleeping bag after going over a pass in the alpine in a thunderstorm. Getting a waterproof pack was extremely important to me. The Dyneema fabric is absolutely waterproof and not waterproof like a rain jacket that soaks through after a few miles of rainy exposure but really waterproof. No raincover necessary that makes you look like a ninja turtle when coming down a pass. No pack liner that makes your pack harder to pack. All you need is the HMG southwest 2400. The velcro and rolltop system keeps all of your gear dry and secure.
Durable – The best thing about my Osprey pack was that I knew it could withstand trip after trip after trip. I never worried about it getting checked on a plane or leaning on it up against granite. This is another big reason I chose the HMG Southwest 2400. The Dyneema is strong, and I never worried about it tearing or ripping.
Overall, I love my Hyperlight pack and wouldn't change anything about it. On the Colorado Trail, I didn't use all 55 liters, but because of the easy roll-top design, it wasn't a problem. Other features: roomy hip belt pockets that can fit enough snacks for miles upon miles, a phone, headphones, and anything else that you like to be accessible. The roomy front pocket is huge and can fit all of my rain gear, extra snacks, a journal, my hiking poles, etc, etc. The list goes on because this pocket is truly enormous and makes me feel like my trail name should be changed to Mary Poppins. Last but certainly not least the pack has water bottle pockets on both sides of the bag that work for long and short water carries. Bottles are easily accessible for sipping while you walk if you are trying to pound miles with minimal stops.
Shelter aka Tent
I carried a Big Agnes Fly Creek HV UL 2 tent. It's a great lightweight freestanding tent weighing in at 2 lbs and 4 ounces. It is by no means the lightest or even best tent on the market. But if you are wanting to save some money and aren't completely tied to a sub-15-pound base weight then this could be the right tent for you.
The Fly Creek is a double wall Sil Nylon tent that will keep you dry in a downpour, stable with high winds due to the many guy lines, and has enough space inside for you and all your gear. That being said I would not take this on a thru-hike with a partner as this is a small two-person tent.
While I love this tent and think Big Agnes is a great gear manufacturer I feel like I have mostly grown out of the Fly Creek. The PCT is in my horizons and shaving weight is now the name of the game meaning I am upgrading to a one-person, non-freestanding single-wall shelter ideally made out of Dyneema to guarantee durability.
Your tent is your safe haven and loving it is important for your longevity in the backcountry. The Fly Creek is a home, easy to set up and take down and extremely comfortable inside. This tent has one vestibule, big enough to fit your pack or cook dinner in on a rainy night. The front opening design with its high ceiling makes the tent feel extra roomy and easy to sit up in, change clothes, organize your pack, blow up a sleeping pad, etc. The high ceiling also gives you ample headroom when you sleep. Since this is a double-wall tent, condensation is never an issue. Three inside pockets add to the tent's hominess and make it easy to stay organized.
Sleep System
I cannot speak highly enough about my sleep system.
The best way to describe it is perfection. I use a 20-degree Enlightened Equipment Revelation quilt with 850 fill. There are three main reasons that it is the perfect quilt for me, and yes, really truly, perfect.
Lightweight
Like many people, I was hesitant to switch from a mummy bag to a quilt. I worried I'd be cold and underprepared in the backcountry. I was shocked, flabbergasted, by how much I ended up loving it and a huge part of that is because of the weight. The EE revelation weighs 19.41 ounces and compresses to nothing. The revelation also comes in 950 fill if you want a higher loft and better compression.
Versatile
The Revelation is one of the most popular quilts on the market for thru-hikers, and this is because of the immense versatility of the product.
On a warm night in the desert you can completely open up the quilt, toe box included, and use the quilt like a blanket. On a cold night or a freezing morning on the tippy top of a summit waiting for the sun to crest, the revelation has your back. For those colder moments simply cinch the toe box, Zip the 20-inch zipper, and close the snaps. Once you are in the quilt, there is also a cinch around the neck to keep the warmth inside your body. You can also strap your quilt to your sleeping pad with the EE elastic pad straps for an even warmer night.
Warm
The key to warmth on the trail is not only your quilt but also your sleeping pad. On the Colorado Trail I used a Thermarest Z Lite Sol. I'll go into the wonders of this pad in a bit but for now remember that warmth, especially when using a quilt, is dependent on the degree rating of your quilt and the R-value of your sleeping pad.
For me, this was the perfect setup. But if I were to have done the Colorado Trail later in the season when it is colder, I would have opted for a sleeping pad with a higher R-value like the Thermarest NeoAir XLite.
With the Revelation, warmth was never an issue. Enlightened Equipment quilts are the real deal and would be a great addition to any thru-hikers kit.
To complete my sleep system I use a Thermarest Z Lite Sol. This pad is durable, lightweight, affordable, and has infinite uses. This pad is not only a sleeping pad but also a yoga mat, sit pad, rain cover, bug swatter, fan, and neck protector. Seriously, the list can go on and on. The immense versatility is really what sets this pad apart from other kinds of sleeping pads. It is built to last and to be used again and again and again. When you are carrying so few things, as you do while thru-hiking, having gear with multiple uses feels like a gift. When I am not on the trail, I am often found in the yoga studio. The Z Lite Sol keeps me practicing Asana while sleeping comfortably in the backcountry and pounding miles with its lightweight design. My Z Lite also makes me easy to spot throughout the trail as the yellow and silver reflective colors can be spotted from miles away. My Hyperlite Mountain Gear pack makes this pad easy to strap to the top of my pack due to the pack's top adjustable strap.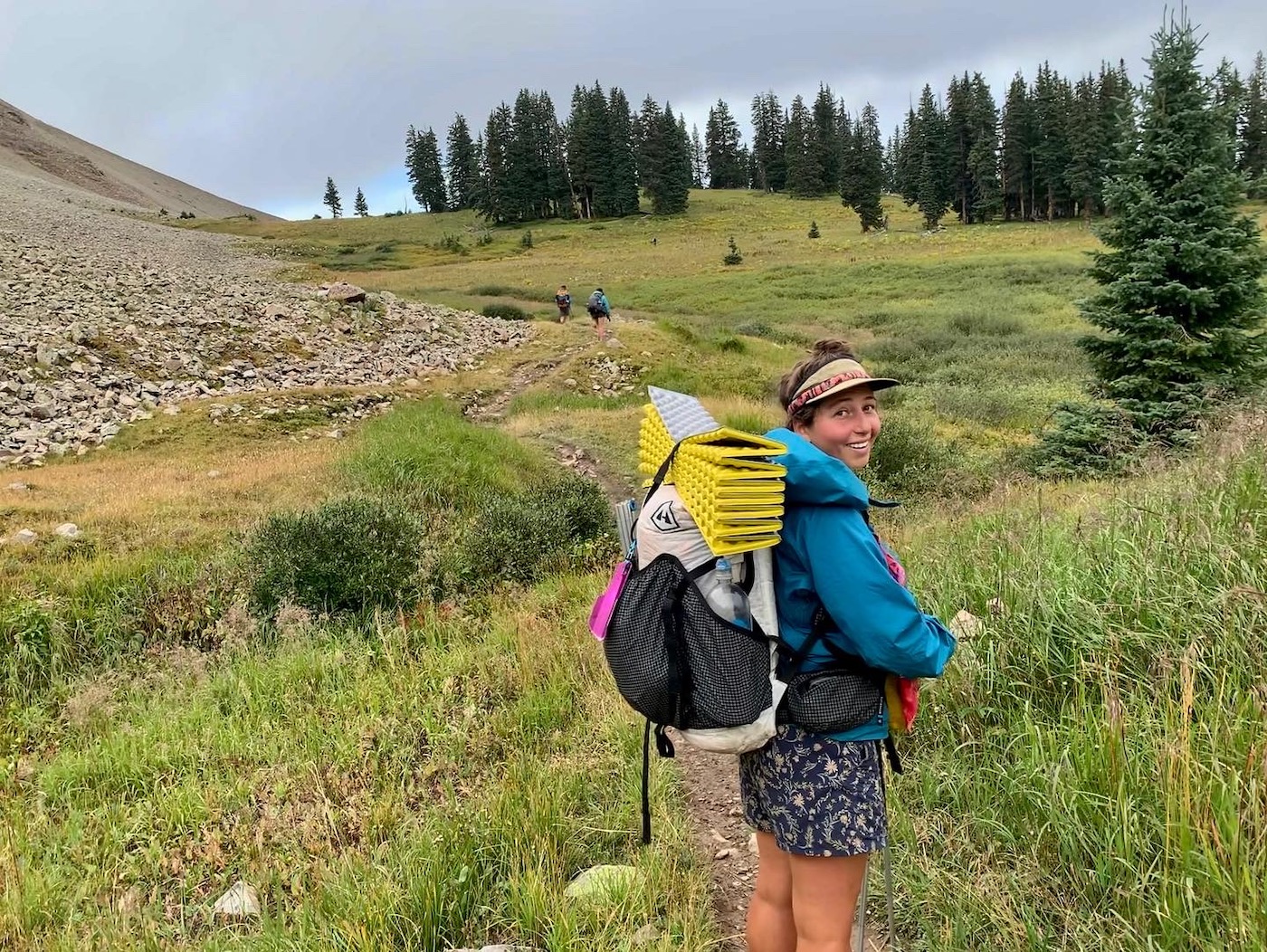 Cook System
My cook system is simple, lightweight, compact, and pretty similar to most thru-hikers. I use an MSR pocket rocket with a 4-ounce fuel canister and a Toaks titanium 750 ml pot. Altogether my cook system weighs in at a mere 10.5 ounces when my fuel container is full. This system is lightweight, durable, and easy to use. I boil water with my stove, pour my dehydrated meals into my pot and wait until everything has rehydrated. Once dinner is ready, I unfold my MSR collapsible spork and begin to shovel my food away.
Food Storage
For food storage, I used an Ursack Major paired with a smell-proof Opsack to guarantee that I was being bear aware and safe on the trail.
Water Purification
Last but simply not least my water filtration system includes a CNOC 2 liter VECTO bag and a Sawyer Squeeze water filter. The VECTO makes life one thousand times easier when collecting water with a wide mouth opening.
After collection either use a Sawyer coupling for gravity filtration or hand squeeze your water from the CNOC bag to your water bottle. I did the Colorado Trail without the Sawyer coupling attachment but ordered one immediately after finishing the trail for my next big adventure. The Sawyer connecter also makes back-flushing your Sawyer in the field much easier than without.
Bathroom & Hygiene
If you squat while you pee then a Kula Cloth must be a part of your kit. Not only do Kula Cloths reduce your waste on the trail but they also increase your hygiene and add a splash of art to your pack. A Kula Cloth is an antimicrobial reusable pee rag. One side has art on it designed by outdoorsy femme artists. The other side is black for stealth and threaded with silver to guarantee that it is antimicrobial. The cloth has convenient and thoughtfully placed snaps to easily attach it to the outside of your pack.
Kula Cloths are simply the best. Backpacking before owning a Kula Cloth was a substantially worse experience than after owning a Kula Cloth. Seriously, if you don't have one, go order it right now. You deserve it!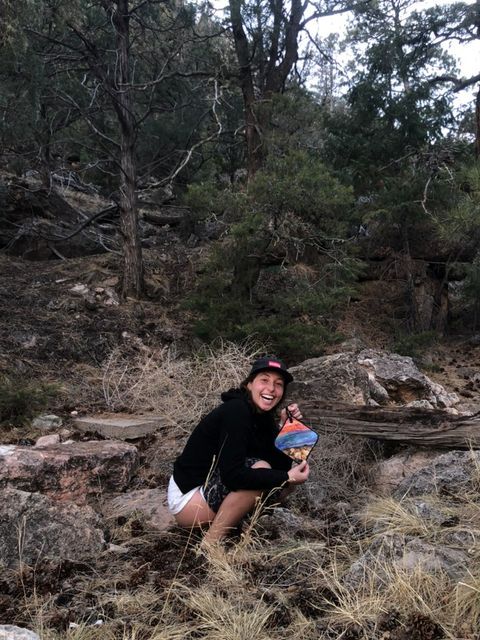 I use The Deuse 2 by The Tent Lab for digging catholes while hiking. It is just about as lightweight as you can get, weighing in at .6 oz. There isn't much to say about it other than the fact that it does its job. The Deuce 2 digs a great hole for when you need to go number 2.
I try to avoid making waste while in the backcountry. One way I do this is by using a backcountry bidet instead of toilet paper. The bidet screws into my water bottle, and with a little squeeze, your butt is splashed clean. It takes a little getting used to, but after a few times, you'll fall in love with the Culo Clean.
Clothing – worn and packed
I won't spend too much time explaining my clothing both because mine isn't anything special and because clothing is up to preference. It's less technical than backpacks, tents, and sleep systems, but just as important.
I hike in a pair of Patagonia Baggies with a Nike dry-fit t-shirt, a Kavu visor, and Injiji midweight trail socks. In my pack, I carry a pair of long underwear, a Patagonia Nano Puff, an extra pair of Darn Tough socks, HEAD gloves, and a Melanzana Microgrid hoodie.
For rain gear, I carry a Black Diamond rainjacket, Outdoor Research Helium Pants, and Enlightened Equipment Rain Mitts. Raingear is a little more complicated than your everyday T-shirt. Rain jackets are meant to keep you dry, and for some reason, I haven't been able to find one that actually works for years. They can rarely if ever, handle more than a few miles of rain before it soaks through. I can't, in good faith, recommend my Black Diamond rain jacket. But I will say that my Enlightened Equipment mitts and my Outdoor Research rain pants are phenomenal. Immediately after finishing the Colorado Trail I also bought a Gossamer Gear Umbrella to help keep my head and shoulders dry.
Shoes
I started the trail, like many others wearing Altra Lone Peaks. I loved them until I learned that I didn't. At about 300 miles, a few days outside of Creede, Colorado, I started developing shin splints.
After about 4 days of limping and using my hiking poles as crutches, I switched my shoes to Brooks Calderas. These shoes saved my thru-hike and completely healed my shins. Brooks, thank you!
Random gear (but important)
My pack also had a handful of "random" stuff that doesn't fit into a specific category but is still an important part of my thru-hiking kit.
Garmin inReach Mini
It's lightweight. It's easy to use. Most importantly, this satellite communication device works. And when you need it to work you really need it! I hope I'll never need it, but I'll always carry it.
Trekking Poles
If I were to have a nonfreestanding tent these wouldn't work as I have fixed-length poles. But for now, they help to get me where I want to go. I use Black Diamond Distance Z Trekking Poles. I've used them about 1000 miles and only now are starting to show some wear and tear.
Headlamp
The PetzlTikka is a hybrid headlamp with a rechargeable battery but can also use 3 triple-A batteries. The battery life is really long, and I never got close to running out of juice between towns. It is extremely easy to operate and has a red light option which is nice to use around camp at night.
Knife
I use an ultralight Derma-Safe Folding Knife. I rarely use a knife on the trail so wanted it to be as lightweight as possible. This tiny folding knife met my needs perfectly and only weighs 0.27 ounces.
Cork ball
Last but not least is my Rawlogy Cork Ball. This truly might be my most used and favorite piece of gear in my entire pack. It's small and only weighs 1.4 ounces. I start and end my day by rolling out my feet with this ball and oftentimes take it out in the middle of the day to roll out a muscle. It's tiny in size but huge in its impact. This ball will certainly make you one happy camper.
No matter what you bring on the Colorado Trail whether or not it is an exact replica of my gear list or completely different you'll love your experience. The Colorado Trail is a special trail that traverses some of the most glorious mountains in the country.
---
For more on hiking in Colorado, check out these guides: Hiking Colorado's 14ers, Best Hikes in the San Juan Mountains, Best Hikes in Colorado, Best Hikes In Boulder Colorado, Best Hikes In Rocky Mountain National Park, Indian Peaks Wilderness, and Best Winter Hikes in Colorado.