For the past 20 years, the designers at Arc'teryx have worked hard to create the perfect hardshell. Their end result? The Arc'teryx Beta AR.
The quality and versatility of the Arc'teryx Beta AR jacket set the industry bar – and it is hard to imagine anything better.
Designed for any outdoor adventure, Arc'teryx equipped the Beta AR with GORE-TEX Pro fabric, a durable and waterproof material with substantial breathability. A loyal companion for any wet and windy activity, the Beta AR protects you from exterior moisture while allowing your sweat to escape – ultimately keeping you dry, warm, and extra happy. It is a premium product built to last, but before you make the investment, I have some things you may want to know…
First Impressions
I've lived most of my life in dry, Western regions. Rainfall was rare, and I never felt a need to buy a hard shell.
It wasn't until four years ago, when I began longer backpacking trips, that I realized I needed a good coat.
I started with some budget models from The North Face and Marmot, but the inside fabric quickly deteriorated, and the lack of breathability left me feeling sticky and clammy.
The Beta AR jacket just feels different. It is lightweight yet strong, stretchy but secure. Like all Arc'teryx products, this jacket promises to stand the test of time (and weathering). Their high-quality fabric and intentional design make me more confident in my gear – and if that isn't the ultimate objective, I don't know what is.
Weather Resistance
The Arc'teryx Beta AR jacket is designed to withstand harsh weather conditions – and the magic is in the material.
You can think of GORE-TEX PRO as the "queen bee" of outdoor textiles. The fabric uses a proprietary membrane made of millions of microscopic pores that are too small for water droplets to penetrate but large enough for water vapor to escape.
It keeps you protected from heavy rain and snow but dry while you sweat through steep and rugged terrain.
And despite the fabric's breathability, it is totally windproof – keeping you protected from icy winds and strong gales.
This jacket is a product for those looking to master the extreme.
Durability
In high school, I worked at a retail store for The North Face. Almost every week, a customer would come in to claim the warranty of a North Face rain jacket. There were zipper malfunctions, large tears, and flaking material. For an organization that totes itself as an "environmental steward," observing how quickly its products were overturned was particularly frustrating.
The GORE-TEX that makes up the Arc'teryx Beta AR is exceptionally durable because of a polymer called ePTFE (expanded polytetrafluoroethylene), known for its high tensile strength and UV resistance. This material is largely what makes the Beta AR a premium jacket. Though the hefty price is almost anxiety-inducing, for those looking to buy a do-everything-forever hardshell, it's worth it.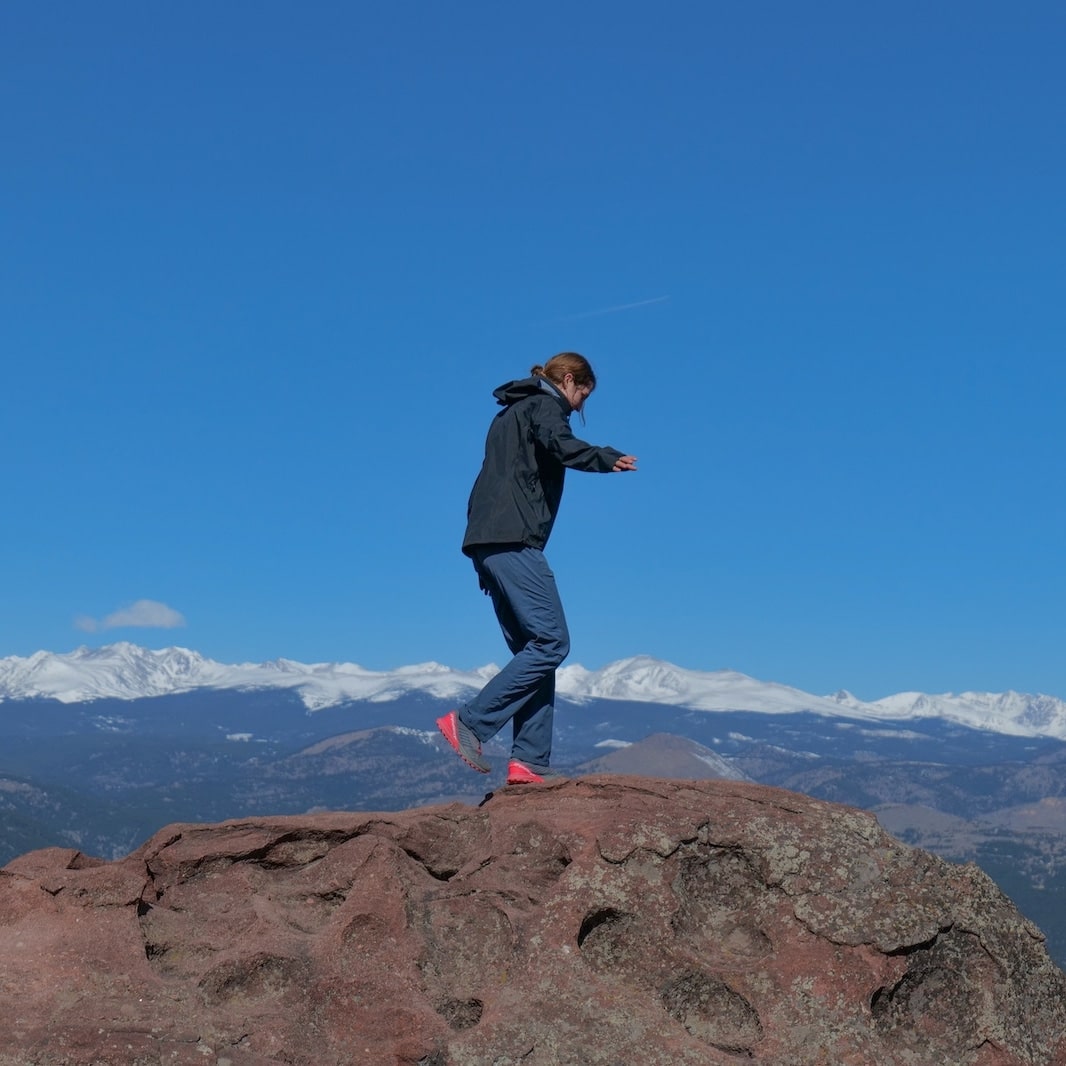 The Arc'teryx Beta AR Jacket may not have protected me from rain on this sunny Colorado day, but it sure did keep me from shivering in the cold and strong mountain gusts. Photo credits: Aidan Murphy.
Key Features of the Arc'teryx Beta AR Jacket
The Arc'teryx Beta AR Jacket is packed with features to support you through every season.
The most stand-out components include:
Gore-Tex Pro 3-layer laminate
This fabric is waterproof, windproof, and highly breathable, providing excellent protection from the elements while allowing excess heat and moisture to escape.
N80p-X GORE-TEX Pro 3L
This fabric is extremely durable and abrasion-resistant, making it ideal for activities in rugged terrain.
WaterTight zippers
These zippers are designed to keep water out, further enhancing the jacket's waterproofness.
Helmet-compatible hood
The hood is designed to fit comfortably over a climbing or skiing helmet, providing additional protection in inclement weather.
Laminated chin guard
The high neck feature on the jacket keeps wind, moisture, and chill on the outside.
Adjustable cuffs and hem
These features allow you to customize the jacket's fit, ensuring that it stays securely in place during activity.
Articulated elbows
These elbows provide added mobility and comfort while on the move.
Pit zips
These zips provide ventilation, allowing you to regulate your temperature while active.
RECCO reflector in the collar
For emergencies.
Drop-back hem
This design protects and covers your booty.
Microsuede in collar interior
This soft fabric prevents your neck from chafing and keeps you extra cozy.
Pros
Durable construction: Made with a 3-layer Gore-Tex fabric that is designed to withstand tough outdoor conditions.
Versatile: Suitable for a wide range of outdoor activities and can be worn in a variety of weather conditions.
Adjustable fit: Features adjustable cuffs, a hood, and a hem, which allows for a customized fit.
Cons
Price: The Arc'teryx Beta AR jacket carries a hefty price tag compared to its competitors.
Weight: The hardshell is a little heavy and bulky. Though on long and wet expeditions this is a plus, if you are looking for a *just-in-case* spare shell, the Arc'teryx Beta AR can be an overkill.
Noise: I sometimes find Gore-Tex fabric to be a bit noisy when worn, which could be bothersome to users looking for more stealth – or just some peace and quiet.
Where To Buy the Arc'teryx Beta AR Jacket
Bottom Line / Conclusion (Why buy this jacket?)
The Arc'teryx Beta AR jacket has several competitors, including the Patagonia Torrentshell, Patagonia Triolet, and the Norrona Trollveggen Gore-tex Pro Light. Like the Beta AR, these jackets are made with high-quality materials designed for a diversity of outdoor adventures. They offer similar features, including durable Gore-tex membranes, adjustable hoods, and some good ole' pit vents.
Each competitor has its perks: Patagonia's jackets are far more affordable (that is, compared to the Beta AR), ranging from $180 for a Torrentshell and $400 for the Triolet. The Norrona Trollveggen Gore-tex Pro Light, though similar in its expense to the Beta AR (priced at $649), is far lighter and a lot less bulky. This fitted design is ideal for climbers and other adventures who can not sacrifice a loose fabric getting caught on rocks, branches, and gear. However, a roomier (though bulky) fit, like the Arc'teryx Beta AR jacket, is great for hikers planning to pack on the mid-layers, and/or spend several days in their jacket.
Overall, all three jackets are made with high-quality, durable materials that are built to withstand tough outdoor conditions. The best choice for you, of course, will depend on your budget, adventure type, and personal fit preferences. If you are willing to pay the premium price, the Arc'teryx Beta AR jacket is an excellent adventure companion.
Additional Thoughts and Recommendations
Okay, hopefully, I have convinced you that the Arc'teryx Beta AR is a pretty exceptional product.
But, for the many of us that can not afford the $600 tag, there are still good options out there. You can check out our Ten Best Rain Jackets for Hiking and Backpacking for some good alternatives, but if you are sold on the Beta AR, you could find some used on secondhand sites like eBay and Arc'teryx ReGear.