Each year I test the best lightweight hiking shoes and the most robust and durable trail running shoes.
I aim to find the best shoes that deliver excellent foot support, stability over uneven terrain, and underfoot protection. They should also be flexible, lightweight, and not clunky. And, of course, the shoes can't be ugly or outdated in style.
It has been a challenge to find a top-quality pair of trail running shoes that hold up nicely after 100 miles of hiking or running. Support and cushion consistently deflated in my previous trail runners at this mark. This was a disappointing result for shoes that cost more than $160.
It was time to look for new options. I ordered and tested five new trail running shoes. The Brooks Catamounts were the obvious winner for me, with a close runner-up that was a surprise.
The Catamounts are perfect for moving quickly across a variety of terrain. The uppers are super light and breathable. The midsoles are supportive and springy. The outsoles and treads are grippier than I expected. I am excited to have found a better alternative to the very popular Hoka Speedgoats.
Manufacturer – Brooks
Trail running shoe type – Designed for long runs or hikes over rugged terrain.
Weight – 9.3oz / 263.7g
Midsole drop – 6mm
Fit – A classic fit. Snug in the front from top to bottom, which keeps your foot from moving forward. A generous D width. I have wider feet, and they work for me. Not a narrow fit.
Key benefits – Lightweight feel, great support, and protection against rocks.
Where to buy – REI (Men) | REI (Women) | Amazon (Men) | Amazon (Women)
Price – The regular price is $160. But they are now on sale for $119.99. Amazing value!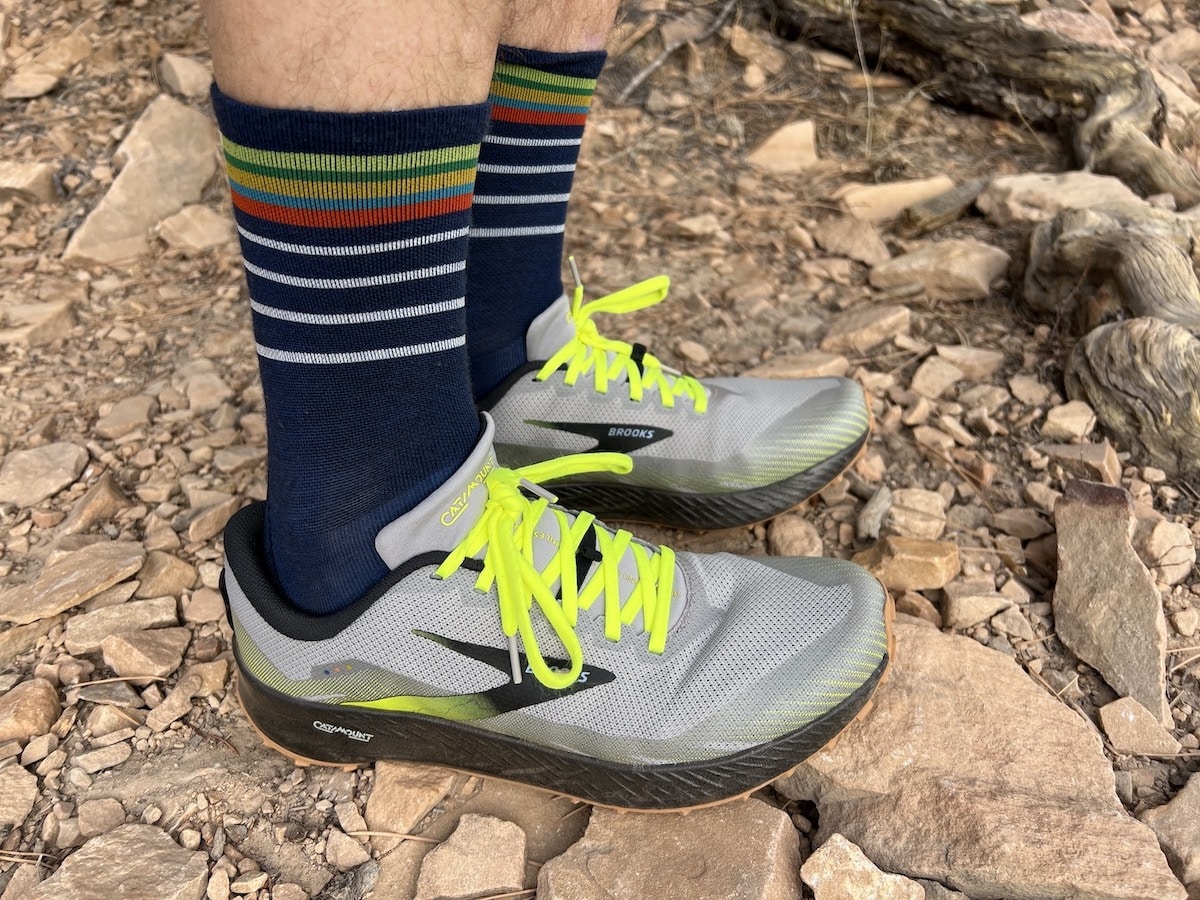 Where to get the Brooks Catamounts
Why I love the Brooks Catamount trail runners
The Brooks Catamounts are excellent trail running shoes for many reasons.
The Catamounts provide excellent underfoot protection. My number one objective was to find a pair of trail runners that had a rock plate that worked. I feel zero sensation of rocks pressing up into the bottoms of my feet when I am hiking and running. Not feeling rocks was a short-lived experience with my three pairs of Hoka Speedgoats.
I love how these shoes look! The design is great. I grew tired of the Hoka design. Those puffy wide heels are ridiculous. And they do not offer additional stability, in my opinion. I was rolling my ankle often on uneven terrain. This, in particular, encouraged me to look for new shoes.
Although the lugs on the Catamounts are not super deep, they have great traction uphill or downhill and with dry or wet trail conditions. These shoes feel very stable on uneven terrain. No sudden rolling of ankles.
The uppers have a very secure wraparound feel and fit. My foot does not slip or slide on descents as it did inside some of the other trail runners I tested. The uppers are lightweight and as breathable as it gets. In the front, there is enough toe protection.
What I am most impressed with is the uplifting foot support that the midsoles give my feet. I never knew such firm support could feel so good.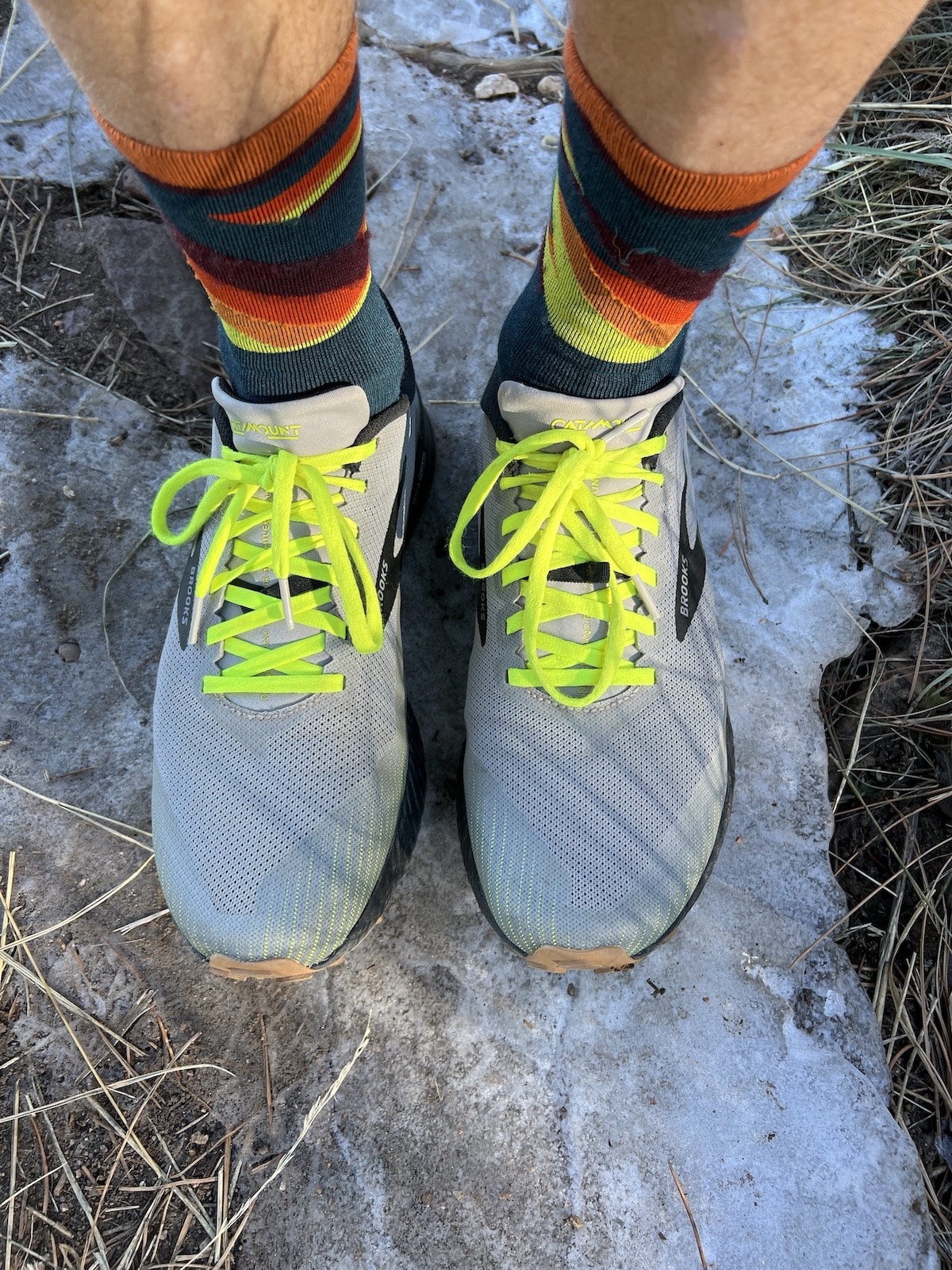 Pros
Cool, sleek-looking shoe (not silly looking like Hoka Speedgoats)
Lightweight yet sturdy
Supportive cushioning that is ultra-light
Protective (Brooks Ballistic rock shield) yet flexible
The rock plate is super effective (best of all shoes tested)
Grippy on a variety of terrain and wet or dry surfaces
All-terrain stability (way better than the Hoka Speedgoats)
Superb ventilation and breathability
Cons
Lug treads could be deeper (for durability, but we'll see how they go over the long run)
Conclusion
The Brooks Catamount trail running shoes are versatile. These shoes are great for any hike or trail run.
So far, I have tested them on dirt roads, forest paths, smooth buttery soft single-track trails, dry sandy trails, and persistently rocky terrain.
They have performed extremely well and are making me very happy.
I needed a replacement for my previous trail running shoes that were not providing adequate underfoot protection, and the Catamounts won. If the foot protection and support show longevity, I will wear these shoes in most outdoor adventure scenarios that I find myself in here in Colorado.
These trail runners are so good I decided to snag a second pair on sale (now 25% off) at REI.
If you want a pair of trail running shoes that are protective, lightweight, breathable, that have a supportive midsole, then these shoes are a great choice.
Brooks Catamount vs Brooks Catamount 2s
The Brooks Catamount 2 trail running shoes were introduced in January 2023.
You can get the Brooks Catamount 2s at REI. They are available for men and women.
Let's examine the main differences between the Brooks Catamount and the Brooks Catamount 2s.
Brooks Catamount 2 mini-review
The newest version added the "SkyVault propulsion plate" in the forefoot. This feature is designed to help with uphill hiking or running segments. They provide a little extra spring to your step.
The Brooks Catamount 2s have a cut-out in the rubber treads to reduce the total weight. Not sure if I like this because it likely means less durability. I will verify this when I get my hands on the Brooks Catamount 2 trail runners.
Where to get the Brooks Catamount 2s
Brooks Catamount vs Brooks Cascadia 16
I tested out both of these trail running shoes by Brooks. And I kept them both.
I rate the Brooks Cascadia 16s as the runnerup to the Brooks Catamounts.
It's official. For now, I guess I am a Brooks guy. After three pairs of Hoka Speedgoats.
Brooks Catamount mini-review
The Brooks Catamounts have a firm, supportive midsole that feels quite protective underneath my feet. I wear these shoes on longer hikes and runs. If I know the trail will be on the rocky side, I will wear my Catamounts. The Catamounts are a touch more lightweight, weighing 9.3 ounces or 236.7 grams. They feel fast yet stable. Excellent shoe. 10/10 rating so far.
Brooks Cascadia 16 mini-review
The Brooks Cascadia 16s surprised me. At first, I passed on ordering the Cascadias for my complete guide to the best trail running shoes for 2023.
Since I loved the Catamounts, I decided to test the Brooks Cascadias. They are also excellent shoes! The midsole cushioning of the Cascadias feels slightly less firm. Yet they are still supportive and more protective compared to the Catamounts. I wear Cascadia 16s on smoother, less rocky trails where I can enjoy their bouncy feel. The Cascadias are available in a waterproof Gore-Tex version. If you are more of a hiker than a trail runner, these are a winning pick. 9.5/10 rating so far.
Get the Cascadia 16s at REI for men and women. The Cascadia 16s are also available in Gore-Tex for men and women.
Where to get the Cascadia 16s
Where to get the Cascadia 16 Gore-Tex
Conclusion: Catamounts vs Cascadia 16s
The midsole of the Catamounts feels like it gently presses up into my feet. The midsole of the Cascadias is supportive but squishes down a bit, just slightly, perhaps 3-5mm. Both shoes have the Brooks Ballistic rock shield and protect your feet against rocks. Both shoes will fit a wider foot. The Cascadias are a touch roomier in the front half of the shoe and toe box. The Catamounts are about an ounce lighter in weight. If you want a waterproof shoe, the Cascadia 16s are available with Gore-Tex.
---
Notes on my testing for this review
I tested the Catamounts against these other popular trail running shoes.
Below, they are listed in order of what I like the most. I kept a pair of the Brooks Cascadia 16s because I thought they were a close runner-up to the Catamounts. They are slightly more protective, not as lightweight (but pretty close!), and more cushiony.
All but the Hoka Speedgoat 5s have a rock plate to protect the bottoms of your feet. However, of all five trail runners tested, only the Brooks Catamounts and Brooks Cascadia 16s passed the rocky terrain test.
Despite the La Sportiva Ultra Raptor IIs being categorized by REI as a trail runner. They are closer to being lightweight hiking shoes if you ask me. I don't think I could run in them. A solid shoe, though. Very protective. A great hiking shoe for people that have narrow feet.
I have had three pairs of the Hoka Speedgoats. Gradually, they disappointed me. My last pair were totally destroyed by just 200 miles (or less) of use. The Brooks Cascadia 16s are a great alternative to the Speedgoats. They are better since they have a rock plate.
The Saucony Peregrines were okay. They feel similar to the Cascadias but more lightweight and flexible.
The Altra Lone Peaks had a flimsy feel to them. I could twist them into a pretzel shape. I don't see how they offer any stability or support. I put them on and took them off immediately. Thumbs down.
We will present all the details in our guide to the best trail running shoes for 2023. Stay tuned, and happy hiking!
For more information about trail running shoes, read the guide below.