A top priority in 2023 is to find the best trail running shoes that I can use for hikes or trail running.
My focus is on durability, foot protection, breathability, traction, cushioning that lasts, and stability on technical terrain.
I have tested one or two potential options for the most trusted brands. This is my review of the Brooks Cascadia 16s trail running shoes.
So far, I have put 50+ miles on the Brooks Catamounts (a light, speedy, and responsive ultra trail shoe) and the Brooks Cascadia 16s. They are both excellent, and I am unsure which ones I prefer.
Quick Summary – Brooks Cascadia 16 Trail Running Shoes
The Brooks Cascadia 16s are a versatile mountain trail shoe. They have some great features that cater to both hiking and running.
Trail running shoe type – Designed for all-terrain types on mountain trails.
Weight – 10.5oz / 297.7g
Midsole drop – 8 mm
The fit – These shoes are roomy in the forefoot and toe box. A generous D width, not a narrow fit. They work for wide feet.
Key benefits – Incredible foot protection against rocks and roots, all-terrain stability and traction, and just enough cushion and outsole flexibility. Available in a waterproof Gore-Tex model and also a wide fit. This shoe is a fantastic combination of cushioned stability, traction, breathability, and protection of the toe and underfoot.
Price – Current price is $130, and $160 for waterproof Gore-Tex.
Where to buy – Check the retailers below for the best price or color schemes.
Brooks Cascadia 16s For Men:
Brooks Cascadia 16s For Women: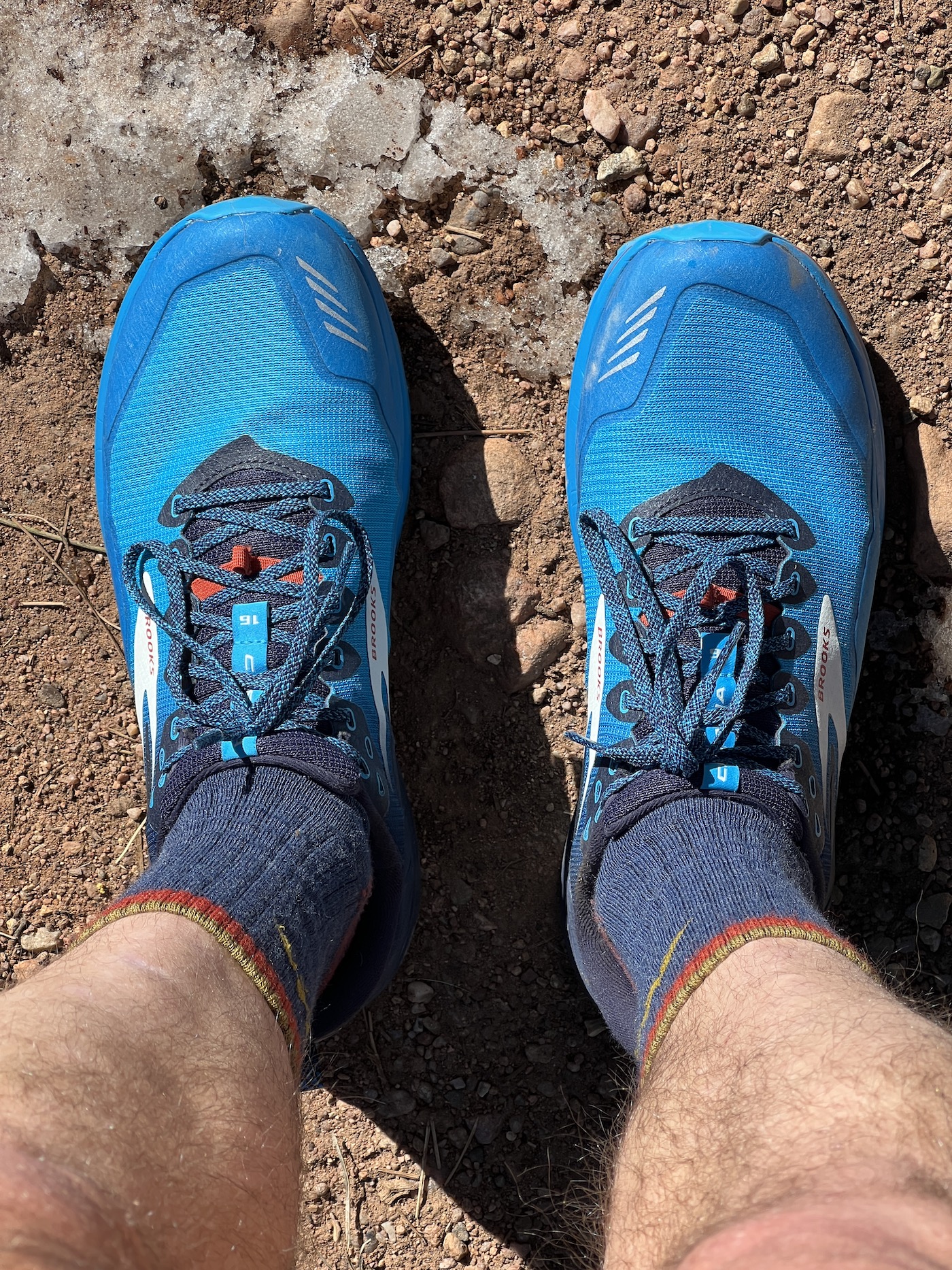 How these shoes feel
Roomy in the toe box, well ventilated, stable on all terrain, protective, grippy in all conditions (but melting ice and deep stick mud – understandable), supportive, light on the feet.
Why buy the Brooks Cascadia 16s?
These are a great pick if you are looking for a shoe with the light feel of a trail runner and the foot protection of a lightweight hiking shoe. The Brooks Cascadia 16s have just enough cushion, feel stable on all terrain, are fast-moving, and provide amazing traction on all surfaces and in most conditions. You can take these shoes anywhere and feel comfortable for 5-10 mile long hikes. These are a nice alternative to the Hoka Speedgoats that lose their cushioning after about 75 miles.
Pros
Good looking design, a variety of color schemes
Available in waterproof or wide fit
Toe and under-foot protection (rock plate)
Super breathable
Excellent stability, sturdy heel
Grippy on all surfaces/conditions (dirt, rocky, wet, snow, slush, mud)
Durable construction
The midsole is supportive and cushiony
Cons
Bottom Line / Conclusion
Brooks has managed to create a fantastic trail running shoe for hiking. The Brooks Cascadia 16 is a stable shoe that protects the feet like a hiking shoe but can be used as a stand-alone trail runner.
This is exactly what I have been looking for because I like to hike up and run down. This is the shoe that I will be wearing on my long, high-country Summer hikes here in Colorado.
Why trust this review?
So far, I have tested the Brooks Cascadia 16s for across 50+ miles and 15,000+ feet of elevation gain on the trails around Boulder, Colorado. I have hiked (or run) in all conditions, including dry dirt, ice/snow/slush, mud, and rocks. All I need to determine is long-term durability. Otherwise, I understand the shoe well and can accurately comment on its performance.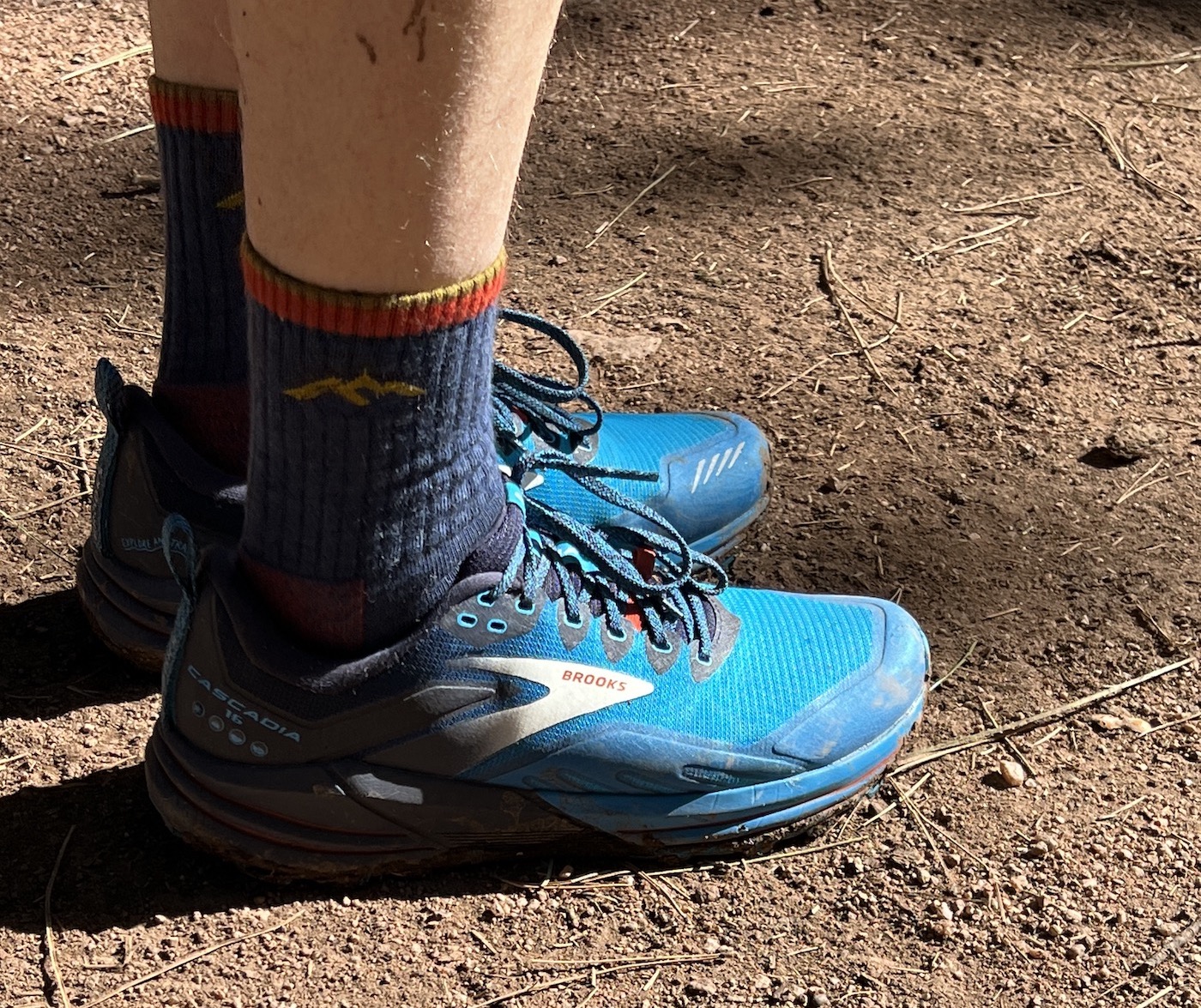 Brooks Catamount 2s vs. Brooks Cascadia 16s
Both the Brooks Cascadia 16s and Brooks Catamount 2s are excellent trail running shoes.
So, how do they compare, and how do they differ?
The Catamount 2s have a bit more uplifting support or responsive cushion throughout the midsole, are lighter by about 1 ounce, and are a bit snugger (locked-in feel) in the toe box and heel area. These shoes are more like a true trail runner (vs. a hiking shoe) and work well for longer distances (10+ miles). There is not a Gore-Tex or wide-foot version. The outsoles have drainage slits (as do the Cascadia 16s) to encourage faster drying time. Due to the new SkyVault propulsion plate, the Catamounts cater to uphill travel and forward propulsion. They feel rockered, whereas the Cascadia 16s feel somewhat flatter across the midsole. I wear these shoes in the rocky and technical terrain of the high country and when I want to run more than hike. The Catamount 2s are more expensive, with a $170 MSRP.
The Cascadia 16s are roomier in the toe box and heel area, have a slightly more durable build overall, are a bit more protective in the front (rock plate and toe guard) yet are still flexible, have Gore-Tex and wide foot options, and have a nice softer cushion ride to them. The lugs in the tread are slightly bigger and deeper in the Cascadia 16s compared to the Catamount 2s. They might deliver a bit more grip and longevity. I like to wear my Cascadia 16s on the local trails around Boulder that are less rocky and a bit more buttery smooth. They work great for hikes up to 10 miles in length. Beyond 10 miles, I am more likely to want the extra support of the Catamount 2s.
Brooks Cascadia 16 GTX
I am happy that the Brooks Cascadia 16 GTX shoe is available as a waterproof option. I will buy a pair of these soon for my Spring and early Summer hikes when all the snow is melting in Colorado. The shoe is the same, but it has an internal lightweight Gore-Tex membrane that is bonded to the upper and will protect your feet from wet conditions. If you live in a wet climate, these are a better option for you.
How I tested the Brooks Cascadia 16s
So far, I have worn these trail running shoes on 5+ hikes, over 50 miles distance, and 15,000+ feet. I have used them in all winter and spring conditions on the trails around Boulder, Colorado.
I have compared the Brooks Cascadia 16s to these other trail runners this year.
For more information about trail running shoes, read the guide below.