This Local Brand Makes the Best Merino Wool Baselayers for Mountain Athletes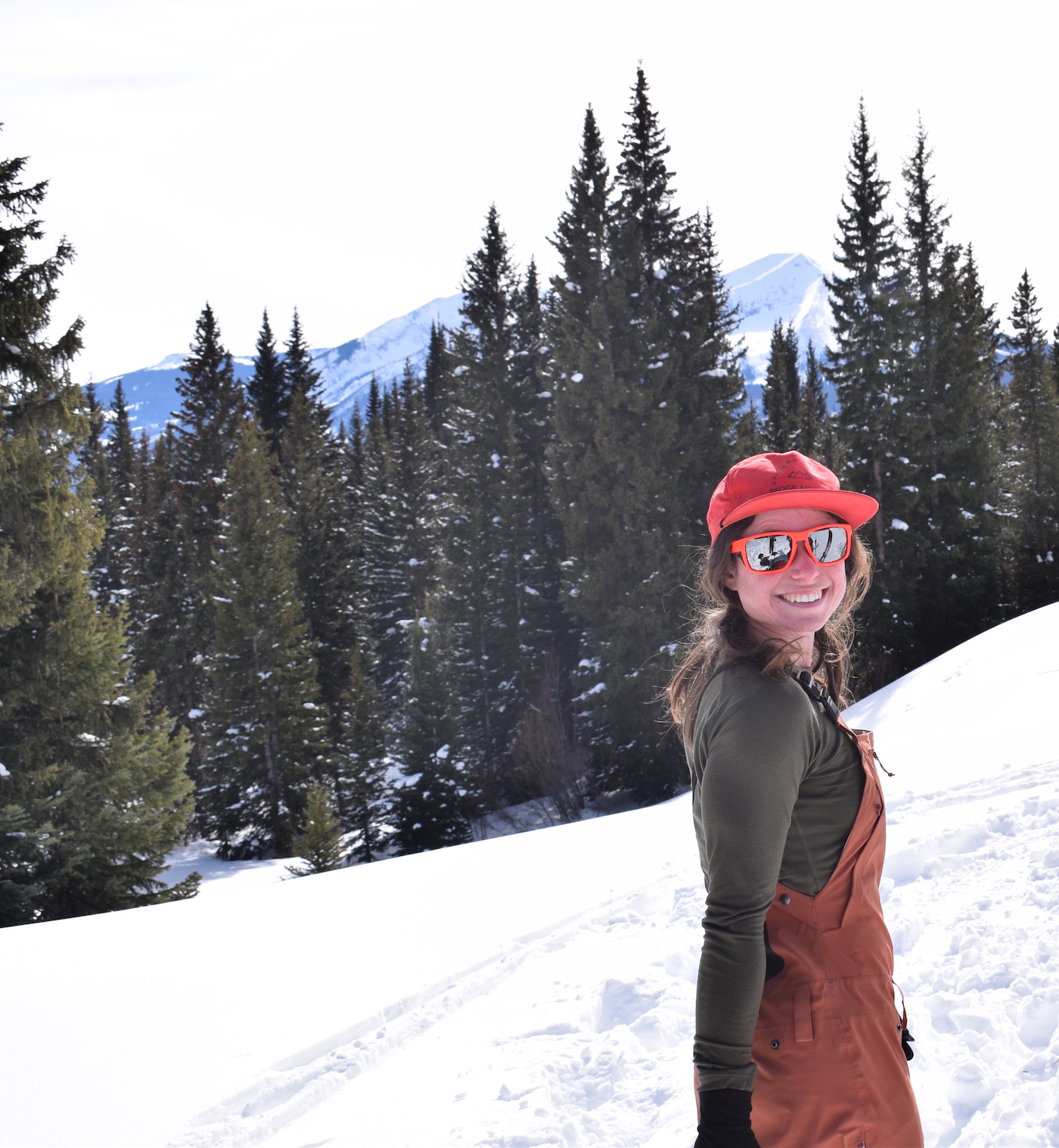 Who is Ridge Merino?
Out on the skin track in Mammoth Lakes, CA, I glide between sun and shade, forest and meadow, ridgeline and basin. The temperatures swing from a balmy 34 degrees to a brisk 22 with windchill, but I feel comfortable despite the shifting conditions in my Merino wool base layers. Going uphill, the sweat-wicking properties of Merino are in full force. When I stop to take a break, I feel surprisingly warm despite the biting cold.
Ridge Merino's A-frame headquarters in Mammoth Lakes, CA is buried in snow when I show up to pick up my gear, buckling under the weight of nearly 20 feet of snow. Inside, the store-combo-headquarters is cozy, with big windows illuminating the store in soft, winter light. Ridge Merino is a small brand based in Mammoth Lakes, CA – home of Mammoth Mountain. Founded in 2014, this family-owned brand has been piloting and testing awesome Merino wool pieces in the mountains of the eastern Sierra.
Ridge Merino is a local brand designed by and for shredders. Their products are, on average, more affordable than other leading brands producing Merino gear of similar quality, and built with the mountains in mind. Before testing products from Ridge Merino's line, I wore almost entirely synthetic activewear, save for some wool ski socks. After putting Ridge Merino's products through rigorous testing, I'm sold on Merino wool—but not all Merino products are created equally.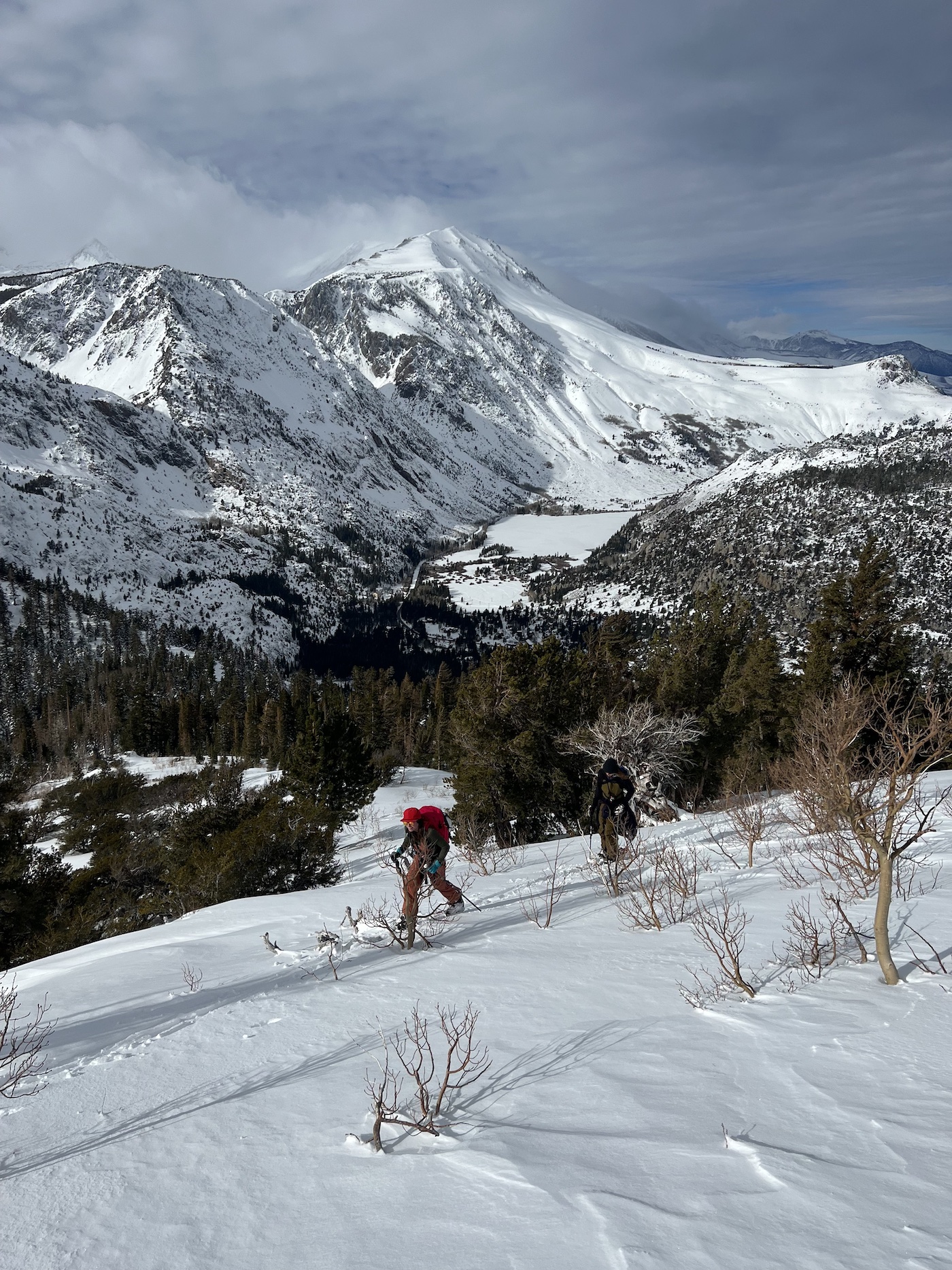 Skinning uphill in June Lake, CA, decked out in Ridge Merino gear. Photo Credit: Forrest Smith
What is Merino Wool?
Merino wool comes from a specific breed of sheep with low-diameter wool. While conventional wool can be up to 40 microns thick, Merino is generally between 15 and 24 microns in diameter: meaning that Merino is much softer than conventional wool.
Ridge Merino products use 18.5 micron Merino fibers. In most of their products, they blend their Merino with nylon to produce a more durable product: lightweight Merino wool is prone to small holes during heavy wear, and the addition of nylon helps improve durability.
Merino wool is an excellent activewear material for many reasons. It's naturally antimicrobial, meaning that you can use Merino products for a long time before they become smelly. Additionally, Merino wool is moisture-wicking, meaning that moisture is pulled away from the skin and absorbed, evaporating from the outside of the garment.
The fabric has an excellent warmth-to-weight profile: this means that merino products tend to be significantly warmer than synthetic materials of similar weight. Merino wool can stay warm even when wet: so get ready to sweat it out in your Merino top. Finally, Merino is naturally UV resistant, making Merino sun hoodies an excellent option for those venturing into the mountains.
Check out Ridge Merino on Instagram: @ridge_merino.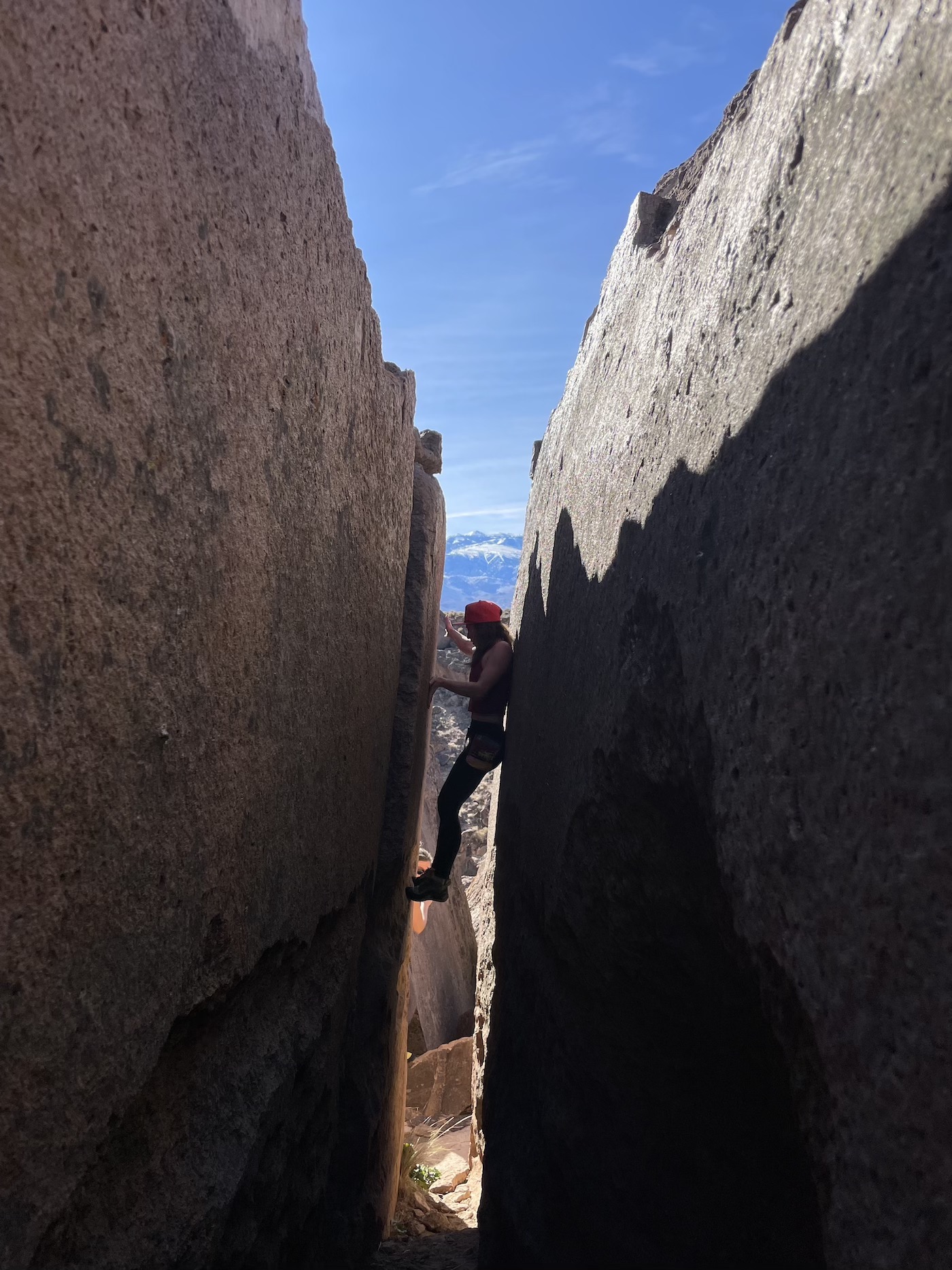 Quick Picks from Ridge Merino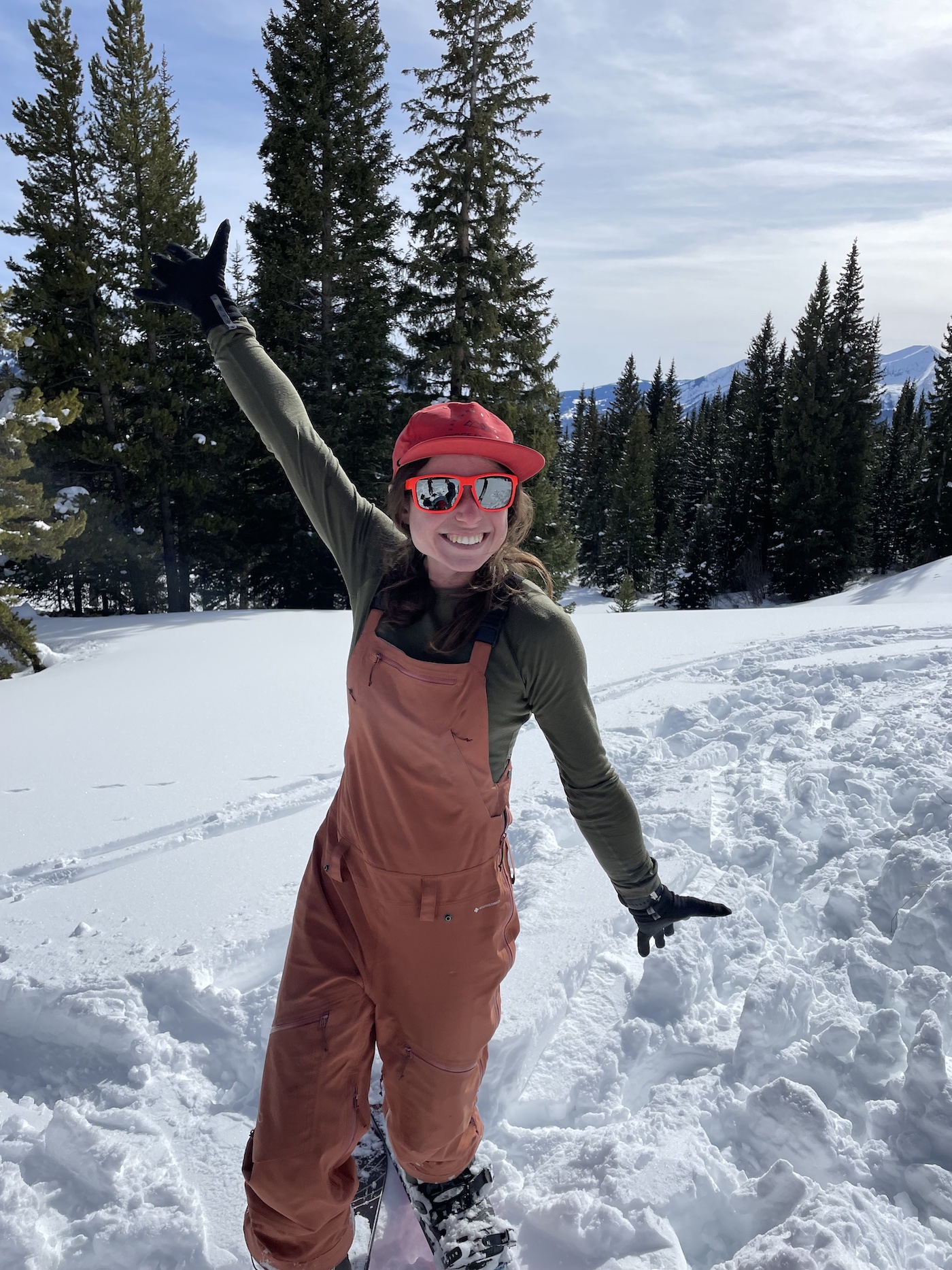 Out splitboarding in Ridge Merino's Midweight Aspect Long Sleeve top. Photo Credit: Paloma Siegel
The Details
Product Summary
The Aspect top is a midweight Merino Wool baselayer top with a flattering, slim profile. It's soft and cozy for hanging out around town but performs extremely well in cold temperatures during medium exertion activity. I tested the Aspect in Olive Night, and loved the deep green color. Featuring a built-in, integrated thumb loop and a longer torso cut, the top excels in cold temperatures.
Pros
Dries extremely quickly after sweating in it
Limited smell after extensive wear
Slim fit is excellent for use as a baselayer
Incredibly soft and cozy fabric, especially after a few washes
Reasonable price for a Merino layer
Relatively durable layer
Cons
Color array could include brighter colors
Felt warm in temperatures above the mid-30's
Some minor piling with washing
Notable product features
(m)Force Technology: blend of 84% Merino wool, 16% nylon
18.5 micron Merino fibers
UPF 50
Integrated thumb loops
Long cut for layering on cold days
Backpack-friendly raglan construction
Test analysis
I was pleasantly surprised with the antimicrobial properties of this Merino wool top. I wore it for up to 2 weeks at a time of heavy activity with minimal smell. This makes it an excellent, versatile layer that can be taken out on the trail for long periods without needing to wash it.
In terms of durability, I found that this base layer top held up very well with heavy use. This is likely a result of the (m)Force technology, in which Merino wool is blended with nylon to prevent snagging. Even still, I found some minor piling with multiple washings, but this was entirely cosmetic and did not impact the look or feel of the shirt significantly.
This baselayer top is extremely comfortable and soft, especially after washing. I was skeptical of wool but found it extremely cozy when out in the mountains. I often would keep it on for the aprés due to its soft and cozy feel!
The top is fitted, but not tight. In my opinion, it is the ideal cut for a base layer. It looks flattering, with a slim, long-line cut that can easily be tucked into ski pants if needed.
I tend to run warm and prefer light base layers for hiking and skinning uphill, so I feel like this is about the heaviest weight top I would wear for those activities. That said, I felt it performed extremely well during medium exertion activities in cool weather, such as ski touring, hiking, and jogging. I enjoyed wearing it for jogging and touring in sub-32 degree weather.
For those who tend to run cold, this layer could certainly be used for activity in warmer weather. It would be awesome if Ridge eventually made a lighter weight version of this top for warmer weather touring – though I would be curious to check out their Solstice Sun Hoodie for that purpose.
Best for
Cool weather hiking, ski touring, nordic skiing, winter running, climbing
Conclusion
I am totally sold on this Merino wool baselayer. While I wouldn't use it for high-exertion activity in temperatures over 32 degrees, it has become a staple of my cold weather attire!
Scoring
Durability: 9
Comfort and Fit: 9
Warmth: 8
Breathability: 7
Range of Motion: 10
Overall Score: 8.6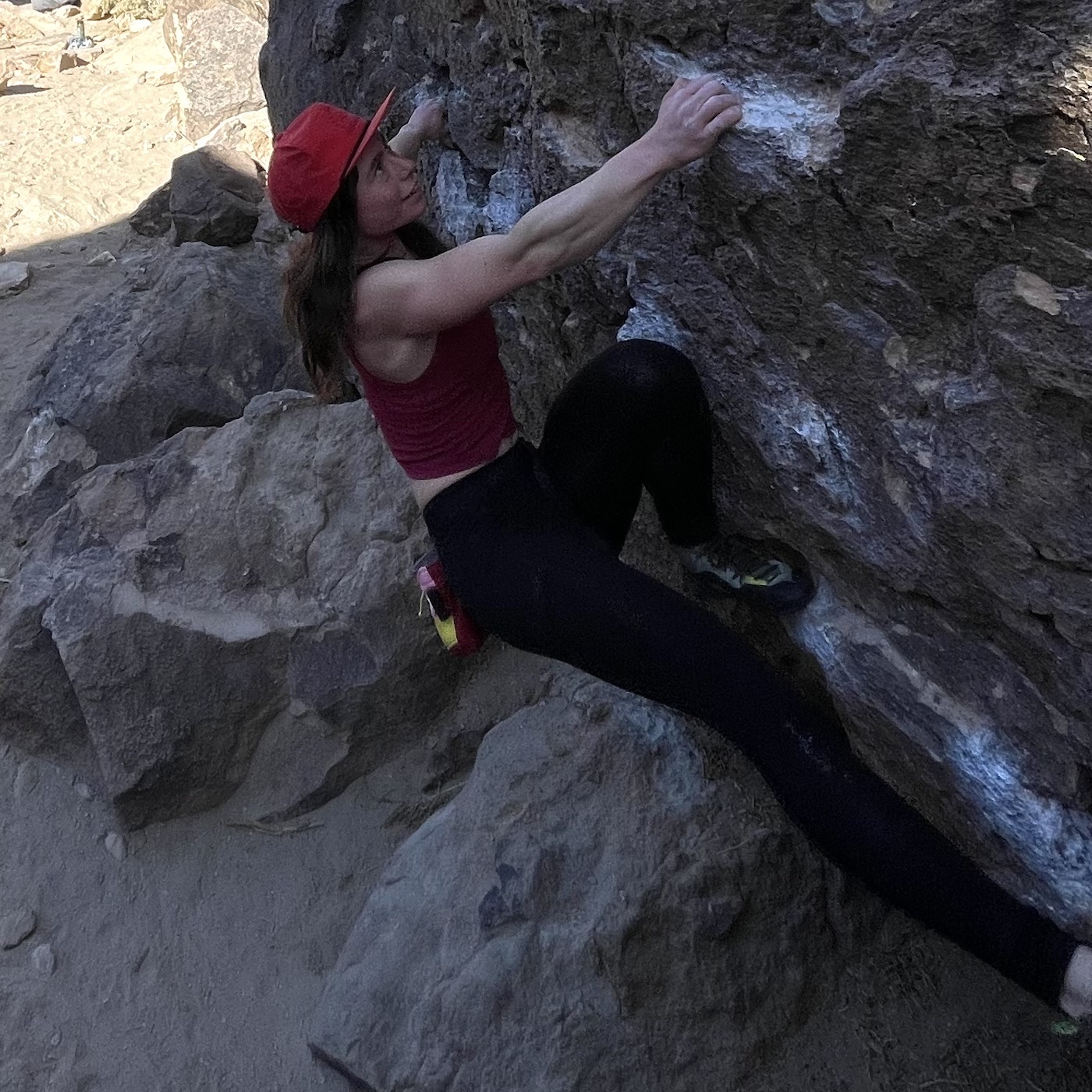 The Details
Product Summary
Ridge Merino's Crowley tights are durable, performance leggings. These leggings feature a tight, compression fit, excellent for running and high-intensity activity. They feel and look sleek, with a high-rise fit on the waistline. They have two exterior pockets that hold my iPhone, keys, and a snack easily while out running. While they are advertised as having a ⅞ fit, I found that at 5 feet tall, they fit like a full-length legging. For those who are taller, I imagine this will not be the case.
Pros
Snug-fitting compression leggings don't slip when running
Extremely flattering
Durable construction
The pockets are perfectly sized for running essentials
Surprisingly good temperature regulation
Cons
Piling of the seams on the butt after climbing in these
These leggings currently only come in one color
Notable product features
53% Nylon, 26% Spandex, 21% Wool
Merino wool interior with a nylon and spandex exterior
Compression fit
High-rise fit
⅞ length
Two exterior side pockets
Test analysis
I found these leggings to be warmer than my typical synthetic leggings, but they make an excellent cool weather running option. I tend to find other leggings too breezy when running in the winter, and the Crowley tights fill a niche of midweight leggings that regulate temperature better than pure synthetics, but less warm than fleece-lined tights.
Wearing these underneath my hardshell ski pants was very comfortable for touring uphill and downhill snowboarding. I loved wearing these for nordic skiing as well. Even with high-intensity activity, these leggings didn't slip and needed almost no adjustment.
I found that when I sweated in these, they dried quickly as opposed to becoming soggy and uncomfortable like many purely synthetic leggings. The drying time was very fast as a result of the moisture-wicking Merino fibers, which is excellent for temperature regulation. Even after sweating in these, the antimicrobial properties of Merino made it so I could wear them time and time again before washing them without them smelling atrocious.
My one minor complaint is that after climbing in these, I discovered that some of the seams on the butt of the tights had become frayed and fuzzy after chimneying in these leggings. This is to be expected when wiggling up harsh, volcanic rock, but I would advise you to avoid any abrasive climbing in these if you care about frayed seams. Most leggings would have ripped in this context, and I was thoroughly impressed that these didn't!
Best for
Cool weather hiking, winter running, nordic skiing, underneath ski pants for a tour, yoga.
Conclusion
I would recommend these leggings to anyone looking for a warmer, more durable pair of leggings than your typical synthetic.
Scoring
Durability: 8
Comfort and Fit: 9
Warmth: 7
Breathability: 7.5
Range of Motion: 10
Overall Score: 8.3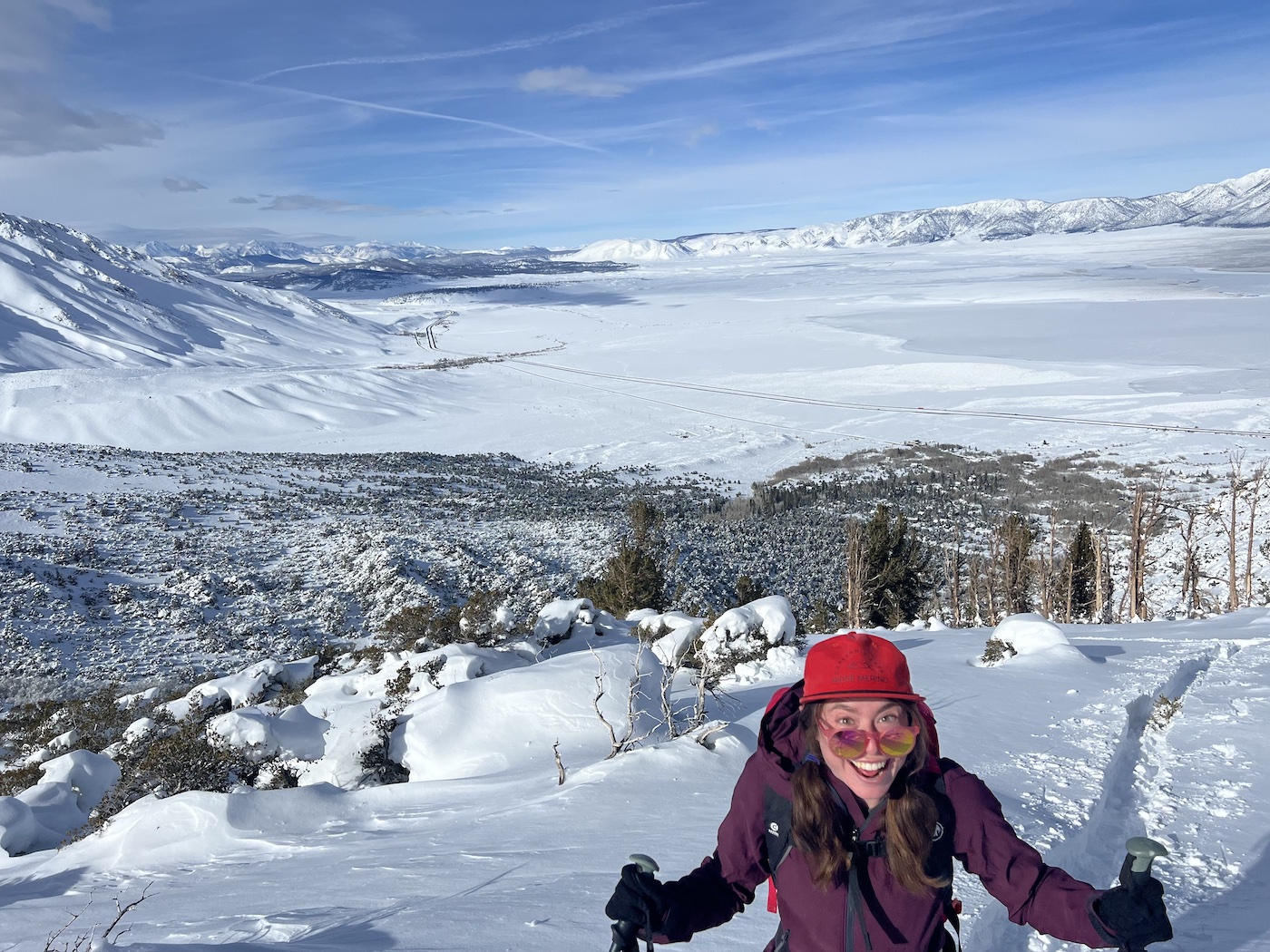 Other Featured Products from Ridge Merino
The Details
Product Summary
The Sherwin Nylon 5-Panel Snapback is an awesome nylon hat that is made of lightweight material.
Why Buy
This snapback hat is breathable, holds its shape, and looks great out on the skin track! It dries quickly when wet, and provides ample sun protection. I've been wearing it all the time for running, hiking, and splitboarding!
The Details
Product Summary
This beanie is made out of 100% Merino wool, and features the Ridge logo and a pom-pom on top.
Why Buy
This hat is crazy soft and cozy. It has become a go-to for cold mornings, aprés ski, and everything in between. I've been loving how warm and toasty it keeps my head on cold days at the trailhead.
The Details
Product Summary
The Ridge Merino glove liners are made with an m(force) technology Merino wool and nylon blend. They
Why Buy
I use these as standalone gloves when going uphill and as a glove liner when going downhill. They are also the perfect lightweight glove for running in cold weather. The touch-compatible conductive print on the index finger and thumb let you easily navigate on your smartphone in cold weather, a feature I have enjoyed. Additionally, these gloves dry crazy fast when wet.
My Testing Process
I tested Ridge's Women's Aspect Midweight Merino Wool Long Sleeve Shirt and Women's Crowley Compression Merino Wool Tights, as well as several of their accessories, over 2 months of continuous use.
I wore my Ridge Merino products everywhere this winter. To be honest, I was incredibly surprised at the versatility of these products I tested from Ridge Merino. I put nearly 40,000 feet of vertical gain on my Aspect baselayer shirt while out backcountry snowboarding in the eastern Sierra. My Aspect baselayer shirt stayed on from the skin track to aprés at the brewery, proving its versatility as a layer.
I tested the Crowley Compression tights for a wide variety of uses: I wore them under my hardshell pants out on the skin track, as a standalone piece while running and nordic skiing, and around town. These
I wanted to test the following:
Durability
Comfort and Fit
Breathability
Range of Motion
To test these features, I wore each product for at least a week at a time without washing it. My testing of the Aspect top and Crowley tights occurred in a wide variety of temperatures and conditions, from a frigid day of touring in 8 degree temps in Crested Butte, CO to 50 degree temps in the California sun. On numerous occasions, I sweated while going uphill in my Aspect top and then transitioned my splitboard on frigid ridgelines before heading downhill. After soaking in the hot springs, I tossed my Aspect top on to warm up. I wore both the Crowley tights and Aspect top for some nordic skiing in Vail, CO as well as a few road runs in Mammoth Lakes, CA.
I am 5 feet tall, 100 pounds with an athletic body type. Typically, I typically wear a size 0 or extra small in both tops and bottoms.
Frequently Asked Questions
Q: It's wool. Isn't it too hot for high-intensity activity?
A: It depends on the weight of the Merino wool. Merino is a very breathable material, and can be spun into light and heavyweight fabrics. Lighter weight Merino wool is an excellent, breathable material with excellent moisture-wicking and antimicrobial properties.
Q: Is Ridge Merino an environmentally friendly company?
A: Yes! Merino wool is a relatively sustainable material as a result of the fact that it is renewable and biodegradable. Ridge Merino prioritizes sustainable practices: read more about their sustainability protocols here. Additionally, Ridge is a participant in 1% for the Planet and has donated more than $30,000 to outdoor and environmental non-profit organizations. They are also a Certified California Green Business!
The Bottom Line
Ridge Merino makes an excellent array of Merino wool products for every outdoor enthusiast. I was incredibly impressed by their gear's quality, durability, and construction. I highly recommend Ridge's Aspect base layer top and Crowley leggings to any hiker, runner, skier, or mountain athlete!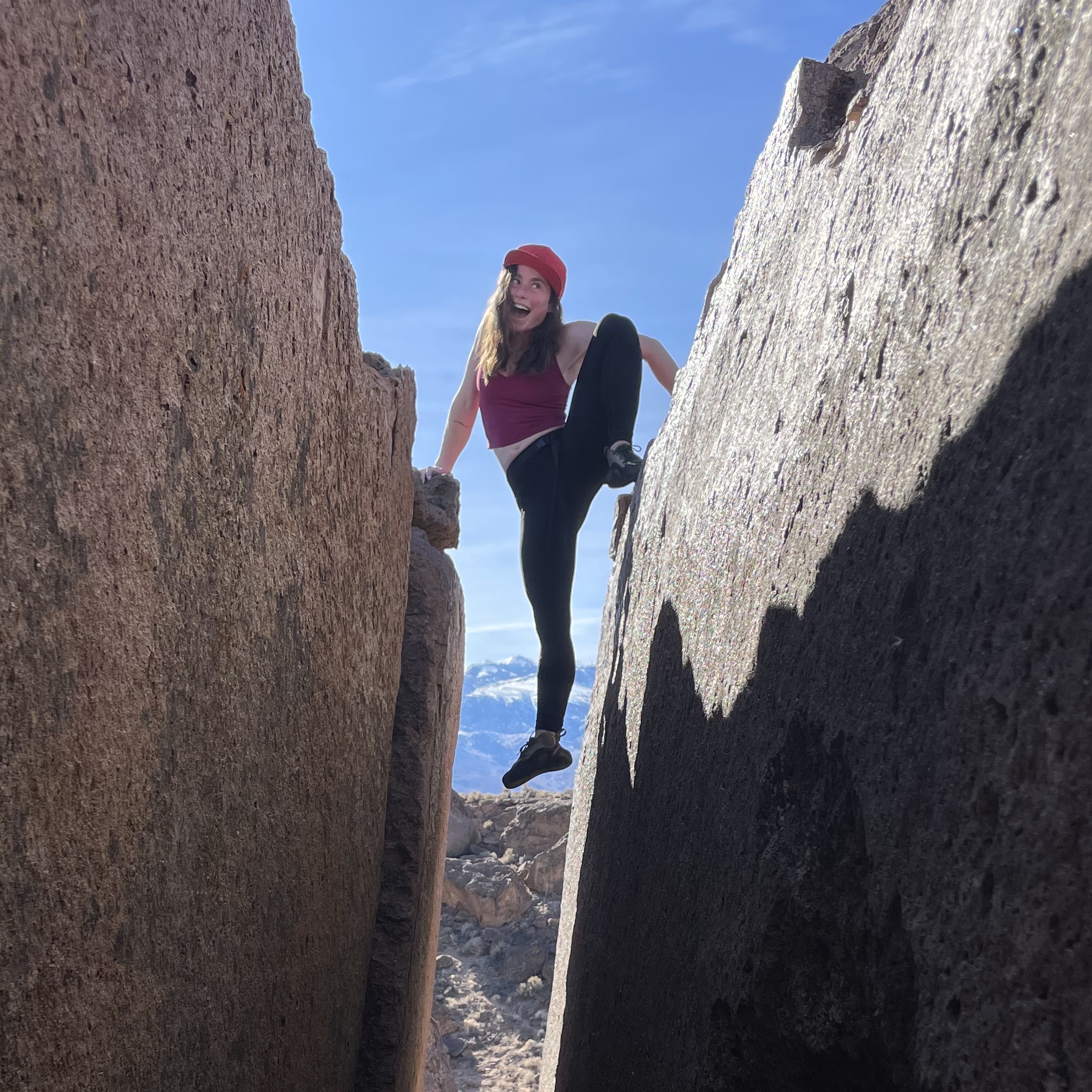 Buy Ridge's Products Here:
Women's Crowley Compression Merino Wool Tights
Women's Aspect Midweight Merino Wool Long Sleeve Shirt
Sherwin Nylon 5-Panel Snapback Hat
Ridge Logo Pom Merino Wool Beanie