My child would say that the most important kids hiking gear is candy, and it might be true but that's not all. Beyond the bribes, here's what you need to keep kids comfortable and protected on hikes.
In addition to smaller versions of the hiking clothes, footwear, and gear that adults use, there are additional items that can make hiking with children more fun for everyone.
Just being in nature occupies my child's body but not always his mind. Real or toy hiking tools can engage kids of all ages on another level. A compass, binoculars, magnifying glass, bug net, or camera add another element to hiking that keeps kids engaged.
And of course, having real hiking gear like trail shoes, a backpack, and/or hydration bladder puts children on par with the adults. There's no need to buy all these things at once. Save money by buying what you need when you need it. Here's a guide to the hiking essentials for kids and more.
1. Hat (+ Sunglasses)
More time outside means more sun exposure. Sunscreen is essential but not always enough, especially in high altitudes where the sun beats down even stronger. Fabric can have a UPF rating too. In addition to protecting skin, hats shade eyes from the sun.
The main things to look for in a hiking hat for kids are the material and coverage. Same as with adults, a regular baseball cap is not ideal for hiking. Look for breathable nylon or polyester to wick away sweat and dry quickly. Depending on how fashion-conscious your progeny is, the brim must shade the face but ideally goes all the way around the hat to cover the ears and neck as well.
Hiking hats are probably even more critical for kids. Younger children can overheat more quickly than adults and are generally sensitive to the sun. These are the best kids hiking hats.
Sunglasses are another layer of UV protection. If your child will wear them. I call either the hat or the shades a win but both are ideal
There are more kids sunglasses available than ever before but these Minishades offer all the necessary UV protection and glare reduction plus impact resistance. They guarantee their product with a replacement pair for one loss. They are sized for ages 0-3, 3-7, and 8-12+.
2. Hiking Footwear
Similar to snow tires for cars, hiking footwear uses different rubber for added grip, bounce, and comfort.
There aren't as many options for kids as adults so we'll just go through the most popular choices for hiking boots, trail running shoes, and hiking sandals. Be sure to check out our guide to kids hiking shoes as well.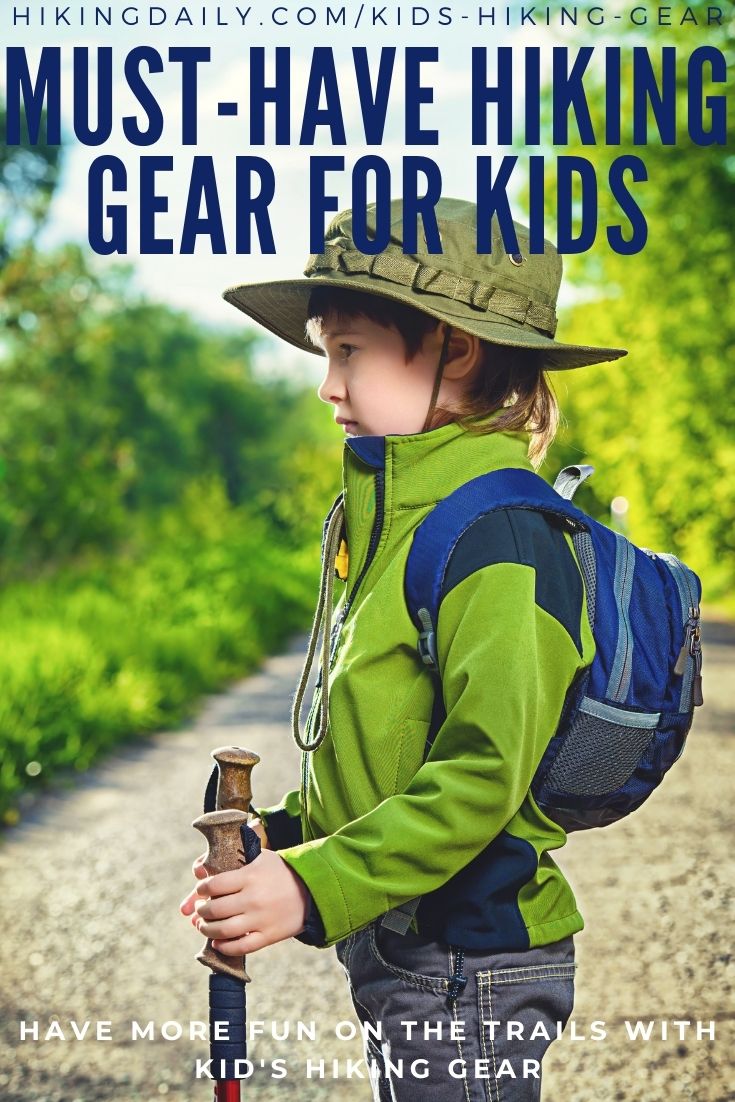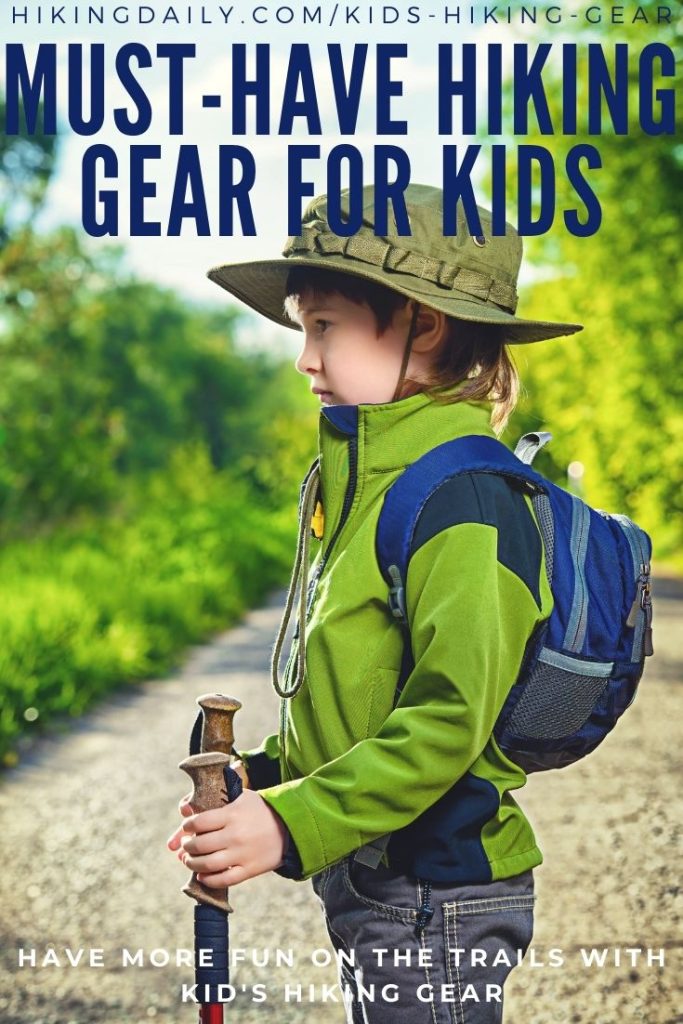 Kids Hiking Boots
For challenging terrain and cooler weather, hiking boots keep feet comfortable, warm, and dry. The soles are designed for traction and grip for any adventure.
These popular kids hiking boots are as breathable, waterproof, and lightweight as possible. They are comfortable right away. If your size up, use a pair of cushioned hiking socks to fill the extra space.
Waterproof Yes
Weight 19.2 ounces
Kids Trail Runners
For kids, shoe weight is an important factor for hiking. Many adults hike in trail runners for this reason. My child likes to run down every hill so these are the shoes we have. While plush Hokas are a favorite for adults, children's trail runners don't have or need as much cushioning because they aren't supporting as much weight or impact.
A child-size version of the adult trail runners, these shoes have a FootShape™ toe box that accommodates wide feet and allows toes to splay in a natural foot position. With a 0 heel-to-toe drop and 17mm stack height, these shoes are the next best thing to being barefoot.
Waterproof No but quick-dry air mesh upper
Weight 8.8 ounces
Kids Hiking Sandals
Keen makes the most popular hiking sandals for kids. With a thick rubber sole and toe protector, they are hiking boots on the bottom and sandals on the top. Even better, elastic laces and velcro make it easy for kids to put on.
For hot weather or kids who love the water or mud, these are the best choice. They can also be worn as summer shoes and are washable.
Waterproof Not applicable
Weight 18 ounces
3. Socks
Ideally, hiking socks are worn with hiking footwear but a great pair of socks can improve an average pair of shoes. Are hiking socks different than athletic socks? Absolutely They are designed to keep feet dry, add cushioning, and prevent blisters with stretch that doesn't bunch up inside the shoe. The best hiking socks are wool, but not all wool.
Hiking socks cost more than regular socks so reduce the price per wear by choosing a sock that can be worn for other activities as well from everyday to inside snow boots.
Known for their unconditional lifetime guarantee and being made in Vermont, Darn Touch socks combine Merino wool with nylon and spandex for a close, comfortable fit. If rainbows add some magic to hiking, rainbows it is.
This can be a more affordable brand of Merino wool socks, especially with discontinued patterns and colors.
Get a 3-pack for the price of one. With 70% wool, these are also warm winter socks.
4. Hiking Clothes
The best clothes for hiking are athletic clothes made of polyester and/or wool. They wick moisture away from the body to keep kids cool and dry quickly to keep them from getting cold. Really, anything but cotton is fine, especially the top when wearing a backpack.
Dressing for hiking is about being ready for the weather as well as prepared for cooler conditions.
Even in the summer, bring a long-sleeve shirt, hoodie, or jacket for windy summits or afternoon showers. For fall and cooler weather, don't forget gloves and a beanie.
5. Hiking Backpack For Kids
If the dog has to carry its own gear, so does the kid. Get a kid-sized back to carry water, snacks, and the inevitable souvenirs of rocks, sticks, and pinecones. Also a lesson in what's okay to take. Pinecones yes, flowers, no.
The most important feature of a hiking backpack is size. This also ensures that a pack won't get too heavy.
Biggest Kids Hydration Pack
Osprey is our top pick for a hiking backpack and this smaller version is the same quality in a smaller package. It is a day pack designed for 4- to 12-year-olds with plenty of space plus a hydration bladder sleeve. The hydration bladder is sold separately but this 1.5 liter fits. This pack is a little too narrow to fit a school folder.
Room to carry additional clothing and gear
Ventilated back panel
Built-in whistle and reflective strips
Gear Capacity 10 liters
Bladder Capacity 1.5 liters (sold separately)
Weigh: 9 ounces
Kids Backpack With Hip Belt
A sternum and hip belt keep this pack from moving around. The 12L pack fits 5 to 8 years old. The 18L pack fits 8 to 12 years old and fits a school folder.
Padded straps + back for comfort + mesh and channels for air flow
Made of bluesign-approved recycled nylon + DWR
5 exterior pockets + main compartment
Gear Capacity 12 liters, 18 liters
Bladder Capacity 1.5 liters and more (sold separately)
Weight 12 ounces, 17 ounces
Kids Backpack For School + Hiking
With 34 colors and patterns and 22 more in this size, there is one that suits every kid. Big enough for a standard folder plus breathable mesh shoulders and backing make this work for school and hiking.
Made of water-resistant polyester
Two large compartments + pockets
Front carrying straps for skateboards, clothes and more
Gear Capacity 12 liters
Bladder Capacity Not applicable
Weight 15.5 ounces
6. Hydration Packs
Water breaks can add a lot of time to a hike. A hydration bladder lets everyone drink on the go to keep things moving. You can share your water or get them their own.
There are hydration packs for kids that make everything smaller – the bladder, tube length, and backpack. Small 2-liter hydration packs also fit most kids. Manage the weight by only partially filling the bladder.
In addition to being kids hiking gear, hydration packs work for mountain biking or any long event outside.
All have these backpacks have a separate pouch for the hydration bladder, additional pockets, and are BPA-free. Here are some other features to look for.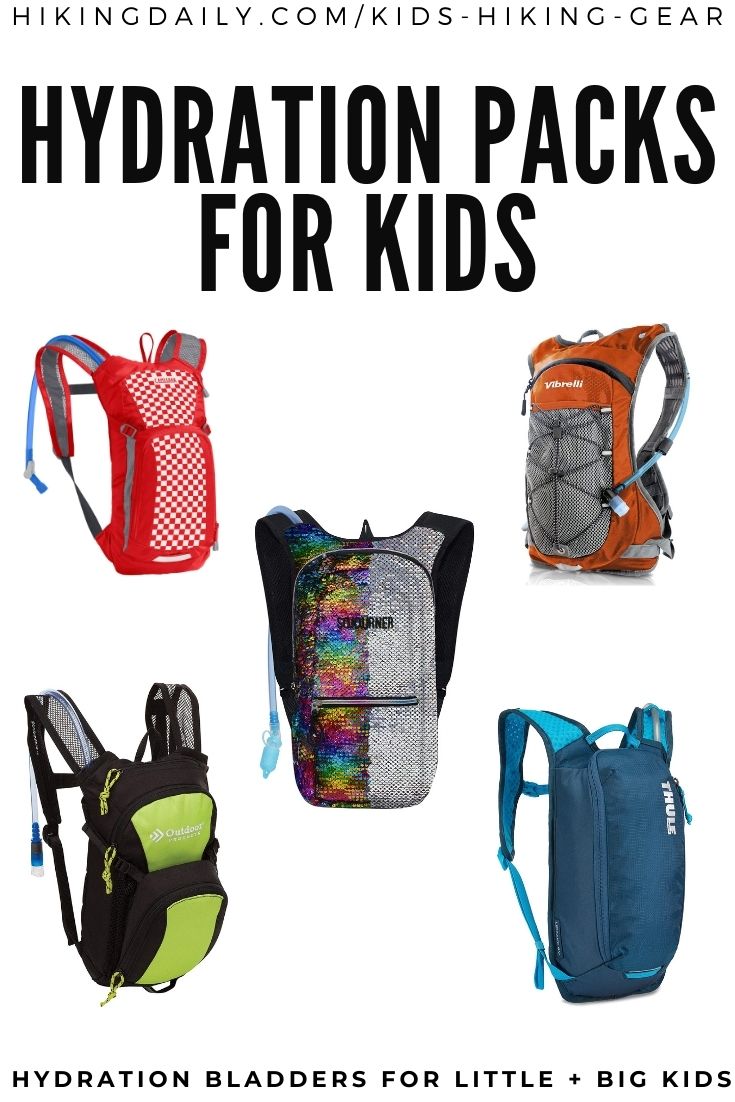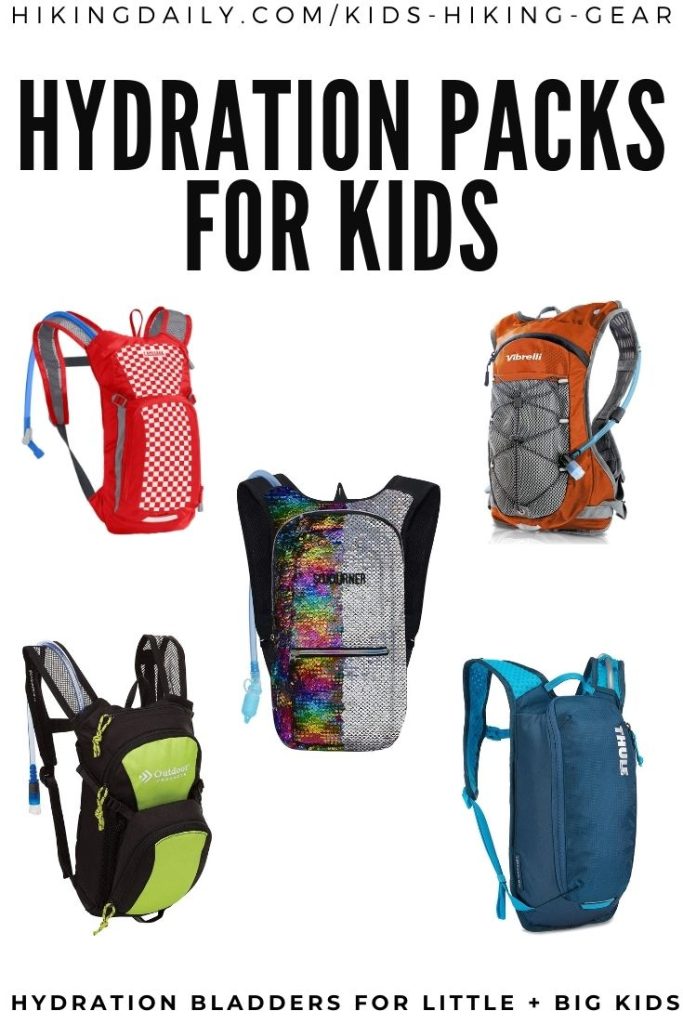 Best Hydration Pack For Little Kids
This is the pack my family uses – kids and adults. The pack is the size of the water bladder, which slips into a velcro pocket at the back. There is a smaller pocket at the front for carrying essentials. It is best for younger kids because it is small, simple to drink from, and has a shorter hose that won't get tangled. The blue hose also helps keep the water cold.
Ergonomic handle for easy filling
On/off lever for mouth piece to prevent leaks
Reflective strips and safety whistle built into sternum strap
Gear Capacity: 1.5 liters
Bladder Capacity: 1.5 liters
Weight: 7.5 ounces
Brand Name, Budget Price
With 2 extra liters of volume for carrying stuff, this is somewhere in between a hydration pack and backpack.
Mesh shoulder straps
Space between main and front compartments can stash a jacket
Lifetime Warranty
Gear Capacity: 3.5 liters
Bladder Capacity: 1.5 liters
Weight: Not listed
Most Stylish Hydration Pack
Bright colors and patterns are both a personal statement and a safe option in nature. This cool pack is available in holographic gold, flowers, and rainbow, red, or silver sequins. This bag is a party at the front, business at the back with athletic materials and design.
Low profile cut
Cushioned, breathable mesh back panel
Adjustable height chest strap for a custom fit
Gear Capacity Not listed but holds 2-liter bladder and has additional pockets
Bladder Capacity 2 liters
Weight 13 ounces
Budget Pick
It's an Amazon pick but gets great reviews and guarantees quality with a 5-year warranty.
Breathable straps
Built-in whistle
5 year warranty
Gear Capacity 2 liters
Bladder Capacity 2 liters
Weight 14 ounces
Best Hydration Pack For Big Kids
This pack has a sleek look and high-quality feel. It has ample storage and a unique magnetic feature that keeps the hose from bouncing around. Designed for 8- to 12-year-olds, or kids from 4'2″ to 5'4″.
Spacer mesh keeps the back cool
Additional storage beyond hydration bladder
Slide closure bladder is easy to clean and dry
Gear Capacity 6 liters
Bladder Capacity 1.75 liters
Weight 12 ounces
7. Kids Hiking Gear, Tools + Toys
If your kids are like my kid, the challenge of hiking isn't physical. Tools and toys are essential hiking gear that keeps kids engaged with their surroundings and moving forward. There are also learning opportunities about cardinal directions, plants, animals, and more.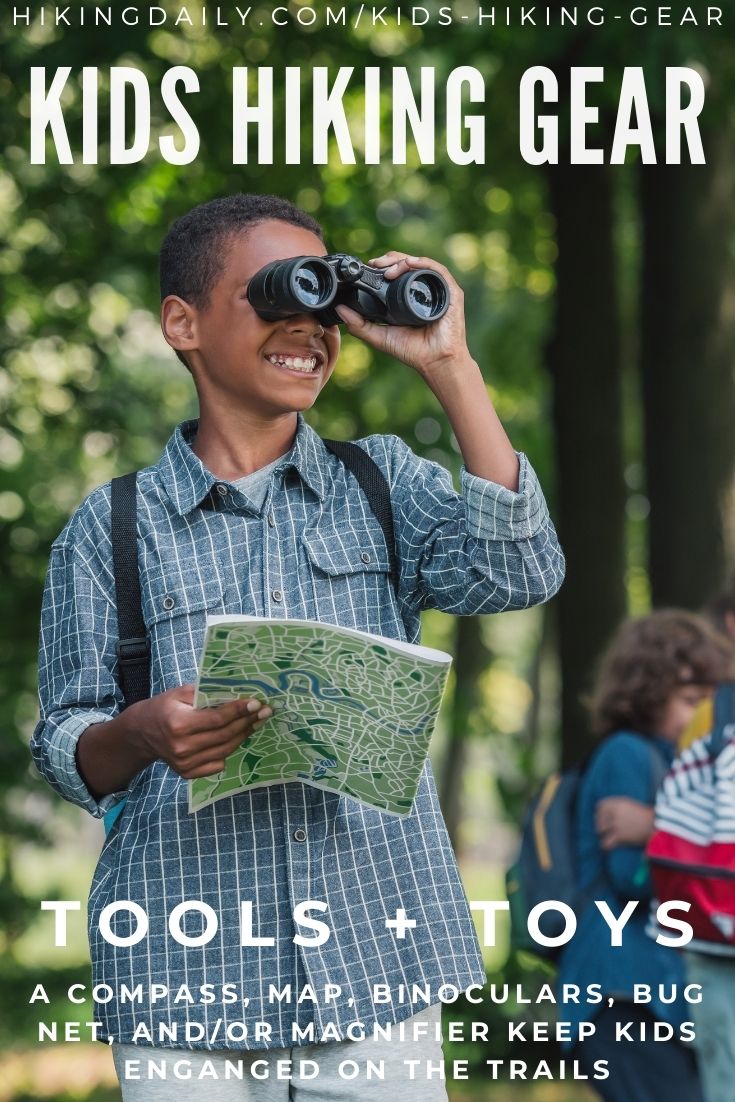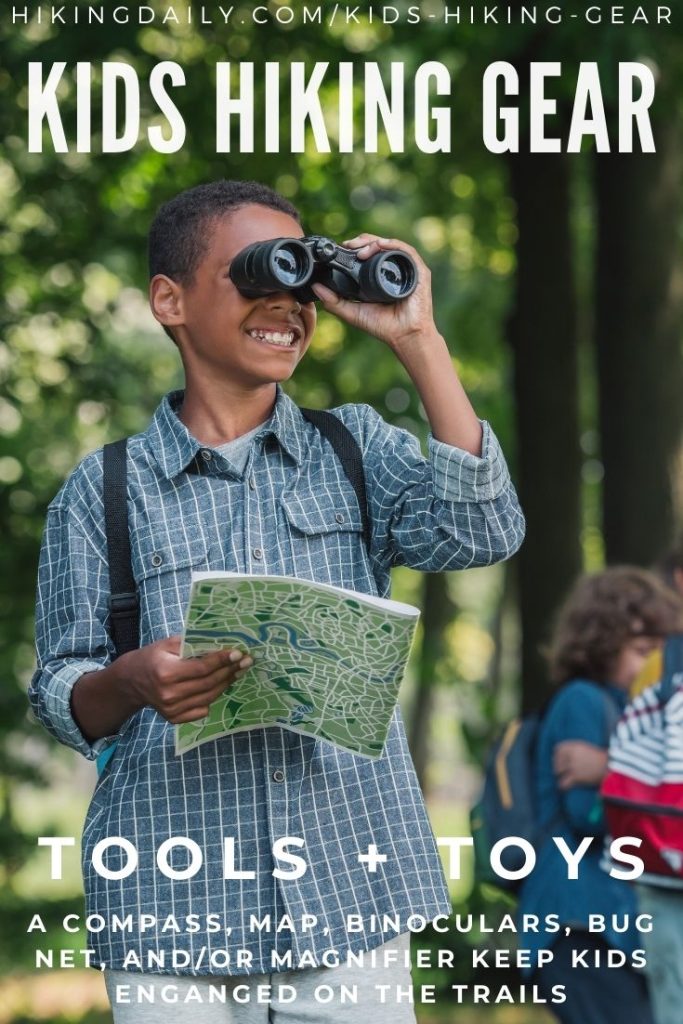 Nature Kits
Get all the gear at once with these sets designed for kids. Some are toys while others are functional but child-size. There are lots of nature toy sets out there but we prefer ones with fewer, higher quality items.
For younger kids, not all of these are functional but they are lightweight and fun to use.
This kit is somewhere in-between a toy and functional so a good choice for the preschool set. It comes with 5 pieces and a handy carrying bag.
4x magnification binoculars
Lensatic Compass
Hand-cranked LED flashlight
Large 3x magnification magnifying glass
Fox whistle
This functional set is aimed at adventurers between 4 and 8 years old.
Kid-size binoculars with 8x magnification, neckstrap, and rubber coating
Small compass with caribiner clip
Plastic magnifying glass
For children over 12, these are all the necessary items for an outdoor adventure with a pouch to carry them in.
8×21 binoculars
Baseplate compass
Flashlight (3 AAA batteries not included)
Whistle also has thermometer, compass, and magnifier
Compass (+ Paper Map)
The moving parts of a compass are interesting to kids even if they don't know how to use them. Pair the compass with a map and you have some valuable life skills. Plus the map is very helpful to answer the inevitable, "are we there yet" questions.
Prepare them by reading Follow That Map, a book teaches mapping concepts to kids through an adventure story. It is suited for kids between 4 and 8, depending on interest and ability.
With a breakaway lanyard and animal picture, this compass is designed for kids. The compass is small but it's a functional and safe option for younger kids. For a similar full-sized compass, try the AOFAR Orienteering Compass
To be educational, a compass has to work. This is the real deal at a great price.
Military metal compass
Thermoelastic liquid-filled capsule
Waterproof
Luminous magnet arrow and dial that glow in the dark
Spirit level to find true horizonal
It's a real and attractive compass at a great price point. For multiple kids, it gets cheaper to buy more than one compass. It needs to be held horizontally to work correctly.
Binoculars
These lightweight binoculars are designed for smaller hands. Available in 13 colors, one will sut your explorer. Bright colors are easier to find in the woods.
8X focus
Shockproof
Wateproof
For toddlers, these binoculars designed for kids are foolproof. The 2x magnification brings nature closer without needing to be focused.
Bug Net
A net is fun for trying to catch insects or scoop fish and rocks from a creek or lake.
Adult nets don't cost much more than toys but last a lot longer. This version features a 10″ring and handle that extends from 15″ to 48″.
Magnifying Glass and/or Bug Catcher
Sometimes being in nature isn't enough. Get even closer with a magnifying glass, especially if something gets caught with the net.
A rubber coating keeps the handle from slipping and protects glass from falls. It's perfect for seeing nature up close.
This tool makes it easy to catch a bug, inspect it, and let it go. If your kid is always catching bugs with bare hands, this may give you some peace of mind.
Bug viewers are boxes with some magnification. This is the real deal with 10x magnification.
Camera
Taking pictures is another way to get kids engaged during a hike. Let you're willing to share, let htem borrow your phone or camera. Or let them use an older model camera or waterproof camera. There are also cheap kids' cameras available that are durable and shockproof.
8. Dont Forget
As if the list isn't long enough, here are some additional items that are essential for hikes with kids.
Suncreen
Snacks
Band-aids + First Aid Kit
Wet wipes
Extra socks + clothes