CamelBak Mini M.U.L.E. Hydration Pack with 1.5L Crux Reservoir
The CamelBak Mini M.U.L.E. is made for kids – but that's not all. I bought this small hydration backpack for my child but am the person that uses it the most. The compact size, simple design, and ease of use keep me reaching for the kid-size CamelBak.
With a 1.5 liter/50-ounce Crux Reservoir and storage capacity of 1.5 liters/90 cubic inches, the Mini M.U.L.E is best for a couple hours or less out on the trails. The dimensions are 35 x 21.5 x 10 cm/ 12.6 x 8.5 x 3.9 inches, a small enough footprint for children and small area against my back. The straps are large enough to fit an adult woman but probably not the widest of chests/shoulders.
That's plenty of space though. The largest compartment is for the bladder. There is also a front pocket with some dividers to keep keys safe. An overflow space between the two pockets keeps snacks at the ready and expands to fit an adult size outer layer.
The backpack is only half of the hydration pack. The Crux reservoir features a wide mouth and handle that makes it easy to fill with ice and water. The tube isn't as long as adult-size hydration bladders but I consider that a plus. It's easy to tuck the mouthpiece in behind the chest strap without any excess flapping around.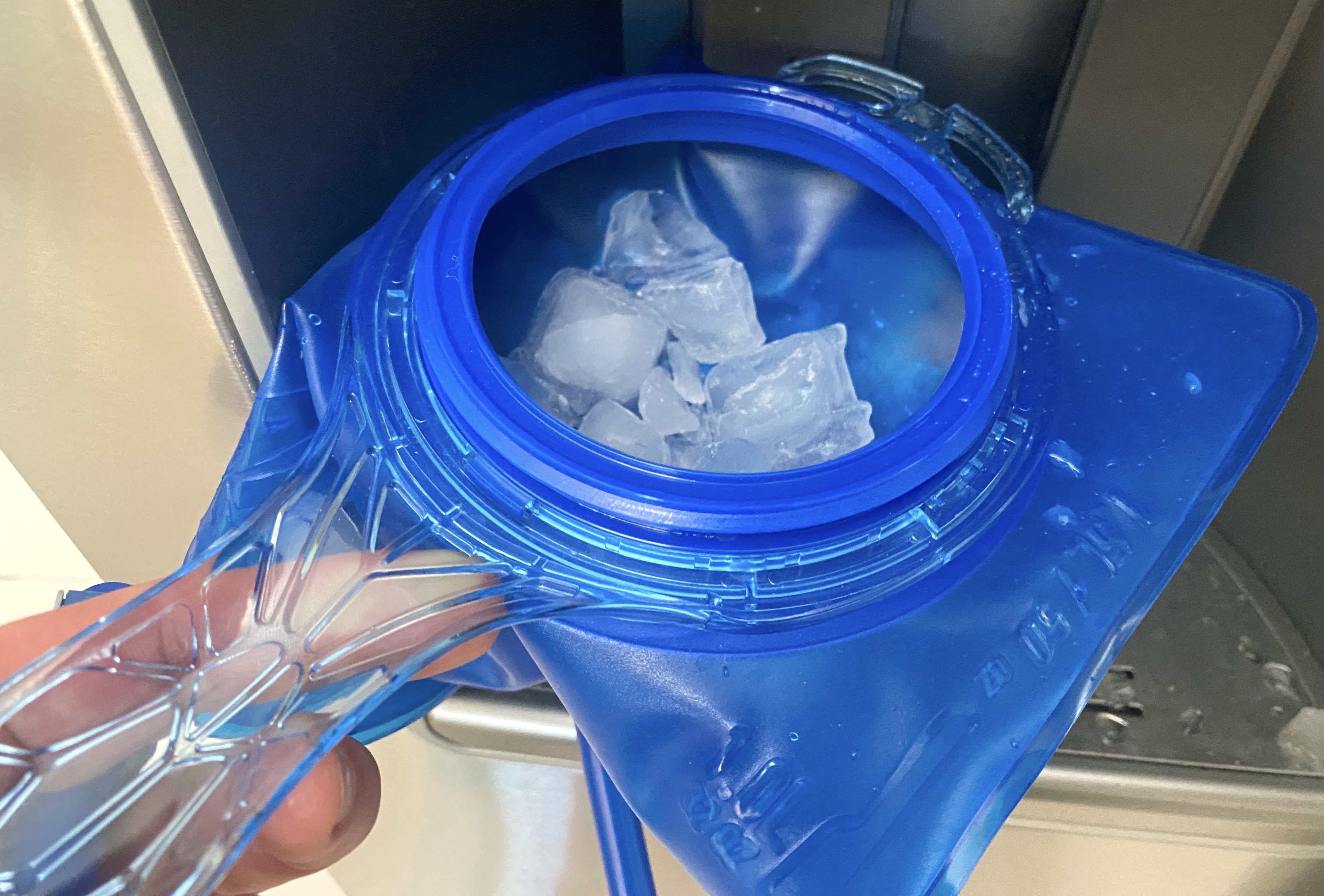 The bite valve has an easy on/off lever and doesn't leak after each drink so I don't bother with closing it while hiking. I don't know if the blue color keeps the water from heating up in the sun but always blow air into the tube after each drink.
One of the features I enjoy most about the 1.5 liter Crux bladder is how easy it is to dry. With the wide mouth and open chamber, a swipe of a kitchen towel dries the bladder immediately with out a dedicated cleaning system.
Pros
Small size + shorter tube
Easy to fill with water and ice, drink from, and dry afterwards
Everything you need, nothing more
Cons
Space and water for 2-3 hour hikes
Summary
A hydration bladder is essential gear for hikers of all ages. An adult-sized hydration backpack is too big for children but the kid-sized CamelBak Mini M.U.L.E. can fit adults too. If you're not sure about buying this for your kid, don't hesitate because you might want to use it too.
Who Should Buy?
Parents, anyone that hikes with children, anyone looking for a small hydration backpack