The best camera for hiking is the one that you use. There's no point in carrying a heavy, or even lightweight, camera only to leave it in its case. That's why we have selected the best cameras for all levels of photography knowledge and hiking ability. There are five categories from a smartphone to mirrorless DSLR and three point-and-shoots in-between to capture the beautiful scenery you encounter.
This isn't going to be an in-depth analysis of all the camera specs with lots of numbers. There are plenty of other sites for that. These are the best hiking cameras with a focus on small and lightweight cameras that are also durable enough for all the types of conditions that happen outdoors.
When you're out on the trails, there may be some additional components that make using a camera easier and more successful. If nothing else, bring a backup battery so you don't miss any shots. Other helpful camera accessories are a tripod for long exposures or self-portraits and a strap or bag that keeps the camera readily accessible for that moment of perfect lighting or moose that pops out of the bushes.
Best Lightweight Camera For Hiking: Your Smartphone
The lightest camera for hiking is no camera at all. The majority of recent smartphones take excellent photos that surpass the quality of the original digital cameras as well as most current budget point-and-shoots. In addition to no added weight, they are easy to access. The main drawback is battery life, which can be drained quicker while roaming and tracking hiking stats. And for safe and flattering self portraits, consider bringing a selfie stick or small tripod and remote shutter release.
+ No extra weight
+ Good quality images depending on phone,
– Battery life
Smartphone Accessories
Battery Charger
Anker PowerCore 10000 Portable Charger, which is smaller than a deck of cards with the power to charge a phone 3 times or
Jackery Bolt 6000, designed for the outdoors with two built-in cables that can charge two devices at the same time twide as fast at the official Apple charger and cable.
Tripod
UBeesize Tripod S Flexible Tripod with Wireless Remote Shutter – This tripod weighs less than half a pound and features flexible legs that can adapt uneven and rocky ground. It also comes with a remote shutter, all for under $20.00. The 8.26″ legs aren't as long as a selfie stick but can be used that way as well.
Best Lightweight Point + Shoot For Hiking Photography
Point and shoot cameras offer higher image quality than a phone without the weight or control of a DSLR. The best point and shoots combine the largest sensor with the smallest body. Our pick features a 1″ sensor and rings in under $500. For reference, this sensor is 4 times the size of most smartphone lenses. While there are cheaper cameras available, they don't always better photos than a smartphone.
In addition to being compact and lightweight, point and shoots are easy to use. New photographers can take beautiful pictures with presets while there is also some degree of control to be had. Our favorite point and shoot for hiking is the smallest camera with the best image quality.
Panasonic has a history of making excellent travel cameras with zoom and this Lumix continues that tradition with the largest available sensor. The 1″, 20.1MP sensor combined with the Hybrid Opitical Image Stabilizer help you capture brighter and more colorful images. The 25-250mm lens equivalent provides 10X zoom for the flexibility to shoot anything that catches your interest while fitting easily into a pocket.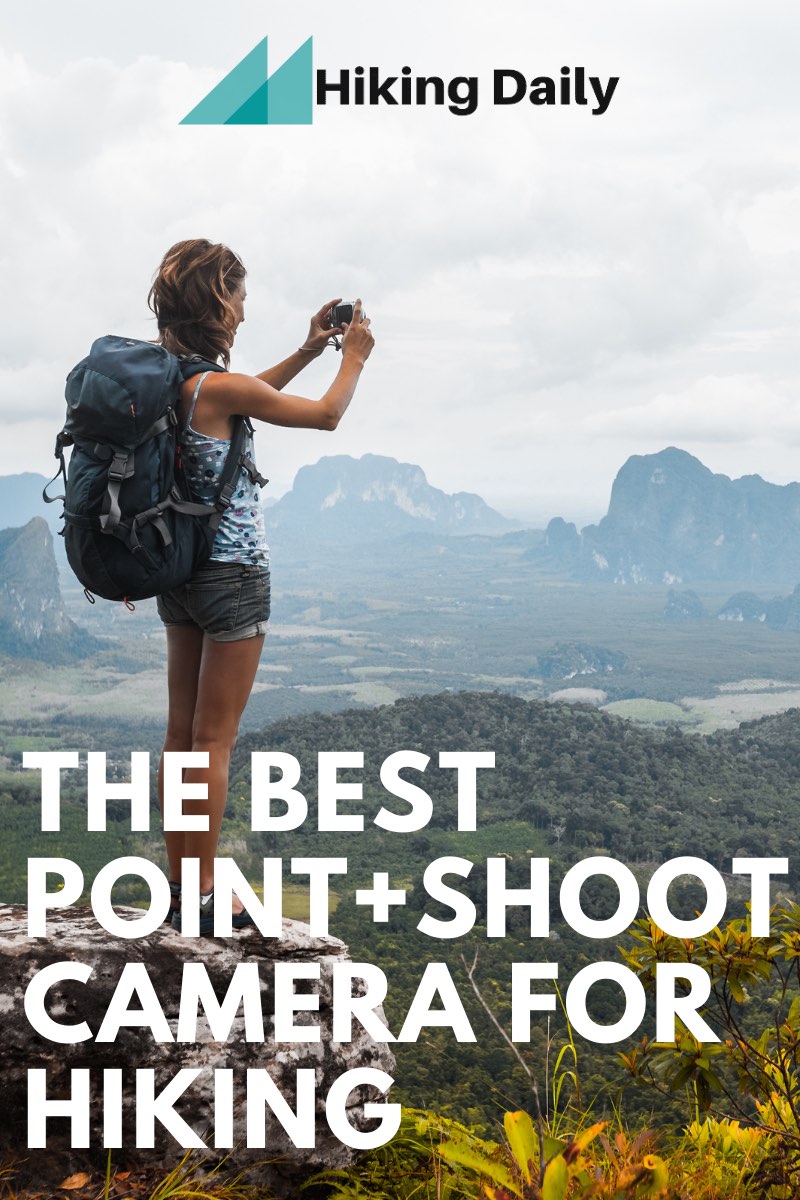 The lens-mounted control ring adds DSLR-like exposure control. 4K video at 30 frames can be used to extract 4K still images.
Additional features of this camera that may appeal to hikers and backpackers are a Wide Panorama and Light Composition, a processing mode that helps produce more dramatic, yet controlled imagery in high-contrast situations that are common in landscape scenery.
An additional battery is always a good idea as is a tripod.
Best Waterproof Camera For Hiking + Backpacking
Waterproof cameras are ideal for challenging conditions as well as challenging consumers (and their children). In addition to being able to go underwater, these cameras can also be dropped (from a reasonable height) and resist extreme temperatures. Waterproof cameras feature an optical zoom so the lens never protrudes from the body.
It's pretty much unanimous, Digital Camera, DP Review, Tech Radar, PC Mag, and many more agree that Olympus continues to make the best compact waterproof cameras on the market with the TG-6.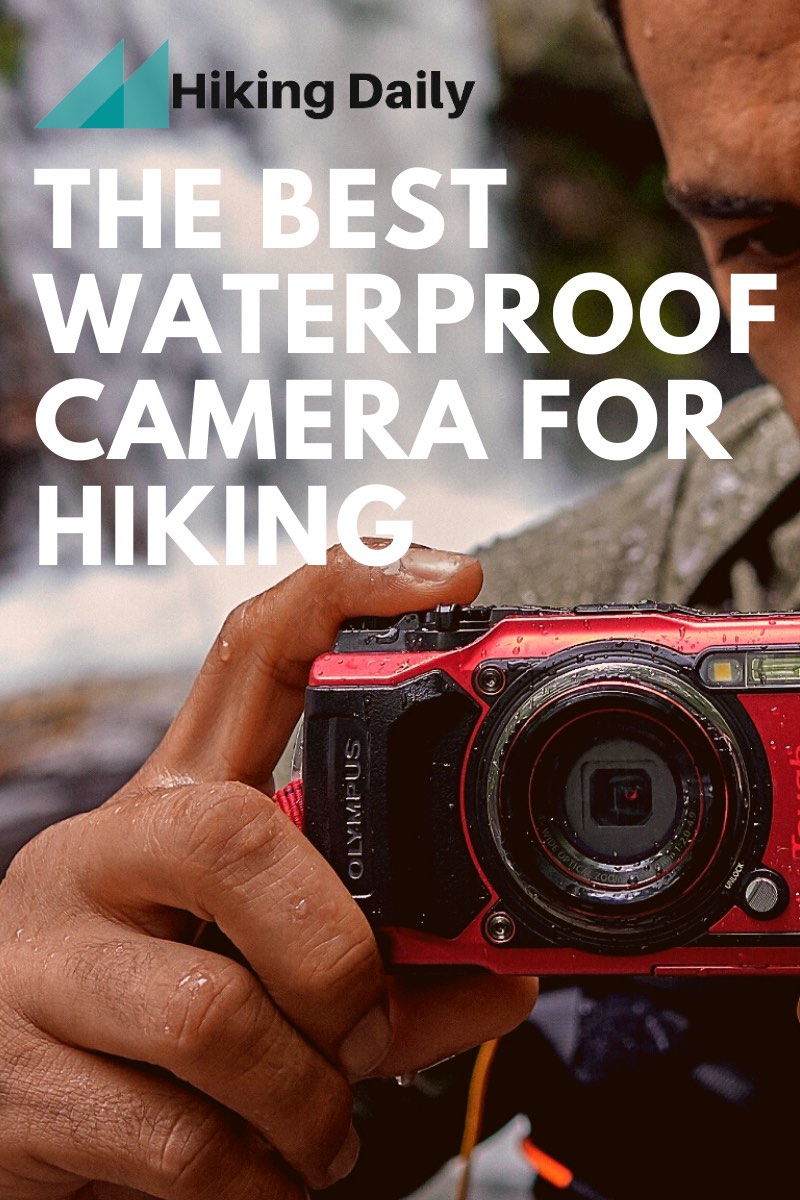 This model is waterproof up to 50 feet, shockproof up to 7 feet, and freezeproof all the way down to 14 degrees F, crushproof up to 220 lbf of pressure, and dustproof to IPX6. Like they used to say, it will take a licking and keep on ticking.
Back to the numbers, the built-in 4x optical zoom lens covers a 25-100mm equivalent from wide-angle to telephoto focal length. The 12MP sensor and image stabilization helps the camera excel in low-light conditions.
Best Compact Camera For Hiking
These point-and-shoots are compact but not quite pocket size. For the body of a point-and-shoot with the control of a DSLR, there are two top options. The Sony RX-100 pioneered the 1″ sensor compact camera and continues to surpass all competitors. However, some people simply prefer the experience and simplicity of the Canon PowerShot G5. The former offers the most image control while the latter is a fantastic point-and-shoot camera.
The Sony RX-100 is as close as you can get to the power of a DSLR in a compact body. This award-winning point-and-shoot is now on its 7th version but all versions are still available to offer a range of price points. The 1″ sensor was revolutionary when first released in 2012 and continues to be the industry standard. It also features a high-quality Zeiss zoom lens with 24-200mm equivalent that is better at wide-angle with a longer zoom for more compositional flexibility than the Canon offers.
This is the top-ranked camera for travel, including hiking and backing, because of excellent autofocus, 20 fps shooting, and 4k video, you can shoot anything you come across in your adventures. I personally vouch for this camera and still have the original model.
There are seven RX-100 models available but which is the right one for you? They range in price from $400 to over $1000. If the original model fits the budget, get that one. The 20MP 1″-type sensor is still larger than many point-and-shoots. Otherwise, consider these options:
This model is excellent for shooting stills while hiking but does not support 4k video. This is model features a fast 24-70mm equivalent lens with F1.8-2.8 maximum aperture that makes full use of the large sensor when zoomed in as well as while shooting wide-angle.
The sixth version of the RX100 enters travel-zoom-territory with a 24-200mm equivalent lens maximum aperture of F2.8-4.5. It can do just about everything you want it do, while it does not excel in low light conditions.
The most recent version of the RX100. Here are the main differences and upgrades.
Includes a stacked sensor to allow the camera to process data more quickly and simultaneously
Also features improved ISO sensitivity range
Much faster continuous shooting speed (90 fps)
Improved autofocus – more contrast detection AF points (425)
Eye AF and image stabilization for video
Vertical format/orientation video recording
Timelapse / interval shooting
The G5 is close but not equal to the RX-100 in terms of image and movie quality. However, the Canon is better if you want to just point and shoot. A dial on the front of the camera makes it easy to control a setting of your choice plus there is a dedicated exposure compensation dial.
The lens offer a 24-120mm equivalent range with F1.8-2.8 lenses that maintain low light and shallow depth-of-field benefits thanks aperture that is brighter than the Sony.
This point-and-shoot is larger than the Panasonic Lumix which also gives it better image quality and a higher price tag.
Best Mirrorless Cameras For Hiking (Almost DSLR Camera)
When image quality is paramount, it is still important to consider weight and durability for hiking and backpacking. Enter the mirrorless camera, with the image quality and control of a Digital Single-Lens Reflex (DSLR) at a fraction of the weight.
So what does mirrorlesss mean? In a SLR camera, mirror reflects the image from the lens into the viewfinder. Mirrorless cameras forgo the optical viewfinder for a smaller and lighter body.
In addition, the majority of a camera's weight is in the glass of the lenses. Mirrorless lenses are also smaller than DSLR lenses so the cumulative effect is less size and less weight.
The two top contenders in the mirrorless market are from Sony and Fuji. For hikers and backpakers, weather sealing and usability make the XT series best option for nature and landscape photography.
The Fuji X-T2 debuted to much fanfare when it took the X-T series to new heights. In a crowded market of mirrorless options, Fuji addressed not only addressed prior issues but exceeded expectations. Fuji continues to build on that success with the subsequent releases.
The number one reason why this is the best camera for hiking is weather sealing. The body stands up to the toughest conditions of rain, wind, and dust. The WR lenses are also weather resistant. While there is no industry standard for weather sealing lenses, many photographers prefer Fuji for the brands rugged durability.
In terms of usability, the XT series feature physical dials to adjust settings on the camera body to adjust aperture, ISO, shutter, drive mode, metering, focus mode, and exposure compensation quickly enough to capture fleeting wildlife or lighting.
In addition to being weather resistant, the XT series also offers a good selection of great lenses. Go with the kit lens for an all-around option or pick your favorite for landscapes, like a fixed 16mm or an 18-135mm for macro to wide angle shots.
It's an all around good camera that does what you need it to do and well.
Fuji X-T2 vs X-T3 vs X-T4
There are plenty of in-depth comparisons between the different models out there so we'll be brief. Basically, the Fuji X-T2 is an excellent camera but the Fuji X-T3 is even better. The latest Fuji X-T4 tops them all, but it comes with a significantly larger price tag. Buy the one that fits your budget and if that is the X-T2, you have a great camera that will continue to stand the test of time.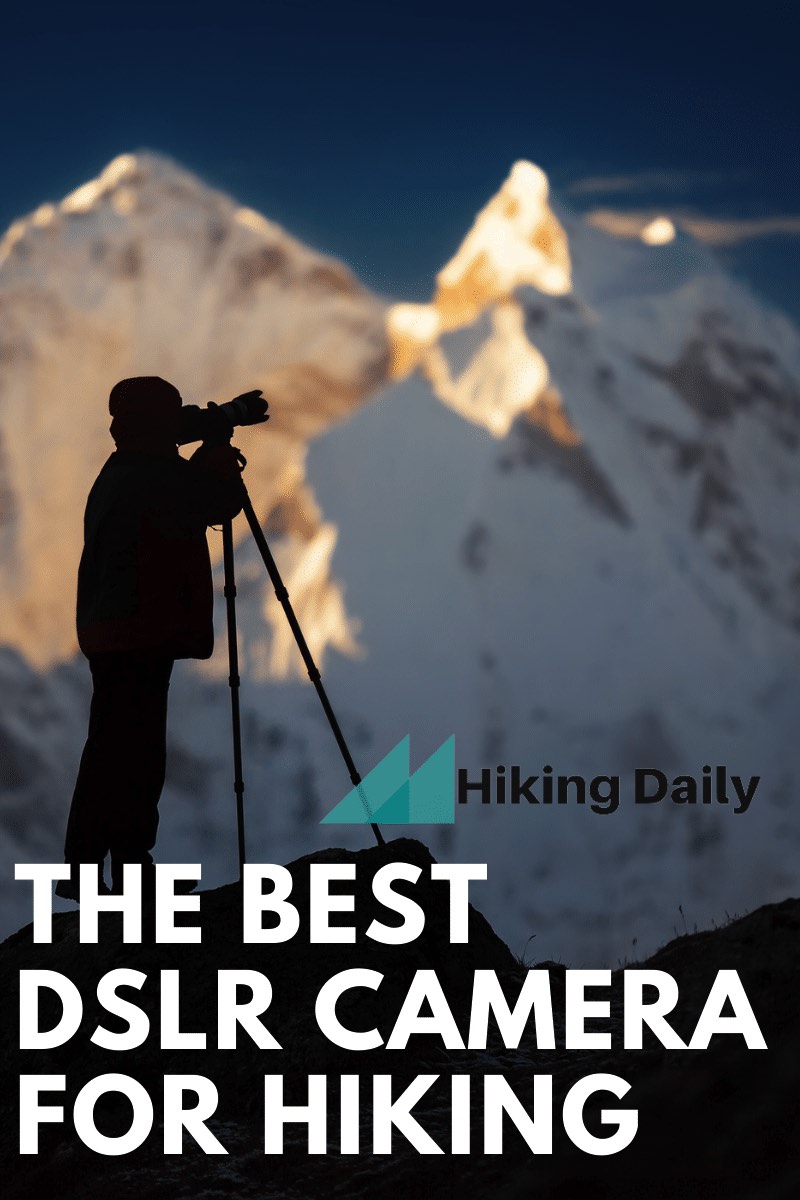 The X-T2 was released in 2016 and continues to stand its own in the mirrorless market with a 24MP sensor, 325 AutoFocus points (169 with phase detection), 3″ articulating LCD screen, 4K video at up to 30 fps, and up to 14 fps continous shooting.
The X-T3 came out in 2018 with a larger sensor plus Back Side Illumination that gathers more light, 3″ LCD touch screen, updated AutoFocus, 4K video up to 60fps with 10-bit color, 16 film simulation modes, Bluetooth connectivity, and slightly larger body with more comfortable dials.
The X-T4 was released in 2020 with the largest upgrade to the previous models being in-body image stabilization. This matters more for video than landscape photography. Other improvements include a higher resolution LCD touch screen, larger battery with longer life, improved auto focus and tracking that claims to be twice as accurate as the XT2, and an additional film simulation mode.
Battery life is always a concern for wilderness photography. Add Vertical Power Booster Grip with two additional batteries for about 1000 frames between charges. This grip is also weathersealed and hosts a headphone socket for audio monitoring while shooting video.
For forays into the wilderness, you'll definitely want an extra battery. A camera strap or bag keep the camera easily accessible and a tripod makes long exposures and self-portraits easy.
Must-Have Camera Accessories For Landscape Photography
When you're out and about, pack an extra camera battery, tripod, and perhaps a bag or camera strap.
Best Lightweight Tripod For Hiking
Do you need a tripod? They are helpful for stabilizing the camera in low light conditions or extended shots and some swivel for smooth panoramas. If you don't want to wait for someone to take a picture you or rely on the classic selfie arm or selfie stick, use a tripod and self timer for portraits.
This full-size tripod weighs only 3.37 pounds, folds down from 77″ to 19″, and can support cameras up to 17.6 pounds. Three legs can be adjusted independently to accommodate uneven ground or use it as a monopod. Another great feature is the 360° ball head joint captures any angle as well as seamless panoramas.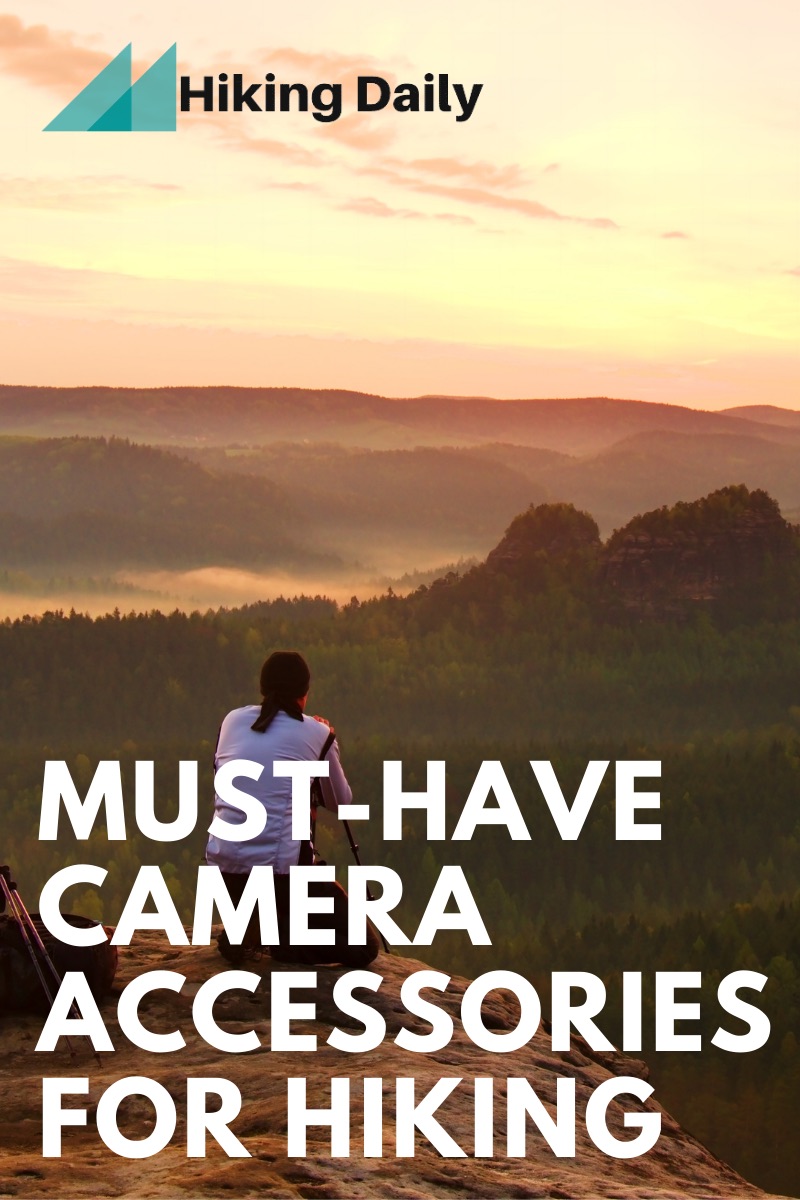 GorillaPod 3K – This has been one of the most popular portable tripods for years thanks to its low weight and high degree of adjustability. The flexible legs can be adjusted for uneven ground or even twisted around a tree. The 3K version holds up to 3 kilograms or 6.6 pounds. The Fuji X-T2 body weighs only 1.12 pounds but the total weight will depend on the lens. For larger and heavier lenses, try the GorillaPod 5K to hold up to 11 pounds.
Best Camera Strap For Hiking
While camera straps are a matter of personal preference, wearing a camera around the neck is not the most comfortable option for hiking or backpacking. Fortunately, there are a number of carrying options available that work with a backpack. Let's take a look.
This lighter version of the original Slide is designed for mirrorless cameras or lighter DSLRs. The seatbelt-style nylon webbing can be worn as a sling, neck, or shoulder strap and adapted to your liking. You'll find a way to wear your camera as well as a back pack that is comfortable and easy to access.
This innovative clip camera mounts to any DSLR, compact, or point-and-shoot camera to a strap or belt up to a certain size. A quick release button has your camera available whenever you want it.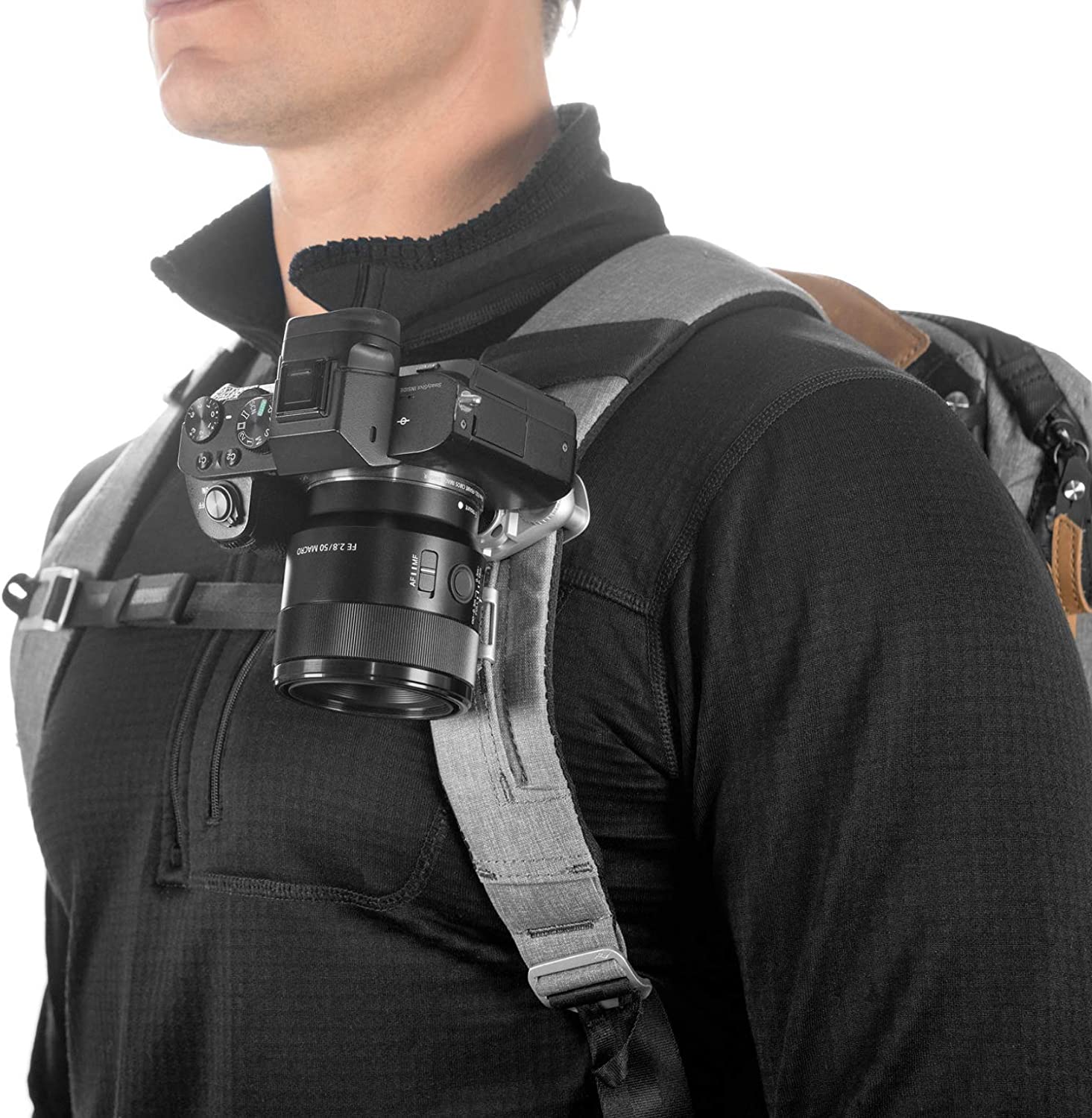 We use affiliate links and may receive a small commission on purchases. Please read our disclosure.