Introducing the brand new Salomon X Ultra 4 GTX, the most advanced hiking shoe made by Salomon. This men's hiking shoe is designed for fast-moving and aggressive hikers that hike on rough and rugged terrain. The Salomon X Ultra 4 GTX, is lightweight and athletic like a trail running shoe. It also provides incredible foot protection, stability, support, and powerful grip required in tough, technical terrain. I love this shoe because it is protective but not clunky.
The Salomon X Ultra 4 GTX is a completely new update for Spring 2021 when compared to the previous and extremely popular Salomon X Ultra 3 GTX hiking shoe. There is some overlap between the two shoes but the new version offers many new features that I think are a step in the right direction.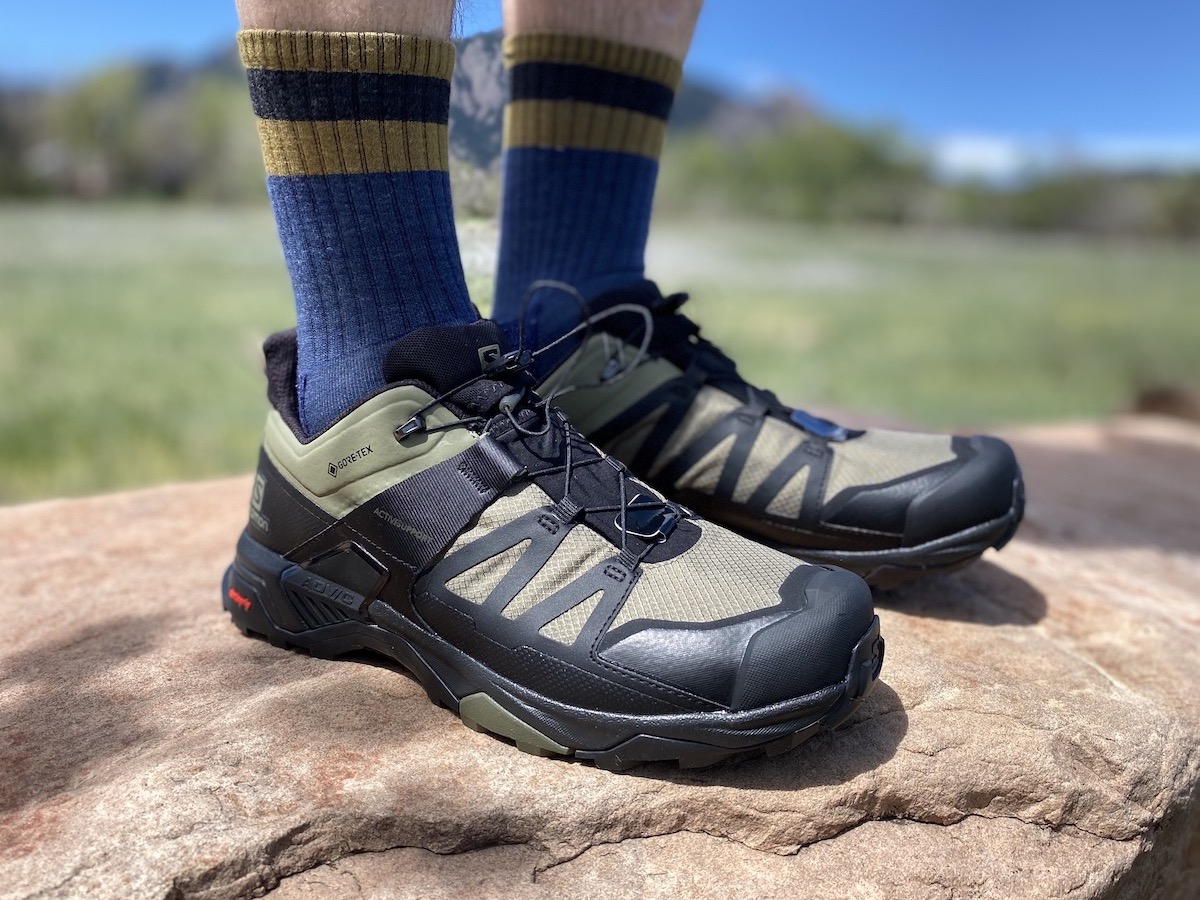 Top features of the Salomon X Ultra 4 GTX
Let's get right into the main features and updates for this shoe.
New ADV-C Chassis for enhanced stability
Contagrip MA outsole

Durable tough rubber
Delivers awesome grip for all terrain and conditions (wet or dry)
Aggressive, deep multi-directional lug tread pattern

Waterproof with GORE-TEX
PFC-free water repellent treatment to fabric for extra weatherproofing
Lightweight and durable synthetic upper
SensiFit connects midsole to the lacing system for a snug custom fit
EnergyCell EVA in midsole reduces shock

Quicklace system (with lace pocket) for easy on and off and secure fit

Gusseted tongue keeps debris out
Protective mud guard
390 grams in weight
Salomon X Ultra 4 GTX vs Salomon X Ultra 3 GTX
If you read reviews on Salomon.com, REI, or Backcountry.com you will notice a fair amount of negative feedback about the new X Ultra 4 GTX hiking shoes.
The most common theme was that many hikers thought the X Ultra 3 hiking shoes were better, end of story. Others didn't like the slightly higher cuff around the ankle.
Fair enough. To each his own. I have to say, I find these less than stellar reviews surprising.
After trying the Salomon X Ultra 4 hiking shoes, and comparing them in parallel to the Salomon X Ultra 3 shoes (still available), I do think that Salomon has made progress with its update. The X Ultra 4s do demonstrate a slight step up in overall quality from what I can see. They felt more comfortable, durable, protective in the forefoot (but not too stiff or heavy), and improved stability was noticeable to me. SensiFit is a common feature in Salomon footwear and felt like it worked a touch harder in the X Ultra 4s providing a nice snug fit around my foot. My forefoot often slips around in shoes that do not have this type of feature. I really had zero complaints about the X Ultra 4s. Although, I do think the X Ultra 3s are also a great option.
Performance
The Salomon X Ultra 4 is a high-performance, protective, and durable hiking shoe. However, this shoe is quite light in weight much like a trail runner. This shoe felt really nice on my feet and convinced me to go back to wearing lighter weight shoes on the trails. I am thoroughly impressed at how sturdy, protective, yet lightweight both the Salomon X Ultra 3 and 4s have proven to be. No other hiking shoe comes this close to the feel of a trail runner.
Comfort
I found the Salomon X Ultra 4 to be extremely comfortable right out of the box. This shoe truly felt amazing on my foot compared to four other hiking shoes (Salomon X Ultra 3 GTX, Merrell Moab 2, Danner Trail 2650, Vasque Breeze AT Low GTX) that I tested.
Weight
For an incredibly durable, protective, and supportive hiking shoe, it is unbelievable how lightweight the Salomon X Ultra 4s feel.
Traction and grip
The Salomon X Ultra 4 delivers excellent traction and grip with the Contagrip MA outsole and a multi-directional lug tread pattern. The rubber compound used provides long-term durability, and secure traction over a wide variety of trail conditions including wet, dry, hard or loose surfaces.
Stability and support
Salomon introduced the new ADV-C Chassis. The goal was to deliver additional stability and support. I compared the X Ultra 4 to the X Ultra 3 and the gain in overall stability and specifically (increased) forefoot support was noticeable to me.
Durability
The X Ultra 4 and X Ultra 3 are both super tough and sturdy for such a lightweight hiking shoe. The side mud guards and front toe cap protect your feet and add durability against rocks and other trail debris and obstacles. The hard rubber outsole was designed to provide long-term durability as well. The entire heel area of the shoe feels very strong and supportive. Even the synthetic upper has an extra durable feel to it.
Fit and sizing
Salomon shoes generally fit narrow. If you have narrow or regular width feet, go for the standard width. To accommodate my wide feet, I got the X Ultra 4 GTX wide hiking shoes. For picking sizes, length seems true to me.
The Salomon SensiFit, Active Support wings, and quick-lace system is awesome. Simply pull the quick-lace and get a comfortable snug wraparound your foot fit and feel.
Conclusion: What we like about this hiking shoe
This is the most durable, stable, and protective hiking shoe that you can buy that is lightweight and athletic like a trail runner.
The majority of lightweight hiking shoes fail when it comes to durability, support, and foot protection. Not the Salomon X Ultra 4s. They totally over deliver, and really stand out amongst their competition. I could not find another lightweight hiking shoe that worked for me. Support, foot protection, and also long term durability are mandatory in the rocky, technical terrain that we have in Colorado. The Salomon X Ultra 3s and 4s are the only lightweight hiking shoe that I wear.
I really like the snug to my foot customized fit that the SensiFit and Quicklace system creates. It is a locked in feel with zero slippage which is super important for aggressive, fast-moving hikers that like to run on the trails. I have found that my foot slides around in most other lightweight hiking shoes that typically have a regular lacing system.
Finally, the outsole and lug treads are more durable compared to most lightweight hiking shoes. I think this is a plus. It makes me think these are the longest lasting lightweight hiking shoes that you can get. It is really nice to have something that is lightweight in feel, but also gives you the idea that they will have a decent lifespan on the trails.