The region of Patagonia refers to a large region in Southern Argentina and Chile. Covering a length of more than 1,500 miles, there is more than a lifetime to explore all the hiking in Patagonia.
Patagonia is a loosely defined geographic area. Most people consider Patagonia to include the southernmost region of Tierra del Fuego and then constricted north to the Colorado River. Bariloche, Argentina is loosely defined as the "gateway" city to Patagonia. To put this area in perspective, the length of Patagonia is roughly the driving distance from Boston to Miami. This area includes an incredibly vast amount of different ecosystems and environments.
From arid deserts too low lying volcanoes to the Southern Patagonia ice field, there are different places to explore for everyone. The region is magical, you'll see wild animals grazing near glacial rivers, with the view of inspiring mountains in the distance. This is a part of the world that all hikers should visit. It is hard to put into perspective just how spectacular the vast landscape really is.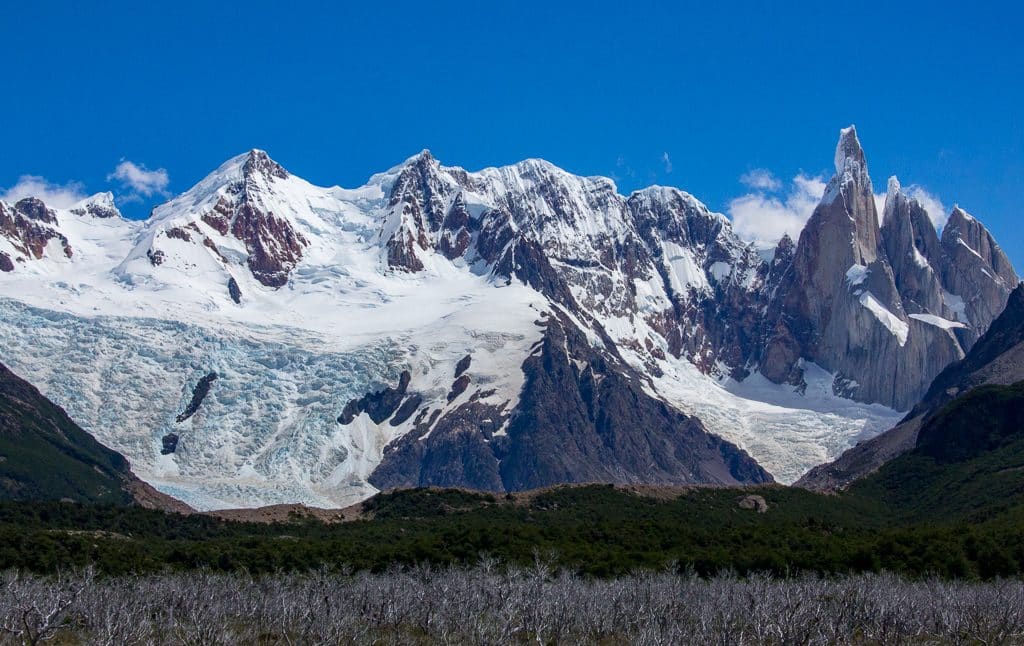 Getting there and getting around
To get to Patagonia, the easiest way is to first fly to Santiago, Chile, or Buenos Aires, Argentina. You won't have a problem grabbing an international flight to these cities. From here, one can catch regional flights to cities like Bariloche, Puerto Montt, Coyhaique, Calafate, Punta Arenas, and Ushuaia. Once you arrive in these Patagonian cities, the easiest way to travel is by bus. There are many bus companies that operate in Patagonia, and most stay within a moderate price range.
A great resource to use while deciding how to travel in Patagonia is Rome2Rio. Put in your location and desired destination, and it will show you all the different travel options, from the ferry to bus, rental car to taxi.
For smaller cities, you can buy bus tickets on the day of or a day before. Smaller towns will have a regional bus station with options for smaller bus rides, often known as a "collectivo." Collectivos are commonly 10 people or less in a large van. Most towns will have a central bus station and it will be easy to communicate to learn about destination choices. When paying for buses in smaller towns, they will often only take cash.
Much of the region has put a large emphasis on growing tourism in the last few years, detailed maps with English translation are readily available.
Rental cars are also available, but they would be more useful in Northern Patagonia, where there are more paved routes and better access to fuel and maintenance.
Taxi service is widespread across the smaller towns, to grab a taxi, head towards the town square or ask you host to contact one. A really amazing part of hiking access in Patagonia is that you can often have a taxi take you to hiking trails just outside of town! Ride-sharing services such as Uber are available in the Chilean cities of Osorno, Puerto Montt, Punta Arenas, and Coyhaique.
Accommodations
Even if you are planning to mostly camp while hiking in Patagonia, you'll still need to stay in town at some point!
In the larger towns of Patagonia, hostels and hotels are easy to book via sites like hostelworld or booking.com.
Camping in town is often available but is not to be relied on. December-February is the peak hiking season in Patagonia, and it is a good idea to make reservations online in advance.
When to go?
The best time to visit Patagonia is in the Southern Hemisphere's summer, December to February.
Hiking weather in Patagonia can be extreme all year round, but the summer is your best bet for mild temperatures and low winds.
The Southern Patagonian Ice-field is known for having some of the worst weather on the planet, and it often expands to popular hiking areas all over the region.
In the summer months, be prepared to experience rain and snow and temperatures from 25 degrees F up to 80 degrees F. Expect the majority of hiking to be done in 50-degree weather. The further South you go, the colder the average will be. Westerly winds coming from the Southern Patagonian Ice-field can gust over 100 mph, even in the summer. You are likely to experience intense winds while hiking in Torres Del Paine, Tierra del Fuego, or in El Chaltén.
Sites like Meteoblue and Winy.com are excellent forecasting tools for hiking in Patagonia. The Northern regions of cities like Bariloche will have much more of a summer vibe to them, think sitting on the beach after a long day of hiking!
What gear to bring?
If there is one piece of gear that can be recommended for Patagonia, it would be a good rain jacket to fight off intense winds and precipitation!
Travelers in Patagonia are mainly characterized by backpackers who spend a few days hiking in one region before moving on to the next. It is definitely possible to just do day hikes in Patagonia, but one should consider bringing overnight gear to experience the incredible landscapes far out in the backcountry.
Outdoors gear is available for purchase in both Chilean and Argentinan Patagonia, but it is much more expensive than gear available for purchase in the United States. Larger outdoor towns such as Torres Del Paine and El Chalten will have gear available for rent, such as sleeping bags and tents.
Here is a gear list to be comfortable while hiking Patagonia.
Rain shell
This hiking jacket should be made from a durable waterproof material. It should also fit large enough to fit more layers underneath.
Check out our complete guide to the best rain jackets for hiking.
Insulating jacket
A lightweight synthetic jacket for those 40 degree hiking days is perfect. Make sure it can layer well under your shell if you get really cold!
Fleece
A fleece jacket is another great part of your layering system while hiking. In a region with such volatile weather, you'll be happy for the ability to drop and swap layers based on your body temperature.
Sunshirt
A polyester or wool shirt with UV protection and a hood will be great for protecting from the sun's harmful rays. Don't forget your sunglasses too! With so many glaciers and snow, the reflection of the sun can be quite harmful.
Rain pants
These can double as protecting you from the winds as well as the rain. Look for durable, waterproof pants that can layer over your hiking pants. If you have the pleasure of experiencing the westerly winds from the Southern Patagonian Icefield, you'll be sure to have these pants with you.
Trekking poles
The hiking terrain is quite variable. Patagonia may not be at a very high altitude, but that doesn't mean you won't be gaining elevation. Trekking poles can make it much easier to navigate tough terrain and will save your knees when moving downhill.
Hiking pants
Long hiking pants will be best for hiking Patagonia. You may consider bringing a pair of long underwear to layer underneath your pants- especially if you will be spending nights out in the backcountry.
Daypack
An easy way to hike the region is to travel to different cities and bring your day hiking items with you in a daypack. Many hikes are accessible just from town!
Hiking shoes
A waterproof pair of hiking boots or shoes are recommended for hiking in Southern South America. It is a good idea to buy your shoes at home and break them, walk in them for at least 10 miles before bringing them on an extended trip. The higher the shoe is on your ankle, the more support you will have, but the heavier the boot will be.
Gloves
Hiking in Patagonia in the austral summer will require gear for a wide variety of temperatures. A good recommendation would be to have at least two different pairs of gloves. A light layer of liner gloves and a heavier pair of waterproof insulated gloves would be recommended. For more information on hiking gloves, please view our article on hiking gloves.
Tent
If you are planning on doing multi-day hikes, a tent would be good to bring. They are available for rent but are not always the best quality tent. Also, in some smaller towns, you can camp in someone's established campground in their backyard. This is a very economical way to travel, you can be prepared to pay $7-$10 a night for backyard camping.
Hiking stove
A stove is great to have if planning on multi-day hikes, or long 12-16 hour hiking days. It is very important to note that white gas is not readily available in Patagonia, most report that white gas is only available in El Chalten. Canister gas for stoves is available at many outdoor stores and grocery stores. Remember to not travel by air with any kind of gas!
Water purifier
A water pump is a great tool to have for those long day hikes. Consider bringing a pump, and a backup supply of iodine tablets. Check out our complete guide on water purifiers.
Hiking food in Patagonia
Although ecotourism is becoming increasingly popular in southern South America, it is still expensive or not possible to purchase freeze-dried food and nutrition bars for the trail. Peanut butter and hazelnut spread products make for great trail food but are very expensive in Patagonia. A good idea is to fill up your suitcase with your favorite bars, trail mix, and freeze-dried foods. There is plenty of access to grocery stores in Patagonia, but because of the short growing season and remoteness, groceries can be very pricy.
Even purchasing some food in Buenos Aires or Santiago en route to the southern region of Patagonia would not be a bad idea. On the Argentinian side, meat is very cheap. If you are a big meat eater, you will be very satisfied in Argentinian Patagonia. Consider going to a traditional "asado." An asado is a traditional Argentinian barbecue that is prepared by cowboys over a fire.
Hiking by Region
For this next section, hiking in Patagonia will be broken up into different regions around the Southern hemisphere. Here you will find specific hiking recommendations and notes about the area.
Tierra Del Fuego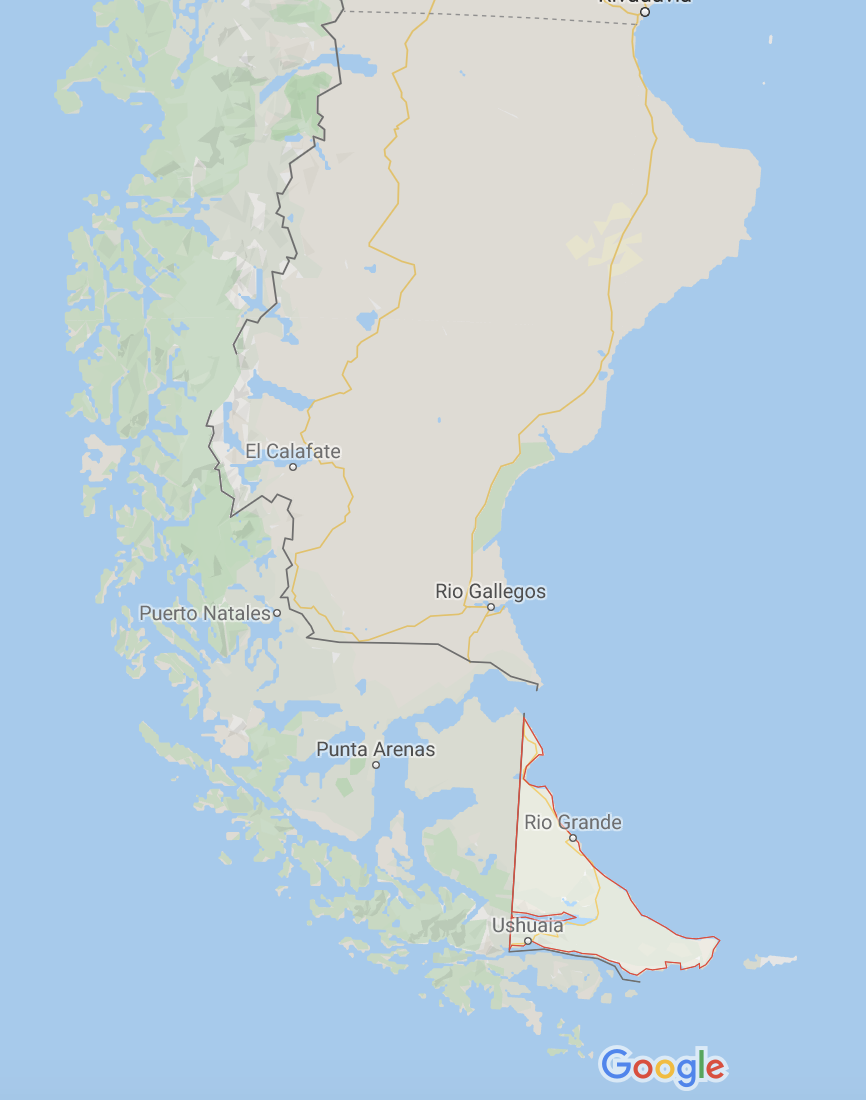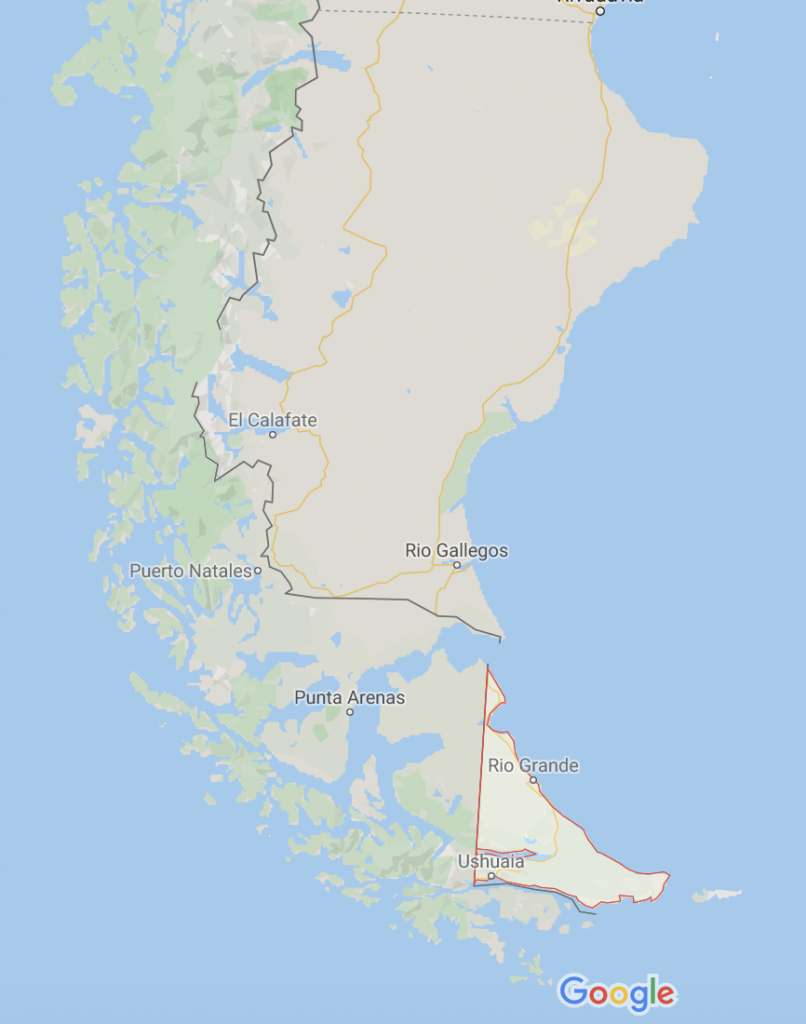 Tierra del Fuego roughly translates to "land of the fire" in Spanish. It is referred to this because when Ferdinand Magellan sailed past the area in 1520, he saw large fires on the shores that were made by indigenous people in the region. Tierra del Fuego refers to Argentinean land and a small sliver of Chile.
The majority of hiking in Tierra del Fuego is based out of the Argentinean capital of the region, Ushuaia. Ushuaia is the southernmost populated city in the world! Ushuaia is a port town by the Beagle Channel and is known for its vast landscapes, and for being the gateway to Antarctica. Nearly all of the ships headed to Antarctica with tourists leave from Ushuaia. Penguins and many marine mammals can also be seen while hiking in Ushuaia! Tierra del Fuego National Park is the only hiking area on public land that requires a few to enter.
Tierra del Fuego National Park is only about a half-hour bus ride from town. The park contains stunning lakes, snowcapped mountains, and low-lying landscapes filled with powerful rivers. To access the park, take a private taxi or a bus from town. It is about a half-hour car ride. There is an entry fee to the park. There are several different day hikes in the national park, all of which are well marked, and are relatively easy due to the flat land. The tourist office in town will have plenty of maps and information on the National Park. For your more advanced hikes, you'll have to venture North and Northwest of town.
The Marshall glacier hike provides a stunning view of Ushuaia. One can actually see the glacier from town as it is quite close to town. Leave about 4-5 hours for this moderate hike. The hike itself is about 1500 vertical feet, and more if you want to venture onto the glacier. Make sure you have the proper technical equipment to access this glacier. Crampons, an ice axe, and a helmet would be a good idea before venturing up higher than the hiking trail. One can take a taxi from town to access this hike.
For a harder hike that is accessible close to town, consider the Lago de Los Tempanos and Glacier Vinciguerra hike. One can take a taxi to the trailhead for this hike, expect about a half-hour drive from down on paved and dirt roads. This is a spectacular and challenging hike. The hike starts by passing a small river in the valley surrounded by larger peaks. Wild horses can often be seen wandering in this area. You will then ascend steeply up towards the lake, ascending over 2500′ feet in a few short miles. Once you arrive at Lago de Los Tempanos, you will have a great view of Glacier Vinciguerra. If you hike on the glacier (be sure to do so with proper glacier equipment), you will have an amazing view looking down on the Beagle Channel, and of rugged mountains to your west and North.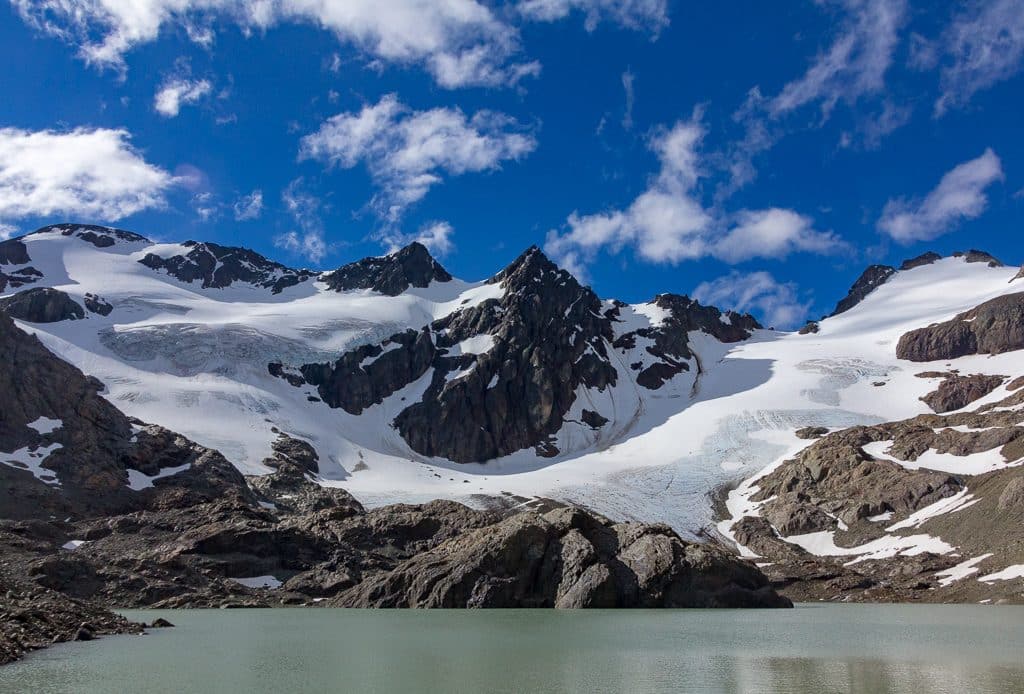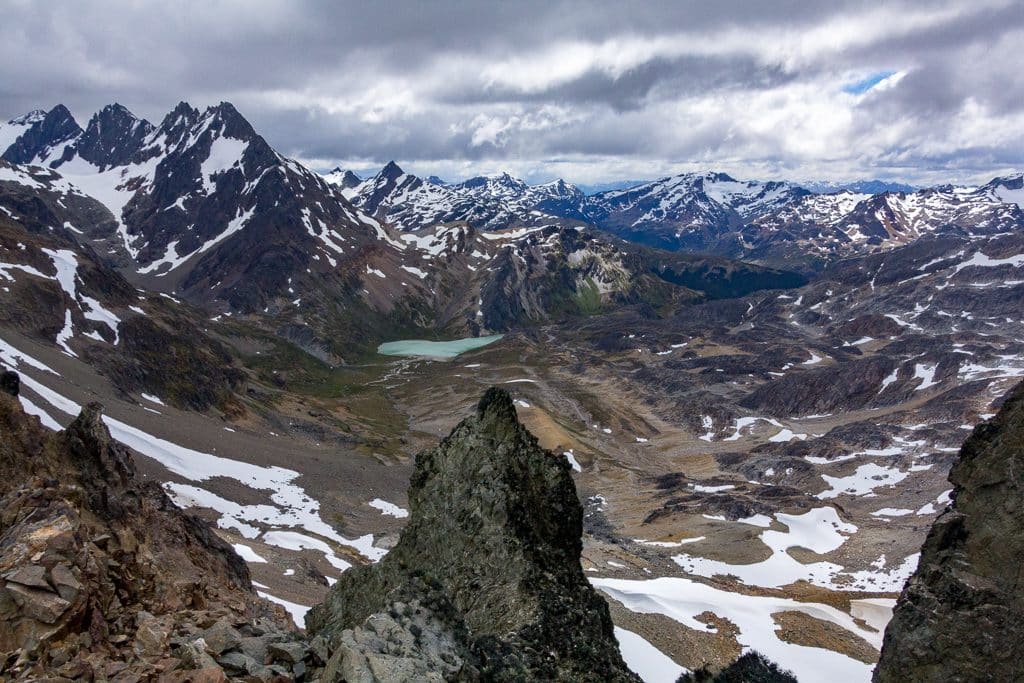 If you want to experience true remoteness in Tierra del Fuego, consider looking at the Teeth of the Narvarino trek. This is one of the most challenging hikes in Tierra del Fuego. This hike is across the Beagle Channel in Puerto Williams, Chile. It is directly south of Ushuaia, and would include a boat ride. This multi-day hiking trip is known for its rugged mountains that look like sharp teeth, and intense weather and winds. To schedule a ferry ride to Puerto Williams, visit the main port in town.
Magallanes y la Antártica Chilena Region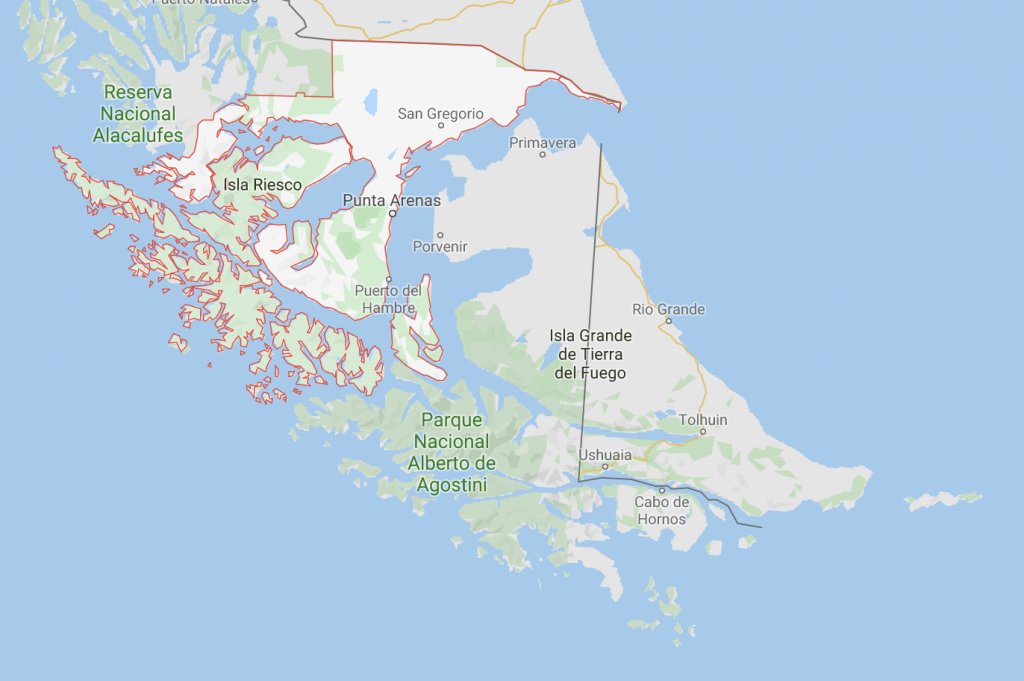 This area is known for its wildlife spotting that is more often accessible by boat and then some hiking. The Chilean capital of los Magallanes is Punta Arenas. Like Ushauia, this is a port town. Much of the industry in Punta Arenas is either tourism or import/export to this rather remote area of Chile. For hiking in this region, it would be recommended to coordinate with a tour group. There are few ways to get around to hike here, there is only one main road in the entire province!
If you enjoy an easy day paired with a boat ride to see penguins and vast landscapes at the literal end of the world, considering visiting this province. A private tour company could access Alberto de Agostini National Park by boat or plane. One of Chile's most remote national parks includes large glaciers and dozens of endangered wildlife far from the port cities. The ruggedness of the terrain would make hiking in Agostini quite challenging.
Torres del Paine
This is the most popular hiking area in Patagonia. Do not miss this! The stunning mountain landscapes are often featured in the most well-known hiking and backpacking magazines. Think rugged mountains shooting into the sky from glaciers surrounded by deep blue waters. It is exactly what one would imagine it to be, and much more. While there are single-day hikes that can be organized most easily through tours, a multi-day trek is the best way to fully immerse oneself in the Torres del Paine region.
This section will primarily cover the three well-known treks; the W, the O, and the Q treks in Torres del Paine National Park. For any camping in the national park, you will need to reserve your campsites through Chile's national park website. The park has gotten so popular that the Chilean National Park Service encourages visitors to reserve their campsite months in advance, as this is how they are able to decrease the number of daily visitors. One can do the treks independently, but you will still need to stay at designated campsites and organize travel in and out of the park. The nearest larger city is Puerto Natales.
This is the most popular multi-day hike and covers some of the park's most popular sites. It takes about 3-5 days to complete and will cover about 50 miles. One can experience the famous Torres towers, see the Grey Glacier, and hike through the Francis valley. Long hiking days and poor weather can make this multi-day hike trivial.
O Trek:
This includes the W trek, but also includes about 2-3 days on the more remote area in the west of the Park, which includes hiking over an exposed pass. This hike will take most people about 8 days to complete. Here you will be able to have more solitude in the park. This is a more challenging hike than the W trek, and will be closer to 70 miles in length.
Q Trek:
This is the most challenging and most remote hiking available in Torres Del Paine National Park. This trek adds another day to the O trek, making it at least a 9-day hike. Hiking distance is closer to 75 miles and allows for a rare chance of solitude in the park while experiencing what the other treks have to offer, but with more hiking below the stunning Cordillera Paine.
El Calafate and El Chaltén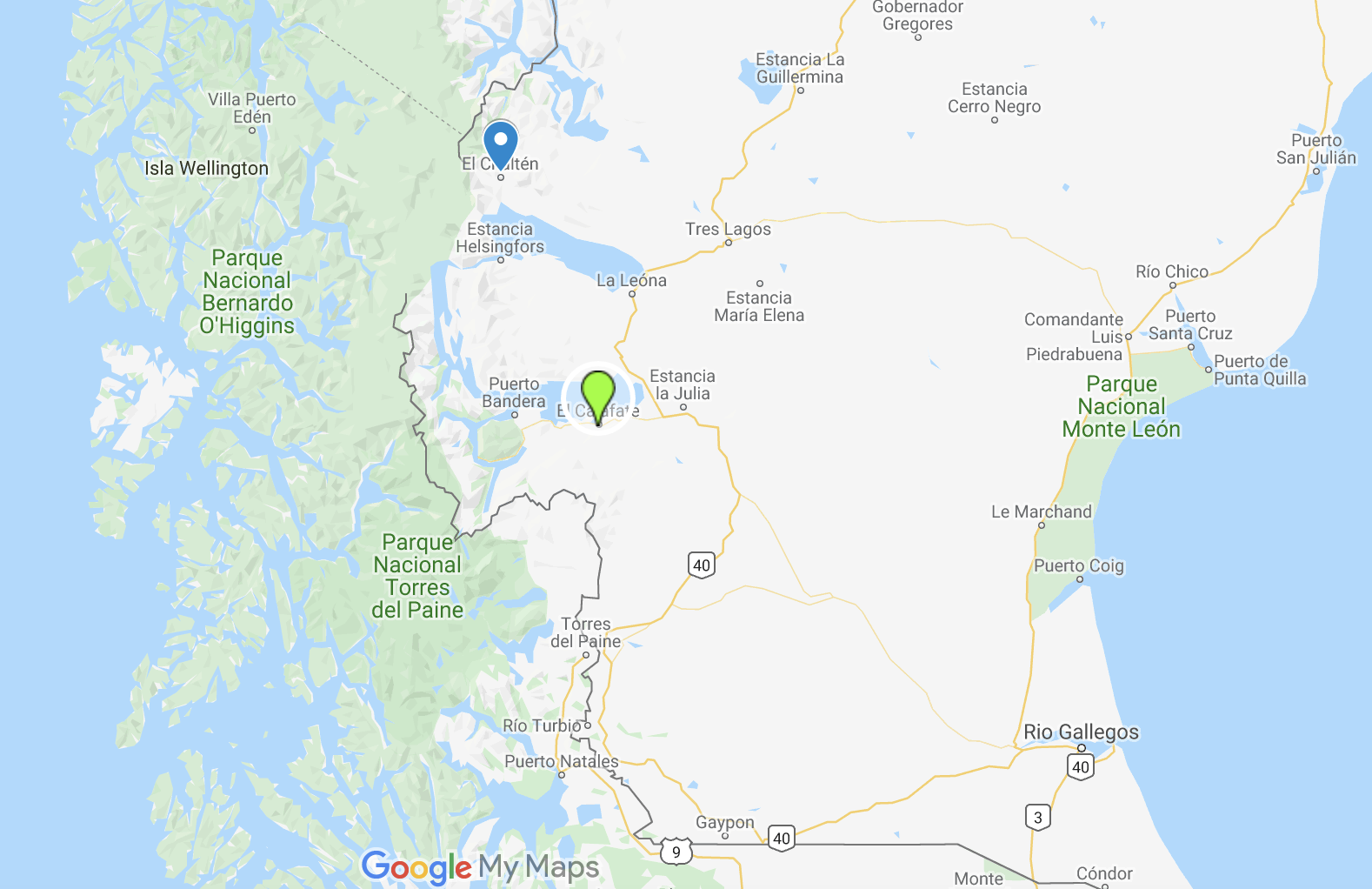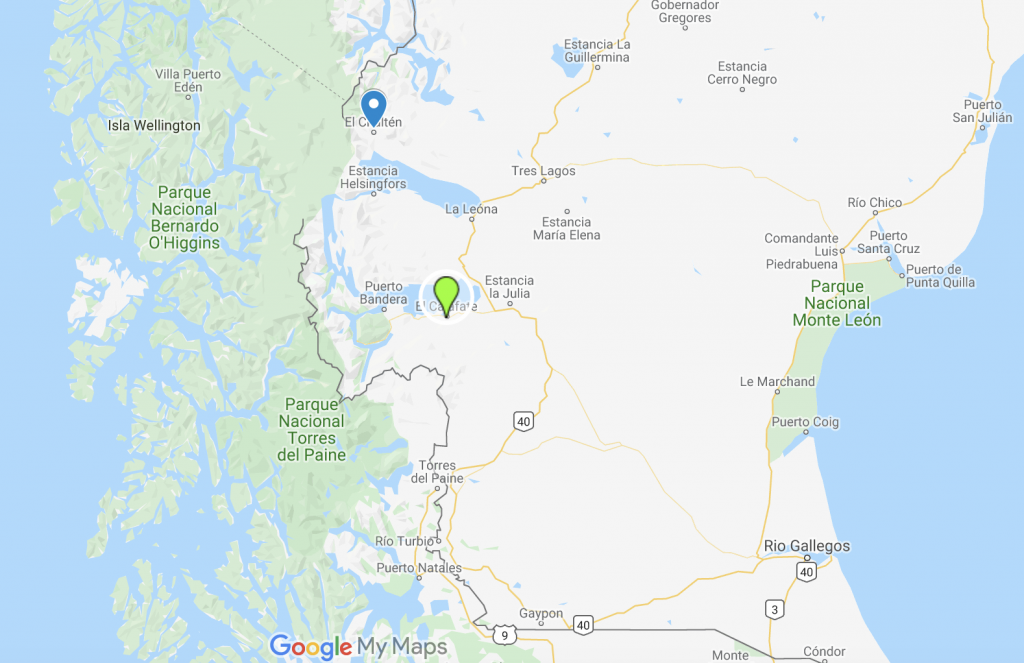 Back to Argentina. These are the most popular hiking areas in Argentinean Patagonia. El Calafate is a larger town that is the entry point to reaching El Chaltén. There are great restaurants and shops in El Calafate. El Calafate is most known for the hike out to see the Perito Moreno glacier in Los Glaciares National Park. This is not to be missed. While more of a walk, seeing this UNESCO world heritage landmark is very worth it. Consider signing up for a group tour that will take you hiking onto the glacier itself! The glacier rises more than 200 feet above the surface of the water and covers almost 100 square miles!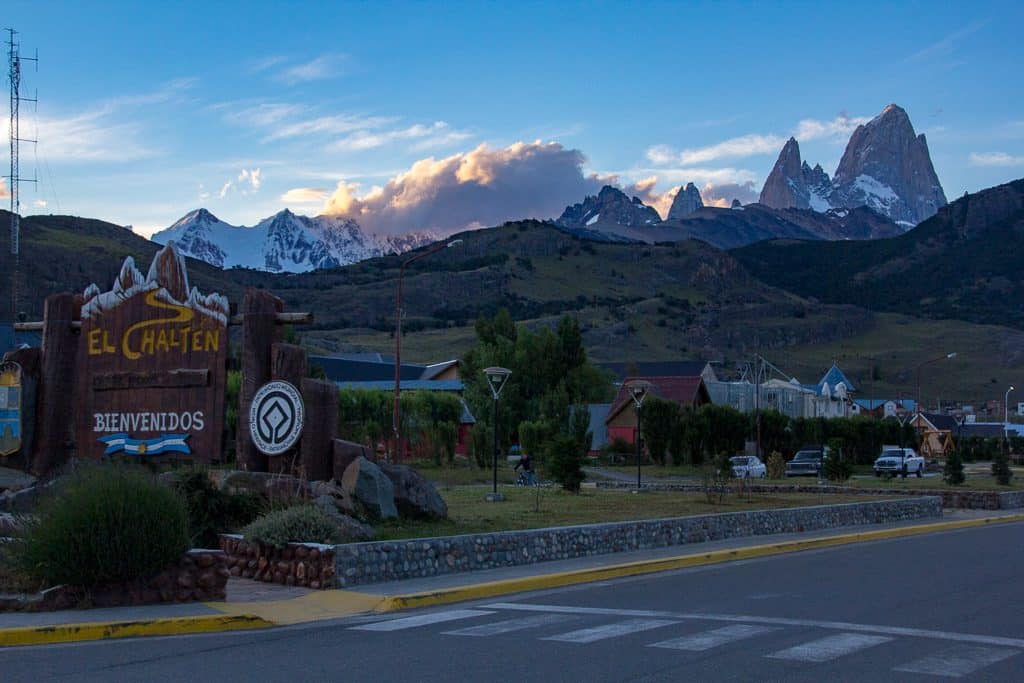 El Chaltén includes some of the most stunning scenery in South America. Some of the world's most extreme mountains are boarded by the expansive and desolate Southern Patagonian Ice cap. You may recognize the view from town as the logo of a popular outdoor brand, named after the region. El Chaltén is a small outdoors town that was more or less founded on eco-tourism.
The only way to reach the town is by bus from Calafate (3 hours) or by boat from O'Higgins, or by bus from Perito Moreno (12 hours). Every year, climbers flock to this small town to climb some of the hardest rock and ice climbing routes in South America. Hiking and backpacking have become increasingly popular in El Chaltén.
The best way to hike this town is to get a hostel and do several day trips, and then an overnight hiking trip. The great part about hiking Los Glaciares National Park in Argentina is that entry is free, and the start of most hiking trails is within walking distance from most hotels.
El Chaltén is known for its horrendous weather that stems from the westerly winds coming from the Southern Patagonian Ice cap, just a few miles west of town. Be prepared to hike in poor weather, or leave extra time in your schedule to wait out weather days in town.
This is a great way to start your introduction to the Fitz Roy Massif. This hike starts from the visitors center at the southernmost point of the town and is only a 1-2 hour hike. It would be a great option to do right when you get into town. It ascends a few hundred feet to give an expansive view of Cerro Torre, Mount Fitz Roy, and other magical mountains in the distance.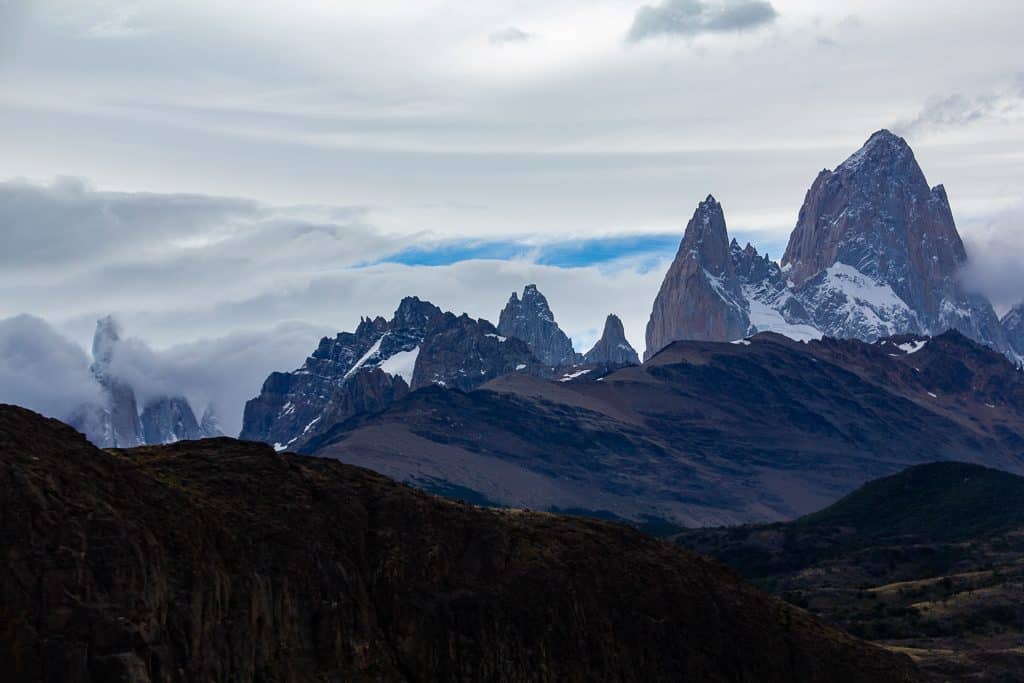 This is certainly the most popular hike in El Chaltén. Expect a moderate 6-7 hour hike that ascends about 1700′ feet. This hike leaves from the center of town and will leave you at the base of the Glacier Grande and looking up at the inspiring summit of Cerro Torre. The 12-mile round trip hike includes amazing viewpoints of the higher peaks and a great view of several different glaciers from a distance.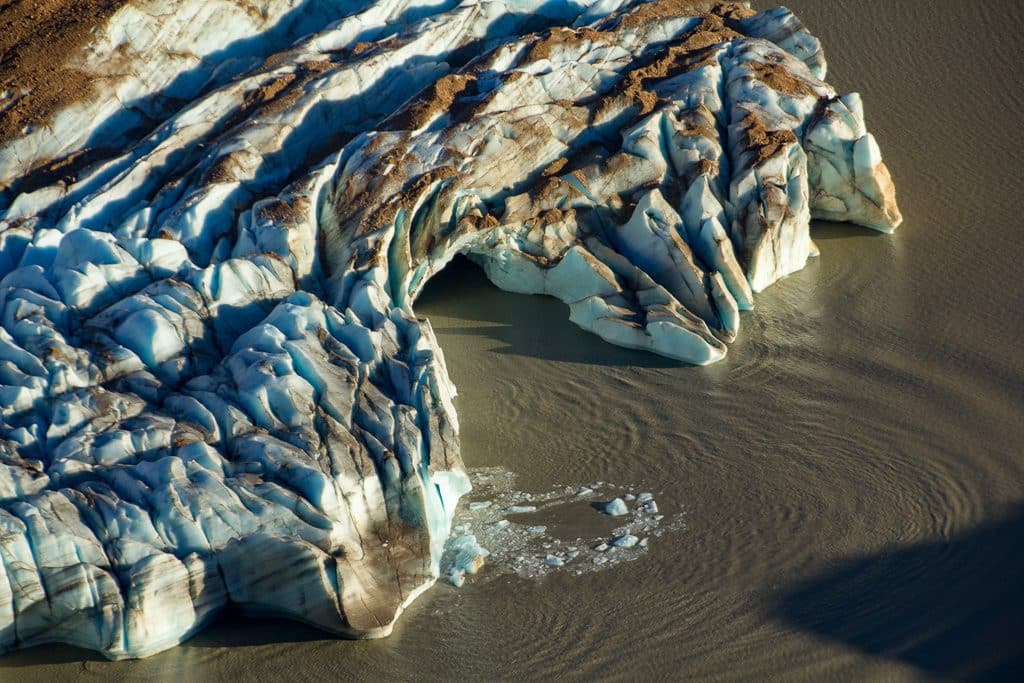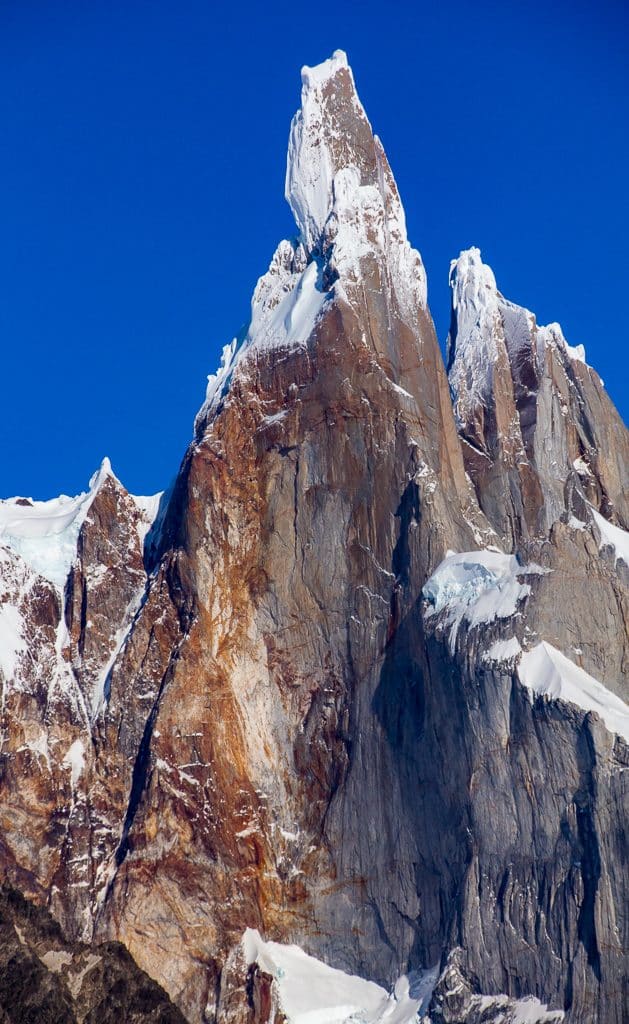 This 13-mile hike includes much more vertical gain than the Laguna Torre hike, one should expect 10-12 hours of hiking for this day hike. This allows for stunning views of the lake itself, and to be under the shadow of Mount Fitz Roy and its neighboring peaks.
This is a multi-day hiking trip and is one of the most challenging hikes a hiker could do in El Chaltén. Expect 4-5 days for this trip. You will cover 40 miles+ of rugged terrain with access to the Southern Patagonian Ice cap and the Viedma glacier. Hiking the Paso del Viento requires good weather, the direct translation for Paso del Viento is the windy pass! It is a good idea to check in with park rangers before attempting this hike. Often a harness is needed to pass one of the rivers while completing the circuit.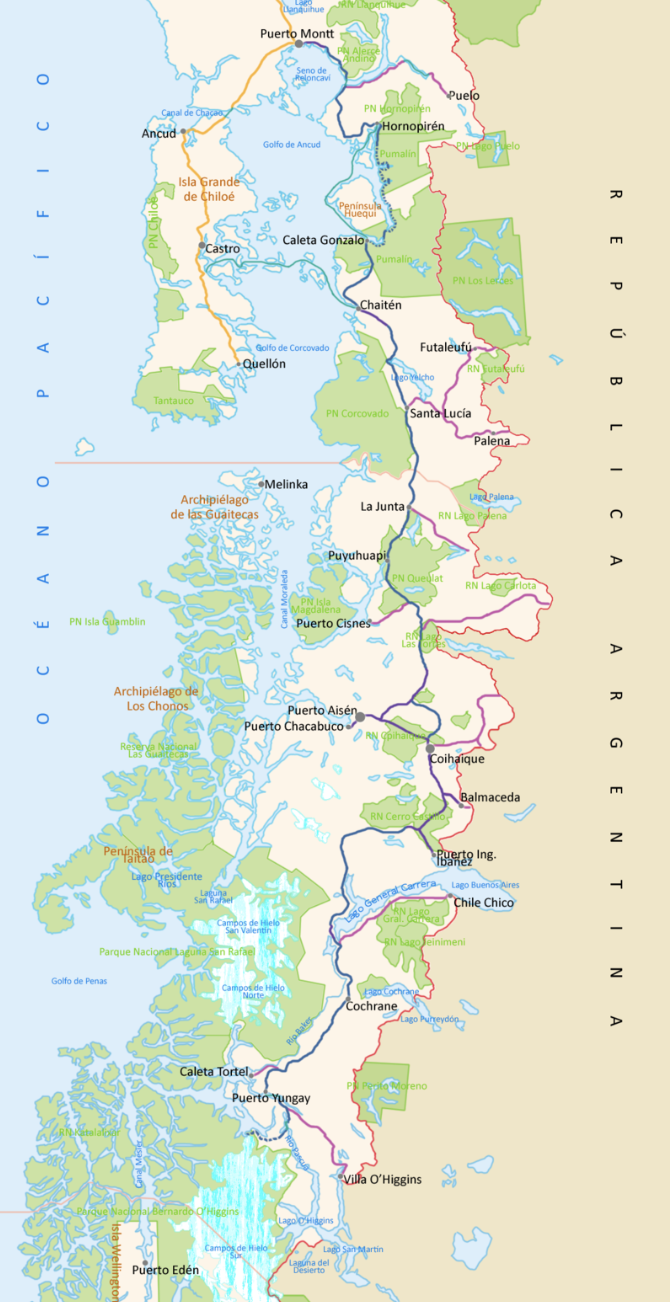 The Carretera Austral is a 745 mile long dirt road that connects the Aiysen region in Chile. An entire blog could be written on this remote highway. This region is quickly becoming a popular hiking destination. Because of its remoteness and lack of infrastructure compared to other areas in Patagonia, you will encounter fewer people. That being said, the hiking is not as recorded online as in other regions, giving this region more of an adventurous feeling. Due to the absence of such information, the ruggedness of terrain, and remoteness, hiking in this area is recommended for experienced hikers only. It is recommended to have an emergency contact device. Emergency services are few and far.
Mentioned below are only some of the dozens of hiking areas in the Aiysen region. Unless you are planning to book with a tour group, this is an area of Patagonian travel that should be left flexible. Local knowledge is best for the Carretera. There is so much to explore in Aiysen. If you are looking to be alone in vast landscapes and experience the true, raw spirit of adventure, this is where to hike. The area is being developed for hiking as we speak. Just recently, Chile has added several new national parks to the Aiysen region, due to the land donation of Tompkins Foundation.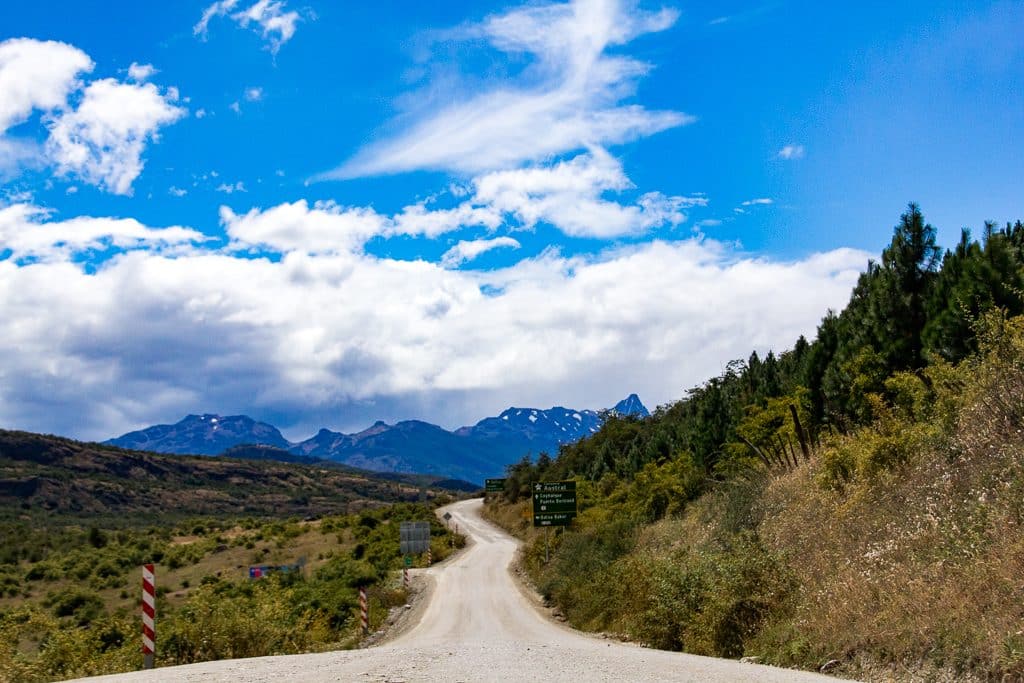 Cochrane and Parque Patagonia
The small town of Cochrane is only accessible from buses and cars on the Carretera. Cochrane is the gateway town to the new national park, Parque Patagonia. Currently, Parque Patagonia has limited infrastructure and hiking trails mapped, but there is so much to explore. Expect to see wild guanacos and intensely blue lakes underneath glacially covered mountains. The landscape is vast and undeveloped. Cochrane is one of the smaller towns where backyard camping is available. Like many other towns in this region, there is a tourist office at the bus station and free wifi in the town square. If in Cochrane consider hiking in La Reserva Tamango. This park is several miles from town and includes a 2-day hiking trip loop to see glacial-fed lakes.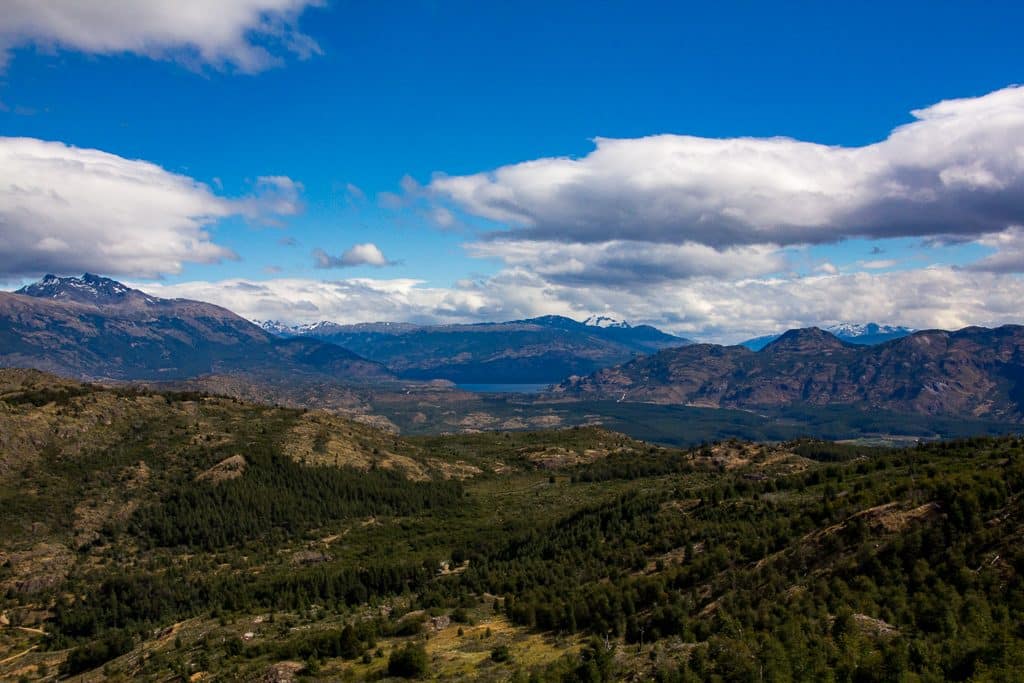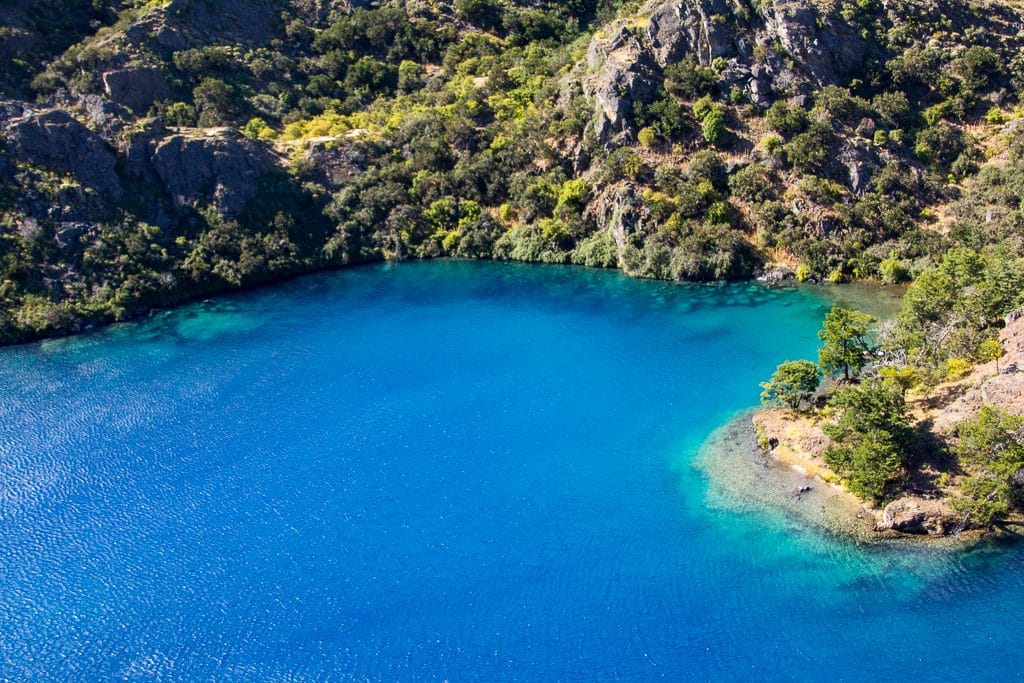 Cerro Castillo Reserve
Further north on the Carretera is the Cerro Castillo National Reserve. This is a great place for hiking to view the mountains that make up the namesake of the area, castillo that translates to castle. The pointy mountain landscapes also are home to the Andean condor and the guanaco, a symbol of Chilean Patagonia. The small town of Villa Cerro Castillo is your entrance to the reserve. There is a popular 5-day circuit that can be done by experienced hikers independently or with a guided group.
Chaitén and Parque Pumalin
Chaitén is a beautiful small town that borders the Pacific ocean across from the Island of Chiloé. It was nearly wiped out from the Chaitén volcano in 2008. Hiking in Chaitén can be found in Pumalín National Park. You will have few other people hiking with you in Pumalín. It is hard to get to, and Chaitén has very little infrastructure. In contrast to National parks down south, the climate here tends to be wetter and warmer.
The highlights of Parque Pumalín are the Chaitén volcano hike, where one can hike up to the volcano and see its incredible path of destruction. Be sure to check out Sendero de Los Alerces, which features large trees that can be 3,000 years old. The best way to access Parque Pumalín is by asking your host in Chaitén to arrange a driver to take you up to the park, it is a short drive from town.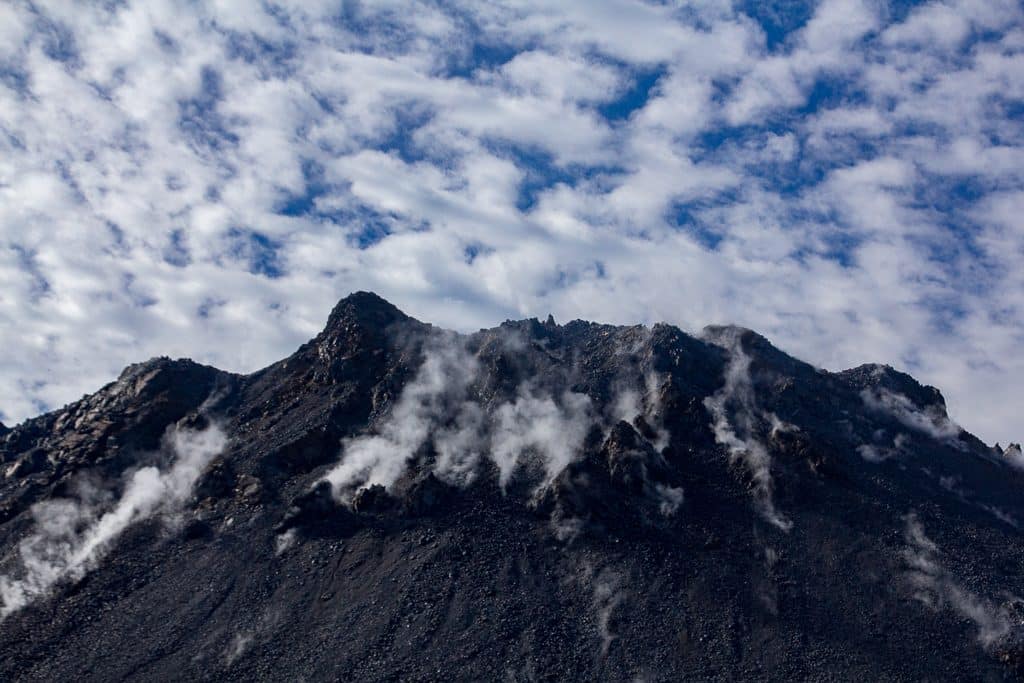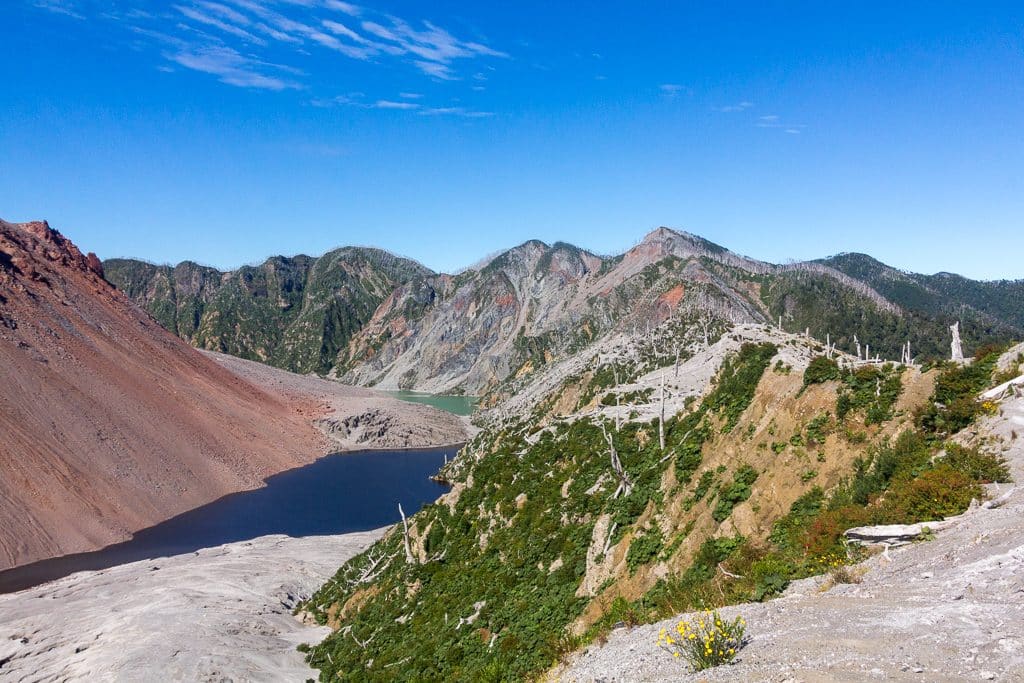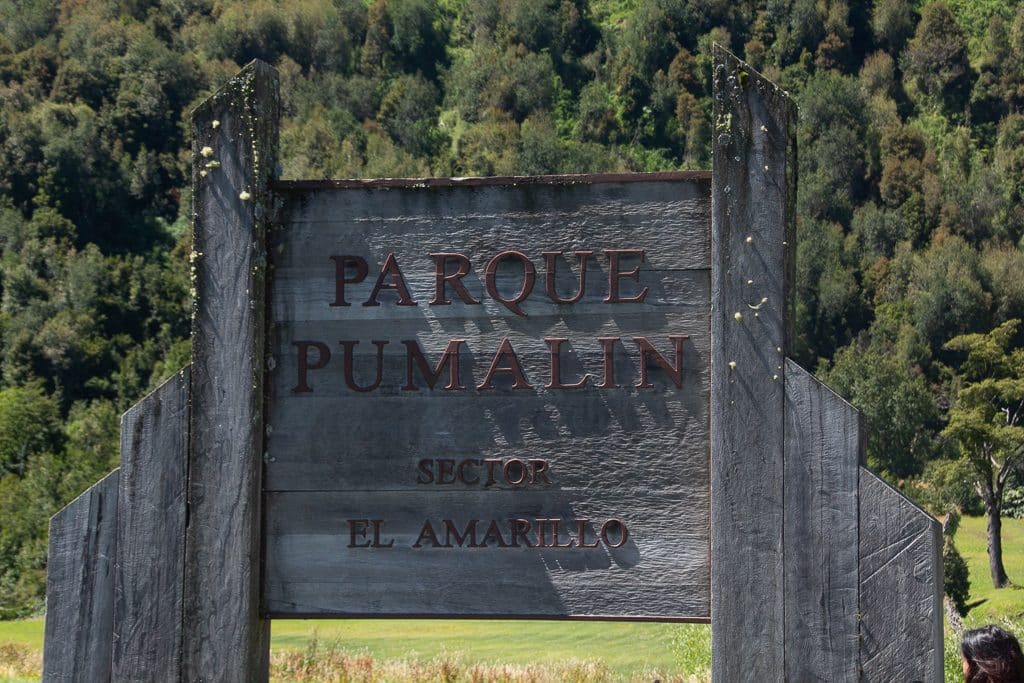 Los Lagos Region- Chile
North of the Carretera Austral is a far more commercialized and developed region. Here it will be easier to find a hotel, find means of travel, and the wifi will be much better. There are larger cities in Los Lagos. While it is not as wild as the Carretera, there are still places to hike and experience the region. This region is known for its lakes and volcanos. Many of the volcanos include mountaineering-style summits and are recommended to do with a guided tour.
Cochamo Valley
Take a visit to the Yosemite of South America. Flanked by 1,000-foot granite walls, Cochamo looks like Yosemite National Park. There are several multi-day hikes that can be done in this valley via a bus from the city of Puerto Montt. Cochamo Valley is privately owned, and you'll have to pay to camp in the valley. Local knowledge in Puerto Montt would provide good information on the hiking in Cochamo.
Argentinan Lakes- San Carlos de Bariloche
Bariloche is the unofficial northernmost point of Patagonia in the Argentinian Lakes region. This is a large tourist town known for its amazing hiking and good food. This is one of the few places in Patagonia that will have more luxurious places to stay. The hiking options are endless in Bariloche.
From half-day hikes to multi-day hikes, to the non-technical summit of Cerro Tronador. Hiking in Bariloche echoes hiking in the Alps in contrast to Southern Patagonia. There are multiple huts to hike to and rent, and several of the ski gondolas operate in summer to transport hikers. Bariloche is the type of destination you can arrive that and plan day hikes based on local recommendations.
This short hike will provide a stunning view and a great warm-up for some of the harder hikes in the region. The hour-long hike to a viewpoint provides a 360-degree view of Bariloche. There is a cafeteria by the summit.
The hike to Refugio hut is about 4 hours one way and will take you to the most popular mountain hut in Bariloche. The sharp mountain range looks like the alps. Expect there to be some snow on the ground, even in the summer.