A high performance hard shell jacket or rain jacket that is windproof and waterproof could be the most important item that you will carry and wear while hiking and backpacking. So, how do you pick out a great jacket that has great value and a long life span? The process of choosing a high quality jacket that performs can be very overwhelming. There are so many options, brands and styles these days. And, a good majority of jackets sold do not hold up in severe weather as well or as long as others. Be very careful where you put your money!
In this feature, we review the Helly Hansen Verglas Infinity Shell Jacket. Full disclosure, Helly Hansen gave me this jacket to test in the field. I am happy to test out products that are high quality and could be of value to our readers. Hiking Daily does not accept or review products that are not in the interest of our readers. Fyi, magazines and television shows have been testing and promoting donated products for decades. This is not unusual.
Moving on, I will say that I was extremely impressed with the quality of the design and materials of the Verglas Infinity shell jacket. Just a couple months previous, I upgraded my emergency shell that I keep in my backpack. After doing hours of research I settled on the REI Stormbolt GTX jacket that I was able to score at 50 percent off regular price. This was the cheapest 3-layer Gore-Tex jacket I could find. And I do like the Stormbolt jacket, but not as much as the Helly Hansen Verglas Infinity Shell Jacket. Let's find out why.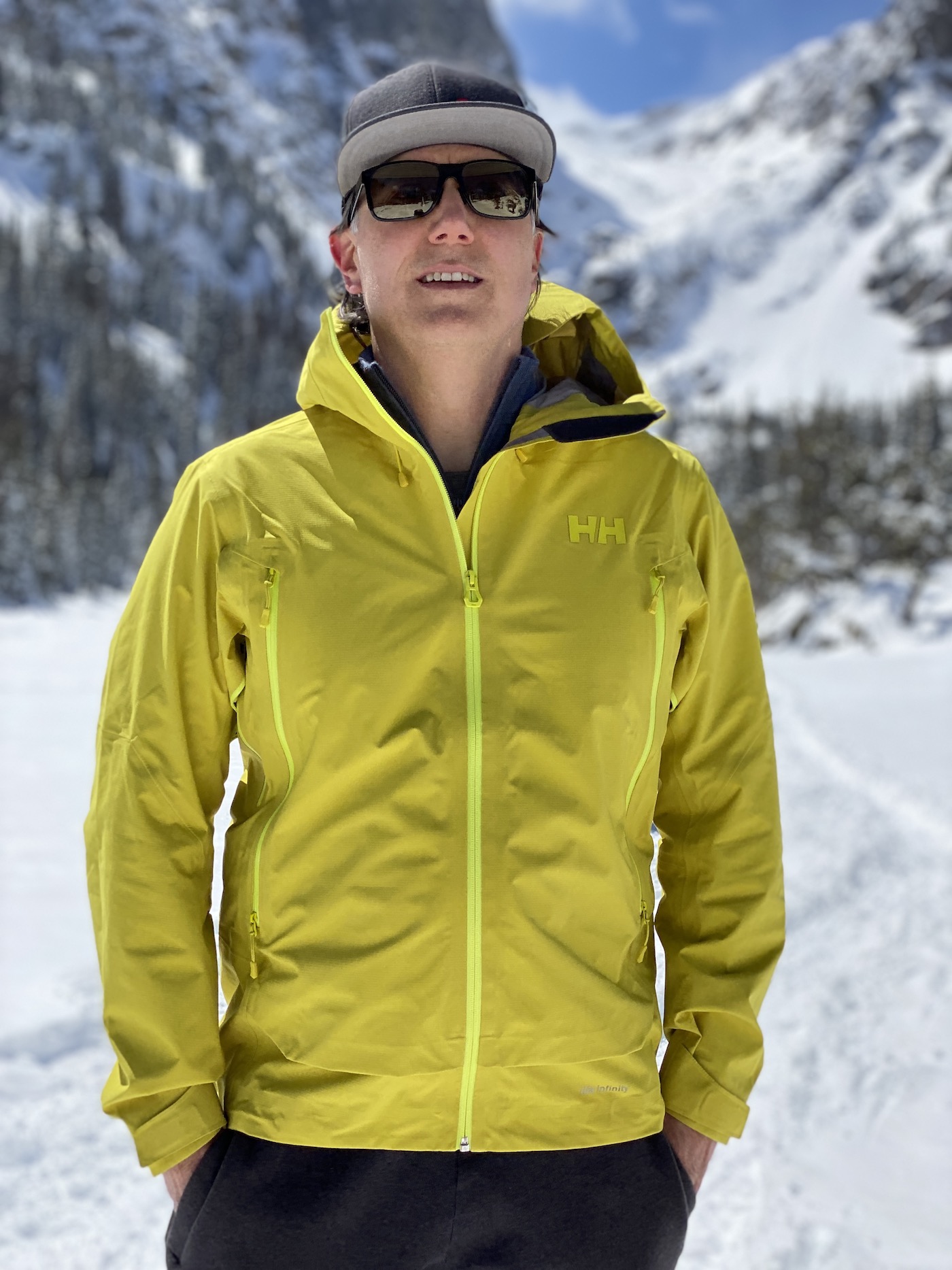 Top features for the Verglas Infinity Shell Jacket
Not all windproof and waterproof jackets are equal. A shell jacket is not just a shell jacket. Far from it. The fabrics, the design, the styles, and features are all completely different. Thus, the way one jacket feels and performs compared to the next will make or break your final decision. Some features should not be overlooked if you want to get the best value, and the longest lifespan possible.
This jacket is can be summed up as extremely lightweight, windproof, waterproof, breathable, and heavy-duty durable all in one jacket.
HELLY TECH Professional fabric 3-layer fabric construction

Sustainable LIFA Infinity fabric technology
Recycled face fabric

Extremely waterproof (ideal for long days in extremely wet and harsh conditions)
Extraordinarily breathable (this is super noticeable)

PFC free DWR (that does not need to be reproofed)

Front placket for wind protection
Pit zips with convenient 2-way sliders
Weather resistant zippers (YKK WR CF zipper, YKK WR hand pocket zips)
2 hand pockets also with 2-way sliders

High set pockets provide a backpack and harness compatible design

Inner waist shock cord adjustments keep wind out

Helmet compatible hood
Fitted design is not bulky
Fully taped seams keeps water out
471 grams in weight (feels even lighter somehow)
What do I like the most about this jacket?
The features above translate into some real benefits compared to my REI jacket.
3-layer waterproof construction (3-layer guarantees keeping dry in persistent bad weather)
Fabric feels soft and stretchy (not stiff or restrictive at all)
Movement is very quiet (not noisy at all) which is super pleasant
Most breathable jacket ever (no sweating even if pit zips are closed)

Jacket is streamlined in fit (not boxy) and doesn't catch the wind

Excellent windproof performance (have not yet had the chance to test waterproofness)

Feels very lightweight (my REI jacket is apparently 50 grams lighter but feels heavier)

Zippers appear more weatherproof, better quality vs other zippers
Great face protection from collar and hood
2-way zippers are gold
Made with sustainable materials
Super packable
Versatile (wear it skiing, fall and winter hiking, in rain, and pack it as an emergency shell in summertime)
Conclusion
This is an incredible example of "you get what you pay for". In most situations, I believe in paying more money for better quality, value, and to get a greater life span out of my gear.
By far, the most notable feature of this jacket is breathability. I have skied hard, hiked up 14ers, and done other demanding activities wearing this jacket, and I have not experienced getting damp with sweat at all.
When I purchased my REI Stormbolt GTX jacket I bought the best and most affordable 3-layer jacket I could find. The Patagonia Torrentshell 3-layer jacket was the runner-up and is currently the cheapest 3-layer jacket. At the time I wasn't thinking too much about versatility. The intent was to buy an emergency jacket that was likely to spend more time in my backpack than out of it. However, now I have a different opinion. If I were to do it all over again, I would spend more money for a better and more versatile hardshell jacket like the Helly Hansen Verglas Infinity Shell Jacket. You can immediately feel and see the difference in overall quality. The jacket also feels more comfortable. The quiet fabric is worth the higher price alone. Also, the extremely breathable and microporous membrane is mind-blowing. In this case, if you spend more, you do get way more. The Helly Hansen product is right up there with Arc'teryx in my opinion. I wear this Verglas Infinity shell jacket way more often because I truly like it and was pleasantly impressed. Plus, I love the traditional bright yellow color!