Yes, waterproof socks exist and yes, they are really waterproof. Here's when to wear them, when to skip them, and some of the best waterproof socks to wear hiking or anytime feet need to stay dry and warm.
What makes waterproof socks waterproof? It is similar to wearing a plastic bags between two socks, and much less sweaty. Waterproof socks are made of three layers with a waterproof membrane sandwiched between knit socks. The outer and inner socks have to be thick enough to protect the membrane from damage so these socks will be thicker than athletic socks but can be comparable to heavy hiking socks.
It is easy to test who waterproof these socks are – put one under the tap and fill it with water like a balloon. However, water can get in where the cuffs meet the leg. Waterproof socks need to be higher than water when wading through or covered by waterproof gaiters or pants to work in the pouring rain.
Waterproof socks do more than keep feet dry. They also block out mud, sand, dust, and wind and help toes stay toasty. These socks are also useful for many other outdoor activities including biking, hunting, kayaking, surfing, paddleboarding, and anything else that gets the feet wet or uncomfortable
All that being said, waterproof socks are more of a preference than must-have hiking gear. Here's how to decide if and when you need them.
When To Wear Waterproof Socks
Waterproof socks easily upgrade non-waterproof footwear or increase the coverage of waterproof footwear. They are also helpful in damp and wet conditions.
Try waterproof socks if:
You prefer to hike in non-waterproof trail runners, sandals, or athletic shoes
Waterproof shoes aren't in the budget at the moment
Very wet conditions or terrain
Waterproof socks are so effective that many hikers wear them with their favorite lightweight shoes and sandals – year round.
When Not To Wear Waterproof Socks
The membrane that keeps water out also keeps some sweat in, which can be hot and damp. They may not be the choice for all day wear, hot conditions, or people with sweaty feet.
That being said, the combination of mesh shoes and waterproof socks can be more breathable than a Gore-Tex shoe. Try out different sock and footwear combinations to find the best one for you. Switching up the insole can also make a world of difference in shoe comfort.
If hot feet or perspiration is an issue, a sock liner or a generous does of foot powder can help.
There are also products dedicated to minimizing foot moisture. Deodorants for feet reduce perspiration and odors. Try Carpe Antiperspirant Foot Lotion or SweatBlock Lotion. Blister prevention powders also work by minimizing moisture. Check out 2Toms BlisterShield, waterproof powder that repels moisture instead of absorbing it. These products can be used on their own or together.
In summary, these socks are excellent hiking gear but only wear them when they are required.
Waterproof Socks vs Gaiters
There is an overlap between the benefits of waterproof socks and gaiters. Gaiters keep water and other elements out of waterproof shoes but they do not make shoes waterproof. Gaiters could be worn with waterproof socks to keep moisture out of the cuffs.
Other than that, it all comes down to preference. Many hikers prefer the lightweight, cushioned soles of trail runners. When waterproof, they can be worn with gaiters but waterproof socks can make any shoe waterproof.
Waterproof Sock Layers
The challenge for all waterproofing is the balance between allowing air out without letting water in. Most waterproof socks use Coolmax in the liner sock for its moisture wicking, anti-bacterial properties. Coolmax absorbs sweat from skin quickly to keep feet dry, odor free, and reduces blister.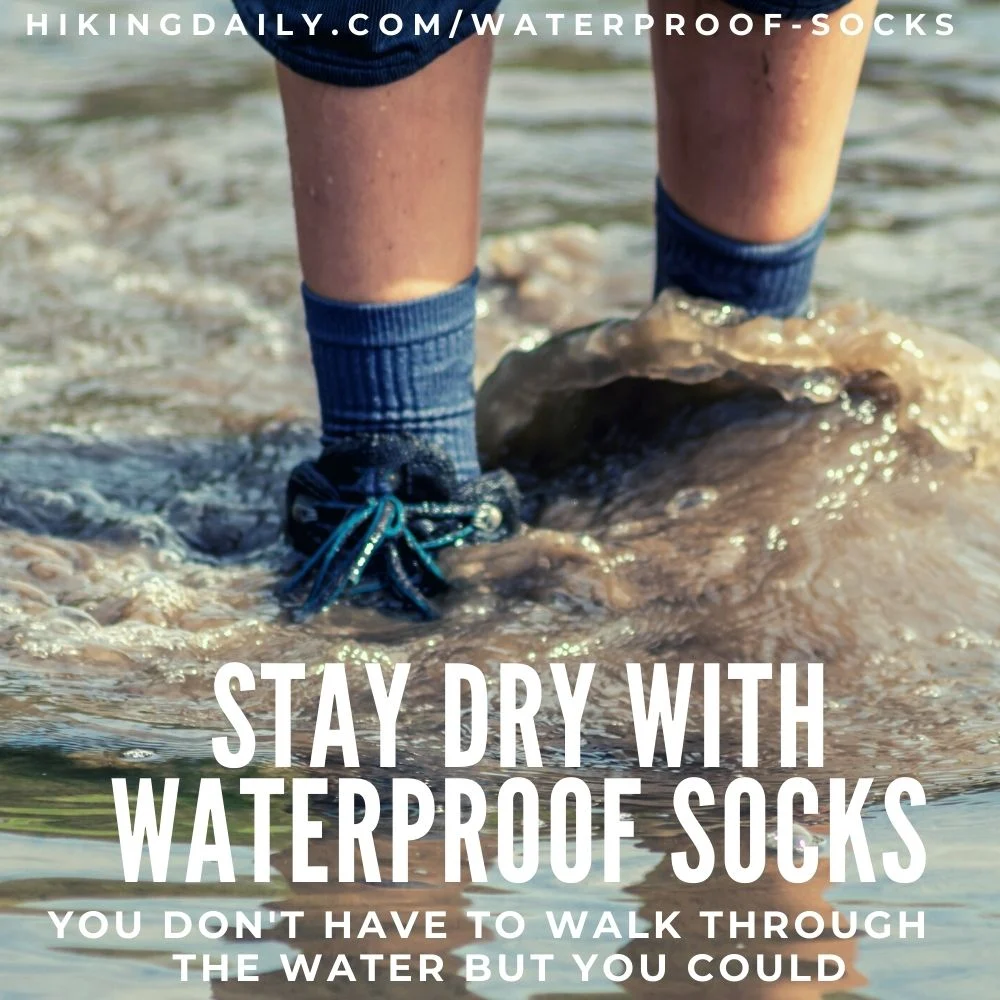 Some socks use natural fibers like wool or bamboo. Of course, the breathability of all these fabrics is reduced by the waterproof membrane. There will also some percentage of Spandex, Elastane, and/or Lycra for stretch.
Each sock company has their own waterproof membrane.
For the outer sock, nylon and/or polyester are used for their water-resistance. There will also be some added stretch.
The Best Waterproof Socks For Hiking
Here are some of the best waterproof socks for warm and cool weather:
The Most Lightweight Waterproof Socks
Inner Sock 70% bamboo rayon/30% nylon
Membrane Porelle membrane
Outer Sock 96% nylon/3% elastane/1% cuff elastics
+ Bamboo socks feel great
+ Lightest weight waterproof sock
The thickness of waterproof socks is one of the most common complaints that people have. With 70% bamboo for the inner layer, this is the lightest weight sock out there. They work well in hot weather and keep feet warm in cooler temperatures as well. They also come in a knee height.
Best Waterproof Socks For Cool Weather
Inner Sock 81% Coolmax/16% polyester/2% Spandex/1% nylon
Membrane Artex microporous membrane for breathability
Outer Sock 78% nylon/7% Spandex/15% polyester
+ Highest % of Coolmax fiber
Based in Portland, Oregon, Showers Pass wanted to make gear that helps keep people outside in all types of weather. Their proprietary microporous Artex membrane keeps water out while letting the inner layer breathe. The same technology is also available in gloves.
Best Waterproof Sock With Merino Wool
Inner Sock 36% Merino wool/36% acrylic/18% polyester/5% nylon/5% elastane
Membrane Hydrophilic membrane that draws moisture away from skin
Outer Sock 90% nylon/10% elastane
+ Lifetime warranty
– Higher cost
The inner layer of this waterproof sock contains 36% Merino wool to keep feet warm, dry, and odor-free. Sealskinz waterpoof socks are the highest quality – every sock is handmade and tested for waterproofness in the United Kingdom and they come with a life time warranty.
Best Waterproof Sock Price + Variety
Inner Sock 66% Coolmax/30% polyester/4% elastane
Membrane RS-Tech
Outer Sock 61% nylon/32% polyester/7% elastane
+ Lowest price waterproof sock
+ Most colors and patterns
+ Most waterproof sock types
Like many of the other companies that make waterproof socks, Randy Sun wanted to solve the problem of waterproofing with breathability. That's not all, the price point is about half of some brands. They also make the widest variety of these socks with ankle, knee height, compression, and merino wool options in a wide variety of colors of patterns. Randy Sun works so well that some users hike with sandals and Randy Sun socks in the winter.
Best Waterproof Socks Under $30
Inner Sock 80% Coolmax/20% Lycra
Membrane PTFE
Outer Sock 74% nylon/23% Lycra/3% elastane
+ Under $30
+ Good for hot feet
+ Most stretch in outer sock
Otter Socks makes a comparable waterproof sock at a lower price. Most ring in close to $50 but these are under $30. With a liner sock of 80% Coolmax these work well for hot, sweaty feet in warm to cool temperatures.
Brand
Inner Sock
Waterproof Membrane
Outer Sock
Best For
DexShell Bamboo
70% bamboo rayon/30% nylon
Porelle membrane
96% nylon/3% elastane/1% cuff elastic
Thin + lightweight
Showers Pass Crosspoint Sock
81% Coolmax/16% polyester/2% Spandex/1% nylon
Artex microporous membrane for breathability
78% nylon/7% Spandex/15% polyester
Cold weather
SealSkinz
Knee Length Sock
36% Merino wool/36% acrylic/18% polyester/5% nylon/5% elastane
Hydrophilic membrane that draws moisture away from skin
90% nylon/10% elastane
Merino wool, cold weather, lifetime guarantee
Randy Sun Sport Socks
66% Coolmax/30% polyester/4% elastane
RS-Tech
61% nylon/32% polyester/7% elastane
Great price, many colors + patterns
Otter Socks
80% Coolmax/20% Lycra
PTFE
74% nylon/23% Lycra/3% elastane
Under $30, good for hot feet
Do Waterproof Socks Work?
Waterproof socks absolutely work when worn and washed correctly. If water comes in from above the sock, feet will get wet. This can be a deep stream or wet pants.
The balance between breathability, stretch, and water-resistance mean that the inner membrane is delicate. Follow the washing and drying instructions to extend the life of socks.
How Do You Wash Waterproof Socks
While some brands can be put in the washing machine, hand washing socks can extend their lifespan.
Even machine-washable waterproof socks need to be air-dried, which can take up to 24 hours. To shorten drying time, I like to put the socks between two towels and press out excess water. Repeat the process on the inside and outside layers. When the outside layer of the sock is dry, flip it inside out to let the inside dry.