These aren't your typical New Year's resolutions! As outdoor enthusiasts, our goals often involve a mixture of consistency, exploration of new terrain, and pushing past our perceived limits.
With a new year right around the corner, try adding some of these hiking challenges to your bucket list. They will surely test your limits and help to elevate all of your New Year's goals!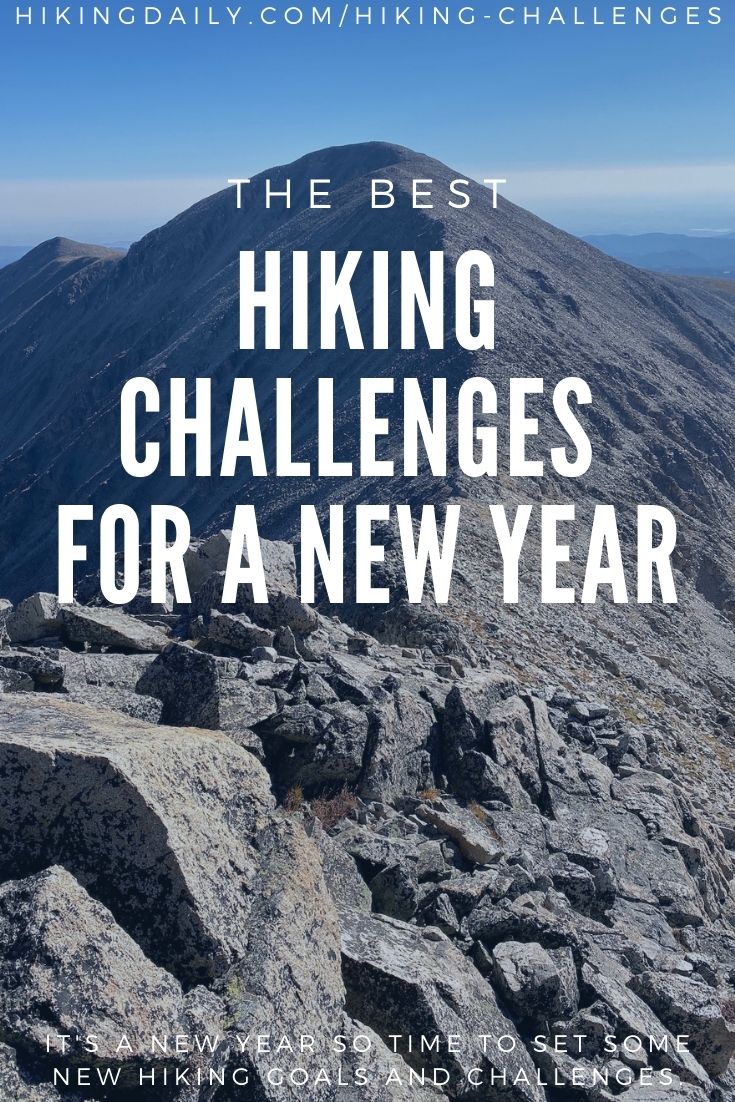 Friend Friday
Struggle to keep in touch with old and new friends? Make an effort to maintain those relationships by going on a hike with someone you care about every Friday! This gives you the chance to catch up, talk about your ambitious goals and upcoming plans for the week, while socialize in a setting that is beneficial to everyones health.
Everesting
This challenge is exactly what it sounds like… you must Everest a nearby peak! Mount Everest is around 30,000 feet tall, so the point of this challenge is to pick a local peak, and hike it however many times you need to until you reach an accumulated elevation gain of 30,000 feet.
For example, if your peak gains 3,000 feet from the start of the trail to the summit, then you would lap that route ten times to get to 30,000 feet.
Everesting is an all day endeavor! You can take as many breaks as you would like, but this challenge is to be completed in one push. So, you need to start hiking early in the morning and plan accordingly. You will want to make sure that you pack enough food and liquids to stay hydrated and keep up with your caloric intake. Don't forget to also carry some extra layers for when it gets cold in the evening. Everesting is just as demanding mentally as it is physically! So if you are looking to test your limits, this is a great task to tackle!
Combining Interests
Don't be afraid to combine your passion for the outdoors with some of your other hobbies! Once a week, dedicate your hike to exploration and creativity that involve your other interests.
Some ideas can include:
Coffee hikes
If you enjoy a good cup of Joe in the morning, try seeking out a hike that is near a new coffee shop. This allows you to branch out to trails that you may not typically hike on, and gives you the chance to test out some new types of espresso. You could even combine this with Friend Friday to catch up over coffee after a new hike!
When that isn't an option or you are looking to get a little bit more remote, brew up some decadent coffee from home. Put it in your favorite to-go mug and take it with you on your hike. Not only does it keep your hands warm, but it may just become a part of your new routine. Coffee hikes are one of my favorite me time activities in the morning.
Hiking to draw
Pack up your paints, pencils, and pens and set out for a creative hike. While on your trek, find a comfortable spot to set up, and just let yourself doodle, write, draw, and create! It doesn't matter how old you are or if you don't consider yourself an artist, this experience is for all talents. This allows you to just release all external stressors and tap into your creative energy… You might even discover that you have a hidden talent after all!
Audiobooks or podcast hikes
Don't be afraid to put in some headphones and immerse yourself into a new book or podcast. This can be great way to learn something new while still getting out the door to move. Podcasts and audiobooks can also be great for the days that you feel like tuning out the world but still want to enjoy some fresh air.
Turn the Door Challenge
Some days, the motivation just isn't there and it can be hard to get out the door. Believe me, we have all been stuck in that rut before! The purpose of this challenge, is to give yourself 30 days to just turn that door knob and get yourself moving. The hike can be anywhere from five minutes to five hours. The goal is to just get yourself outside every single day–especially on the days that you don't feel like it. When we feel tired or stressed and have no desire to go out, this is usually when we need some sort of movement the most. Often times you will find that once you are actually out on the trail, that you are really happy you made it there.
Going out on the days you don't feel motivated can lead you to experiencing some of your best hikes yet!
Destination Hikes
Destination hikes can get us inspired to explore and motivated to stay healthy throughout the year. They also give us a reason to wander outside of our comfortable and routine trails. If you plan on having a special or meaningful hike that you want to do at the end of the summer in another town, state, or country, you'll find the desire to keep getting yourself out the door in the winter. While traveling the world to see serene mountain peaks sounds luxurious, driving just thirty minutes to another town may equally impress you… You would be surprised by how many noteworthy trails are out there.
Point being, work with what you have to explore more!
Take 3 Challenge
The Take 3 initiative started in Australia as a movement for removing plastics and pollutants from the ocean. Those enjoying the coast were encouraged to take three pieces of trash with them before leaving the beach. With the increase in traffic on trails, especially at the beginning of the new year, you can unfortunately expect to see more trash being left behind. This challenge encourages you to pick up three pieces of trash along your hike, and encourage others to do the same! Leaving our beautiful trails a little bit better than we found them.
Overnight Hike
This hiking challenge is perfect for those looking to explore remote locations, or even to spend the night under the stars on a trail nearby. For overnight hiking it's best to start small and work your way up towards bigger objectives or multi-night trips. Pack a light bag and make sure you freshen up on your skills of what to do if you encounter an animal. Besides packing up plenty of layers, food, water, and a headlamp, make sure to tell someone where you are going as a safety precaution. Packing a light day pack and setting out for the night will surely help to shake off some stress, reconnect with yourself, and appreciate the simplicity that the trails often provide.
Thru-Hiking
Once you've done some overnight hikes, put heavy miles on your feet, and checked off some multi-day adventures, you may be ready for something a little bit bigger and more challenging! Thru-hikes are typically point-to-point routes over a strenuous and long trail (like the Appalachian Trail, Pacific Crest Trail, Colorado Trail, etc.) With backpacking, you can typically go out for a night or a weekend, but thru-hikes can take weeks or even months. So if you are ready to go spend a lot of time on the trail and really get to know yourself, this could be a great challenge for you! Thru-hiking takes a lot of preparation–you need to focus on the weight of your pack, how far and how long you expect the route to take you, where you are going to sleep, and many other important logistics. Be ready to put some real time and effort into planning your trip to ensure that the hike itself goes smoothly.
Every Single Trail Challenge
Inspired by Ricky Gates and his Every Single Street objective, this challenge is meant to push you to track more of your local trails, and take the time to seek out paths that you normally wouldn't take. The idea here is to choose a trail system, or map out your own radius, and hike on every single path that exists within it–including the awkward ten foot long connector paths! The Every Single Trail challenge can be quite tedious and will take some time to research and prepare before you set out.
Here is how we would recommend approaching this challenge:
Map it Out
Get your maps out, and figure out which trail system you want to tackle. You can make this circumference as small or as large as you would like. The goal is to make sure that you hike every single trail and path that exists within that drawn boundary. This includes those short and seemingly pointless stretches that link up the paths! This can start from your door or be a trail system that you have to drive to. Once you have an idea of where you want to start, print out a map that shows your enclosed trail network.
Start Hiking
Use some sort of GPS tracking device to keep record of all the trails that you are hiking on. You can use a watch, Garmin, or an app on your phone for this. Once you have a way of tracking, get out on the trail and start ticking off those miles. This challenge is extremely meticulous and will take some time, but it is very rewarding in the end!
Cross Completed Trails Out
With your printed map and GPS tracking device, use a marker or pen to "cross off" or trace the trails that you have hiked. This will allow you to keep track of what routes you have done up to that point. With time, you will slowly watch this map turn into a hiking masterpiece!
You will quickly learn with this challenge that there are a lot of small trails that you have never been on, and wouldn't have known about had you not taken on this challenge. The Every Single Trail challenge is a great way to really get to know your local trail system!
Meditation Hike
For many of us, hiking is our meditation, but by taking the time to be more intentional and focused on our thoughts we can really benefit and improve our mental state of being. On your hike, look for a large rock, bench, log, or place to comfortably sit. Give yourself 5-10 minutes (or longer) to be intentional and present with your thoughts. This can be guided through the use of a meditation podcast, calming music, or just the sounds of nature itself. The idea behind this is to dedicate some time to yourself–to acknowledge your mental well-being. Allow yourself to slow down and relax by taking a moment for your thoughts while out on your hike. Try incorporating this into your routine at lease once a week. You may even enjoy and appreciate your hike more once you have cleared your mind meditating.
Vertical Max
Get ready to climb and push yourself to your limits with this challenge! The purpose of finding your vertical maximum is to see how much vertical gain you can do in one week, or in one month, whichever you would prefer to take on. Make sure to log and keep track of how much vertical gain you are making. Week-to-week, month-to-month, compare how much you have climbed to your previous weeks vertical max to see how much it has changed. Give yourself three months to see how far you can really climb! This is a great way to measure progression and will surely amp up your fitness–especially if you are training for a bigger objective. If it is just for fun, you can encourage friends and family to compete and see who can achieve the most vertical gain.
Longest Hike of the Year
This is a two-part challenge to see how far you can really push yourself. The first part, is to see how many miles you can hike in one go–your longest hike of the year. The second part is to tally up all of your hikes at the end of the year (or check your Garmin or Strava) to see your accumulated mileage and how far you have traveled on your own two feet this year. This is one of those challenges that you can do every year to see how you have progressed and how much farther you've traveled compared to previous years.
Virtual challenges
There are many virtual challenges that you can sign up for and compete in–many of which can be found on Strava, Facebook, GarminConnect, Instagram, etc. You can participate in these from a treadmill in your home or gym, or on nearby trails. The purpose is to get yourself up and moving while having an exciting objective to complete.
Here are a few popular hiking challenges to try:
52 Hike Challenge
The idea behind the 52 Hike Challenge is that you go out for at least one hike, every week for one year. There are so many benefits that come with this challenge. You can strengthen your discipline, connect with nature consistently, meet more likeminded people, build up your confidence and so much more! There is a Facebook group under the 52 Hike Challenge page that you can join that allows you to meet up with others participating, stay motivated, and share your journey along the way.
To get connected and join the 52 Hike Challenge, you can check out their description here.
Colorado Trail
This challenge started in 2020 as a virtual challenge to keep people active and connected. It's a 486 mile trek that is available for registration in June with the last day to sign up in July. They give you 90 days to complete the virtual trail. You can do this as a solo member or on a relay team of up to six people. If you are feeling generous, you can also donate to the Colorado Trail Foundation to help maintain the trail system and show appreciation to those managing them.
To find more details about the Colorado Trail challenge, you can visit their website here.
Appalachian Trail Virtual Challenge.
This is a year long challenge! The deadline to register is January 15th, and will allow you to log miles until December 31st. The goal is to cover the 2,190 miles of the Appalachian Trail remotely before New Years, 2023. There is a Facebook and Strava support group to help keep you accountable.
You can find more details about the Appalachian Trail challenge here.
Pacific Crest Trail Virtual Challenge
For every distance-based activity that you do (run, walk, bike, swim, etc.) you advanced along the 2,485 mile virtual route on the PCT trail. With their mobile app, you can watch your avatar travel across the map as you progress on the PCT trail from Canada to Mexico. You can participate as a solo contender, or work with a team of people. The app also allows you to stay connected with others enduring the challenge, and help one another to stay motivated. You can start the PCT virtual challenge at any time, and choose the timeframe you would like to complete it in.
Sign up for the Pacific Crest Trail virtual challenge here.
Continental Divide Virtual Challenge
The Continental Divide National Scenic Trail (CDT) is arguably one of the most noteworthy trail systems in the word. The 2,890 miles stems between Canada and Mexico and is no small feat. This virtual challenge allows you to track any non-motorized movement to put towards the distance. You can start the CDT virtual challenge whenever you would like, and take as long as you need to finish. There is a Facebook page to help keep those participating motivated and there is a tracker on the website linked below to show how far along you are on the trail. A portion of the $60 entry fee will be donated to the Continental Divide Trail Coalition to help protect and maintain this scenic trail.
The Continental Divide Virtual Challenge can be found here.
Tips to Help You Stick to Your Goals
So, we've established how to spice up your New Years resolution for this year. But how do we actually hold ourselves accountable to reach these goals?
Here is what we think is most important for you to successfully achieve those goals this year:
What is your why?
Sometimes we do things because we feel like we have to, or because it is the next logical step for where we are headed. But why do you really want to achieve this goal? Is it leading to something bigger? What is the ultimate purpose that is driving you to achieve it? Once you figure out your why, you can continue to come back to it when motivation is low. Your why will be an important driving force when sticking to this years resolutions.
Start small and be specific.
This time of year we tend to get really ambitious and set ourselves up for some really big goals. Which can be great, but only if we break it down into smaller more attainable steps. So if you have big goals and ambitions for 2023, break it down. What do you want to accomplish in the first month, in the first week, in the first day? What do you need to do every day to set yourself up for that goal? How much time do you need to dedicate to that goal each day? Break it down, and be very specific.
Log it
Keep track of your progress. When we are getting better, we often don't even recognize it! We get so caught up in where we want to be that we forget how far we have actually come. By logging your journey, you can look back and see how much you have achieved up to that point. This can be helpful for when you feel stuck because it will show your honest progression. Tracking and logging your advancements toward your goals will keep you accountable and honest with yourself. If you haven't been doing those small specific steps that you originally wrote down for yourself, you can see how they have added up and why you aren't reaching your weekly or monthly goals. If you get to this point, that is okay! Reevaluate your plans, make them more manageable for yourself, and look back at your why. Remember that the small steps are what will get you to achieve your big goals!
Our overall number one tip to remember is that not every day will go as planned. When you plan out a morning hike but sleep in instead, don't be so hard on yourself! Be flexible, adapt to the circumstances of that day, and remember why you like to hike in the first place. It shouldn't be viewed as a chore or something you have to get done that day. Be forgiving, and allow yourself the leniency you need.