I have tried many backpacks made by all the most trusted backpack manufacturers over the years. Without a doubt, my best experience has been wearing Osprey backpacks. They are super comfortable, breathable, hug tight to the body, and I find that I don't feel like I am carrying a heavy amount of weight on my back. The amount of thought and detail that goes into their designs is very noticeable.
In this guide, we cover the newest and best Osprey backpacks that you can get for this hiking season!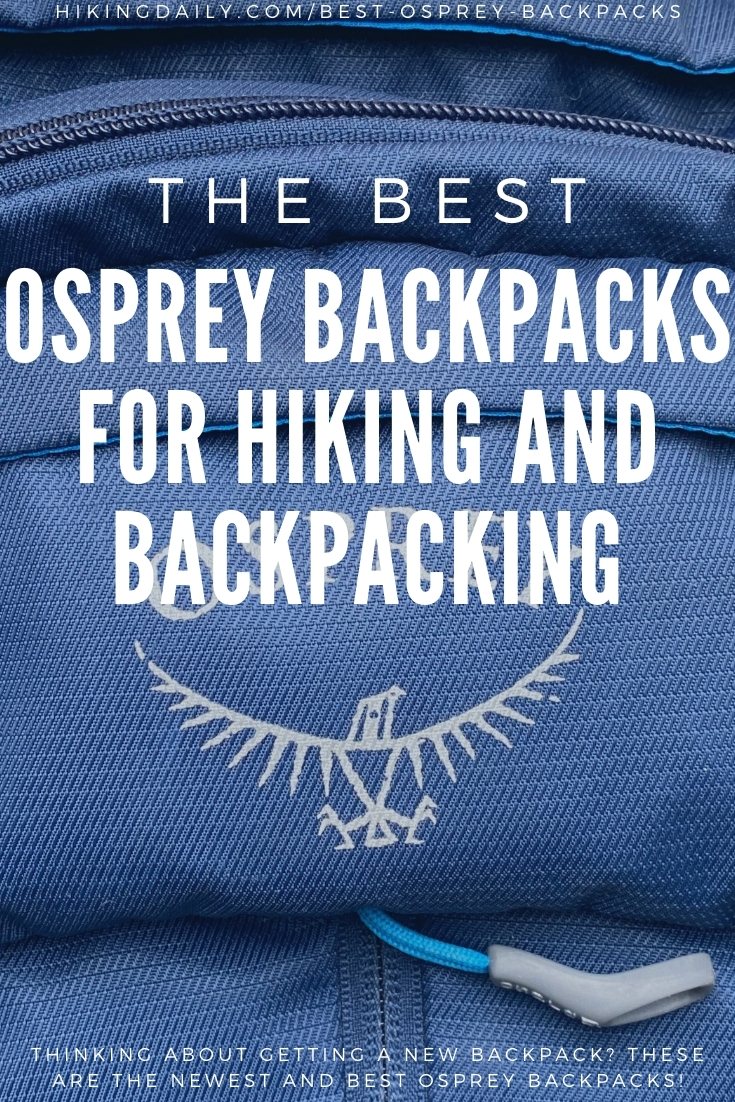 Best Osprey hydration vests (under 16 liters) for hiking or trail running
Want to move fast and cover more terrain? Then your best option might be a hydration vest for trail running which is also suitable for many hikers. I am on the verge of buying one of these now that I hike up and run down.
Vests are available in a variety of sizes (1.5L/6L/15L) and weights.
The real benefit is that these hydration vests allow you to hike lightweight which can help you conserve energy on very strenuous hikes.
Hydration vests also hug tightly to your body which is much more comfortable when you are running or moving quickly.
Carry only your most important essentials, food, snacks, and water (Osprey vests include hydration bladders), and glide up those steep high altitude mountains with less effort. Here are the newest hydration vests made by Osprey for hiking and trail running.
Best mini Osprey packs (under 20 liters)
Sometimes, it is nice to go light and minimal. If you are hitting the trails for just a few hours you likely won't need to carry as much with you. When I do a local hike close to home I will carry some snacks, water, keys, wallet, phone, and a lightweight extra layer just in case. That's about it. For short hikes, I like to use a small backpack or a fanny (aka waist) pack.
Sometimes, carrying less is a better experience. If I am going to go out and do a local hike, I might just take my fanny pack aka bum bag. It can easily fit a water bottle, my keys, my wallet, snacks, a lightweight extra layer, and a few other items. It totally feels free and liberating to go light. The Daylite waist pack will give you that feeling out on the trails or even for a cruise around town.
DWR coated for weather resistance
Zippered main compartment
Internal mesh organizer and key clip
Empower your child with a kid size backpack. They can bring their own snacks and essentials in their very own backpack. This is good for the kids and the parents! The Daylite Kids backpack is durable, good looking, and is 10 liters in total volume.
Ventilated back panel
Dual side mesh pockets for water bottles or treasures
Mesh harness
Front pocket with key clip
Built-in whistle
If you like to use hydration reservoirs to stay hydrated the Skimmer 16 is a great option for women.
Women fit and sizing
Includes Osprey Hydraulics LT 2.5L reservoir
Mesh side pockets
Classic design wth wide mouth for easy access
Internal zipper pocket to stash keys, wallet, phone
Check REI price: Skimmer 16
This is the exact same pack as the Skimmer 16 for women, just designed to better fit a man's shape.
Check REI price: Skarab 18
It may be small, but the Hikelite 18 doesn't hold back on great features compared to most competitors in this small daypack category. This pack will help you move fast on your feet and help you carry the bare essentials.
Integrated rain cover for weather resistance
Airspeed back panel improves ventilation and comfort
Trekking pole attachment
Mesh side pockets for quick stashing of essentials
Internal hydration sleeve (3 liter capacity)
Upper side compression straps
Sternum strap with whistle
The Osprey Daylite and the Daylite Plus are the most popular Osprey backpacks. At least, they are searched for the most on Google. This series provides a sturdy and streamline design. Use it for doing errands around town, global travel, or for short day hikes. It's small size and simplicity makes it a versatile bag.
Coated with a PFC-free DWR treatment for weather protection
Constructed with bluesign approved fabrics
Sleeve for a hydration reservoir, 15" laptop, or tablet
Compression straps
Front panel zipper pocket on Daylite Plus
Best Osprey daypacks
For longer day hikes it is recommended to get a backpack that had greater capacity (in liters) and that is specifically designed for the most comfort and stability. Below, we outline the most popular Osprey daypacks for longer days out on the hiking trails.
Osprey Talon 22 (MEN) / Osprey Tempest 20 (WOMEN)
The Osprey Tempest 20 for women and Talon 22 for men are some of the most popular Osprey backpacks. It is a lightweight yet versatile backpack with many attachment points, a comfortable hip belt, and other great features. This pack is designed for fast movement and stability. If you want more space you can get these backpacks in larger sizes.
Made of durable, bluesign approved recycled nylon fabric
AirScape back panel with air channels for ventilation and comfort
Biostretch harness and hip belt keeps your load steady and stable
Harness system adjusts to fit different torsos
Two side pockets on hip belt to store essentials, sunblock, etc
Adjustable sternum strap with safety whistle
Attachments for trekking poles, an ice axe, a helmet, or light
Dual zippered panel to access main compartment
Hydration reservoir sleeve
Mesh side pockets for easy stashing
Low side compression straps
Large stretchy front panel pocket
Check Osprey price: Tempest 30 | Talon 33
Check REI price: Tempest 20 | Tempest 30 | Talon 22 | Talon 33
Osprey Stratos 24 (MEN) / Osprey Sirrus 24 (WOMEN)
The Stratos 24 and Sirrus 24 backpacks are amazing. Probably, the most comfortable daypack you can buy.
I own the Osprey Stratos 24 and use it for all of my full-day hikes. It is the best daypack I have ever owned. Highly recommended!
The feature that I love the most is the AirSpeed suspension, a ventilated mesh back panel that keeps the pack off my back. I can run hot, and I hike in hot dry weather here in Colorado. Not only do I remain dry and comfortable, but somehow, no matter how much I stuff into this pack, it seems light as a feather. Almost like air! I rate this the best Osprey backpack for long day hikes.
AirSpeed suspension for the best ventilation possible
Integrated rain cover for weather resistance
Dual side compression straps
Trekking pole attachment
Ice tool/axe loop with bungie tie-off
Two zippered hip belt pockets for handy storage
Internal hydration reservoir sleeve (I own the 3 Liters Osprey Hydraulics Reservoir)
Dual zippered access to main compartment
Large outside zippered stash compartment
Safety whistle integrated into sternum strap
Custom torso size adjustability
Check Osprey price: Sirrus 24 | Sirrus 26 | Stratos 24 | Stratos 26 | Stratos 34
Check REI price: Sirrus 24 | Sirrus 26 | Stratos 24 | Stratos 26
Check out all the Osprey daypacks at: REI.com | Osprey.com
---
Best Osprey backpacking packs
Backpacking trips require a totally different type of backpack. Of course they are bigger so that you can carry more gear. More importantly, the best backpacking backpacks are going to help you manage heavier loads and keep you stable on varied and technical terrain. Osprey backpacking packs are awesome because they hug close to your body. This design feature helps you conserve your energy and generally feel more comfortable carrying extra weight over long days.
Osprey Aether Plus (MEN) | Osprey Ariel Plus (WOMEN)
The Osprey Aether Plus for men and Ariel Plus for women are new backpacking packs for 2021. They are perfect all-around backpacks for your backpacking adventures for both weekend trips, week long excursions, or for even longer periods of time out on the trail.
Each is available in multiple volume capacities: 55L/60L/65L/85L for men and 55L/65L/70L for women. Anticipate how much weight you plan to carry with you on average, and then match it up to the appropriate size of backpack. Each backpack is available in two different torso sizes: S/M and L/XL for men and XS/SM and M/L for women. This is the start to getting a truly custom fit.
These backpacks are quickly customized and will allow you to dial into a perfect fit for your body and shape. The shoulder harness moves up or down and can be locked into place with straps. Shoulder strap length can also be adjusted on the fly for a custom fit. The hip belt can be easily adjusted to accommodate different waist sizes.
AirScape back panel is breathable
Removable day lid (on larger packs) converts to a day pack
Flap jacket cover for lidless use
PFC-free

DWR rain cover

for extra weather resistance
Dual hip belt zipper pockets
Front shove it pocket
Dual front zipper pockets
Large front panel zip to main compartment
Large dual side stretch mesh water bottle pockets
Dual upper and lower compression straps
Dual front panel compression straps
Zipper sleeping bag compartment
Removable sleeping pad straps
Internal hydration water reservoir sleeve
Ice axe attachment
Trekking pole attachments
Osprey Atmos AG (MEN) | Osprey Aura AG (WOMEN)
The Osprey Atmos AG for men and Aura AG for women are great for backpacking trips longer than a week. The AntiGravity suspension is designed to make it feel like you are carrying much less weight that what is actually inside. I have experienced exactly that with my Osprey Stratos 24. It is like magic. The pack seamlessly wraps around your body to keep you stable on your feet which will help conserve energy. From the top of the pack to the bottom of the hip belt, the AntiGravity back panel wraps around your body. with lightweight mesh that delivers maximum ventilation and comfort.
Anti-gravity suspension reduces the feeling of heavy weight
Removable top lid
Integrated FlapJacket (for when you remove top lid) secures the pack
Easy to use trekking pole attachments
Adjustable harness and hip belt to customize fit
Two zipper hip belt pockets for easy stashing of snacks or often used essentials (say sunblock)
Internal hydration reservoir sleeve
Front stretch mesh pocket to stash key items
Dual access stretch mesh side pockets for water bottles
Upper and lower side compression straps
Lower zippered easy access and store sleeping bag compartment
Ice axe loops and attachments
Sleeping pad straps
Sternum strap with emergency whistle
---
Baby / Child carrier backpack
If you have a baby or toddler you can get a child carrier hiking backpack so that you the parent are feeling comfortable, organized, and safe carrying your child out on the trails.
Once your baby has grown and is too big for other carriers you can transition to using a child carrier like the Poco Plus. The benefit is that you can carry your child, plus all your child care supplies, snacks, and other essentials in one package.
Comfortable contoured hip belt with pockets
Cockpit with adjustable double halo harness and child seat
Soft contact surfaces won't irritate your child's skin
Ventilated side panels
Built-in sun shade (UPF 50+ UV sun protection, and great for napping!)
Adjustable (and removable) stirrups
Lightweight folding aluminum frame
Dual grab handles
Hydration reservoir sleeve
Super cool and ventilated AirSpeed suspension
Adjustable torso fits all parent sizes
Lower zippered stash compartment
Stretch mesh stash pockets
Check REI price: Osprey Poco Plus
---
Once you get a new backpack, be sure to read our guide on how to pack a backpack properly.