Colorado has some of the most incredible hiking in the country. From the deep Black Canyon of the Gunnison to the highest point in Colorado on Mount Elbert, there is a lifetime of hiking to explore.
The amazing part about hiking in Colorado is that not all hikes need to take a full day. Many hikes include short drives from the Denver metro area, or from tourist towns in the mountains. Whether you're looking for hikes to a waterfall, a secluded walk in the woods, or a full day adventure up a 14er, there are endless options for all levels of hiking experiences. There are 54 peaks over 14,000 feet in Colorado, and all of them have challenging hiking options!
There are different difficulties of hiking for all levels and interests. Being that is an overview of the best hiking in Colorado, this article could go on for days. Be on the lookout for more articles in the future for the best 14er hikes and multi-day backpacking trips. This article will mainly focus on some of the best day hikes.
There are many different factors to consider while hiking in Colorado. Weather, accessibility, hike difficulty, length, and elevation gain are all factors to consider when choosing a hike in Colorado. Hiking weather in Colorado is incredibly variable and can change at any time. One can experience snowstorms in June, warm weather in February, or even a sunny summer day interrupted by intense thunderstorms. It is important to always bring extra layers and a waterproof jacket while hiking in Colorado.
With thousands of hikes in Colorado, there is no way all of them can be featured in this article. Featured below will be some of the best hikes in Colorado for all different types of hikers that include some of the best views in the state.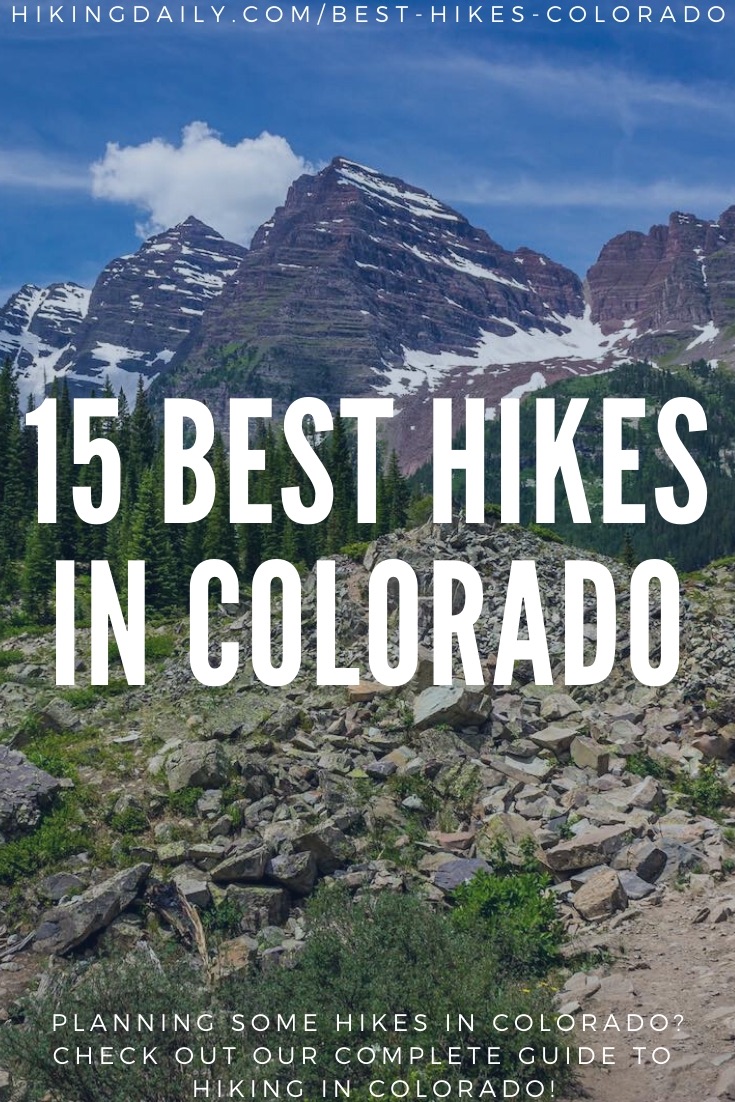 Let's start with some common questions about hiking in Colorado.
How much hiking does Colorado really have?
35% percent of land in Colorado is public land or a whopping 23 million acres. Much of this land has developed hiking trails, spanning 12 National Parks, 41 State Parks, and 58 mountains above 14,000 feet. Mountains above 14,000 feet are known as 14ers. Different public lands have different guidelines and restrictions, so it is important to be familiar with the area that you are hiking in.
Not all public lands are free to enter. Some Colorado State parks and all National Parks have fees to enter the park. Others also have parking fees. Generally speaking, if the hike is on National Forest land, there will not be any fees associated with accessing the hike.
A fantastic way to explore hiking trails on public land in Colorado is via the Colorado Trail Explorer App. This is available as a desktop version as well on iPhone and Android. This is a great way to have a visual look at all of the trails in the state. You'll never know what you could find! This is a great resource released by the Colorado Department of Natural Resources and Colorado Parks and Wildlife. It covers more than 39,000 miles of trails on public land, as well as private land with public access. Cross-referencing that app with All-Trails, or the Outbound App can prove for some awesome adventures.
When to hike in Colorado?
One can hike all year round in Colorado. Although, winter lasts a long time in the high country. Generally speaking, the "high country" is referred to as the area at 9,000 feet and above. One can encounter snow on Colorado hiking trails all year round. The majority of the roads up to the high alpine backcountry do not open until June every season. While there is plenty of hiking all year round, hiking into the high alpine is best during July and August.
Spring can be a tough time to hike, depending on the conditions. For some parts of the state, it is starting to get warmer, and the flowers are blooming. For the more alpine regions, spring can either still be winter, or it can be very muddy. Generally speaking, areas above 9,000 feet in springtime are definitely still covered in snow. Snowshoes and micro-spikes can be used on higher elevation trails well into May. With any season, conditions can be variable. Be sure to check on trail conditions using All-Trails, or by contacting the proper park manager to inquire about trail conditions. There are also great groups on Facebook that post trail conditions.
While summertime is the best time to venture into higher altitude hikes in the alpine, the summer also has its dangers. The intense heat of the summer makes the high-altitude areas prime for late afternoon thunderstorms. When hiking above the treeline, it is incredibly important to watch the weather and be off the summit before 2pm. Thunderstorms can be incredibly dangerous, and even fatal. Being on an exposed ridge top on a late summer day is one of the most dangerous places to be while hiking. This leaves one exposed to lightning strikes, which causes about 2 fatalities per year in Colorado. The summer can also bring snow and hail when you are least expecting it, be sure to be packed for all weather conditions!
Fall is one of the best times to hike in Colorado. In many parts of the state, fall colors highlight the woods. Popular fall hiking can be found in Rocky Mountain National Park (RMNP), and near the towns of Vail and Aspen. Fall can quickly turn to winter in some areas of the state. The first snowfall up high can occur as early as the first week of September! Some of the most amazing landscape shots from Colorado occur during fall colors and that first snowfall.
Winter brings solitude through deep snow in the woods. Heavy snowfall shuts down the majority of hiking in the alpine environment due to avalanche concerns as well as intense cold weather. If you are traveling in or under avalanche terrain, be sure to be educated on avalanche safety. You can learn more about avalanche forecasting and avalanche safety at the Colorado Avalanche Information Center. Avalanche terrain should be taken very seriously. Be sure to have the right education and the right gear.
What to bring hiking in Colorado?
There are many different items one should bring hiking while in Colorado. Regardless of the hike and weather conditions, you should always bring extra layers, extra food, and a first aid kit. The weather is very unpredictable in Colorado. Be sure to have checked the forecast multiple times, and do always bring extra layers as well as a rain jacket. Some hikes may recommend hiking poles, or even a helmet while scrambling on more technical hiking trails. Compared to the rest of the country, cell service in Colorado is not that great. Be prepared to not have cell service while you hike. It is a good idea to look into purchasing a mode of communication for emergencies such as a SPOT or a Garmin Inreach.
What to wear while hiking in Colorado?
While hiking in Colorado, it is advisable to wear hiking boots that give your feet and ankles good support. This will prevent injuries while hiking on rocky ground. While shorts may be more comfortable for lower elevation hikes in the heat, It is advisable to wear long pants, regardless of the outside temperature. Thin, long pants can be very breathable and will prevent injury from low-lying branches scratching up against you on the trails. Pants will also be nice to have in case of a rogue thunderstorm. Quick rainstorms and thunderstorms are also not uncommon up in the high country. A small, packable rain jacket can be great to throw in your pack. While hiking in snow or mud, gaiters can be great to throw over your pants as well. This will prevent your legs from getting cold and dirty!
Will I get altitude sickness hiking in Colorado?
Even for someone that lives in Colorado, anyone can get altitude sickness when hiking up high, most commonly above 8,000 feet. As with any hiking day, it is especially important to drink lots of water and make sure you are eating enough. The easiest thing you can do to prevent altitude sickness is drink water and make sure you do not ascent too much in one day. For example, if you were flying in from sea level, it would be dangerous to try and hike a 14er the next morning. Your body needs to acclimate to a higher elevation. Altitude sickness is important to be aware of when hiking at higher elevations. Become educated on the topic, and be sure to keep an eye on those hiking with you. Here is an article about getting altitude sickness in Colorado.
Getting there
Many hikes in Colorado are accessible with a 2-wheel drive vehicle. Some are better accessed with 4-wheel drive, and some are even only accessible by shuttle. If you are flying into Colorado, Denver International Airport is the best option. From there you are only a few hours from incredible hiking destinations! As was mentioned above, some roads are closed for portions of the year, it is important to check on those closures. Most high alpine roads will open up in June each summer.
Where to hike in Colorado?
Here comes the big question! Where should I hike in Colorado? For the purpose of this article, we will divide the state into different regions and look at some of the best hikes in different parts of the state. Some areas of the state obviously have better hiking options than others, but this will be a great way to understand the lay of the land. These geographical regions are subjective but will provide a good layout of hiking in the state. Here are the regions we will use.
Northern Front Range
This area will encompass Denver north to Fort Collins with hikes that are accessible from the eastern urban corridor. This has arguably the highest concentration of accessible hikes in the state due to the Boulder area as well as the Indian Peaks Wilderness, and Rocky Mountain National Park. If you are looking for a quick way to escape the city, this is a great region to hike in. Hikes here range from short walks in Boulder's Chautauqua Park to hiking Longs peak, a 14er.
Southern Front Range
This area will include hiking areas south of Denver down to Colorado Springs. Colorado Springs also has a great number of hikes close to town and is under the shadow of Pikes Peak, a 14er.
I-70 Corridor
This large area will include hiking near the popular ski resorts of Colorado. Hikes near towns such as Breckenridge, Vail, and Aspen will be included in this area. The hikes in this area are commonly at higher altitudes and will often start at 9,000 or 10,000 feet above sea level. Some of the best fall colors can be seen in this area. This also has a high concentration of popular 14er hikes.
San Juans
The incredibly large region of the San Juan mountains includes some of the highest and most rugged hiking in the state. These hikes are much harder to get to but provide more solitude and more adventure than hiking in other parts of the state. This area is roughly the region south of I-70 and encompasses a huge area. Towns like Telluride, Silverton, and Durango will be nearby for hiking in this region.
The next section will now include some of the best hiking in Colorado. Hopefully, this provides a great introduction to some of the best places to hike in Colorado. The following hikes are in no particular order and will provide some background information on hike length, difficulty, and accessibility.
15 best hikes and hiking trails in Colorado
It is tough to narrow down the best Colorado hiking trails and hikes, but you definitely can't go wrong with any of these ones.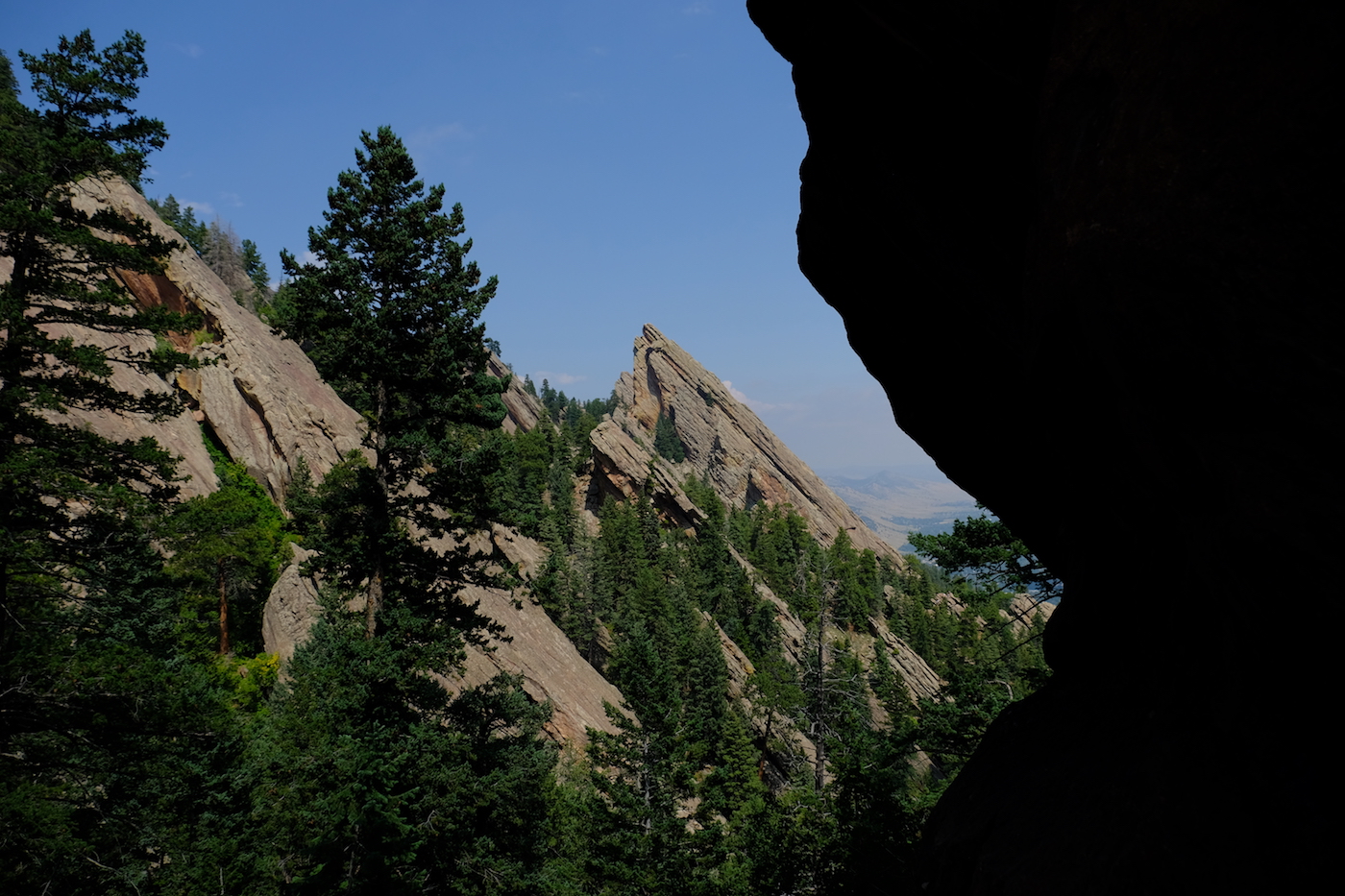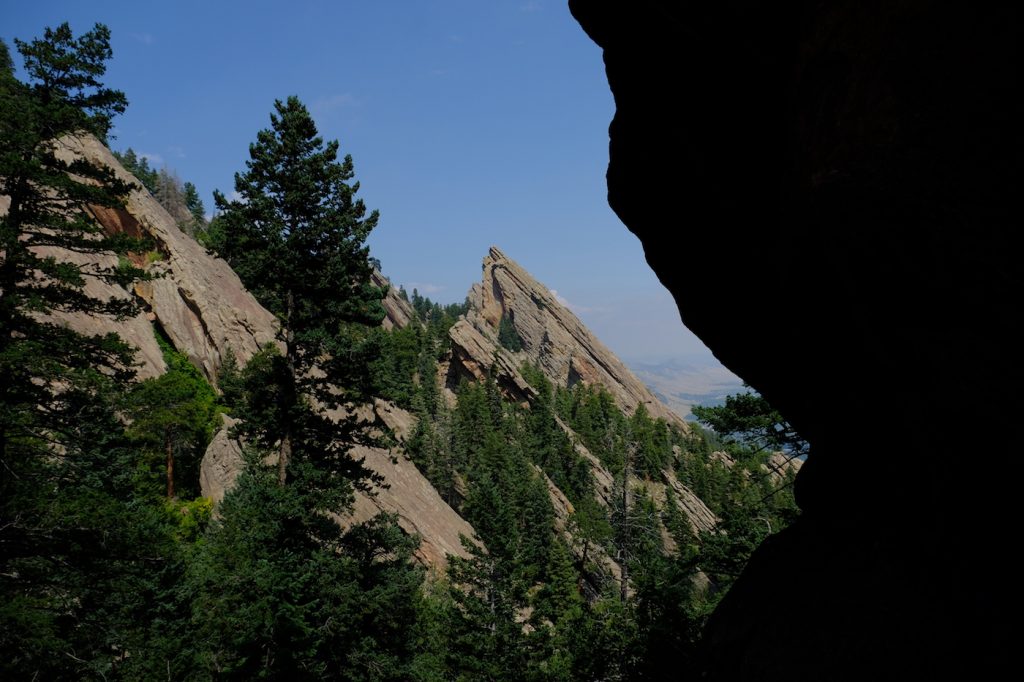 Length: 4.0 miles
Difficulty: Easy/Medium
Elevation gain: ~1,492 feet
Season: All year round. Snowshoes can be helpful after heavy snowfall.
Location: Northern Front Range. A few miles from downtown Boulder, CO. 30 minutes NW from Downtown Denver.
This hike provides a great introduction to hiking in Colorado and the Boulder Open Space trails. From the base of Chautauqua Park, one has access to many trails that go up to the flatiron mountains and provide a wonderful view of Boulder and down to Denver. The Royal Arch is a spectacular rock formation that forms an arch. Expect this hiking area to be very busy. There are plenty of hiking trails for all abilities from the parking lot at Chautauqua. Royal Arch is one of the most popular local trails, and provides some of the best views in the area! For more information about hiking in the Boulder area, check out our article on the best hikes in Boulder.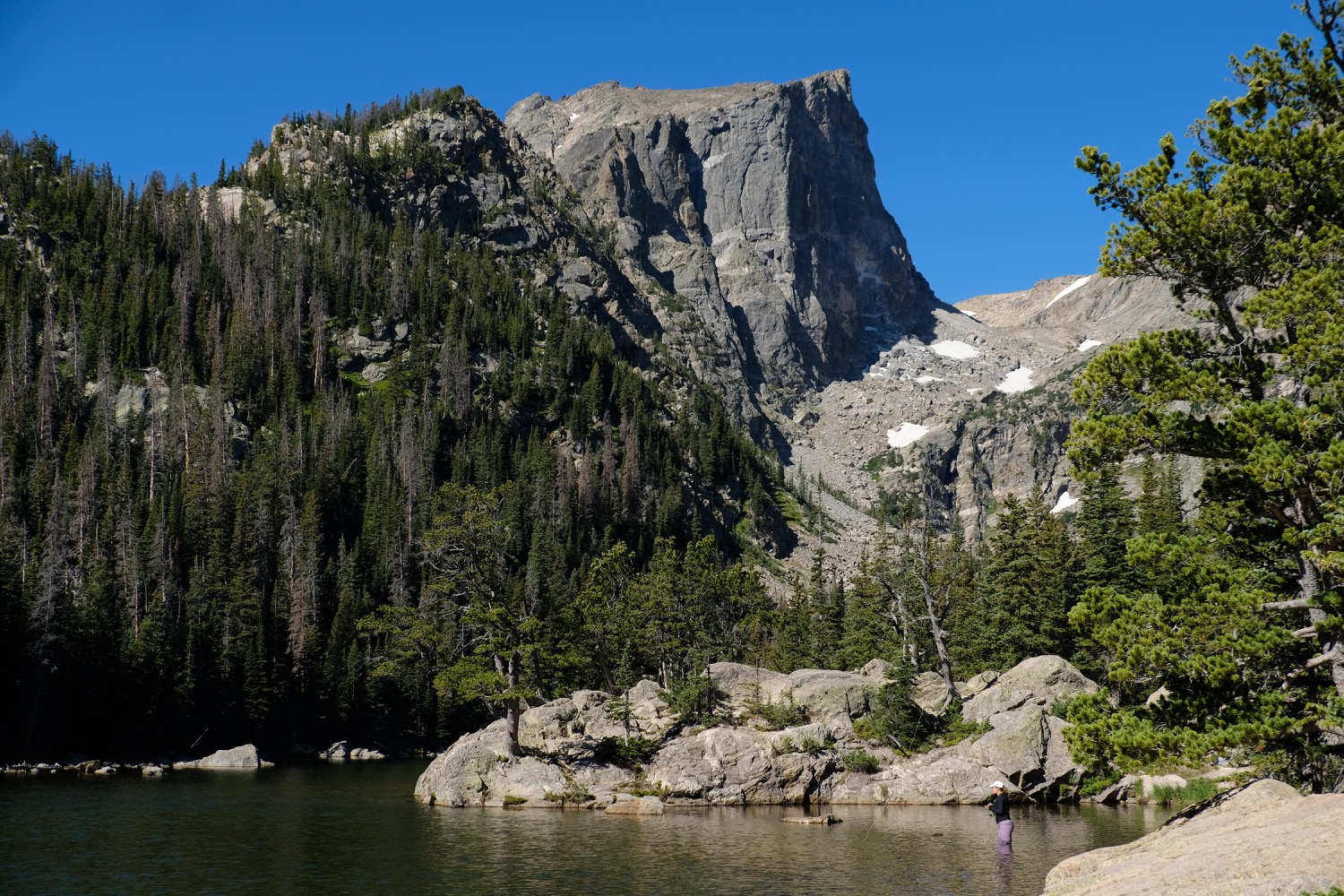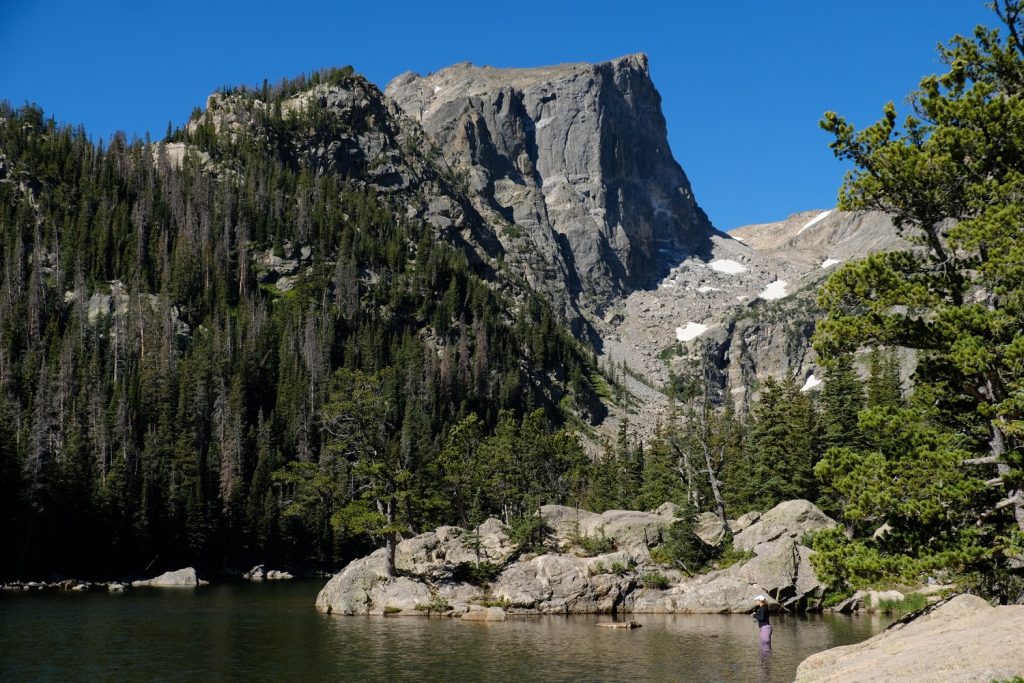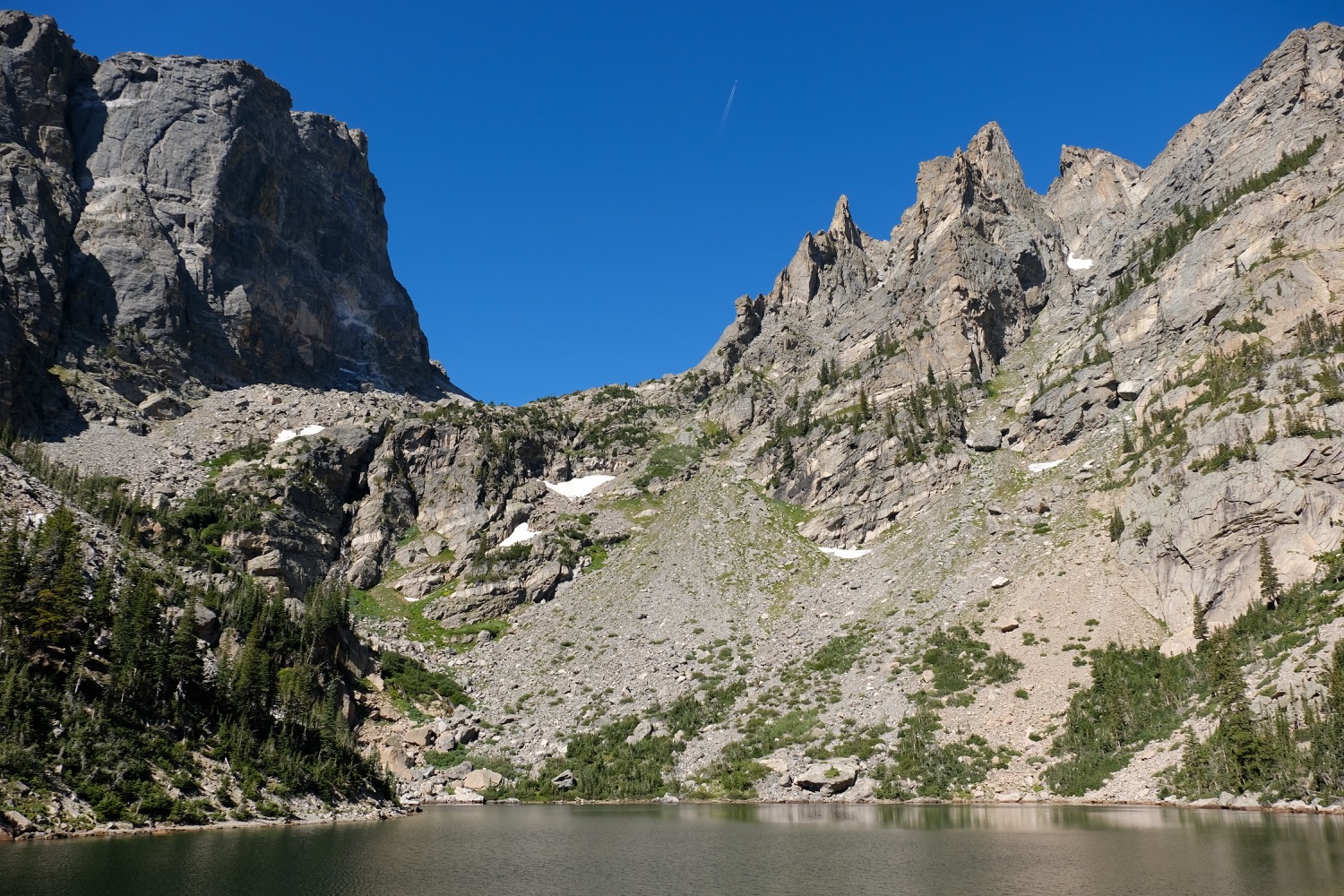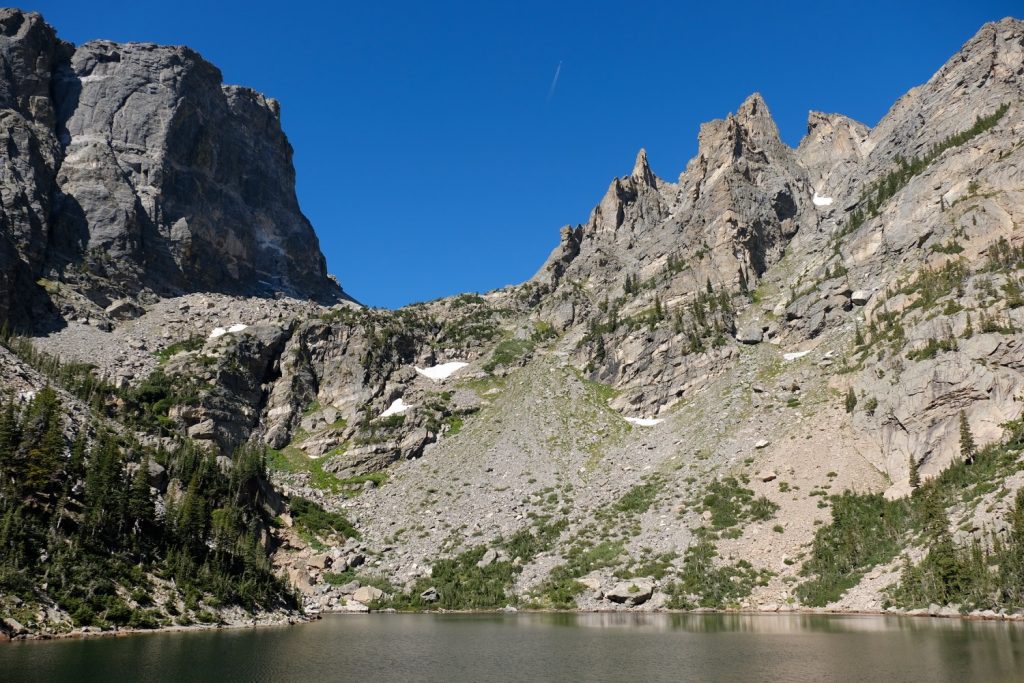 Length: 3.1 miles
Difficulty: Easy
Elevation gain: ~709 feet
Season: All year-round. Most popular in summer and for fall colors in late September. This is the high country so be sure to bring extra layers and drink plenty of water. Micro-spikes and snowshoes can be necessary during the winter months (October-April).
Location: Northern Front Range. Located inside Rocky Mountain National Park outside of the town of Estes Park.
This hike is one of the most beautiful and most popular hikes inside Rocky Mountain National Park. It provides stunning views of three different lakes and Hallet Peak, a 11,000-foot mountain that is popular amongst rock climbers. Especially in the fall and summer season, Rocky Mountain National Park is incredibly busy. There is a fee to enter to the park and parking can be limited during peak season. There is also a shuttle service in the summer and fall seasons. During the summer of 2021 there is a permit system to enter RMNP. For more information please visit the RNMP website.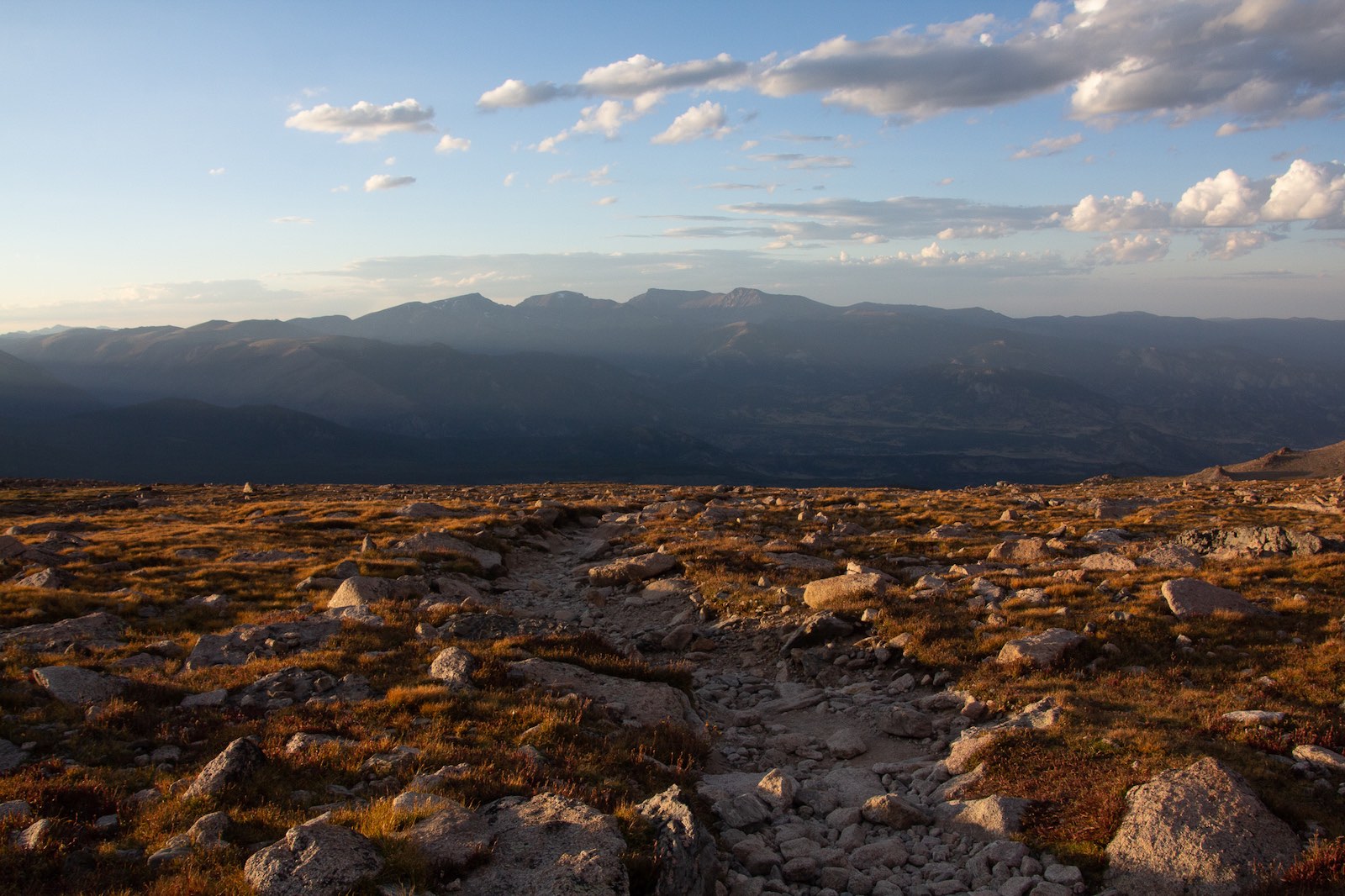 Length: 15 miles
Difficulty: Hard
Elevation gain: ~5,000 feet
Season: Summer. This hike comes into condition during July and August. It also depends on the snow year. A lighter snow season will allow for earlier season hiking.
Location: Northern front range. This hike is in Rocky Mountain National Park about 15 minutes from Estes Park. Please be sure to visit the RMNP website for more information on the current permitting process for parking and entrance to the park.
The crown jewel of the front range is Longs Peak. This is one of the more difficult 14er hikes in the state. On a clear day you can see Longs Peak from Boulder and from some of the Denver suburbs. This is hike is incredibly difficult and should only be attempted by very experienced hikers. Expect this hike to take 10-15 hours. Attempting this hike in the winter is a serious mountaineering undertaking and should not be done without any experience. Please check the NPS website and All-Trails for conditions updates. Most hikers will start hiking around 3am in the summer. This hike turns into more of a technical adventure towards the summit, as it involves a 3rd class scramble. It is not a bad idea to wear a climbing helmet for the 3rd class scramble, as there are lots of loose rocks. It is very important to be off of the summit in the early afternoon to prevent exposure to thunderstorms.
Length: 2 miles
Difficulty: Easy
Elevation gain: ~800 feet
Season: While it can be hiked all year round, the most popular time to hike is in the summer.
Location: Start of the I-70 corridor. Only about a 1-hour drive from downtown Denver.
This stunning hike brings one to one of the few remaining glaciers in Colorado. This hike itself is rather short, but the views are impressive. Be sure to remember to bring $5 for the parking fee at this location. In the summer, you'll find folks heading up St. Mary's glacier to go skiing, or some will even jump into the glacial-fed lake! Due to the low level of difficulty and its proximity to Denver, this hike can get very popular.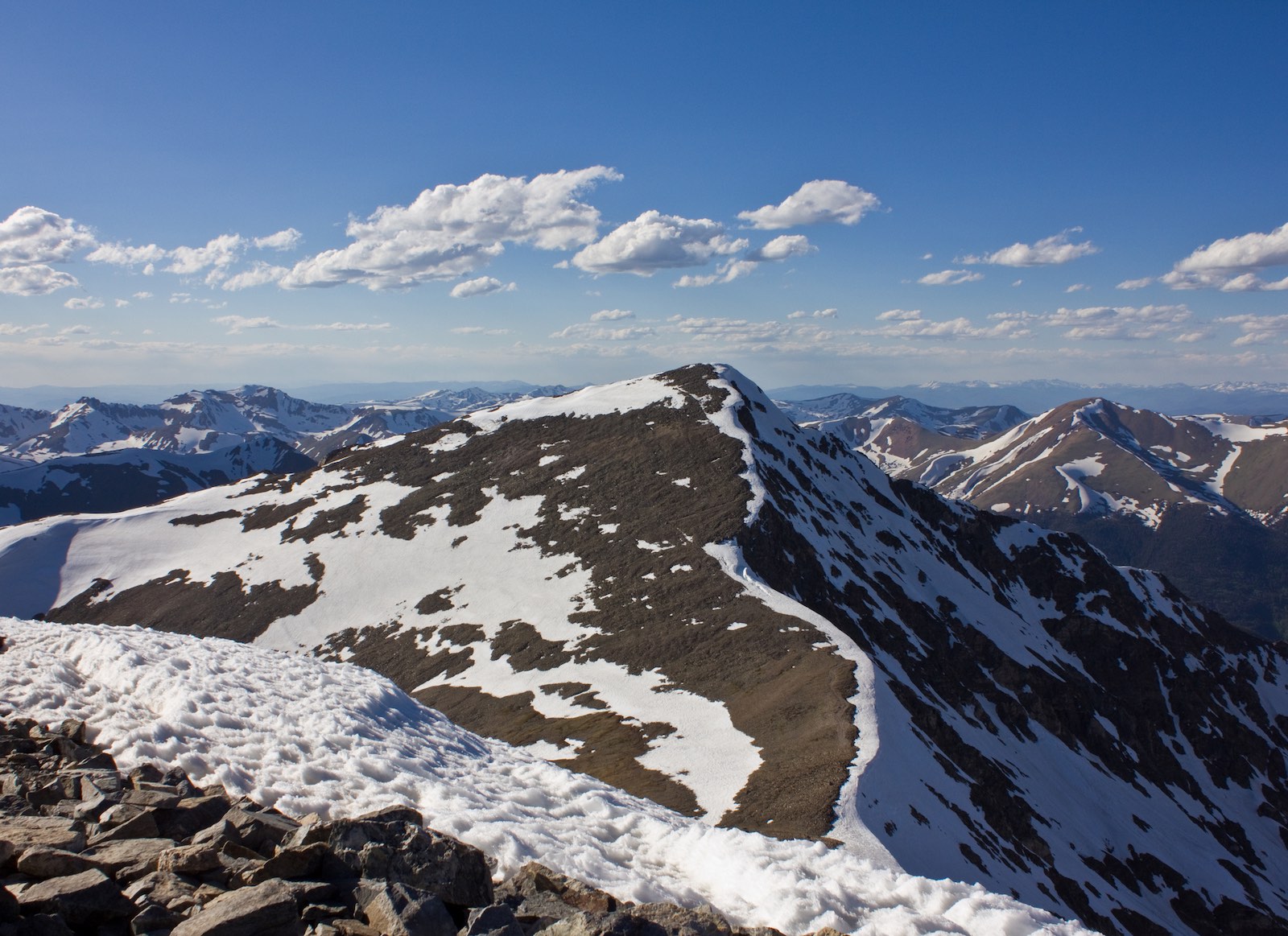 Length: 8 miles
Difficulty: Hard
Elevation gain: 3,500 feet
Season: Summer; June, July, and August. The road is rather rocky and a 4×4 car is recommended. Snow can last on this hike well into June.
Location: I-70 corridor, not very far from Denver.
This hike has fantastic views of the mountains in the front range and Summit county. This hike includes two different 14ers! Snowshoes are recommended in the early season. This hike is for experienced hikers only. The altitude combined with lots of elevation gain makes for a tough hike. Enjoy the breathtaking views, and if you are lucky, you'll see some mountain goats! This is probably the most popular 14er hike in the Denver region. Be sure to be off of the hike in the early afternoon before the thunderstorms, as the hike is nice and exposed.
Length: 9 miles
Difficulty: Moderate
Elevation gain: ~2,100 feet
Season: Best to hike in summer. The road is open all year round, but for best conditions, plan to do this hike in June, July, and August.
Location: Off of the I-70 corridor.
The Mount Evans wilderness areas have plenty of stunning views and great hikes. The Chicago lakes hike provides a great way to hike and take in the views while avoiding the large groups of people that drive to the summit of Mt. Evans. This hike is mostly on the valley floor, passing multiple lakes on the way to the final pair of the Chicago lakes. If you are in the area for this hike, it is worth it to drive to the summit of Mt. Evans as well. This road is only open in the summer months. The Mount Evans wilderness area is a great place to make for a full day of hiking and driving up to some spectacular exposed views.
Length: 6.7 miles
Difficulty: Hard
Elevation gain: ~3,300 feet
Season: All year round, most popular in the summer.
Location: I-70 corridor.
This is another great 14er hike to do in the I-70 area. This is a heavily trafficked area, so be sure to get there early. Due to the high exposure of this hike, be sure to bring plenty of warm clothes with you, all year round! Micro-spikes can useful when there is snow on the windswept trail. This area is known for its heavy winds. That's why they call it breckenwind! Be on the lookout for mountain goats in the summer.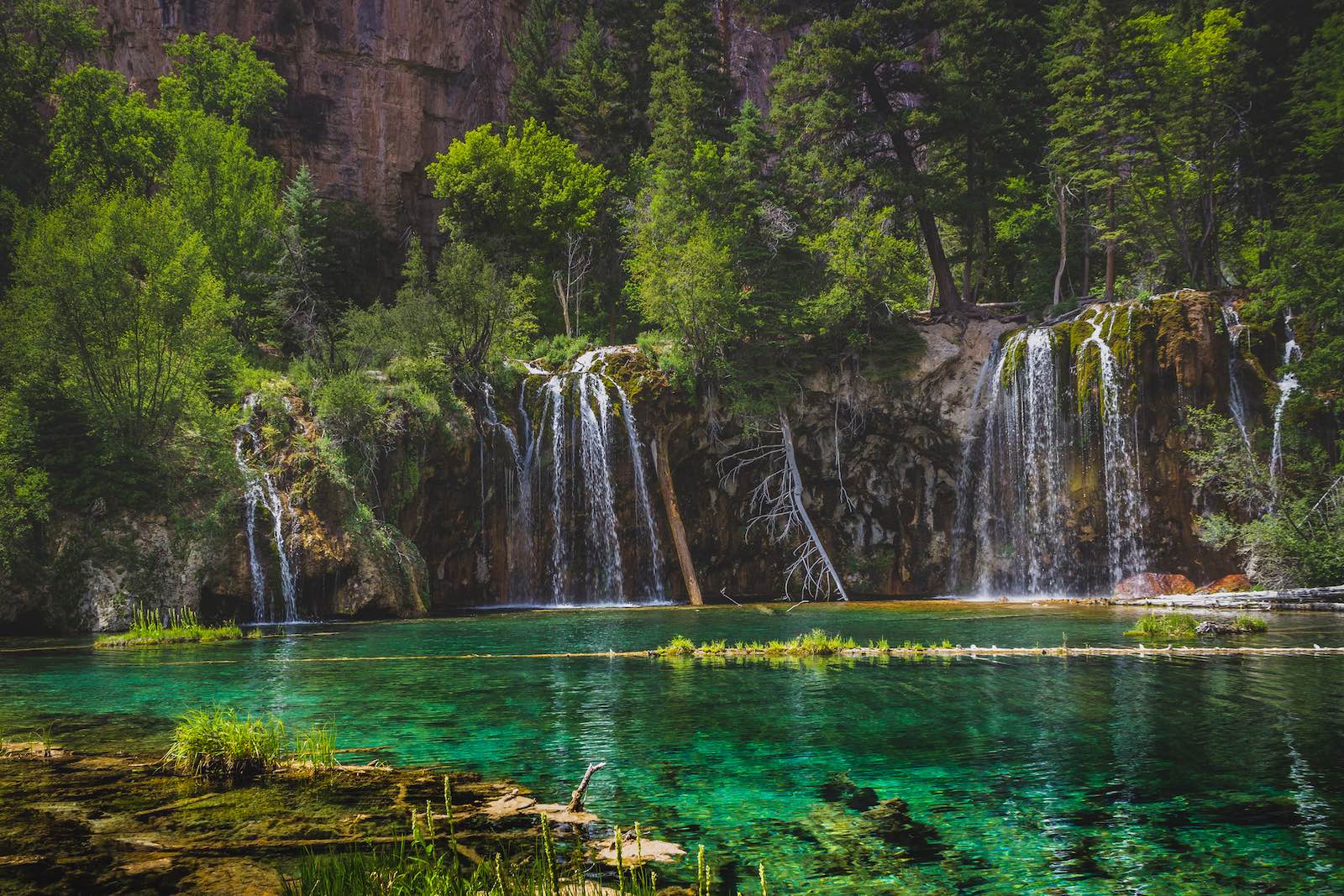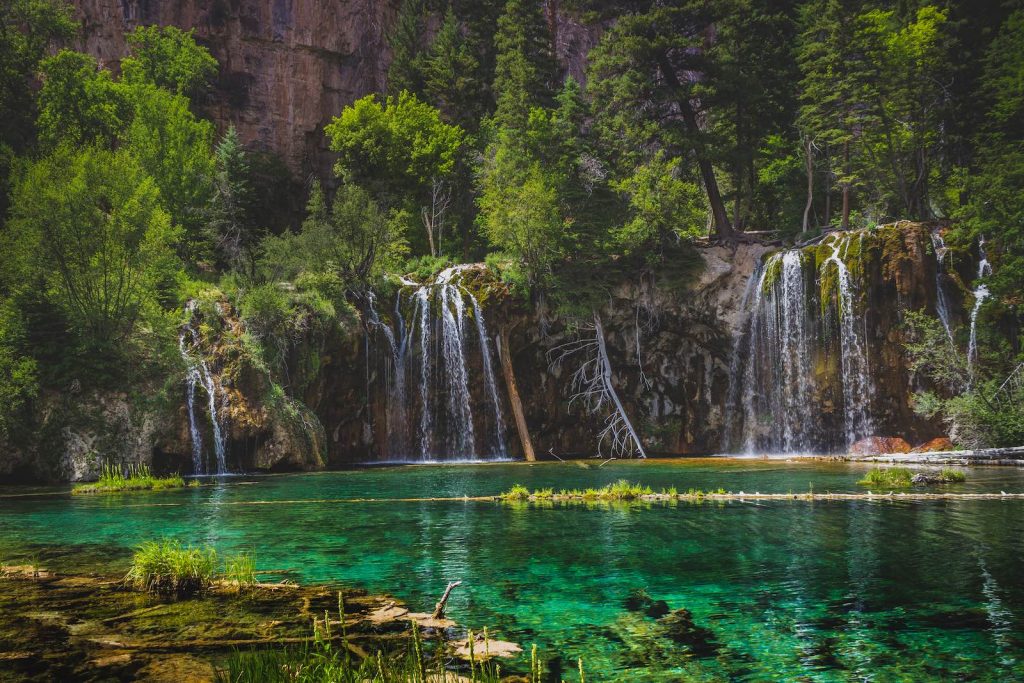 Length: 3 miles
Difficulty: Easy
Elevation gain: ~1100 feet
Season: May-November is ideal. Spring or fall can call for micro-spikes for the hike.
Location: I-70 corridor, a little under 3-hour drive from Denver.
This is one of Colorado's most famous lakes. The turquoise coloring is unlike anything else in the state. Beautiful waterfalls seep into the brightly colored lake. The hike along the canyon is stunning! Due to the popularity of the hike, you must have a permit to hike the trail between May and October. For more information, please visit the town of Glenwood Springs website.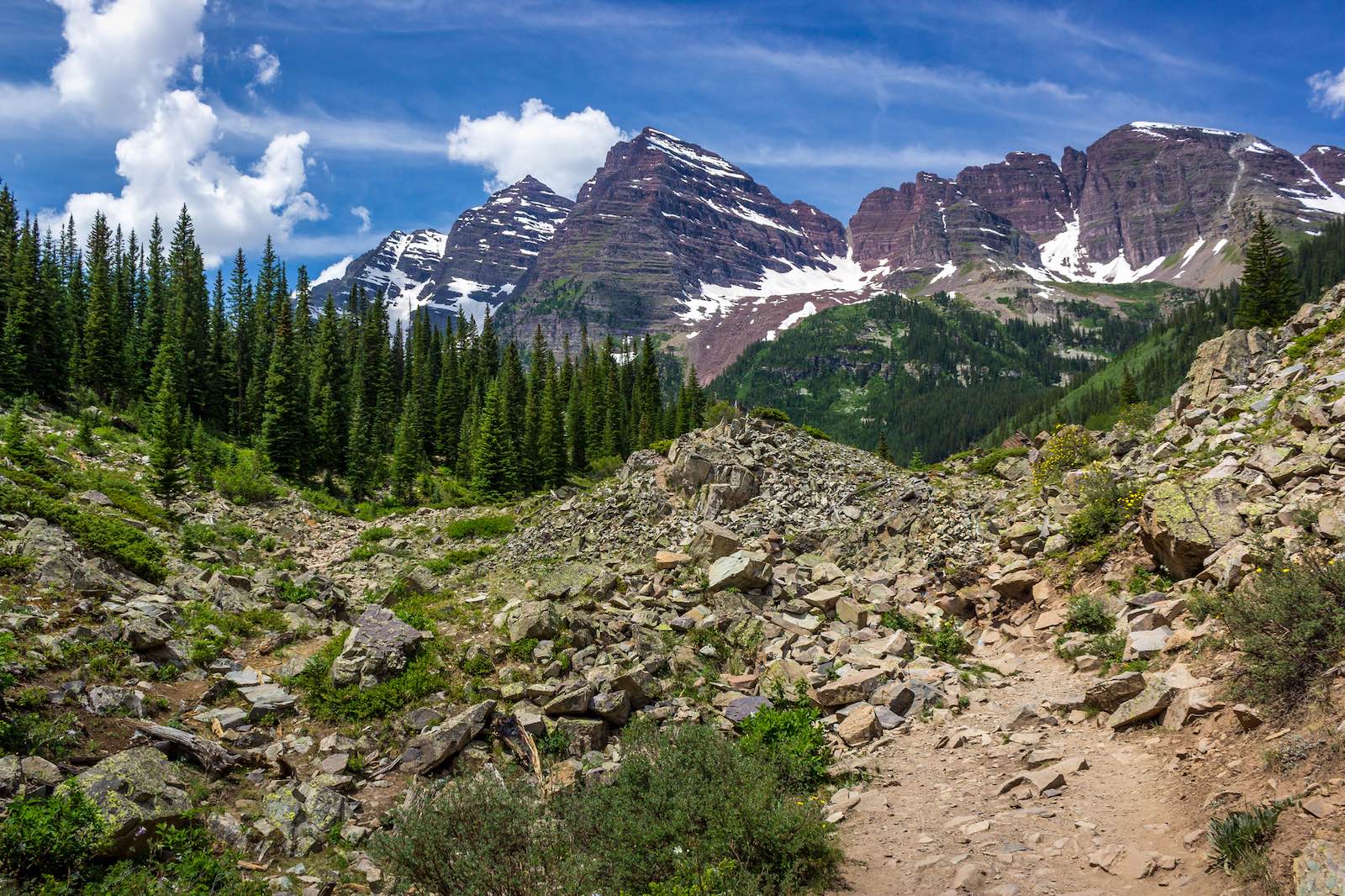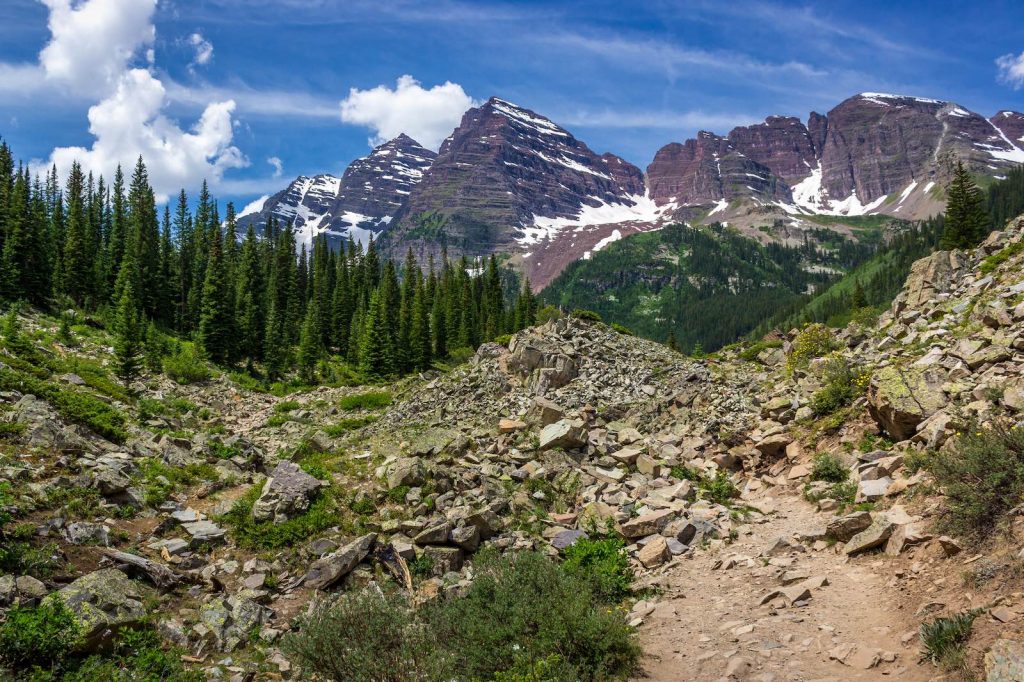 Length: 3.8 miles
Difficulty: Easy
Elevation gain: ~700 feet
Season: Memorial Day through mid-October. Dependent on the seasonal opening of Independence Pass.
Location: I-70 corridor, outside of the town of Aspen.
This is by far the most photographed spot in Colorado. The magnificent Maroon bell mountains tower over Maroon lake. This trail is accessible in the winter, but due to road closures, it would add upwards of 7 miles each way. Fall would be the best time to make this hike. This could be the most popular fall hike in Colorado. Aspen, Colorado is obviously known for its Aspen trees! If you time it right, you can even be at the lake to view the first snowfall on the Maroon bells, with the fall colors still bright down below. This is a family-friendly hike that should not be missed in Colorado. Note that from mid-June through September between 8:30am – 5:00pm, a shuttle is required to take to the trailhead. If you get an early start, you can park at the Maroon Lake parking area.
Length: 1.8 miles
Difficulty: Hard
Elevation gain: ~1700 feet
Season: Spring and summer.
Location: At the base of the San Juans.
Don't underestimate the difficulty of this route. It is extremely steep. Even for such a short distance, expect this hike to take 3-4 hours. Trekking poles can be helpful for this steep section. The descent can be quite dangerous, watch out for loose rocks. There is a chain link "rope" to help with the steepest section. The Black Canyon of the Gunnison is a rather unknown gem of the state. You will need to check-in at the South Rim visitors center to get a permit.

Length: 7 miles
Difficulty: Hard
Elevation gain: ~3,300 feet
Season: June, July, and August. Depends on road conditions and the seasons snowpack.
Location: San Juans, near the town of Telluride.
If you are looking for some of the most dramatic mountain views in the United States, the San Juans are the place to be. The hiking in this area is challenging, but the views are stunning. The view from the summit of Mt. Sneffels allows one to get a great sense of just how vast the San Juans really are. Mt. Sneffels is a Telluride classic and is one of the 14ers in the area. This is a must-do in the San Juans if you are up for a challenging hike. Be sure to check road conditions. A 4×4 vehicle is a must to get up to the trailhead.
Length:
Difficulty: Moderate
Elevation gain: ~3,300 feet
Location: San Juans. About 20 minutes outside of Silverton, CO.
There are two main lakes to visit on the ice lake basin trail hike. This is an amazing hike in the San Juans that features two incredibly blue and green lakes that are surrounded by towering peaks. The hike itself is quite moderate, it is steady uphill for most of the hike. Be sure to admire the sunflowers in the summer.
Length: 10 miles
Difficulty: Hard
Elevation gain: ~4,400 feet
Location: For the purpose of this article, this would be in the San Juan section, but Mount Elbert is really in the Sawatch Range. It is between the San Juans and the I-70 corridor.
At 14,440 feet of elevation, this is the highest point in all of Colorado. This hike is very challenging due to the high starting elevation, and its elevation gain of over 4,000 feet. Be sure to be physically prepared for this hike. Like other 14er hikes, it is very important to start early and end early. Summer thunderstorms are very common on Mount Elbert and can prove to be fatal. The majority of hiking on Mount Elbert is above the tree line. Towards the summit there may be a few rocky sections, be on the lookout for loose rocks.
Length: 3 miles
Difficulty: Easy
Elevation gain: ~600 feet
Location: Great Sand Dunes National Park & Preserve. Between the general region of the San Juans and the southern front range.
While not a very challenging hike, this hike is on our list because of how unique it is. These massive sand dunes rise out of the ground and lay low beneath the Rocky Mountains. The High Dune gives a spectacular view of this one-in-a-kind national park. Because the hiking is on the sand, there isn't much of an established trail. Just hike the path of least resistance! There are plenty of amazing hikes in Colorado, but this one will be very different. It might be the only hike in the state to safely do barefoot!
15) Garden of the Gods Loop– Colorado Springs, CO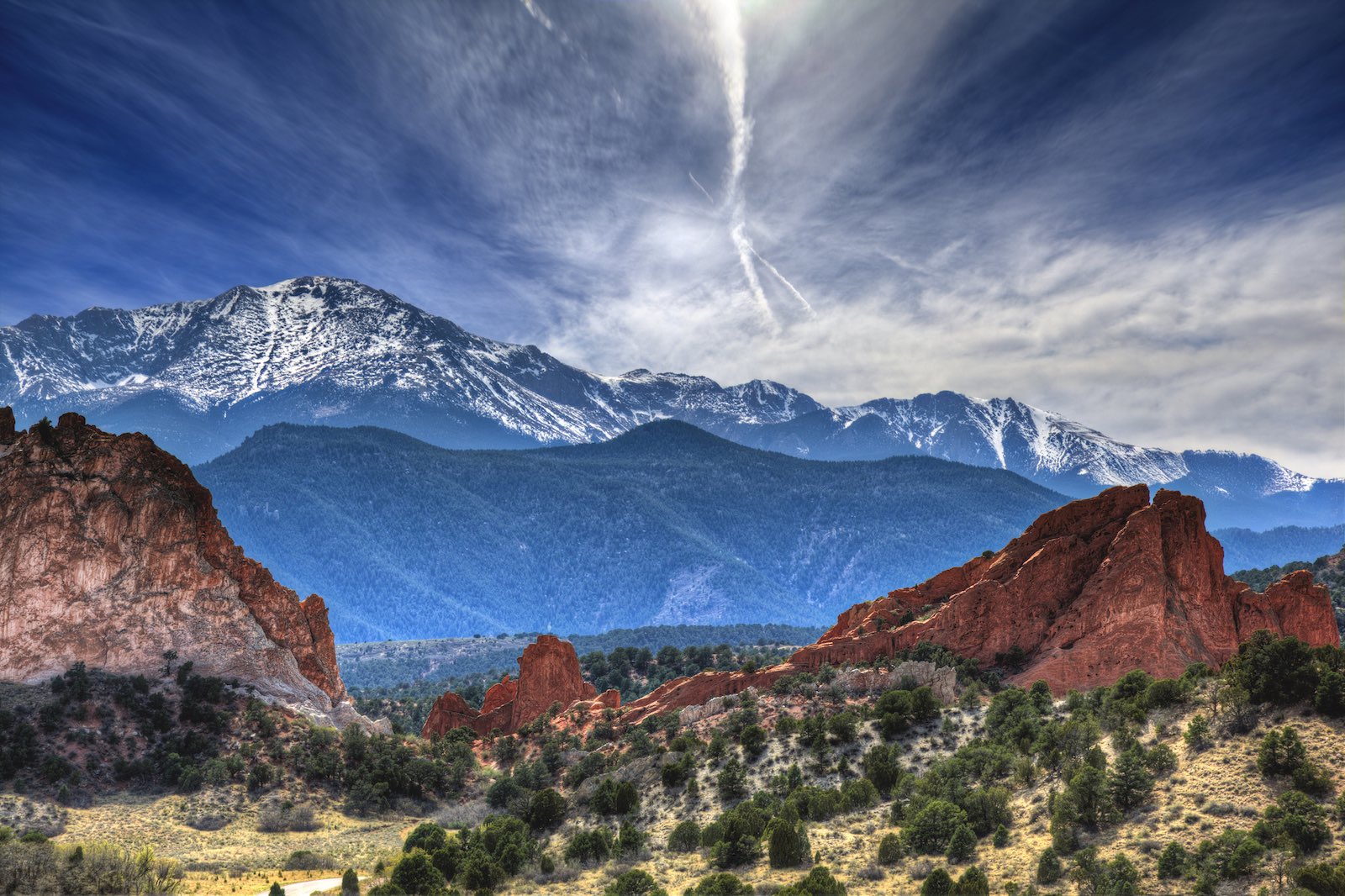 Length: 3.7 miles
Difficulty: Easy
Elevation gain: ~400 feet
Location: Southern front range
This famous park near downtown Colorado Springs is a must-see. The rock formations are spectacular, and there is so much to see in a short distance. These sandstone tower formations are scattered around the park. It is very crowded, but also a very well maintained park. It is recommended to go early in the morning or late in the evening.