If you have young children, you will need some new hiking gear to keep them safe and happy when out on the hiking trails.
The first item that you should get is a child carrier for hiking and backpacking. Then you can take your baby (or toddler) on hikes with you.
In this guide, we will help you choose the best baby carrier backpack that you can buy right now.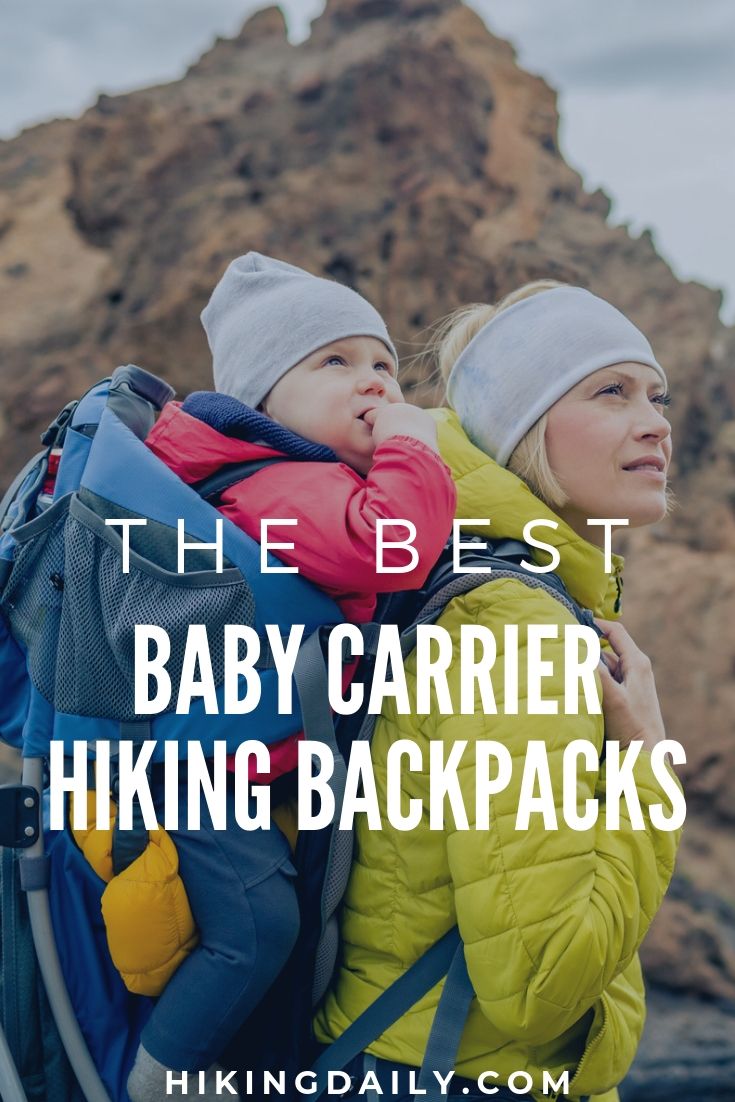 How To Choose The Best Baby Carrier/Backpack For Hiking
Before we get into the common features found in the best baby hiking carriers these are some questions that you should ask yourself.
How old and big is your child?
The age and size of your child will help you determine what kind of baby carrier to get.
If you have a newborn baby (under 6 months old) then you should get a softshell baby carrier such as the Beco Gemini. This type of carrier works best for hiking in the early days. Newborns do not yet have the neck control and strength required to be put in a hardshell hiking baby carrier.
If your baby is over 6 months old or is a toddler you can start thinking about getting a carrier that is specifically designed for hiking. A baby hiking backpack. Keep in mind that each baby carrier has weight limits. Most carriers have a weight limit of about 40 pounds.
What kind of hikes to you plan on doing?
If you see yourself sticking to shorter hikes on easy trails that have little elevation change then a lightweight hiking baby carrier should do the trick.
If you plan on doing longer, more strenuous hikes over challenging terrain you should get a larger backpack style hiking carrier. It will be more comfortable for you and your child. They also have features that are essential for long hikes such as storage, padding, and others that we will soon discuss in detail.
Where and when will you hike?
Where and when you will hike is something to consider.
If you are hiking in a hot climate you will want to get a carrier that has good ventilation and sun cover for the child.
For wet or cool climates you will also want to get a carrier that provides cover for your child.
Now, let's discuss the most common and most useful features that you should consider before buying.
Top Features Of Baby/Toddler Hiking Backpacks/Carriers
Understanding the common features that you will find in a hiking carrier for kids is an important first step.
When I bought a baby carrier a couple of years ago I took the time to thoroughly examine what each brand had to offer. I wanted to make sure I got the best baby hiking backpack.
Comfort
Comfort for yourself and your baby is key to having a good time on the trails. If you are not comfortable you will not get very far.
The main factors that are going to determine your level of comfort are the straps and belts, padding, weight, ventilation, the frame, and the child harness and cockpit area.
Padding
Comfortable padding in the right places is super important for both the hiker and the child. Almost as important as the comfort of your hiking shoes or boots. I own an Osprey hiking daypack and it is so comfortable that no matter what is inside or how heavy the load is the pack feels like I am carrying air. You definitely want that sensation when you are carrying a child that weighs 10-40 pounds.
The most important padded area is the hip belt. Look for a pack that has a well-padded hipbelt that molds to and wraps around your hips. It should feel secure (wraparound fit) and should not rub as you walk and move. The foam used in the hipbelt and other locations should be firm foam, not squishy easily compressed foam.
The other key location to inspect padding is the shoulder straps. Look for shoulder straps that are curved, not straight in shape. Foam straps that are perforated or made with mesh are a bonus because they offer superior ventilation. Osprey child carriers offer this feature.
Finally, you definitely want your child to be comfortable. Take a good look at the cockpit area where your child will be suspended. Look for a carrier that uses soft fleece materials throughout the cockpit for both the harness and surrounding padding. Your child might get jiggled and jostled around at times when you are hiking, so you want their skin to be met with soft non-abrasive materials. The more expensive baby carriers use more soft and comfortable fabric in the cockpit. This simple feature is perhaps one of the most important in determining what is the best baby hiking backpack for your hiking adventures. A baby's skin is super sensitive.
Type of frame + suspension
Your baby carrier should have a strong, lightweight, folding, internal aluminum frame. The frame will help to balance the weight of your child and improve your footing. The frame also allows the carrier to stand up when it isn't on your back.
There are two key locations of suspension. The first is how the pack suspends on your body. Look for a pack that has a clearly defined, one-piece section that combines the arm straps, lumbar (back), and hipbelt regions. These packs provide more stability and reduce side-to-side movement. The second area to examine is where your child will sit or be suspended within the carrier. Look for strong, secure, and well-padded straps.
Weight of carrier
This is pretty straightforward. In most cases the lighter the pack the better. The weight of your baby or toddler is enough. Go for a lightweight carrier. Simple.
Ventilation
In my experience, the hotter you are on a hike the harder the hike feels which can lead to less comfort and enjoyment. This is especially true if you are carrying the extra weight of a child on your back. Sweating yourself silly is downright uncomfortable. Overheating will slow you down. Your baby will also want to feel cool and ventilated or they will quickly become uncomfortable and unhappy.
Ventilation is a key feature of a baby carrier for hiking. For the ultimate degree of ventilation look for a carrier that has mesh straps. Your back sweats the most when wearing any type of backpack. Get a carrier that offers a separated mesh lumbar area. Then your back will not even touch the carrier itself allowing maximum breathability as you hike. Stay cool.
Storage and pockets
Carefully designed and easy access storage and pockets is a plus.
Hipbelt pockets are great to store essential, often used items like sunblock, or your phone is super handy.
If you plan to go for longer hikes a larger storage area (for diapers, snacks, water, etc.) is necessary since you won't be able to wear your daypack at the same time.
Some carriers offer a detachable daypack so that parents can share the weight of what you need to take on a hike. Bonus.
Child harness and cockpit area
A sturdy and comfortable child harness is important. Keep your child happy. The key features of the cockpit are:
Soft fabrics (fleece covered)
Space for their hands to hold or rest
Leg loops or stirrups
Adequate ventilation
Built-in sunshade
Rain cover
Adjustable harness
Removable and washable chin (drool) pad
Large rear and side headrest
Side entry and loading of your child
Backpack handles (to help with on and off)
This feature seems almost too simple to consider important. However, these straps are incredibly useful and make a big difference. They help you or your partner get the baby carrier hiking backpack on and off easily and safely. Let's be honest, nobody wants to drop their baby. Right? Until I first lifted one of these carriers onto my back I never would have thought of how useful some simple handles could be.
Self-standing child carrier
This is another easy to overlook feature. Until you actually carry a kid on a hike. Now that you are carrying 20-50 pounds more on your hikes you will want to get a carrier that you can easily take off and put on the ground so you can take a break. And another break. And another. Haha.
Don't skimp out. Get a baby carrier that is sturdy and is self-standing. Strong and sturdy is key because you don't want an energetic child to tip it over while you are taking those breaks. This is a key feature that you will find in the best baby hiking backpacks.
Sunshade
Not all baby carriers for hiking excursions have this feature.
This is really odd (if not negligent) because it is massively important.
Most parents understand that sun protection is essential for babies and toddlers. Young children are smaller and more sensitive to the sun and heat.
Get a carrier that has a sunshade. Or, have a hot, uncomfortable, cranky child yelling at you all day. Easy. Decision.
Rain cover
Not as essential as the sunshade but definitely a nice to have feature. If it does rain (or snow) your child will be happier with a cover over its head.
Some sunshades double as a rain cover. Some carriers require an add-on rain cover that integrates with the sunshade.
What are the best brands for baby carrier hiking backpacks?
The most well known and best brands that make baby carrier hiking backpacks are:
Now that we know all the important features to consider in a baby carrier hiking backpack, and the best brands, what are the best baby carriers that money can buy today? Let's find out.
The Best Baby + Child Carrier Backpacks For Hiking
If you are a serious hiker and you have young children there are two carrier backpacks for hiking that really stand out. We rate the Deuter Kid Comfort Pro and the Osprey Poco AG Plus the best baby/child carrier backpacks that you should consider over all the other options. Both the quality and features offered are noticeably superior. Each has its benefits over the other.
I owned this carrier myself and hiked with it all over Colorado. It was perfect.
This child carrier worked great in all conditions when my child was a baby and a toddler.
The most notable and unique feature of the Deuter Kid Comfort Pro is the side loading entry. It makes it super easy to load a squirmy or fussy young child. This hiking baby carrier has bigger and more robust head support that cradles a sleeping baby's head from behind and to the side. Because the pillow head support is larger it works better for your child as they grow bigger. Most other baby/child carrier backpacks have smaller head support areas.
Key features of the Deuter Kid Comfort Pro:
A fully ventilated and separated mesh back area keeps you cool and reduces sweating
Excellent weight load transfer for reduced side to side movement
Large head pillow support for your child
Footstraps to secure your child's feet
Easy access side entry child harness
Removable daypack to share the load
Sunroof sun cover
Mirror to view your child
A large bottom compartment in the backpack
Compatible with a 3L hydration system
PFC free
Load adjustment straps
Adjustable hip belt
VariSlide Adjustment System adapts to different back and torso lengths
7.8 lbs in weight
48.5 lb child capacity
If you are looking for a very similar but lighter weight option by Deuter that is also adapted to female anatomy then check out the Deuter Kid Comfort Active SL. The sunroof is sold separately.
We rate the Osprey Poco Plus child carrier backpack near equal to the Deuter Kid Comfort Pro. It is a great carrier to take your baby or young child on a hike. Osprey packs are of incredible quality. As I mentioned, I own an Osprey daypack. I Love it and it is the best backpack I have ever worn by far. The Osprey Poco Plus is no different. Comfort and superior ventilation are its key strengths. If you live in a hot climate this might be the best option. Safety and comfort are also a priority for the child harness and cockpit.
Key features of the Osprey Poco Plus:
Anti-gravity suspension made of aluminum tubing helps to stabilize heavy loads
Double halo harness
Front-facing arm loops make loading and buckling super easy
Built-in sunshade (UPF 50+ UV protection)
Tensioned mesh back panel for superior ventilation
Sternum strap with emergency whistle
Comfortable 3-D mesh hip belt and shoulder straps
Adjustable hip belt
Zippered hip belt pockets to store important belongings
Extra-large lower compartment
Removable daypack
Stretchy mesh side pockets for easy access and storage
Highly adjustable butterfly harness to keep your child secure
Child cockpit is fully framed and made of soft fleece fabric
Side mesh panels keep your baby cool and happy
Extra-wide locking base is super sturdy
Built-in safety loops keep your baby or toddlers legs secure
Two large grab handles make the pickups safe and simple
Removable, washable drool pad.
7.89 lbs
23.89 – 48.5 lbs. child capacity
That covers our top two picks. We highly recommend these options because of the quality and the features they offer that you can't find in other brands. Both the Deuter and Osprey carriers offer top-notch ventilation, are lightweight, and really focus on the safety and comfort of both parent and child. Not only are they the best baby carrier backpacks but they also deliver the best value. No comparison.
The other brands of baby and child carrier backpacks
The other most popular brands that make hiking baby carriers are Thule and Kelty. Both are well known for outdoor adventure. However, their top products miss the mark and we don't feel right recommending them to our readers.
If you want to check out their top products they are:
This concludes our guide on choosing the best child carrier hiking backpacks to carry a baby, toddler, or small child.
Definitely go for the Deuter or the Osprey. You won't regret either choice!
We use affiliate links and may receive a small commission on purchases. Please read our disclosure.