It's not just sun's out, guns out – it is sun's out, toes out. For outdoor summer adventures, kid's hiking sandals can be even more comfortable than hiking shoes or boots and there is no need to avoid water. Even better, they are easy to put on and take off for children of all ages, even toddlers.
Here are some tips for buying kid's hiking sandals and our top picks.
Just a note, kids hiking sandals aren't just for kids. Women with small feet can save money by purchasing kids sizes. A woman's size 6 is a youth 4, and so on.
How To Buy Hiking Sandals For Kids
When selecting kids sport sandals, consider the terrain you intend to hike, how much sandals will be in water, and whether an open or closed toe shoe is more appropriate.
For short and medium distances, Crocs work too. The thick and squishy soles cushion feet and protect against rough terrain. Crocs fit all feet, especially when worn with socks. That is an on trend look right now, especially with patterned Crocs like tie dye or camo. Crocs tend to fit large so size down or pair with a thick sock.
Traction + Treads
One of the main differences between athletic and hiking footwear is traction. Not all active sandals are designed for hiking but a look at the sole will let you know. A flat sole with shallow lug pattern is intended for in town. However, for kids that love to climb rocks and boulder, shallow lugs provide more surface area and therefore friction and grip.
Hiking sandals have stiffer soles and deeper lugs For easy to moderate hiking, look for a sole with shallow lugs and mixed tread patterns. For more rugged trails, deeper lugs provide better traction while a stiffer sole keeps provides a stable platform over loose and rocky surfaces.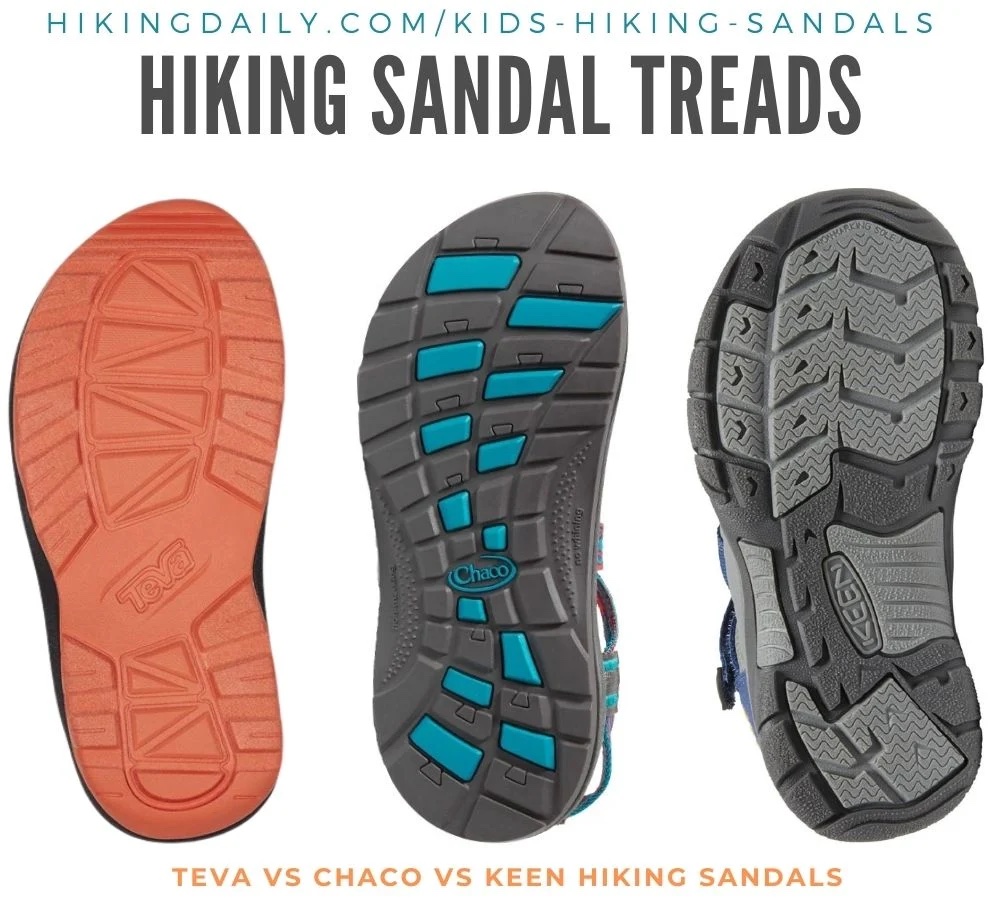 Stiff vs Flexible Soles
Hiking sandals designed for more rugged terrain will also have thicker and stiffer soles. The stiffness protects feet from sharp stones below and minimizes foot movement to preserve energy. However, many people are seeking out more flexible, barefoot-like shoes these days. It is a preference for you and your kid.
Open or Closed Toe Sandals
Some hiking sandals are essentially shoes with vents while others simply attach a robust sole to feet. In general, closed toe shoes are better for toddlers and younger kids who are more likely fall and stub a toe. The tradeoff is that the sandals will be heavier and take longer to dry.
Open sandals are excellent for water-based activities and hiking established trails but I personally don't like to have feet exposed in grassy, brushy areas in case of ticks, poison ivy, and whatever else could be down there.
Fit
Finding a great fit with sandals is easier than shoes but something to keep in mind. Most sandals have numerous adjustment points, either straps for open sandals or a bungee-style laces for closed toe sandals. However, if a strap sits in the wrong place on the foot, there can be uncomfortable rubbing and blistering.
Water
Sport sandals aren't waterproof but most are designed to be worn in water and dry quickly. Some are even machine washable. Sandals with more fabric will take longer to dry.
The Best Hiking Sandals For Kids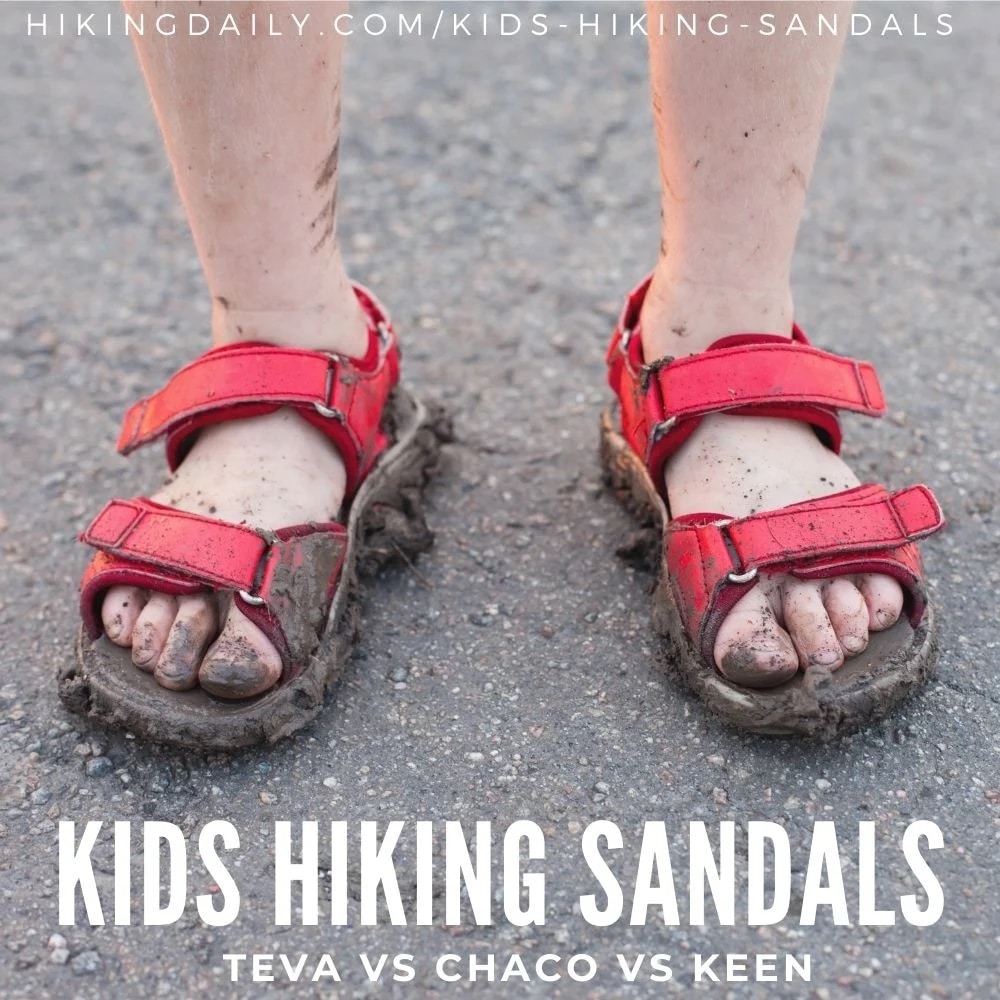 Here are our top hiking sandal recommendations for kids. There are many imitators out there but there is nothing better than the originals.
The Best Hiking Sandal For Kids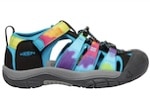 KEEN Newport H2
+ Wears like a shoe
– Heavy, stiff sole
Best Open Toe Kids' Hiking Sandals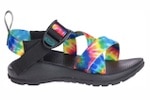 Chaco Z/1
+ Rugged sole
– Open toe
Lightest Hiking Sandal For Kids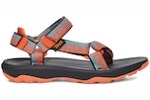 Teva Hurricane XLT2
+ Quick Dry
– Open toe
Most Comfortable Kids Hiking Sandal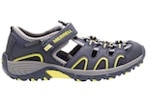 Merrell Hydro H2O Hiker
+ Lighter weight closed toe
– Thinner sole
Best Hiking Sandal
For Toddlers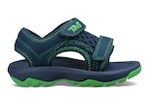 Teva Psyclone XLT
+ Grippy, cushioned soles
– Open toe


The Best Hiking Sandals For Kids
Keen sandals seem to be the most popular summer shoe for kids, whether hiking is on the agenda or not. The rubber toe bumper, heel cup, and substantial outsole give a shoe-like feel and protects feet from anything they encounter. An adjustable ankle strap, bungee laces, and quick-dry lining make for all day comfort.
Weight 9 ounces each
+ Toe bumper
+ Rugged sole
+ Wears like a shoe
+ Machine washable
– Stiff sole doesn't flex but this is good for hiking rocky terrain
– Heaviest kids hiking sandal
– Can get smelly
Keens aren't the cheapest but do have the most support and durability. They last so long that there is a strong resale market for Keen sandals so look for them used or plan on selling them later.
The Newport sandals are so popular that they also come in toddler, women's, and men's sizes.
If the Newport feels great but is a little bit too stiff and heavy for your kid, check out the lighter weight Seacamp II. Here's how to pick between the Keen Newport H2 vs Keen Seacamp II.
Newport H2
Wide outsole
Thick toe cap,
Wider foot-bed with deeper inside
3 bungee lace straps
Smaller openings
Better traction on rocky terrain Seacamp II
Narrow-er outsole
Thin toe cap,
More narrow fit,
2 bungee lace straps
Larger openings,
Better grip on wet surfaces Best Open Toe Sandals For Hiking
Choosing between the different straps and soles of Teva and Chaco is a personal preference (and choice of tan lines). However, Chaco's heavy sole makes it a better hiking sandal. The kids version came after the popular men's and women's Z/1 sandals.
While it is open-toed, the front is shaped to protect toes from bumps. Although it can take some time to break in, the footbed will conform to the foot and provide arch support.
Weight 5.5 ounces each (depending on size)
+ One adjustable strap with one buckle for a custom fit
+ Durable
+ Sole shaped to protect toes
– Open
Chaco sandals feature their unique Custom Adjust'em strap that threads through the sole and feeds into one buckle. Each area of the webbing can be adjusted to fit every foot. Chaco sandals are also vegan.
These rugged sandals last so long that they can be passed down to the next kid and maybe even the one after that.
Lightest Weight Hiking Sandals
The original, now retro, Teva sandals, were designed for use in water. The Teva Hurricane is made for hiking with a thicker sole, more traction, and extra cushioning and can go in water. The three hook and loop straps are the same as the original with added padding at the heel for additional comfort.
Weight 4.25 ounces each (depending on size)
+ 3 adjustable straps for a perfect fit
+ Quick dry straps
+ Vegan
– Better for older kids

Going sockless with sandals is the style but can get smelly. The Teva footbed is coated with Microban to minimize odors.

The webbing made from recycled plastic, with each sandal reusing 2 plastic bottles. When the sandals have been beaten up too much to wear, the TevaForever recycling program takes every shoe back.
Most Comfortable Hiking Sandal For Kids
There are great sandals made by companies outside the aforementioned big three. This H20 Hiker Sandal by Merrell hits the sweet spot with a lighter weight kid's sandal with a closed toe. The adjustable ankle strap with elastic lacing is easy to put on and take off.
The flexible sole features a with a wider profile for extra grip. The leather upper is lined with neoprene for a comfortable fit with no rubbing. It is also designed to dry quickly, although it won't dry as quickly as open toe sandals.
Weight 8 ounces each (depending on size)
+ Lighter weight closed toe sandal
+ Flexible sole
+ Wide sizes
– Longer drying time
This is the sandal for you if Keens is too heavy and stiff or Chacos and Tevas are too open. They are also available in toddler sizes.
Toddler Hiking Sandals
If your toddler is like mine on hikes, they are not doing all that much hiking. So a hiking sandal needs to be suited to the kid's preferred activities, whether that is bouldering, exploring the water, or running away on the trails. Our recommendation can do all those things but Keen also makes toddler versions of the Newport and Seacamp if you want a closed toe for full foot protection.
Teva adjusted their classic design by adding mesh between two adjustable straps for a more shoe-like feel. Extra wide openings are easy for adults and toddlers to put on and take off and accommodate wider toddler feet. The soles are grippy with plenty of cushioning and shock absorption for jumping off whatever needs to be jumped off while the straps dry quickly from wet adventures.
+ Easy to put on and take off
+ Comfortable sole
– Open toe
– Longer drying time
Special Mention
There are more "shandal" – shoe/sandal hybrid – options coming out every summer. One to take a look at is Tevas closed toe, rubber bumper, bungee laced shoe, the Teva Manatee.
How To De-Stink Sandals
Clean feet and lots of water play don't prevent that sandal stink. It is caused by bacteria on the rubber. Many brands recognize this issue and use an anti-microbial coating but that may not be enough.
How To Clean Smelly Sandals
First, hand wash sandals with an antimicrobial soap and warm water. Use a soft bristled brush, like an old dish brush or toothbrush to get in every crevice.
If the smell is not eliminated, there are more options:
Baking Soda Sprinkle a layer of baking soda on the foot bed and leave the sandals for 8 – 24 hours. This can be a good practice every few weeks before sandals smell strongly.
Mouthwash Soak sandals in a mixture of one cup of an antibacterial mouthwash with two cups of water for 15 minutes. Finish by scrubbing with a soft bristled brush and air dry.
Freezer Wash and dry sandals before sealing them in plastic bag. Put it in the freezer overnight. This can also work outside if it gets cold enough.
Washable Rubber Sandals
Machine washable sandals like Keens can be washed on a warm cycle with a little detergent. Wash them on their own so that a rubber smell doesn't transfer to clothes.
Machine washable does not mean sandals can go in the dryer. Instead, press excess water out with a towel and put sandals in the sun to help kill any surviving bacteria.
Treated Rubber Sandals
Some sandals, like Tevas, or treated with Microban zinc to reduce bacterial growth. Sunlight maximizes the effectiveness of the antibacterial coating, although more than 15 minutes of exposure can damage the sandal.