The Garmin Marq Adventurer is the ultimate GPS watch for outdoor enthusiasts. This watch is awesome because it has a plethora of cool features that cross over into different backcountry sports. We think this totally makes sense because a significant percentage of hikers participate in other mountain sports such as trail running, climbing, backpacking, downhill skiing, and mountain biking.
If you are a multi-sport enthusiast, this may be the best GPS watch for you. However, this watch is expensive. So, if you want to spend less money do check out the more affordable Garmin Instinct Solar watch, or one of the powerful Garmin Fenix 6 Pro watches.
The Marq Adventurer is definitely one of the best Garmin watches, and the best overall GPS watches for hiking and backpacking. The features and technology are incredible. The best GPS hiking watches have come a long way in the past year. Garmin calls this one a "modern tool watch" since it can do so much.
Before we get into all the amazing features in our review of the Garmin Marq Adventurer, watch this short video for a quick introduction.
Alright, let's check out what this watch can do in detail.
Top features of the Garmin Marq Adventurer
This GPS watch is packed with some killer features that are super helpful when navigating the backcountry. It offers pretty much anything you can think of aside from solar battery charging. However, the battery life is exceptional!
Color topographical maps
Multiple global navigation satellite systems (GPS, GLONASS, and Galileo)
Water-resistant to 100m (10ATM)
Full-color screen, 240 x 240 pixels resolution
Sunlight visible display

ABC sensors

Altimeter for elevation data
Barometer to monitor the weather
3-axis electronic compass

Expedition app to extend battery life while in the backcountry

Excellent battery life

Smartwatch: Up to 12 days
GPS: Up to 28 hours
GPS and Music: Up to 9 hours
UltraTrac mode: Up to 48 hours
Expedition GPS Activity: 4 weeks

Pulse OX sensor tracks the body's oxygen levels
Heart rate monitor
Stress score monitor
Hydration tracking
Respiration tracking
Track altitude gain and weather changes
360-degree compass bezel
Monitor your blood oxygen levels
Tough, domed sapphire lens
46 mm titanium bezel
Multi-sport apps

Advanced training performance metrics

ClimbPro ascent planner
PacePro technology for trail runners or fast aggressive hikers
Backcountry ski input to distinguish climbs vs. descents
Ski maps of local resorts
Smartphone notifications
Connect to music apps like Spotify (stream or store songs)
Okay, let's get into some of these top features in greater detail.
Topographic maps
There is only a hand full of GPS watches that have real topographic maps that allow you to more accurately know exactly where you are located. The Marq Adventurer has a variety of full-color maps loaded on the watch. You can access points of interest and trail data as you go. Maps include information about landmarks, state and national parks, campgrounds, historic sites, rivers, and trail names. There is also a watch app that will give you real-time turn-by-turn navigation in conjunction with maps. Ski resort maps are also loaded on the watch. Super cool.
ABC navigation sensors
Stay oriented with the 360-degree compass bezel and ABC (altimeter, barometer, compass) navigation sensors.
An altimeter helps you track elevation data. The barometer can help you monitor local weather and anticipate potential incoming storms. Use the 3-axis electronic compass to stay on track.
Multi-GNSS
Depending on where you are, tap into multiple global navigation satellite systems (GPS, GLONASS and Galileo) to track and navigate your adventures.
Excellent battery life
Only the Garmin Fenix 6 Solar and the Garmin Instinct Solar watches eclipse the Garmin Marq Adventurer for battery life. Depending on what GPS mode you use, you can get 9/28/48 hours of battery life. If you use the Expedition app on the watch you can get up to 4 weeks of battery life. That is pretty amazing.
To ensure that you always have power for your devices, we recommend getting the Goal Zero Nomad 20 Solar Panel.
Power manager
This feature allows you to see how different settings and sensor usage impact battery life. Using this information you can make changes to how you use the watch on the fly to conserve more energy. Totally handy.
Pulse OX sensor
Hiking at high altitude? Keep track of your how well your body's oxygen levels are adjusting as you go.
Hydration monitor
Consuming enough water or the right amount of water is super important when you are hiking aggressively in the backcountry. Especially, at higher elevations. Log your daily water intake as you go on your journey.
Heart rate monitor
Understand how hard you are working during your outdoor activities with the wrist-based sensor that samples your heart rate as you go. This sensor also delivers a stress score so you will know when it is time to take it easy.
Smart notifications via smartphone
Pair your smartphone to the watch and receive a variety of notifications when you have service.
Satellite communication via compatible devices
Pair the device with other compatible Garmin devices such as the Garmin inReach Mini. We highly recommend getting a device like this if you are hiking in the backcountry far away from mobile service. They save lives when the unexpected happens.
Respiration tracking
Understand how you are breathing during the day and while sleeping at night. A cool feature for high altitude backpacking trips.
ClimbPro Ascent
If you are climbing or hiking in steep terrain, use the ClimbPro Ascent feature to track grade, distance and elevation gain of each upcoming ascent.
Trendline Popularity Routing
Use a watch app Trendline to show you the most popular trails and routes where you are.
Backcountry ski data + ski resort maps
If you are also into backcountry skiing then you can use the watch to analyze your ascent vs. descent data. For those that prefer to ski at popular resorts, you can access ski maps right on the watch.
This concludes our review of the Garmin Marq Adventurer. The only drawback is the price. This is the most expensive GPS watch for hiking and backpacking. However, if you know you are likely to use it a lot over several years, the price is not so bad. We also recommend taking advantage of sales on Cyber Monday, Black Friday, and during the holiday season.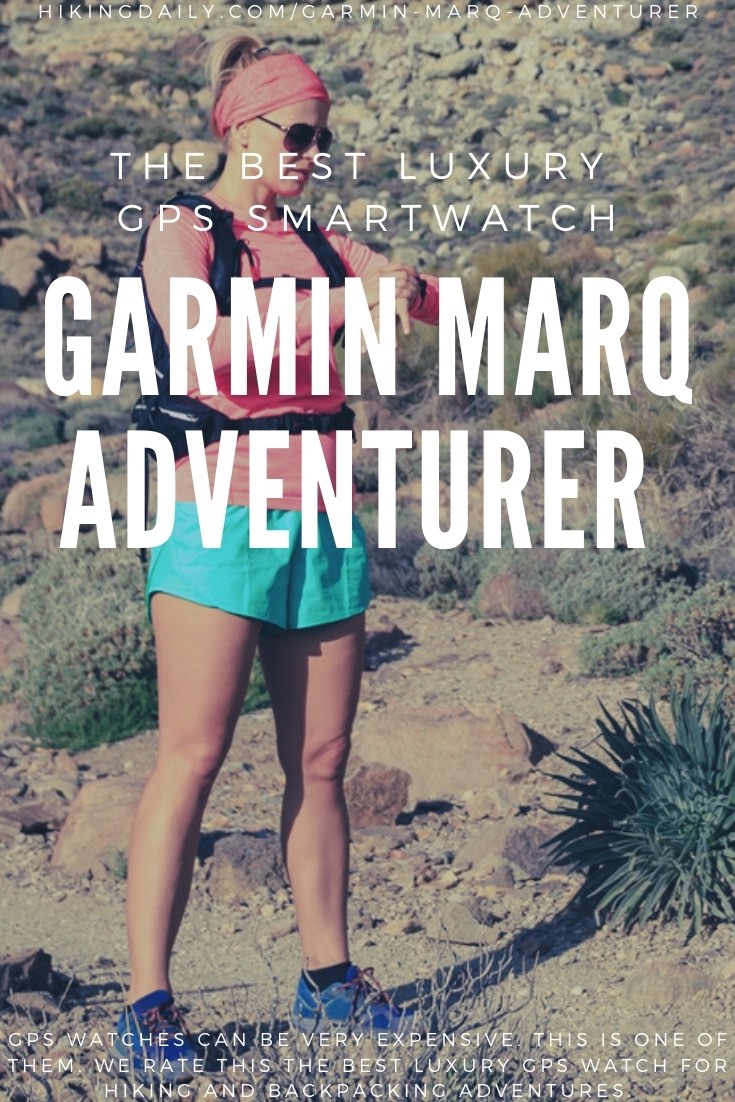 We use affiliate links and may receive a small commission on purchases. Please read our disclosure.