I recently upgraded to the Garmin Fenix 7 watch. For the money, you get way more value, and it is the watch that we recommend for hiking and backpacking.
You can still buy the Garmin Fenix 6 Pro series. It is a great option if you have a limited budget. It is the most powerful watch for that price point.
The Garmin Fenix 6 series showcases three versions: the Garmin Fenix 6 Pro, Garmin Fenix 6 Sapphire, and Garmin Fenix 6 Pro Solar. Each can be had in a larger case with a larger screen. Just look for the 6X.
These watches are awesome. I own one of the Garmin Fenix 6 Pro GPS watches, and I will reveal below which one and why I got it over the other options.
You will want to read our full review below (we cover all features in detail), but first, take a moment to watch Garmin's short video about the Fenix 6 the best smartwatch for hiking in 2021.
Breakdown of the Garmin Fenix 6 Pro Watches
As mentioned, there are three main versions of the Garmin Fenix 6 Pro.
Let's take a look at the main differences between these watches.
Base model
Stainless steel bezel
Corning Gorilla Glass DX lens
Sapphire lens (more durable and scratch-resistant)
Diamond-Like Carbon (DLC) steel coating makes it more durable than the base model
Larger 1.4 inch diameter screen
Solar charging (via Power Glass screen) gives an extra energy boost and battery life
Titanium bezel and bracelet (most durable of all)
If you want a larger case and screen then you should upgrade to the Garmin Fenix 6X Pro, Garmin Fenix 6X Sapphire, or the Garmin Fenix 6X Pro Solar.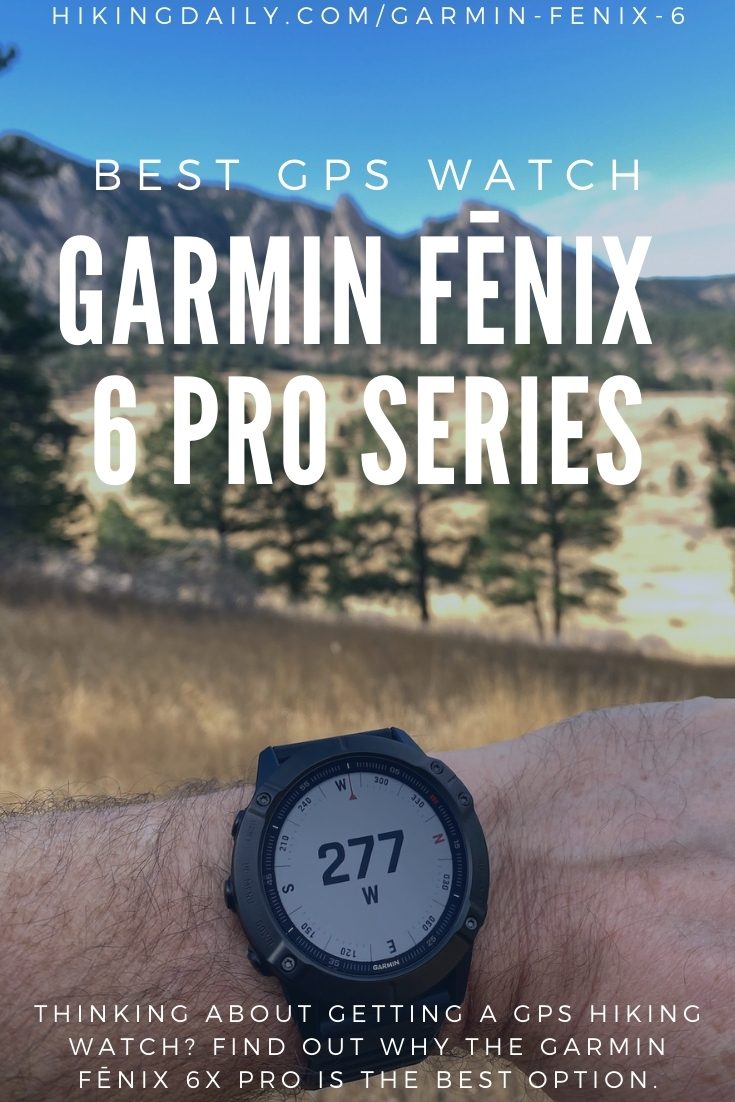 Okay, so which watch did I buy?
After some deep analysis (and buying the Garmin Fenix 6 Pro Solar first), I settled with the Garmin Fenix 6X Pro.
Why I chose the Garmin Fenix 6X Pro:
I found the screen of the Garmin fenix 6 Pro Solar too small
The Fenix 6 Pro Solar doesn't charge the battery, it just extends the battery life by a small amount

If the screen actually charged the battery completely on the go, I would but it

All Fenix 6 Pro versions won't survive a solid impact to the screen (much like a phone)

Therefore, better scratch resistance of the Fenix 6 Pro Sapphire wasn't worth the extra money to me

Sapphire glass screen is more difficult to view in sunny/daylight conditions vs Gorilla glass
So, why is the Garmin Fenix 6 the best hiking watch that you can get to wear on your hikes? Let's take a deeper dive into some of the top features.
Key features that make the Garmin Fenix 6 THE best hiking watch to buy right now.
Largest color display vs. competitors
Color topographical maps
Multi-GNSS Support (GPS, GLONASS, and Galileo)
Long battery life (Expedition Mode)
Safety and tracking features
ABC Sensors (altimeter, barometer, compass)
Wrist-based heart rate monitor
Pulse Ox Sensor
Body energy monitor
Durable (U.S. military standards)
Music apps on the watch (Spotify, Deezer, Amazon)
Largest Color Display
The full-color display on this hiking watch is 17 percent bigger (at 1.3 inches in diameter) than previous models and is also bigger when compared to its main competitor the Casio Protrek WSD-F30 (1.2 inches in diameter).
Color Topographical Maps For Hiking
The Fenix 6 series offers the best color topographical maps of all GPS hiking watches. Not a big surprise being a Garmin watch, right? Exactly.
The Garmin Fenix 6 is one of only three watches (the Garmin Fenix 5X and Casio Protrek WSD-F30 are the others) that allow you to follow your progress on the trails on real topographical maps.
Let's take a look at a few examples of what you can expect to see on the watch face.
Topographical maps on the hiking trails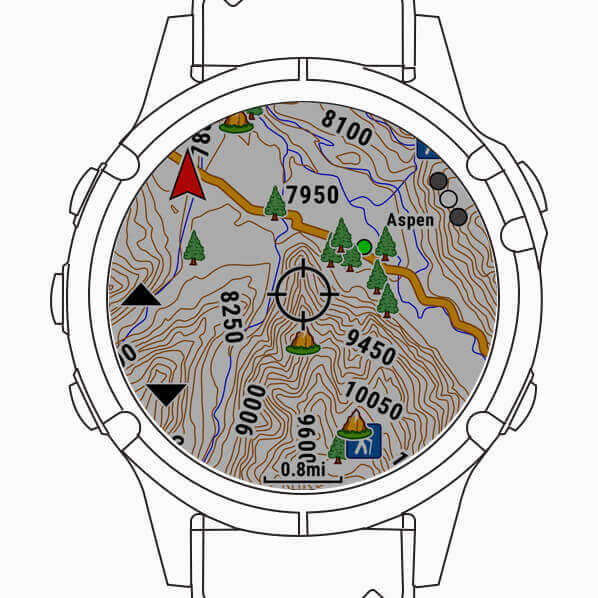 Or, explore ski trails at your favorite ski resort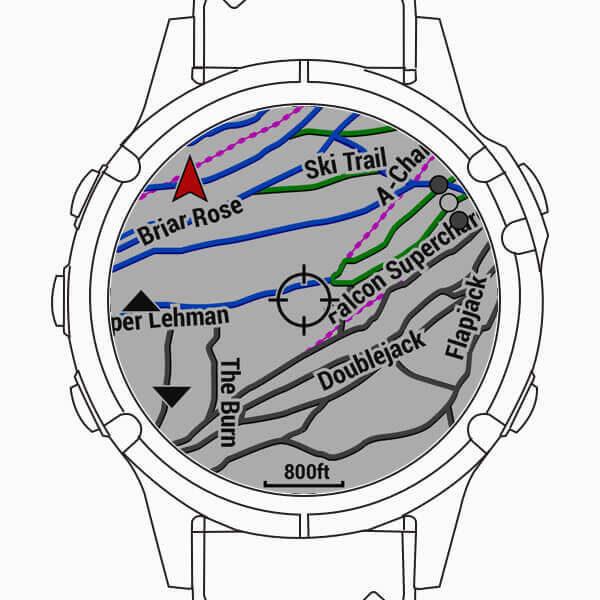 So cool. Many hikers are skiers, right? Bonus.
Trendline Popularity Routing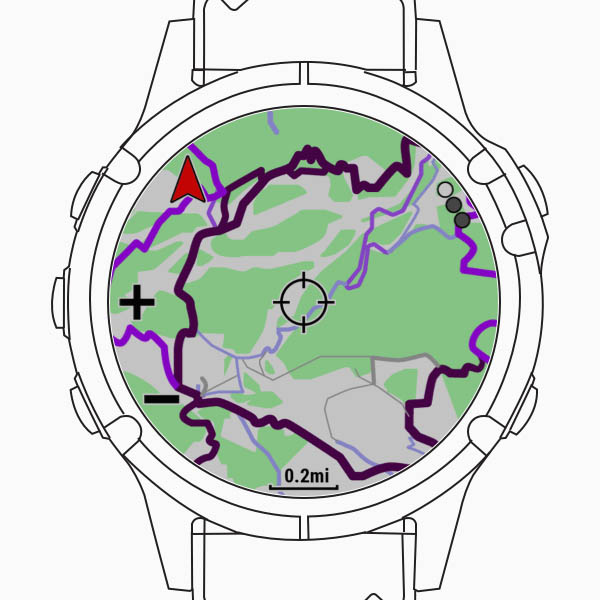 This is a great feature if you are not familiar with your current location. This map mode allows you to see trendlines of the most popular trails and routes around you.
Multi-GNSS Support
Track your whereabouts with multiple global navigation satellite systems including GPS, GLONASS, and Galileo. Depending on where you go for your hiking adventures, you may need this additional support beyond GPS. The Fenix 6 has you covered.
Extra-Long Battery Life
This hiking watch has multiple battery modes.
Pick the best battery mode that matches up with the adventure you take on.
Smartwatch – Up to 14 days
GPS – Up to 36 hours – for day hikes
GPS and Music – Up to 10 hours – for trail runners that like music
Max Battery GPS Mode – 72 hours – ideal for the weekend warrior hikers
Expedition GPS Mode – 28 days – perfect for extended backpacking trips
Battery Saver Watch Mode – 48 days
Safety and tracking features
The Fenix 6 Pro watch offers a built-in Incident Detection and Assistance feature that works with the Garmin Connect app. If you are hiking alone this could save your life. However, keep in mind for this feature to work, the watch must be paired with a mobile device that has a data plan and an active network signal. Thus, if you are deep in the backcountry or a remote area the feature won't work.
For off the grid safety and communication, you can pair the Fenix 6 with the Garmin inReach Mini a lightweight satellite communicator. Super easy.
ABC Sensors
Keep track of your location and any potential storm activity with the ABC sensors.
Altimeter – track and follow elevation changes
Barometer – be on alert for incoming storms
Compass – navigate with the 3-axis electronic compass
Wrist-based heart rate monitor
The optical sensor tracks the intensity of your activities as you go to help you set an optimal pace.
This sensor also monitors your ongoing heart rate variability to calculate a stress score.
Pulse Ox Sensor
Are you hiking at higher altitudes? Interested in sleep monitoring?
The Pulse Ox Sensor in the Garmin Fenix 6 Pro helps gauge how well your body is absorbing oxygen. Perfect to monitor both altitude acclimation and your sleep.
Body energy monitor
Garmin calls it the "Body Battery" energy monitor. This feature uses heart rate variability, stress, sleep, and other data to help you understand when you are ready to be active or when you may need some extra rest. Very cool.
Super durable watch bezel and lens
This is a very durable watch that is tested according to U.S. military standards.
The bezel comes in stainless steel, titanium or Diamond-like Carbon (DLC) coated steel for extra durability.
You can also get a lens in Corning Gorilla Glass DX, or Sapphire Crystal for extra scratch resistance.
Multiple music options on the watch
Some people can't be without tunes. For those people that like to hike or run on trails with music, this is the GPS watch to get.
You can store (32 GB memory on the watch = 2000 songs)
The Fenix 6 Pro has 32 GB of flash memory so you can store up to 2000 songs. Or, stream music from Spotify, Deezer, or Amazon music apps where you have an Internet connection.
Garmin Fenix 6 Pro – other notable features
Okay, we covered the key features that are beneficial to hikers on their hiking or backpacking adventures. But what else makes this the best GPS watch?
Ski maps – Keep track of where you are in the backcountry or at ski resorts
Golf – Full-color CourseView maps for 41,000+ preloaded golf courses worldwide
Dynamic PacePro – Grade-adjusted guidance while you run
Sports apps – preloaded activity profiles for trail running, swimming, running, biking, hiking, rowing, backcountry and resort skiing, golfing and more
Advanced performance and training metrics

15+ physiological measurements
7 running dynamic measurements

ClimbPro feature – Get real-time information (gradient, distance and elevation gain) on your climbs
Turn-by-turn navigation – For running or cycling routes
Smart notifications – Receive, emails, text messages, and alerts on the watch when paired with your phone
10 ATM water rating
Activity tracking features – step counter, calories burned, sleep monitoring, and more
This concludes our detailed look at the brand new Garmin Fenix 6 hiking watches. If you have a big budget, we definitely recommend this watch over all of its competitors. If your budget is less than opt for the Casio Protrek WSD-F30 which has many of the same features but is about half the price.
Be sure to check out our complete guide to the best hiking watches. You will learn all about the best features to look for as well as all the latest watches. Another GPS device for hiking?