The Rumpl Original Puffy Blanket is the ultimate car camping quilt.
Snuggled in the back of my Jeep Wrangler at the Grays and Torreys Peak trailhead in Colorado this September, I feel warm and cozy, nestled in my Rumpl quilt. Parked at 11,000 feet, the mountain air is chilly against my skin, but burrowed in my quilt, I am toasty and ready to settle in for a good night's sleep before a big day of running in the mountains. Rumpl's original puffy blanket is the latest addition to my car camping setup, and throughout the summer, it has become one of my Colorado weekend essentials.
I've gotten the chance to test this quilt throughout the Summer of 2022 in numerous temperatures and locations, and it has proven to be a key component of my summer camping set-up.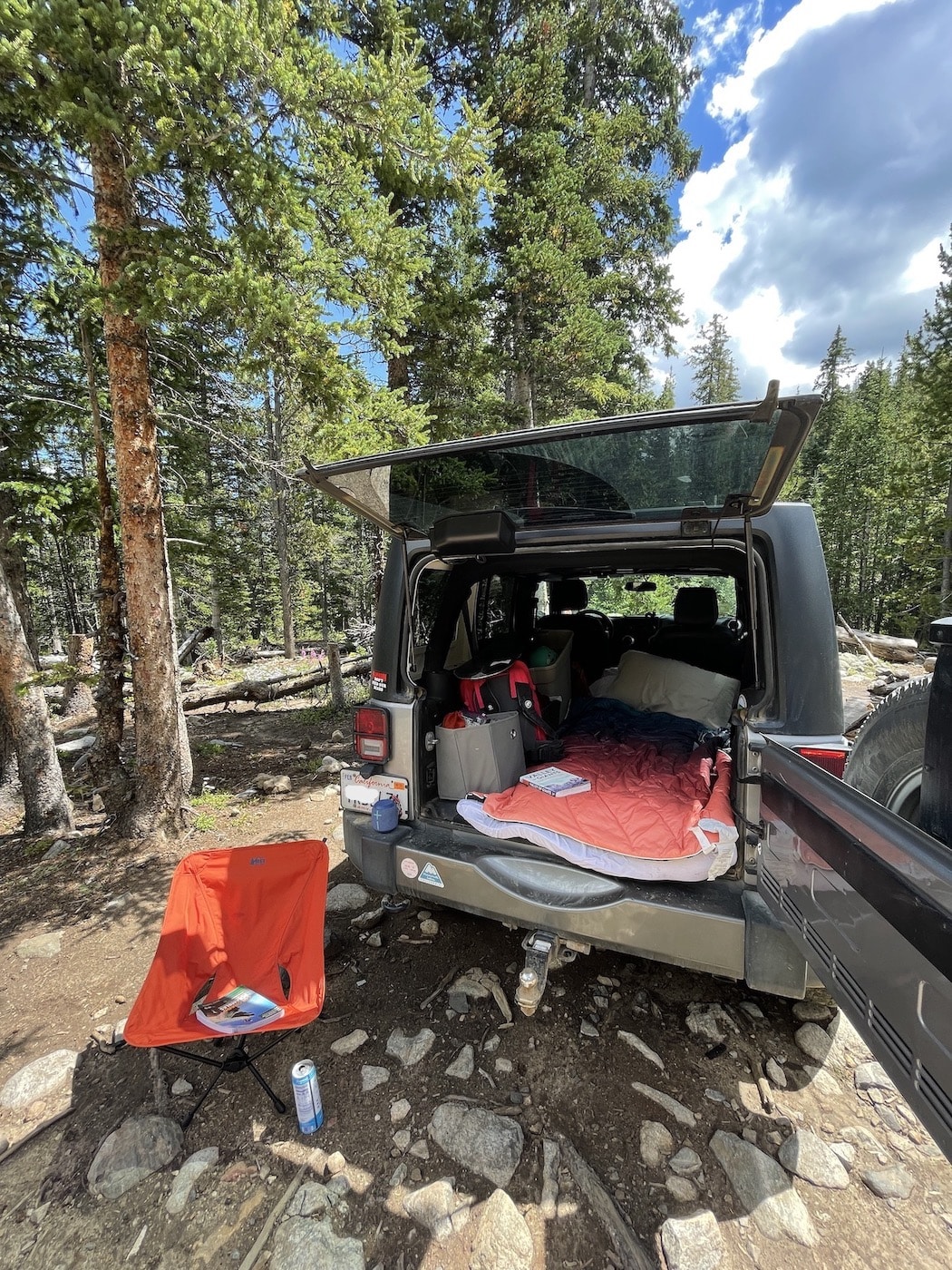 Features of the Rumpl Original Puffy Blanket
The Rumpl Original Puffy Blanket is an outdoor-oriented quilt that is made for heavy use in front-country and car-camping settings. While a Rumpl blanket will not replace a sleeping bag for backcountry expeditions or sub-freezing nights, they are incredibly cozy and have become a staple of my car-camping setup.
The Rumpl blanket's shell is made of post-consumer recycled polyester with a durable water-repellent coating. It is machine washable and can easily be compressed into a stuff sack for portability.
The quilt comes in a one and two-person format, and the one-person version comes equipped with a cape clip for hands-free warmth during some cozy time around the campfire or while cooking dinner in the cool mountain air.
Here are some of the upsides and downsides of this quilt that I found during my testing process:
Pros of the Rumpl Original Puffy Blanket:
This quilt is incredibly cozy. I love it for sleeping in my car, bundling myself up beside a campfire, or stargazing in the crisp sunset air. It feels good against my skin and keeps me a lot warmer than a conventional blanket would when I am camping!
These puffy blankets come in a wide variety of stylish colors and patterns. I'm obsessed with the pink-and-blue Arizona fade design on mine. All of Rumpl's color schemes are awesome! Some of their rad, new designs include beautiful, outdoor-themed graphics created by featured artists.
The shells of these blankets are made of 100% post-consumer recycled polyester! I feel good about using this cozy blanket knowing that Rumpl is mindful of reducing its environmental impact, utilizing recycled materials in their products. A one-person Rumpl quilt contains sixty plastic bottles, while their two-person quilt contains one hundred bottles! Some (though not all!) of their blankets are also insulated with recycled synthetic fibers – including the Original Puffy Blanket. Not to mention, Rumpl is a certified B Corporation (BCorp), and a participant in 1% for the Planet, meaning that they donate 1% of their annual sales to environmental causes. Considering the environmental impact of the gear produced by the outdoor industry, Rumpl's dedication to sustainability is quite impressive.
Rumpl quilts are easily machine washable! Being that they are made for outdoor use, simple machine washability is a major benefit. Simply toss it in a washing machine on warm, and hang or tumble dry on low! All of this said I have only washed mine once in an entire summer season of heavy use. Because the quilt is much more breathable than a sleeping bag, which contains all of your heat and smells, mine has not gotten particularly smelly, even with this high use! I choose to wash mine infrequently for a longer life of my quilt and to better preserve the DWR coating.
These quilts are durable. Unlike my ultralight backpacking quilt, this quilt is unlikely to rip with high use and abuse. I toss it in the back of my car underneath my climbing, hiking, and camping gear and have yet to puncture any holes in the quilt. It is made of 30D ripstop polyester fiber with a durable water repellent coating on the exterior. They are water-resistant (not waterproof!), to keep you dry on damp evenings. I love good gear that can withstand heavy use and love!
If you decide to sleep under a Rumpl quilt, you will have much higher mobility and ventilation than in a traditional mummy-style sleeping bag. I tend to run warm at night, and with the Rumpl, I can usually maintain a comfortable temperature when it is warm outside. My preferred temperature range for the use of the Rumpl when it comes to sleeping is in moderate summer temperatures— usually between 45 and 60 degrees. The ability to spread out (or snuggle!) under a Rumpl quilt is another benefit compared to a traditional sleeping bag. Since it is a blanket, it feels significantly less claustrophobic than sleeping in a bag. The mobility aspect is a big pro for side sleepers.
Rumpl quilts pack down small and are easily portable. Each Rumpl comes with a stuff sack that it can be stuffed back into for ease of transport—perfect for jamming in a car full of camping gear!
If your Rumpl does disappoint you, the company offers a one-year warranty on manufacturing defects or craftsmanship problems with proof of purchase. They also offer a 100-night return policy, so if you don't like your quilt before 100 nights, they will accept returns.
Check out the latest Rumpl Original Puffy Blankets: REI | Backcountry | Amazon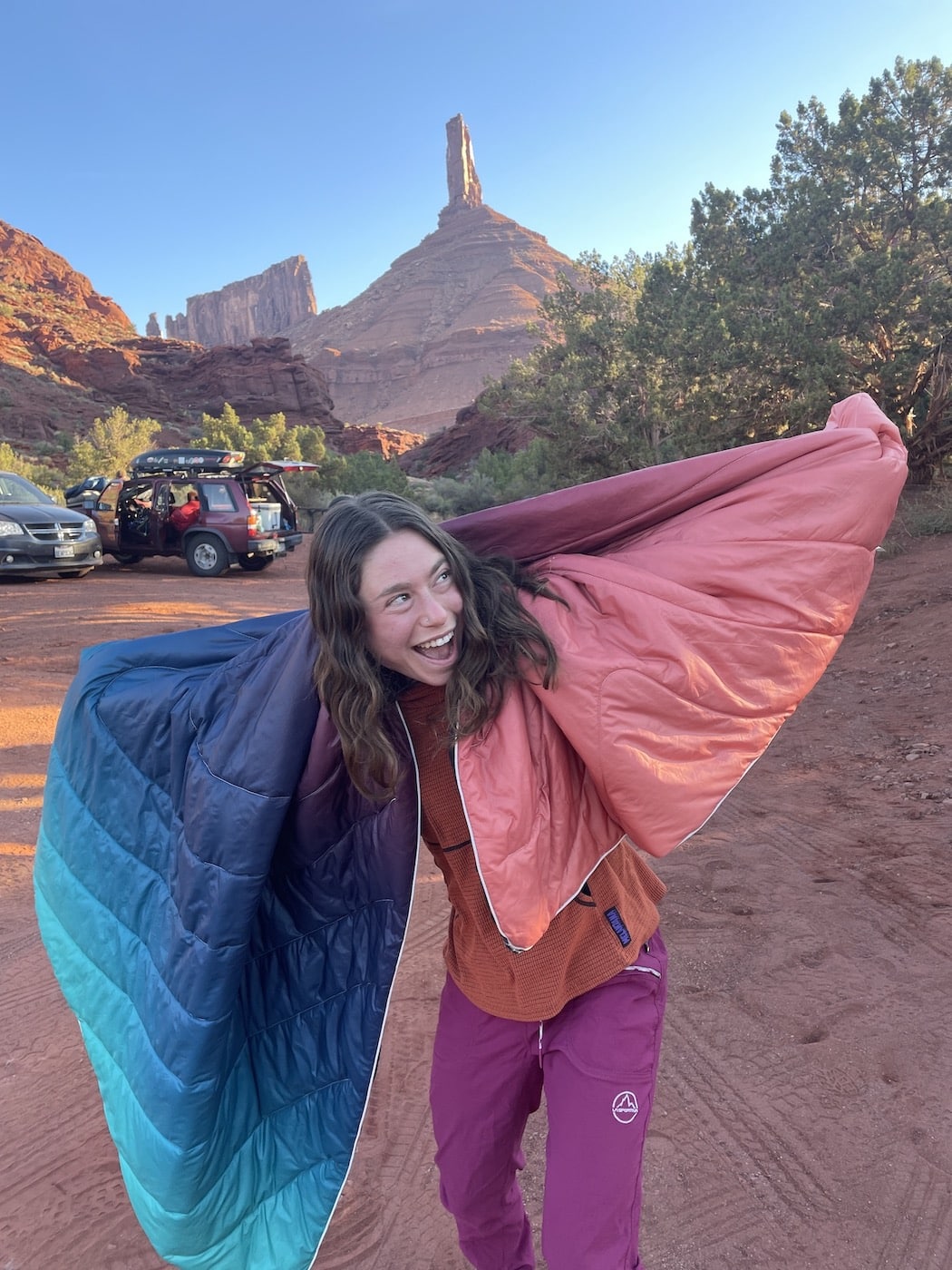 Cons of the Rumpl Original Puffy Blanket:
1. If you're camping in seriously cold temperatures, this quilt will not replace a sleeping bag. These quilts are awesome for staying cozy when camping in the frontcountry, but they will not replace a sleeping bag or backpacking quilt with a temperature rating. Rumpl advertises on their website that these quilts are best used in temperatures 45 degrees Fahrenheit and above. I have used mine in colder temperatures in conjunction with a sleeping bag or another blanket.
2. These blankets are not ultralight— and they're not meant to be! While the Rumpl makes for a wonderful addition to a car camping or front-country camping setup, I would not recommend lugging one out into the backcountry for an overnight backpacking trip. Rumpl's one-person quilts weigh in at 2.1 lbs, while their two-person quilts come in at 3.7 lbs. This is significantly heavier (and less warm) than the sleep systems I use for summer overnights, so keep this quilt for your drive-up-and-camp situations.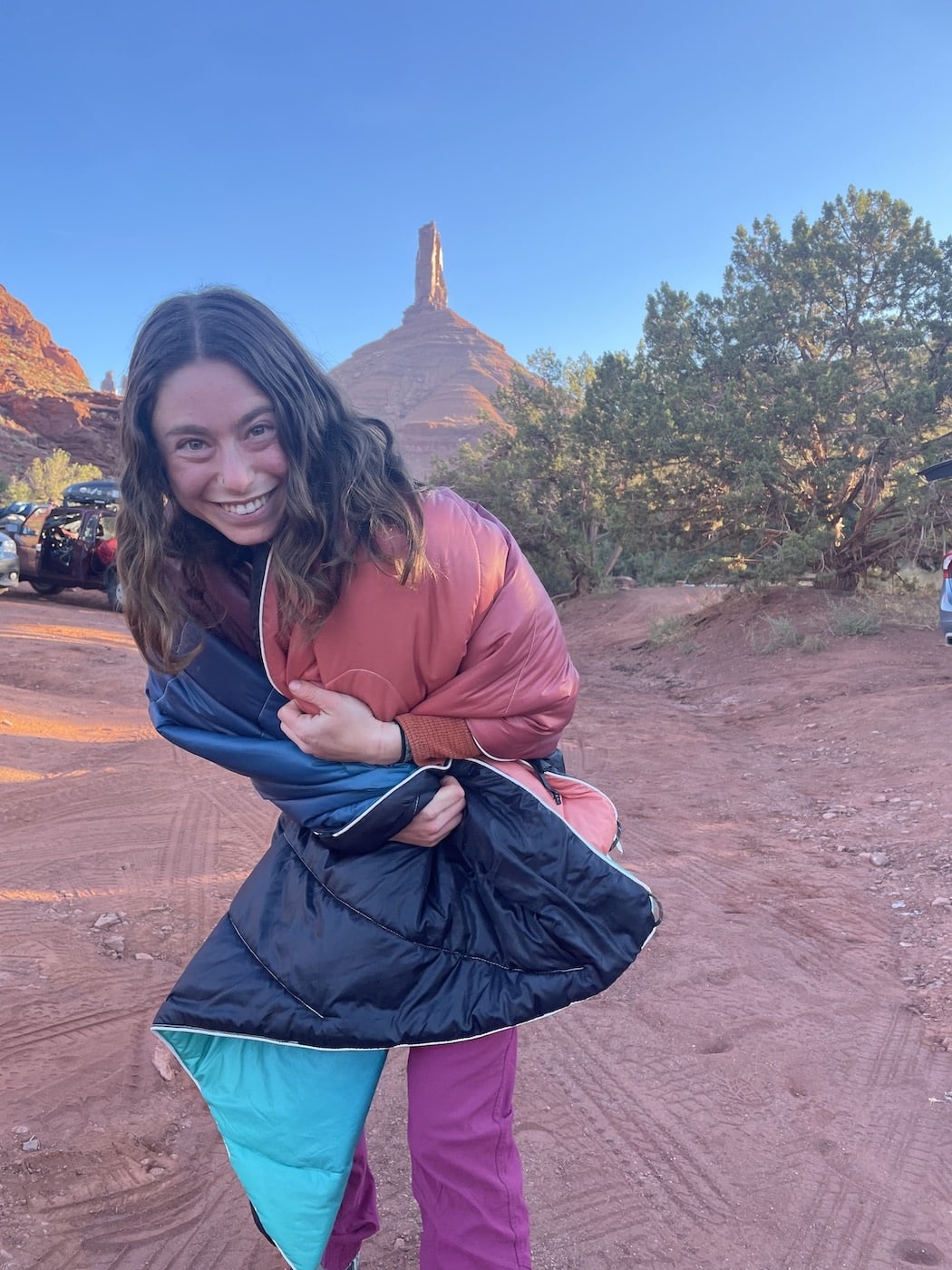 Final thoughts on the Rumpl
I love my Rumpl quilt. When I first began testing this quilt, I thought that my traditional backpacking quilt was the catch-all for everything I do. Throughout several trips, I grew to appreciate the durability of the Rumpl Original Puffy blanket. It is stylish, cozy, and functional. For colder nights, I would opt for this blanket in addition to a traditional, temperature-rated bag or quilt, but it can stand alone on warm summer nights.
If you're looking to invest in a Rumpl quilt, take your time and browse their website to decide which quilt fits your needs the best! Rumpl makes a variety of indoor and outdoor-oriented blankets, insulated with synthetic and down materials. They also offer quilt accessories, such as an "everywhere pad" that you can use as a ground pad for lounging around on with your blanket! I highly recommend this quilt to anyone looking to make camping just a little bit cozier—or for hanging out on the beach on a chilly day! This quilt truly ups the car camping game.
Here are some of my favorite Rumpl puffy blankets:
Salty Mountain Air Rumpl Blanket