This year I have had the pleasant experience of testing out some new Maui Jim prescription sunglasses courtesy of SportRX for my hiking and backpacking adventures.
Are Maui Jim prescription sunglasses worth the money?
Yes, they are. These sunglasses are a dream come true! Crystal clear vision. The value that these sunglasses deliver is unbeatable. This is particularly important if you plan to buy the best prescription sunglasses online. Why? Because they are very expensive! About double the cost of non-prescription sunglasses. Nevertheless, they are totally worth every single penny you will spend. These are the best sunglasses I have ever owned, no doubt about it.
Save 10 percent now by using code at checkout: HIKINGDAILY10
The clarity of my vision wearing these Maui Jim prescription sunglasses is unreal. Because of this, I wear them more than my regular glasses. They are such a pleasure, especially when doing sports and activities in the outdoors.
After developing corneal ulcers due to the very dry climate in Colorado I had to give up wearing contact lenses forever. This meant the brand new ($350+) polarized Persol sunglasses I had just purchased were no longer of any use to me.
For a while, I used a pair of old Vuarnet prescription sunglasses that I had. However, the prescription was totally out of date. The lenses were also too dark which makes photography a challenge. An upgrade was overdue.
Two years ago I purchased some prescription snow goggle inserts from sportrx.com and they have been spectacular. I absolutely love skiing with them because it feels like I am not wearing glasses or contact lenses. They are totally awesome.
When SportRX approached me to test out some prescription sunglasses to see how they perform while hiking I was very happy to do so. Why? Because I had (and still have) such a positive experience with SportRX for my RX goggle inserts. It made sense that this same company would make some excellent prescription sunglasses. And, if true, I definitely wanted to pass on a positive experience to the Hiking Daily readers. As mentioned, RX sunglasses are expensive, and a big purchase decision for many people. Best to get it right!
SportRX has a very large collection of hiking sunglasses and prescription sunglasses for hiking. You can get prescription lenses for a tonne of different styles made by the most trusted brands. Whether you are buying men's prescription sunglasses or women's prescription sunglasses you will find some great-looking styles at SportRX. The best part is that the lenses are not generic. Rather, they are the original lenses designed by the brand you choose. In this case for me, Maui Jim polarized lenses.
Are you looking for a discount on Maui Jim prescription sunglasses? Use discount code HIKINGDAILY10 at the SportRX checkout to save 10 percent (approximately $50-75 in savings) on your order.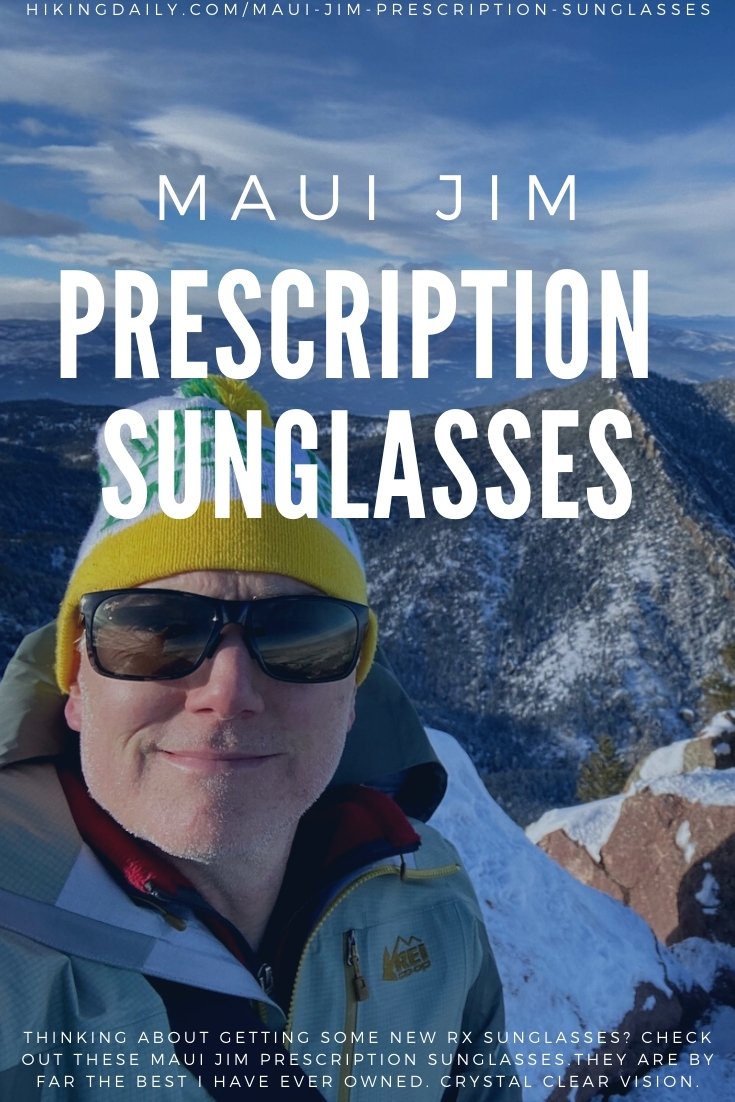 After looking at the many great options, I picked out an amazing pair of sunglasses for hiking.
These Maui Jim prescription sunglasses are incredible in so many ways! In fact, I like them so much that I find myself wanting to get outside as much as possible to hit the local hiking trails.
Maui Jim definitely makes some of the best prescription sunglasses.
Top features of prescription sunglasses
These are the main features that I thought were super important when choosing a pair of sunglasses.
Polarized lenses
Polarized lenses are the best. If you have never tried them, do! Once you experience how incredible everything looks through sunglasses with polarized lenses, you won't go back to regular lenses. Polarized sunglasses eliminate glare from shining directly into your eyes.
I feel like these new polarized prescription sunglasses are even better than my other regular (non-prescription) Persol polarized sunglasses. Super clear, super protective. They are totally relaxing to wear.
All Maui Jim glasses are polarized. The PolarizedPlus2 lens technology reduces 99.9 percent of unwanted glare, 100% of harmful UV rays, and absorbs harmful blue light. These lenses also have anti-reflection and scratch resistance treatments. Winning. Not only do they provide these great benefits, but they also enhance colors and make everything look super beautiful. Hikers hike for beauty so why not turn that up a notch?
These lenses are both protective (never experience eye strain from brightness) and light in tint to the point that I sometimes forget I am wearing sunglasses.
Lightweight frames and lenses
If you get sunglasses with lightweight frames, you literally forget you are wearing them. Thick, heavier frames can feel uncomfortable after several hours of use. I have experienced this, and won't go back to clunky heavy frames.
Wide coverage frame shape
Personally, I think that wrap-around prescription sunglasses, prescription aviator sunglasses, or a rectangular frame shape are best for hiking and backpacking. All of these styles provide a large amount of coverage from the sun. They also tend to hug closely to your brow area which will prevent the sun from shining downwards into your eyes. Maximum coverage is especially beneficial when you are hiking above tree-line and only have the shade of your hiking hat.
Rubberized temples and frame arms
Rubberized temples and frame arms is a feature that is pretty straightforward, although I have never had them on any other sunglasses. The rubber is soft and incorporated into these two parts of the sunglasses. The rubber prevents your shades from slipping or sliding so they stay in a position where they should. A great feature for fast-moving aggressive hikers.
Adjustable nose pads
I was very pleased to see adjustable nose pads on the Maui Jim Red Sands. The nose pads are attached to bendy wire so you may customize how the sunglasses fit your face and nose area. Sunglasses that do not have nose pads can feel like they cut into the sides of your nose after several hours of use and feel uncomfortable or even painful. I was very impressed to notice that these nose pads are replaceable.
Durability
The Maui Jim Red Sands feature MauiPure lenses that provide excellent scratch & shatter resistance. These sunglasses feature an injected nylon frame that is durable, thin, and lightweight.
Where can I buy Maui Jim prescription sunglasses?
There are many places you can buy Maui Jim prescription sunglasses.
But, if you order at SportRX and enter the discount code HIKINGDAILY10 at checkout you can save 10 percent.
How much do Maui Jim prescription sunglasses cost?
It really depends on the model you order. They are expensive. The frames on their own cost between $250-450. With prescription lenses, they will cost between $600-800. But as mentioned before they are guaranteed worth every penny. My Maui Jim RX sunglasses are still in great shape. The visual quality is brilliant. As soon as they are not, I will be buying a new pair at SportRX.
We use affiliate links and may receive a small commission on purchases. Please read our disclosure.