Thru-hiking is becoming more popular every single year. Especially, with the rise of social media. Platforms such as Instagram have generated an incredible amount of awareness of the most popular thru-hikes in North America and in other parts of the world.
So, what exactly is thru-hiking? How does thru-hiking differ vs. backpacking, regular hiking, or section hiking? Do you need to prepare differently and take special gear for a thru-hike? How long do the most popular thru-hikes take to complete?
These are very common questions beginner hikers and first-time thru-hikers ask and for good reason.
In this guide, we cover everything you need to know about thru-hiking.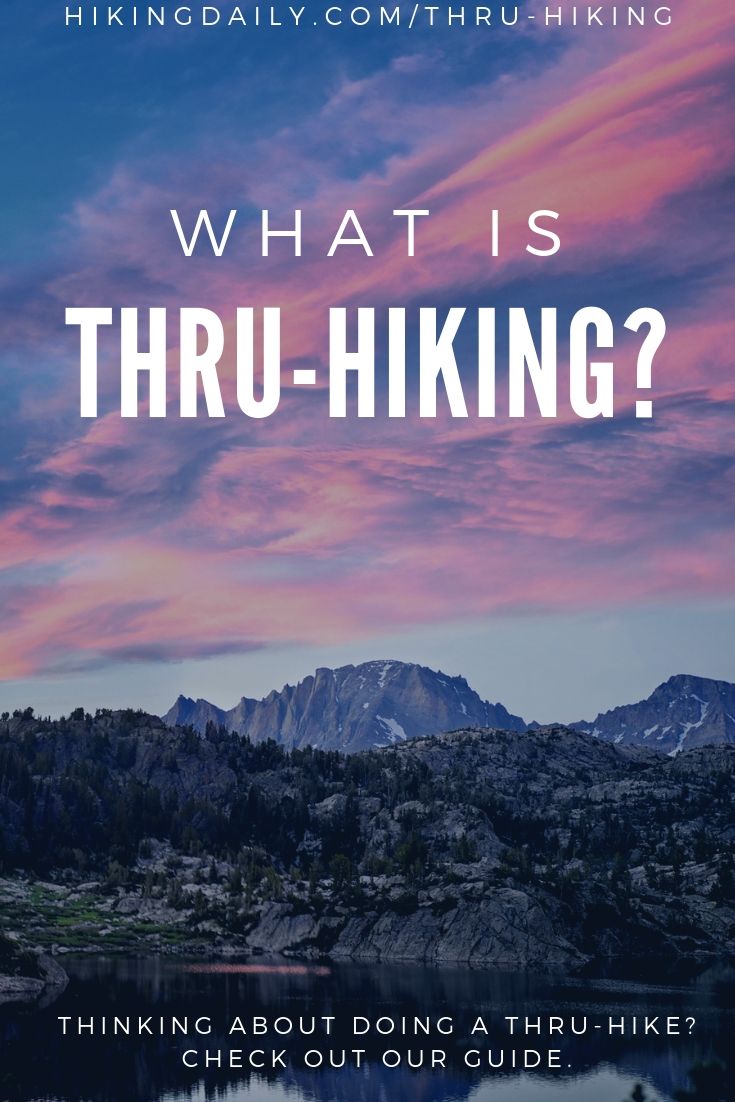 What is thru-hiking?
Thru-hiking (or through-hiking) is also known as end-to-end hiking.
The definition of thru-hiking is to complete a long-distance trail continuously in one calendar year (or within 12 months) from start to finish.
The focus is on high mileage days for a long period of time. The most popular thru-hikes in America such as the Appalachian Trail (AT), the Pacific Crest Trail (PCT), and the Continental Divide Trail (CDT) take 4-6 months to complete. They are all longer than 2000 miles and will take you up more than 400,000 total vertical feet of elevation. Thru-hikes are a long and grueling grind! They are challenging from both a physical and mental perspective.
Thru-hiking is unique in that it requires a lot of planning in advance to create your itinerary, and to make food and lightweight equipment choices. There is only so much food and equipment you can carry. Also, since you will be gone for a long time you may require seasonal gear.
Regular hiking, backpacking or section hiking differ from thru-hiking. These types of hiking activities are shorter in distance, elevation gains, and in time to complete. They are either short day hikes or sections of long trails that are completed over multiple days. Due to time and money constraints, plus the difficulty of thru-hikes, most people stick to section hikes or weekend backpacking adventures.
Thru-hiking challenges
There are three main challenges common to all thru-hikes because of the requirement of being on the trail for four to six months straight. It is important to think these challenges through before embarking.
Mental challenges
Thru-hikes are super tough on the mind for a few reasons.
Often, thru-hikers are solo hikers. Thus, loneliness can be an issue. You will definitely meet other hikers along the way. But you may also spend significant time alone. Long stretches of being on your own in your head can be tough for some people. It really depends on your personality. Some people love being alone, for others it becomes painful.
On the flip side, if you do a thru-hike with a companion you may totally get sick of that person after a few months which can be stressful.
Think deeply about which way (solo or with a companion) you want to go in advance. What is better for you?
Thru-hikes are very long in distance and time away. Any kind of adventure away from home that is longer than 3 months can start to feel too long as the initial excitement wanes. Some people start to miss the comforts of home. Many people get sick of eating the same trail food. Eventually, you may wonder why on earth did you do this? You might want to quit.
The best way to prepare for the mental challenges of thru-hiking is to do as many backpacking trips or section hikes in advance. Steadily increase the length and difficulty of your adventures. Try solo hiking and hiking with other people to determine what you prefer.
Physical challenges
Hiking thousands of miles over massive amounts of elevation gain is very difficult. You must be in tremendous physical shape. Especially, if hiking at higher elevations.
Blisters, injuries, colds/flu, altitude sickness, and other illnesses can become a factor, cause setbacks, or end a trip.
The best way to prepare for the physical challenges is to hike as much as possible in advance. Get your body ready for the toughest of hikes well in advance.
Financial challenges
Having enough money to be away for six months (while also not earning money) can be tricky if not impossible for most people. That's financial challenge one.
The second financial challenge is knowing exactly how much money you need to cover all your expenses before and during your hike. The primary expense will be purchasing (and possibly mailing) your food and equipment.
You will also need to budget some extra money for special occasions (such as taking a hotel night), to repair or buy gear, and emergencies.
The key to keeping your costs down is research. The more research you do upfront should lead to fewer mistakes (buying stuff you don't need) and better decisions (buying only what you really need).
Thru-hike planning and preparation
Plan months in advance. Experts say plan for as many months as you will hike, or slightly more.
Make the planning process part of the whole adventure.
Build up your excitement before your departure date. Make it a big event!
You will want to research and study your itinerary, how you will get your food and water, and the gear you will need.
Itinerary
Research maps, books, and web apps to learn about where you are going inside out
Think about your transportation requirements for before, during and after the hiking adventure
Understand where you will start, be over time, and finish

Mileage per day considerations

Get the necessary permits: trail, campfire, border, backcountry camping permits could be required
Think about potential food drop/resupply locations
Consider logical contingency plans for unexpected (extreme) weather, trail closures, injuries, etc
Food and water
Plan out how you will get your food. Some you will take, some you will receive by mail, and some you will buy along the way. You must figure out the ratios for your journey based on where you are going and what is available.
Water supply can be tricky. Identify where you will have no supply and plan for it. Think about how you will carry and treat the water you may easily acquire.
Thru-hike gear considerations
Do your research and get the gear you think you will need based on your skills and experience level.
Some people insist on ultralight gear. At the same time, some trails don't allow for it due to severe weather and demanding rugged terrain. Get what you think makes sense and will last.
Whatever you end up putting in your pack, make sure you know exactly how to use the gear. Gain some experience ahead of time. Don't do it on the big hike.
Thru-hiking gear checklist
Make sure you have everything that you need. Here is our starting point of common items to pack. Of course, you may like to add or remove items. You can go lightweight, or choose more robust hiking gear. It all depends on what makes sense or what you are comfortable with using.
Daypack (smaller than your backpack)
Pack rain cover
Suitable tent or shelter
Tent footprint/tarp
Appropriate sleeping bag
Sleeping pad
Safety whistle
Small mirror
GPS device or GPS watch (optional)
Multi-tool
Topographic maps, guidebooks
Compass
Trekking poles (optional)
Flashlight or LED headlamp
Batteries and chargers for all devices
Water filter and backup treatment system
Water filter replacement cartridge
Water bottles/storage
Stove, fuel, and repair kit
Matches, waterproof matches
Windproof lighters
Cookset, bowls, cup, utensils
Bear canister (optional)
Nylon rope (at least 60 feet)
Duct tape
Thru-hiking clothing and footwear
In general, pack light. Keep your list to a minimum. You can always wash the clothing you take. Pack appropriately for the weather. Be sure to take high-quality, durable items that will last the entire trip. Check out our complete hiking clothes checklist.
For hiking footwear, choose a hiking boot or hiking shoe that is suitable for the terrain.
Top 20 Thru-hiking tips
There's a saying out on the trails "hike your own hike". It basically means do what feels right for you based on your own experience and knowledge. And, also respect your fellow hikers' hiking style. The "you be you" of hiking lingo.
Below, you will find some helpful tips and suggestions that could make your thru-hiking adventure more successful and enjoyable.
1) Research ahead (thoroughly)
Know your route
Get the equipment you need
Learn outdoors and survival skills
Figure out your food plan

Decide what to mail, and what to buy elsewhere

Know where your water sources will be located
2) Decrease gear (items) and weight
Take only what you really need and keep your weight down. This will help you to move more quickly and easily.
3) Get in shape (train)
Do more local hikes, overnight hikes, section hikes, and backpacking trips before you tackle the big thru-hike.
Do other sports, and workouts too.
This will allow you to boost your overall fitness, learn about what gear you really need, decrease your pack weight and be super confident for a long trip.
4) Set a realistic budget
After buying the food and gear that you will start off your journey with, make sure you have a good amount of extra money. You will need it for food resupply, gear repair/replacement, postage, and laundry.
Don't run out of money.
5) Social support and communication
Have people send mail/notes/packages to cheer you on and keep you company. Provide addresses along the route where people can send you stuff.
6) Go easy on food drops and resupply
Only send what you know you will need. Avoid getting weighed down with items that are not useful.
If your thru-hike has known stores along the route it may be easier and cheaper to get what you need vs. sending a big box in the mail.
Consider your options.
7) Hike your own hike
Be humble. Respect others and their ideas.
8) Stretch often
Stretching will help to keep in shape and avoid injury. Take the time to stretch morning, day and night.
9) Listen to your body and mind
You are more likely to stay healthy and avoid injury if you listen to your body and mind. Trust your instincts. Go with your gut. Embrace a day off if you need it. Rest when you need it. Hustle when you feel strong.
10) Take care of your feet
Test a variety of footwear before you leave. Get to know what brands and styles of hiking shoes or boots work best with your feet.
Get quality footwear and keep your feet happy. There are many durable, sturdy, lightweight options you can get these days.
Mail (or bounce) a backup pair (or pairs) of hiking footwear to a location on your route.
11) Use a bounce box
You can mail yourself stuff to specific locations. But you can also "bounce" a box to several (or all) locations that you can receive mail. Reserve space in your bounce box for key items that you can't go without for too long.
12) It's not a race
For most people, it is about finishing.
Success (completion) rates are pretty low. As low as 10-30 percent depending on the trail.
13) Keep your schedule flexible
Be flexible with your itinerary and open to change if necessary.
Don't get too far ahead of yourself.
14) Prepare for a tough mental challenge (and fatigue)
Thru-hiking is not for all people. It is a daily grind for a long period of time. The mileage and elevation gain totals are massive. Mental and physical fatigue will set in at times. If you can, balance the tough work with something fun and creative.
15) Develop and go with a positive attitude
Persistent negative views will drain you. Practice looking at the positive aspects of life. Fortunately, the outdoors puts most people in a great mood. Nevertheless, times can get tough.
16) Scale your food intake
At the start of your thru-hike, you will require less food and calories per day. As you get deeper into the adventure your body will crave and need more. It's pretty easy to fall into a caloric deficit due to the hard work. Hiking all day long every day burns a huge number of calories. This is why hiking for weight loss is a popular fitness endeavor for many people. You will have to scale up your food intake towards the end of the journey. Everyone is different, so before you leave try to figure out what is a good base amount of food per day and be prepared to scale it up as appropriate. The other thing to consider is that some stretches of your thru-hike are going to be more demanding than other locations.
17) Be ready for detours
Depending on where you are doing a thru-hike, things might change.
For example, in dry years wildfires can cause problems in the Western United States.
Keep an eye on the status of all parts of your trail when you can. Then you will be ready for any potential delays or detours (trail re-routes).
18) Understand the problem (difficulty) zones
All of the popular thru-hikes have specific zones that seem to cause problems for hikers and can end a thru-hike. Research these locations so that you can be most prepared.
19) Consider seasonal factors
Since you could be gone for half of a year you may encounter different seasons and thus require different gear. Do your research and figure out if you need to swap out some of your gear because of weather change or trail conditions.
20) Seek out thru-hiking community
Whether it be online or on the trails get to know people and their experiences with thru-hiking and specific thru-hikes. Find golden nuggets of information that may not be available in other resources.
What are the most popular thru-hikes?
In the United States, there are the big three thru-hikes.
Appalachian Trail (AT)

2190 miles
515,000 feet of elevation
Approximate time = 165 days

Pacific Crest Trail (PCT)

2650 miles
489,418 feet of elevation
Approximate time = 150 days

Continental Divide Trail (CDT)

3100 miles
419,625 feet of elevation
Approximate time = 150 days
Of course, there are other thru-hikes all over the world. Some of the most popular include the Te Araroa Trail in New Zealand, the Camino de Santiago in Spain, the Via Francigena in France and Italy. For thru-hikes outside of Europe consider the Lycian Way in Turkey, plus the Great Divide Trail (GDT) in Canada.