Hiking on rugged terrain puts you at risk of a number of hazards. Falling rocks and uneven ground are just some of the obstacles you may find on alpine adventures. In such cases, a climbing helmet can provide valuable protection for your precious noggin'. We've compiled an overview of the best climbing helmets for hiking, so you can answer your what, why, and how questions, all in one place.
When to Wear a Helmet While Hiking
Hiking can present a range of hazards that may require the use of a helmet. Some common hiking situations when a helmet should be worn include:
Ridge hikes and/or scrambles: Ridge hikes and scrambles often involve steep, exposed terrain with loose rock and potential falls. Wearing a helmet can help protect against rockfall and other hazards.
Class 3+ hikes: Hikes that involve class 3 or higher terrain, which requires handholds and may involve exposure, can also benefit from the use of a helmet.
Waterfall hikes: Hiking near or behind waterfalls can expose hikers to falling debris and slippery rocks.
Glacier hikes: When hiking on glaciers, there is always the risk of icefall and rockfall. A helmet can help protect against these hazards.
High-altitude hikes: At higher altitudes, there may be increased rockfall, icefall, or other hazards that make a helmet necessary.
Group hikes: When hiking with a group, the risk of rockfall or other hazards can increase, and wearing a helmet can help protect against accidents caused by others.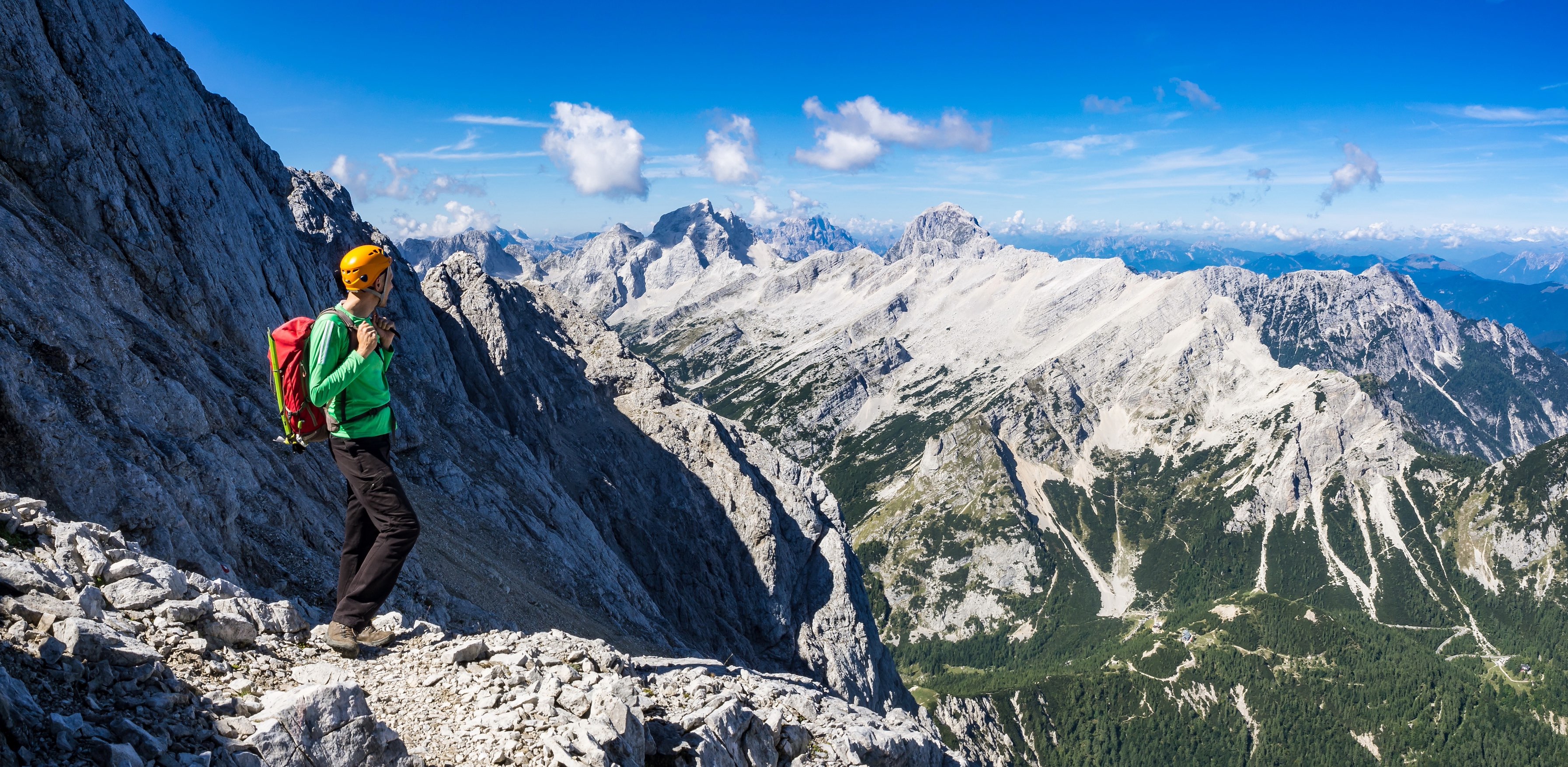 Reasons to Wear a Climbing Helmet
A rock or branch to the head is a surefire way to ruin your adventure, and it is always better to be safe than sorry. Ultimately, wearing a climbing helmet while hiking can provide several significant benefits for your safety and well-being. If you're wondering why you should wear a climbing helmet while hiking, are some things to consider:
Protection against falling objects: When hiking in rugged (especially alpine) terrain, there is always a risk of falling rocks or other objects. A climbing helmet can help protect your head from impact and minimize the risk of serious injury.
Protection against falls: A climbing helmet can help protect your head in case of a fall. This is especially important when hiking on steep terrain, or near cliffs and other drop-offs. I always wear a helmet if I plan on scrambling some ridges (like these)!
Protection from low-hanging obstacles: Ever taken a tree wack to the head? I sure have. When hiking in areas with low-hanging branches or other obstacles, a climbing helmet can help protect your head from impact – especially when the completely unaware hiking partner in front of you pushes tree branches ahead like a slingshot (we all have that one friend)…
Increased visibility in case of SOS: Many climbing helmets are brightly colored or have reflective materials that help increase your visibility to other hikers or rescue personnel in case of an emergency.
Protection from the elements: Climbing helmets can also provide protection from the sun, wind, and rain, helping to keep you comfortable and safe in changing weather conditions.
What to Consider When Buying a Climbing Helmet
There are a whole lot of climbing helmets available on the market. To find the right helmet for your needs, there are several factors to consider:
Safety standards: Look for helmets that meet safety standards set by organizations such as the UIAA (International Climbing and Mountaineering Federation) or the CE (European Conformity). These standards ensure that the helmet has been rigorously tested and meets minimum safety requirements.
Safety Technology: MIPS (Multi-directional Impact Protection System) is a technology used in climbing helmets to reduce rotational forces and decrease the risk of brain injury in the event of an impact. It consists of a low-friction layer inside the helmet that can move independently from the outer shell. It's pretty cool, and the technology is becoming increasingly popular in climbing helmets.
Fit: The helmet should fit snugly on your head without being too tight or loose. Look for helmets that have adjustable straps or a dial system (like the Black Diamond's Half Dome) to ensure a comfortable and secure fit.
Weight: A heavy helmet can be uncomfortable and may affect your balance and agility while climbing. Look for helmets that are lightweight but still provide adequate protection.
Ventilation: Climbing can be physically demanding and generate a lot of heat. Look for helmets that have good ventilation to help keep your head cool and comfortable.
Durability: Climbing helmets are exposed to a lot of wear and tear, so it's important to choose a helmet that is durable and can withstand impact and abrasion. Your noggin is worth the investment, so make sure to replace your helmet if and when it gets too worn down.
Price: Climbing helmets can range in price from around $40 to $200 or more. Consider your budget and choose a helmet that provides good value for the price. Scroll down a bit to learn more.
Climbing Helmet Features to Look Out For
Type of Foam: When it comes to climbing helmets, both EPP and EPS are commonly used. EPP foam is known for its high density and superior impact resistance. This type of foam is designed to absorb and dissipate energy from multiple impacts, making it an ideal choice for climbers who need extra protection against falls or rock strikes. In contrast, EPS foam is lighter, which makes it a good choice for long, alpine hikes. EPS is often used as a liner for climbing helmets to provide cushioning and shock absorption.
Type of Shell: There are several styles of climbing helmets available, including hard shell and foam shell helmets. Hard shell helmets are more durable and provide better protection against puncturing, while foam shell helmets (like Petzl's Sirocco helmets) are lighter and more comfortable. Consider which style best suits your needs and preferences.

ABS/Polycarbonate Shell: A polycarbonate/ABS climbing helmet shell is a durable and impact-resistant shell that is commonly used in industrial climbing helmets. The combination of polycarbonate and ABS materials makes the shell both strong and flexible, allowing it to absorb and distribute impact forces more effectively. PIP global makes a popular climbing helmet with an ABS/Polycarbonate Shell here.

Headlamp Compatibility: Most, if not all, climbing helmets offer a form of headlamp compatibility. Some offer better features than others, so be on the lookout.
Color: In this case, style does matter. If you are planning on wearing a climbing helmet during summer hikes, opt for designs with lighter colors (and stay away from black)!
Pony-Tail Friendly: Most "women's models" just offer different colors, but some climbing helmets, like the Black Diamond Half Dome and Petzl Borea are "pony-tail friendly." This basically just means the helmet has an upward curve on the back. If your ponytail tends to get in the way, one of these options may be a good fit!
Popular Hikes Where You Need a Climbing Helmet
Okay, maybe I haven't sold you. Yet!
There are several popular hikes that require a climbing helmet due to the rugged terrain and potential rockfall hazards. Consider:
The Diamond, Longs Peak (Rocky Mountain National Park): The Diamond is a steep and technical climb up the east face of Longs Peak, one of Colorado's most iconic fourteeners (learn more about them here). The rockfall danger is extremely high, and a climbing helmet is strongly recommended. They're called the Rocky Mountains for a reason.
Capitol Peak (Maroon Bells-Snowmass Wilderness): This hike includes an exposed summit ridge that requires careful navigation and increased awareness of rockfall hazards.
Crestone Needle (Sangre de Cristo Range): The Crestone Needle is a popular summit in southern Colorado that requires technical climbing skills. The climb involves exposed rock and potential rockfall hazards.
Angels Landing (Zion National Park, Utah): This hike is known for its steep and narrow trail, leading to a lookout point with stunning views of the park. The last section of the trail involves a narrow ridge with steep drop-offs on both sides. Many hikers choose to wear a helmet for added safety.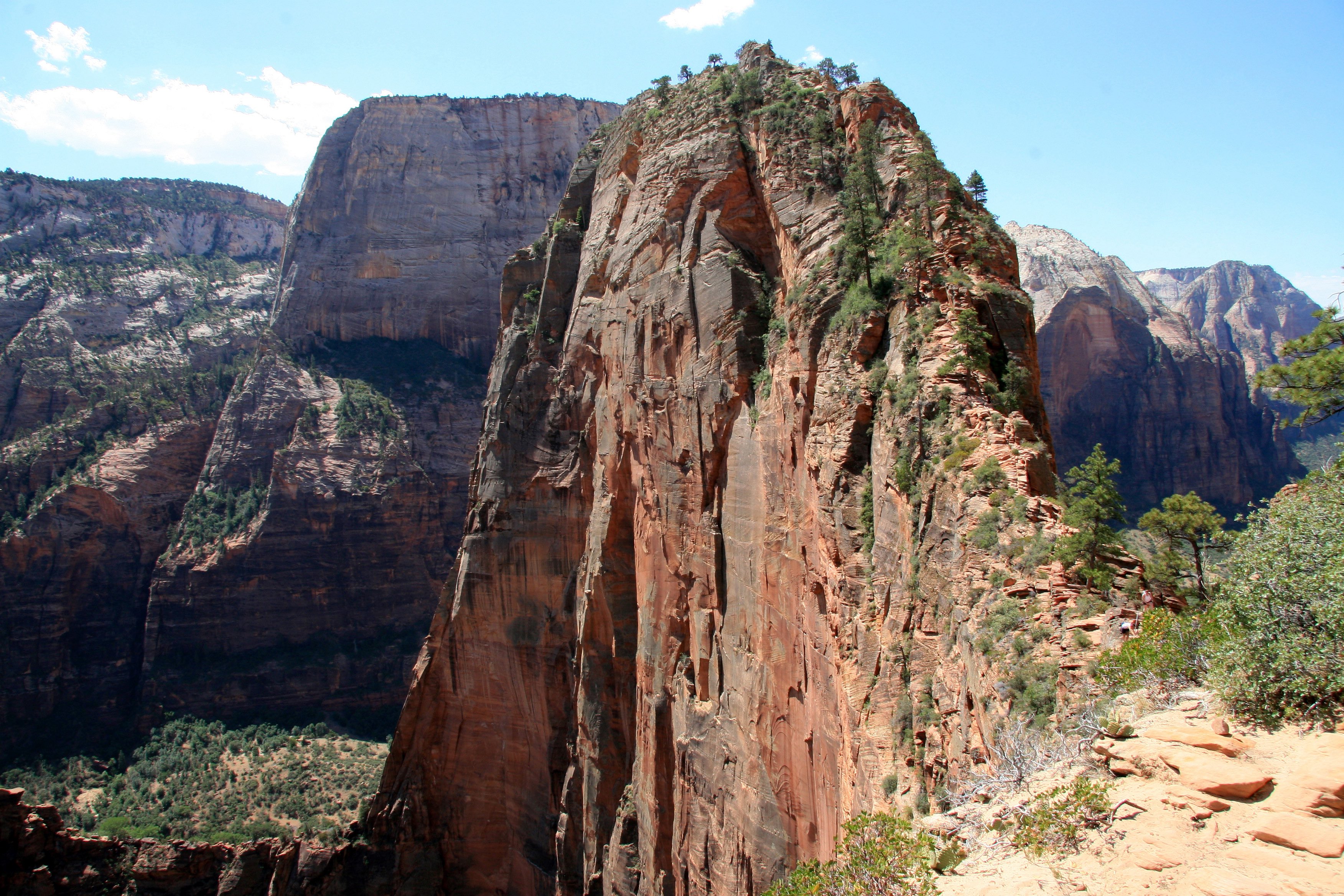 Half Dome (Yosemite National Park, California): This hike involves a strenuous climb up a steep granite dome to reach the summit, where hikers are rewarded with stunning views of the park. The last section of the trail involves a climb up steep cables, and many hikers choose to wear a helmet because of the higher fall potential.
The Best Climbing Helmets for Hiking
These helmets offer are designed to protect your noggin in the event of a climbing accident. Though rock climbing and hiking pose different risks, many, like rockfall, require the same type of defense that a climbing helmet provides. Below are our picks of the best climbing helmets for hiking:
1. Best Overall Climbing Helmet for Hiking: Black Diamond Vision
Why you should buy this helmet:
You should buy the Black Diamond Vision helmet for a lightweight, well-ventilated helmet that provides excellent impact protection. It's comfortable to wear for long hikes and hot days, while meeting providing great protection for your head.
Pros
Lightweight
Great ventilation
Cons
High price point compared to some other helmets on the market
Not intended for heavy use, less durable than other models
Where to buy this helmet:
Why you should buy this helmet:
The Petzl Meteor provides similar protection to the Black Diamond Half Dome at a comparable cost. It is a great option if you don't like the Half Dome's fit, but want a helmet with similar coverage and a competitive price. Pros
Lightweight
Easily adjustable
Well ventilated
Cons
Magnetic buckle may collect dirt
Not as cheap as Half Dome
Where to buy this helmet:
Why you should buy this helmet:
The Black Diamond Half Dome helmet is one of the most popular helmets for hiking due to its affordable price point and durability. It is the only helmet on this list that comes in men's and women's sizes.
Pros
Hard plastic shell is very durable
Wide range of adjustability
More affordable
Cons
Less coverage
May not be as comfortable as other models
Not as much ventilation
Where to buy this helmet:
4. Best Lightweight Climbing Helmet for Alpine Hiking: Petzl Sirocco
Why you should buy this helmet:
The Petzl Sirocco is the lightest helmet on the market. It's versatility makes it the perfect companion on long and hard days in the alpine – no matter the activity.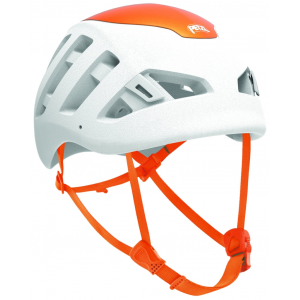 Pros
Superlight
Great ventilation
Very comfortable
Cons
Not as durable as other helmets
Expensive
Not easily adjustable
Where to buy this helmet: