Tera Kaia is a sustainability-minded, women-owned business makes the best sports bras and underwear for outdoor-folks of all body types.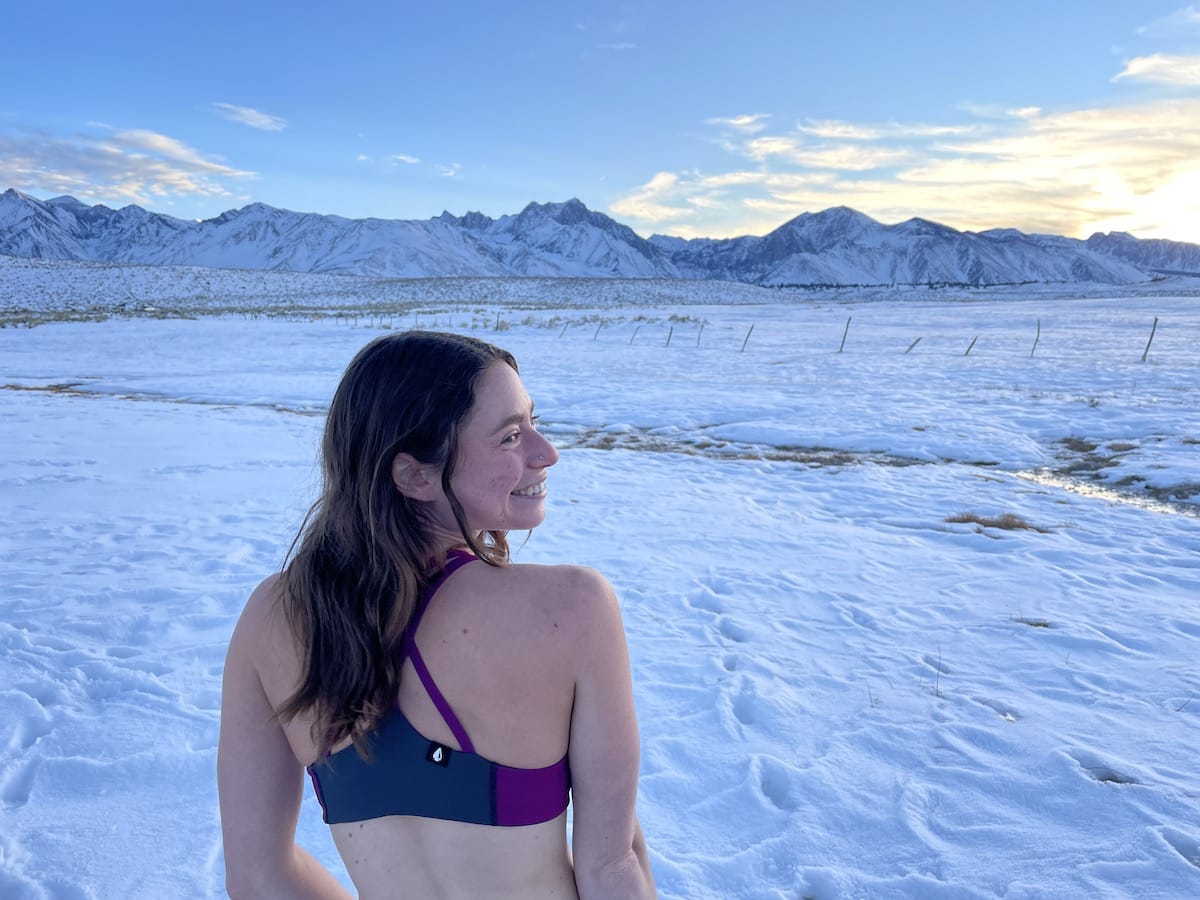 Tera Kaia is the Best Up-and-Coming Sports Bra Brand on the Market
Last year, living in the eastern Sierra Nevada, I often passed by Tera Kaia's sleek corner storefront on Bishop, California's Main Street. Bishop is a sleepy town in a recreational paradise: a climbing, hiking, skiing, and running destination set in the expansive desert of the Owens Valley. The towering peaks of the Sierra skyline form the town's massive backdrop.
Tera Kaia is a sustainability-minded company that makes Basewear designed for all bodies. Think durable sports bras and underwear that double as swimwear, perfect for backpacking into the mountains and diving in an alpine lake. My friends on the East Side swore by their Basewear from Tera Kaia, and when I finally decided to go in and give their products a try, I too became a fan.
What Makes Tera Kaia Unique?
Tera Kaia was founded in December 2016, and employs only 4 people. A local, woman-owned company, Tera Kaia's product design is based in the rugged mountains of the Sierra – they chose Bishop as their home because their Basewear is "tested and used by customers in the Sierra Nevada mountain range," according to Lauren Breitenbach, one of Tera Kaia's co-founders.
Tera Kaia makes a small array of high-quality Basewear tops and bottoms that are perfect for hiking, ski touring, running, swimming, climbing, and backpacking. During the winter, I wear my Basewear out on the skin track and into the hot springs for a soak. In the summer, when I'm guiding in Yosemite National Park, I wear my Basewear for multiple weeks on end of backpacking, with no need to change in between trips. After a quick lake dip and laying it out in the sun, my Basewear smells fresh and clean, even after intensive use.
And let's face it: people who don't wear sports bras don't know how to design sports bras for people who do. Many sports bras that I own have uncomfortable seams, don't provide enough support, or lead to slippage during a downward dog in yoga class. The women behind this line of Basewear have created an excellent array of products that are well-suited to different body types and intensities of physical activity. Clearly, the designers of these Basewear products understand the variation in women's bodies, and how to design products that make women feel comfortable and great about themselves.
Check out Tera Kaia on Instagram: @terakaia
Quick Picks from Tera Kaia
Best for Transitioning Between Trail and Town: Tera Kaia MARA Crop Top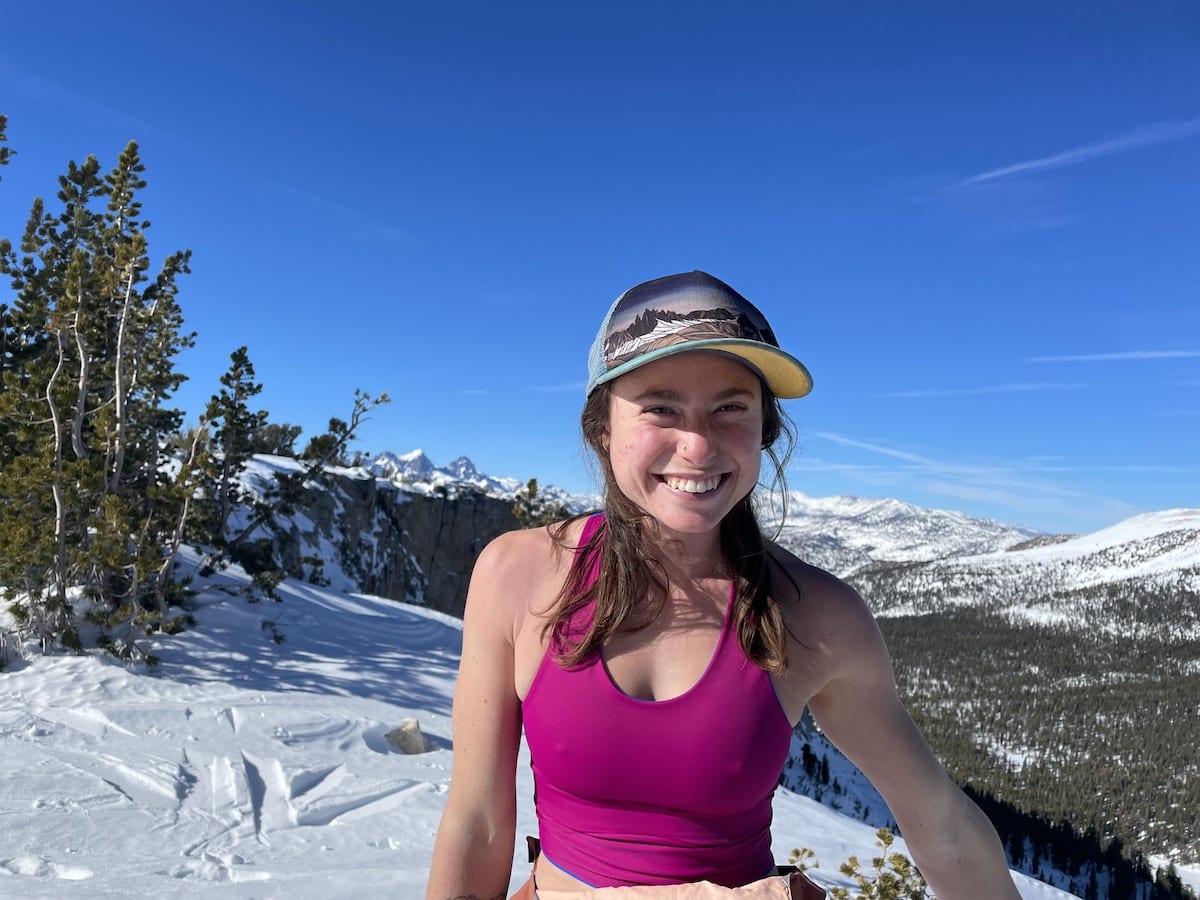 The Details:
Price: $74.00
Color: Lupine/Hibiscus
Size: 2
Fit: Perfect
Product Summary:
The MARA Crop Top is a crop top-sports bra-swimwear combo that provides excellent coverage and support for high-exertion activity. It functions as a stand-alone top in warm weather, a sports bra that can be layered underneath a long-sleeve shirt in cold weather, and a swimwear top when there's no time to change between activity and a dip in the lake. I love my MARA Crop Top because it is incredibly flattering and comfortable for exercising or lounging. The MARA top is my new favorite piece because it is seamless (that means no chafing!), provides excellent support, and has comfortable lay-flat straps. The lay flat straps are unique from other sports bras I have used, because they don't chafe underneath my backpacking pack or day pack if I am wearing the MARA without a shirt over it. It is suggested for cup sizes A-DDD+.
Product Features:
Antimicrobial fabric
Lay-flat straps
Seamless design
Reversible
Recycled fabric
Pros:
Excellent coverage and support for high exertion activity
Absolutely no nipple slippage
No-chafe, lay-flat straps don't move underneath backpack straps
Seamless design is incredibly comfortable
Dries extremely quickly
Antimicrobial fabric stays fresh and clean
Reversible style means that the sports bra has a 2-in-1 look
Extremely durable design
Flattering cut
Cons:
Some may not like the long-line cut of this piece for swimming
For those with a bigger chests, some side-boob slippage is possible
Color choices are currently limited
Best For:
High intensity activities like trail running, ski touring, and Vinyasa-style yoga. This sports bra also is also incredibly comfortable for hanging out around camp with sweatpants for a cozy evening. I wear it both as a standalone shirt or as a sports bra under a loose tank top or sun hoodie. It performs extremely well without being washed, making it one of my backcountry travel essentials.
Why Buy:
I haven't taken off my MARA Crop top since I got it. It's supportive enough for any outdoor activity, but comfortable enough that I don't want to take it off when I get home. This is the most versatile, high quality sports bra I have ever owned: I cannot overstate how much I love it.
Scoring:
Comfort and Fit: 10
Support: 10
Durability: 10
Versatility: 10
Overall Score: 10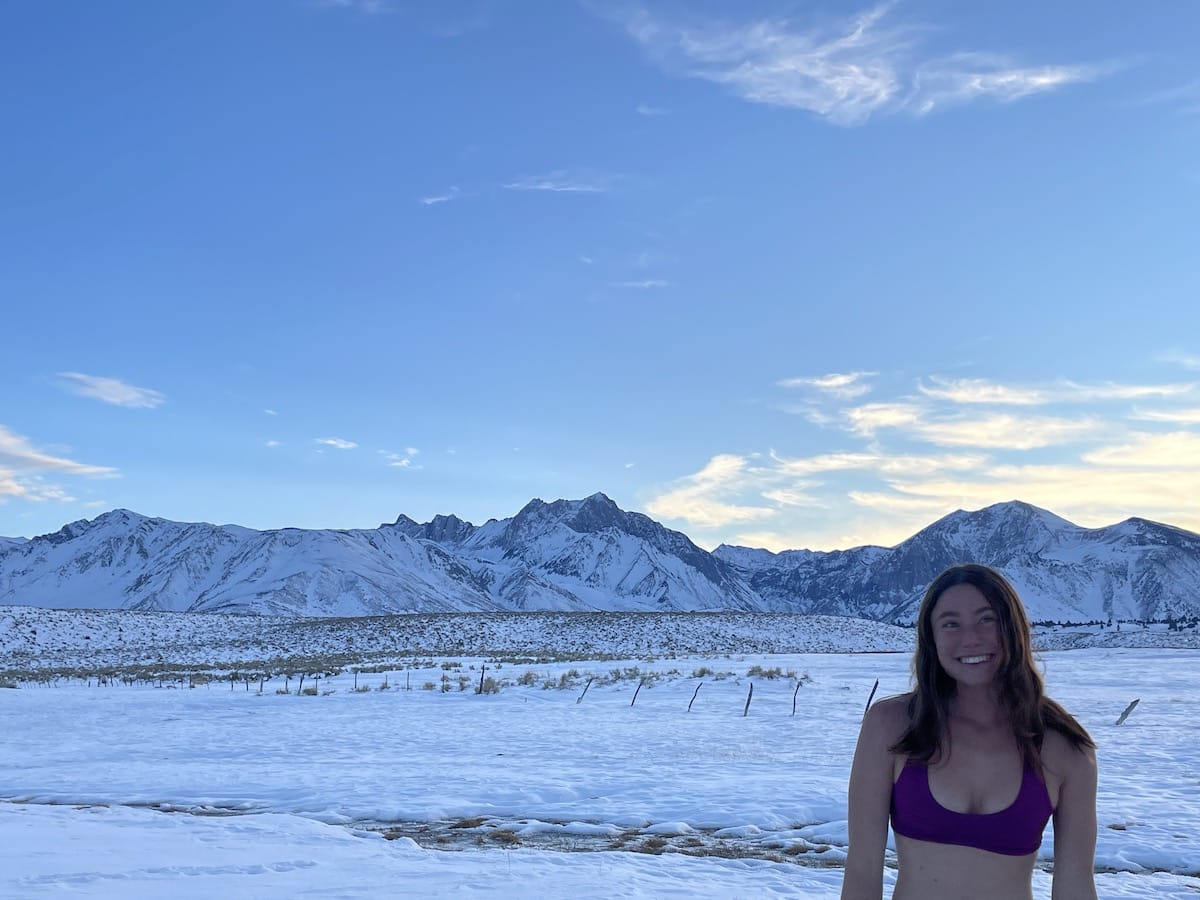 The Details:
Price: $68
Color: Orchid/Charcoal
Size: 2
Fit: Somewhat snug
Product Summary:
The TOURA Low Cut Basewear top is Tera Kaia's minimal coverage sports bra designed for low-impact activity. I wear this as my day-to-day sports bra. The TOURA Low Cut has a flattering, strappy back that looks stylish for anything from skinning to swimming. The minimal coverage feel is incredibly comfortable, and I love this daily driver sports bra: it feels like wearing nothing. This product is suggested for cup sizes A-C.
Product Features:
Swim friendly
Lay-flat straps
Seamless design
Antimicrobial fabric
Pros:
Extremely comfortable
Stylish design looks awesome as a swimwear top
Dries extremely quickly
Antimicrobial fabric stays fresh and clean
Reversible style means that the sports bra has a 2-in-1 style
Super durable
Cons:
Some nipple slippage for those with larger chests
Minimal support for those with larger chests
Straps are less streamlined than the MARA
Best For:
Swimming, hiking, climbing, backpacking, riding a bike, stretching, and lounging by the lake. I especially love the TOURA Low Cut for swimming. When I go to the hot springs in the winter after a long day of ski touring or winter running, the TOURA makes it so I have no need to change before soaking.
Why Buy:
I love the TOURA Low Cut top. While it's not a quiver-killer for those who enjoy high-intensity, high-impact activities, it is an excellent day-to-day sports bra and swimwear top. I much prefer the TOURA Low Cut to any of my other swimwear tops, as it is more flattering, comfortable, and versatile than anything else I own.
Scoring:
Comfort and Fit: 9
Support: 7
Durability: 8
Versatility: 8.5
Overall Score: 8.1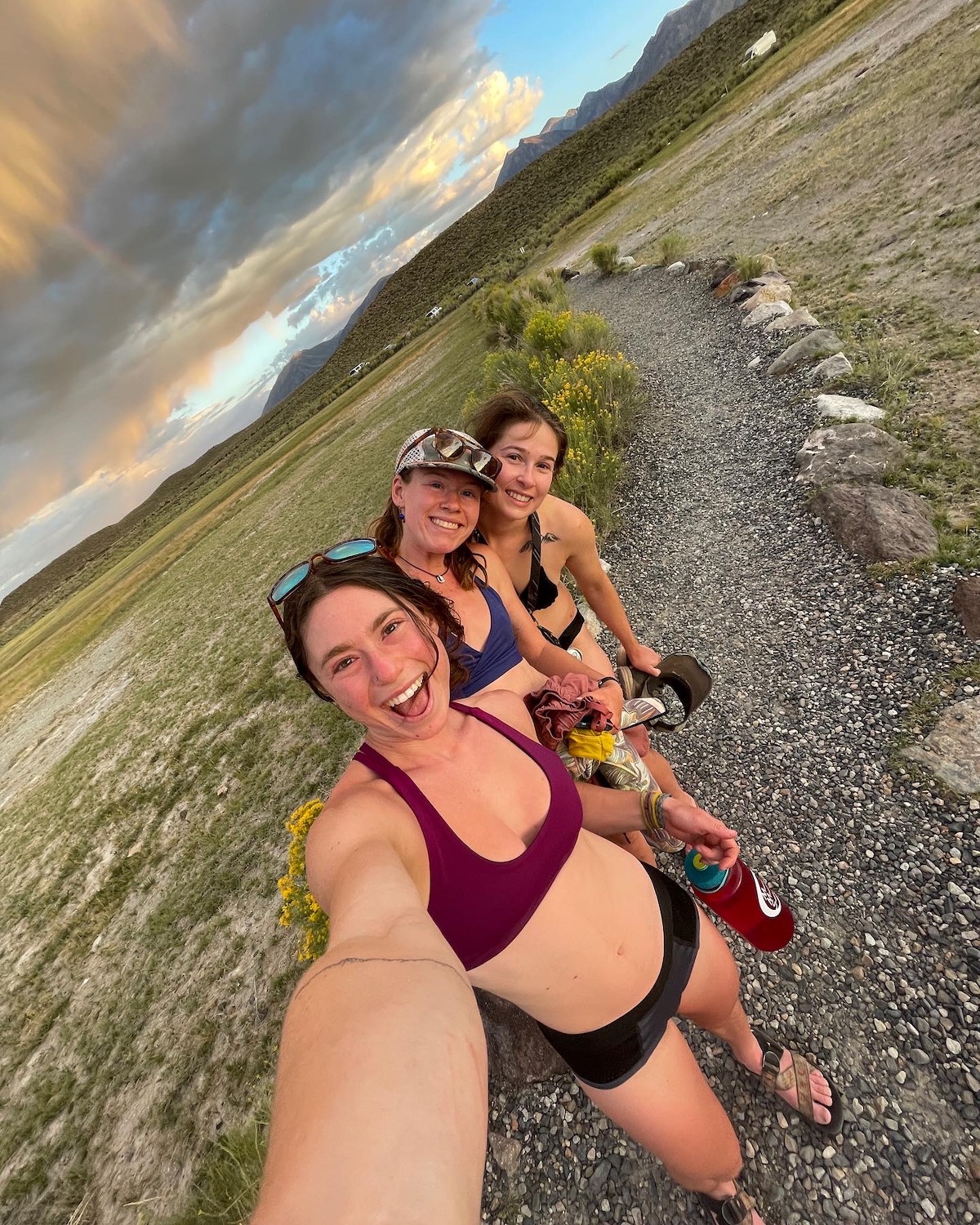 The Details
Price: $32.00
Color: Granite
Size: 0
Fit: Perfect
Product Summary:
The TOURA Basewear Brief is Tera Kaia's mid-coverage briefs. These briefs are another combo piece, functioning as both swimwear bottoms and underwear. These briefs are excellent for travel, as the antimicrobial fabric keeps them fresh, they function as swimwear and underwear, and they dry incredibly fast. The fit is cheeky, with good coverage and a flattering cut. For more suggestions on the best hiking underwear, check out this article.
Product Features:
Antimicrobial fabric
Recycled fabric
Swim-friendly
Pros:
Stays put during activity without riding up
Does not stretch out when swimming
Incredibly comfortable
Great coverage with a flattering cut
Dries extremely quickly
Antimicrobial fabric stays fresh and clean
Cons:
Limited color choices
Mesh side-paneling is sensitive to small tears
Best For:
anything active! I have traded in all of my other underwear and swimwear bottoms for the TOURA Basewear Brief: I now have 3 pairs. These bottoms are comfortable for hiking, running, swimming, ski touring—you name it. I also love these for travel, since they are so easily sink-washable, and dry incredibly quickly.
Why Buy:
I'm obsessed with these briefs. The TOURA Brief Bottoms stay put when I swim in them, and do not stretch out underwater like many women's swimwear bottoms. They also do not ride up when I use them for exercise, staying in place during all my mountain adventures.
Scoring:
Comfort and Fit: 10
Durability: 7.5
Versatility: 10
Overall Score: 9.2
How I Tested Tera Kaia's Basewear
For this review, I tested the above Tera Kaia products for a wide variety of uses: yoga, ski touring, running, hiking, climbing, swimming, and backpacking. I used their MARA Basewear Crop Top and TOURA Low-Cut Basewear Top, and TOURA Brief Basewear Bottoms on many winter and summer mountain adventures from California to Colorado. I am 5'0" and 100 pounds with a muscular body type, and generally wear a small sports bra and extra small bottoms.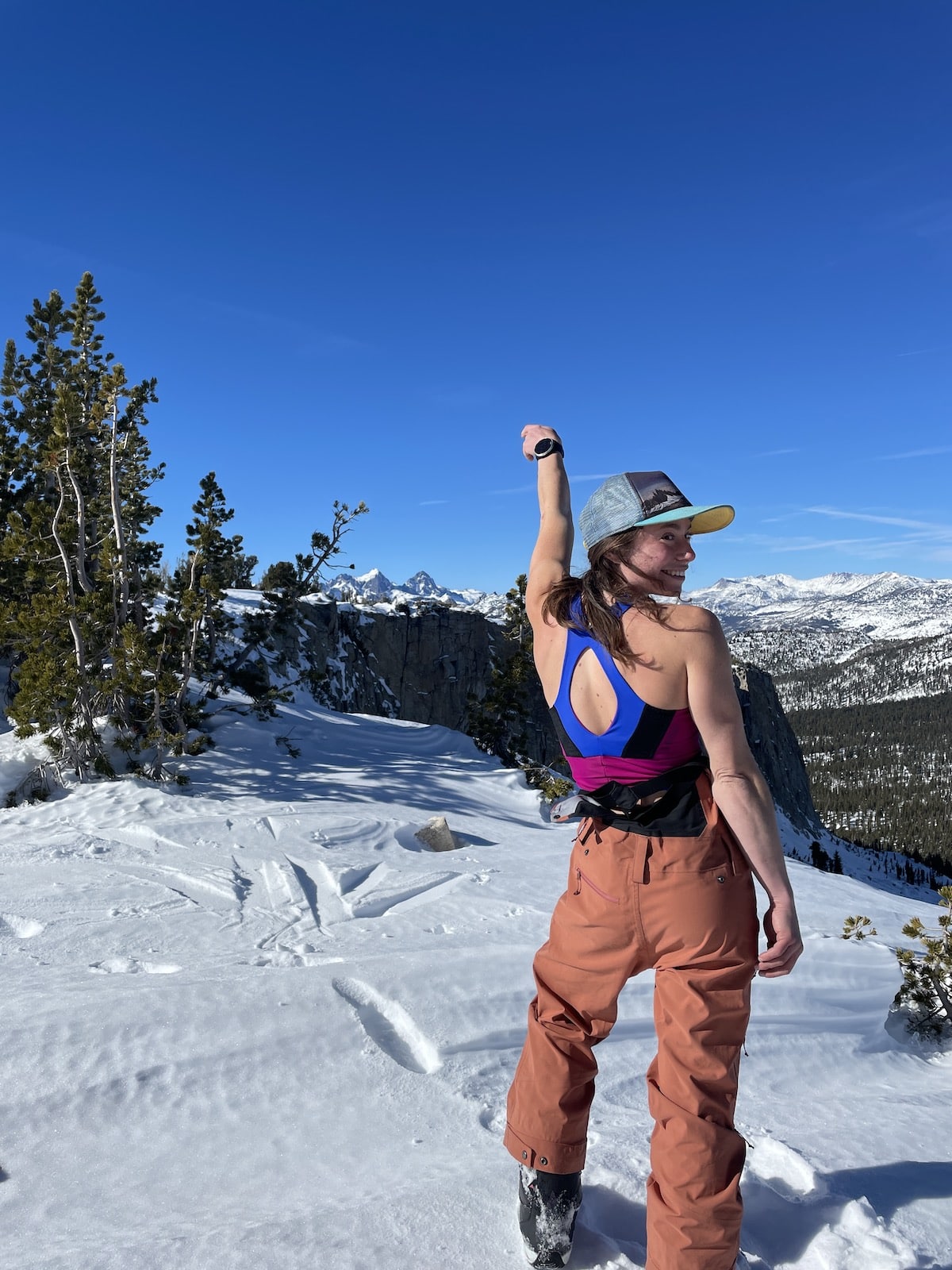 The Claim
Tera Kaia co-founder, Lauren Breitenbach claimed that Basewear from Tera Kaia is unique because its design was driven by a "lack of functional underlayers for women." She wrote that, "Especially for muscular body types (like climbers), most sports bras cut into the lats and traps, rendering them very uncomfortable. Plus, living an outdoor lifestyle there were lots of moments where our sports bra turned into a bathing suit for a lake jump, but wasn't actually a bathing suit!" Tera Kaia sought to change this by designing functional underlayers that "are constantly tested, on all body types, until they fit like a dream… never restricting movement," according to Breitenbach.
My Testing Process
I attempted to test these claims through continuous use of Basewear. My goal was to be as hard on my Basewear as possible. This summer, as a backpacking guide in Yosemite National Park, I wore my TOURA Low Cut Basewear Top and TOURA Basewear Brief Bottoms on every trip that I guided. Trips ranged in duration from day hikes to 14 days in the backcountry, and this gear became absolutely essential to my guiding kit. These extended-use scenarios put Tera Kaia's antimicrobial fabrics and durability to the test– backpacking in my Basewear all day.
To test out the features of my Basewear in the front country, I wore my MARA Crop and TOURA Basewear Bottoms for a week of continuous use within my several months of testing. I wore them to hot yoga, ski touring, and a few dips in the hot springs. After hot yoga and soaking in the hot springs, I gave them a rinse in the sink, hung them up to dry, I proceeded to wear them for the rest of the week—and didn't even wash the MARA top before packing it away in my suitcase for a trip to Alaska!
From these experiences, I rated the following categories on a scale of 1-10 (10 being best, 1 being the worst), and then averaged them out to arrive at a final score.
Categories: Comfort and Fit, Support, Durability, Versatility
Score Scale: 1-10
Frequently Asked Questions
Q: So, are these products underwear or swimwear?
A: Yes– they're both! The fabric on both Tera Kaia's tops and bottoms dry super fast – it is more reminiscent of swimwear material than typical sports bra material. This is awesome because I just rinse mine and lay it out in the sun for a little bit after use, and it is good to go for the next adventure.
Q: How often should I wash my Tera Kaia Basewear?
A: I've put my TOURA Low Cut and MARA Crop Top through the wringer in the past two seasons of using them. They've been sweated in for 14 days on end and caked with dirt. I generally swim in my Basewear or rinse it in a lake or water body between uses as opposed to giving it a full-on wash. When I use my MARA for hot yoga or a dip in the hot springs, I give it a quick rinse in the sink and lay it flat to dry. The company recommends that you wash Basewear infrequently for a longer life. I only wash mine in a washing machine around 2 times per month wearing them every day, which has maintained the bright colors and fabric integrity.
Q: What is the warranty on Tera Kaia Basewear?
A: While I found my Tera Kaia gear to be extremely durable, I learned that if it does get damaged, they will repair your Basewear for you through their Basewear Repair Program. I have yet to use this program, but it does show that this brand is putting their money where their mouth is on environmental sustainability and durability of their products. The Basewear Repair Program is part of Tera Kaia's sustainability mission, ensuring that products last as long as possible so Basewear users do not need to replace their sports bras or bottoms.
Q: Is Tera Kaia an environmentally friendly company?
A: Yes. Breitenbach says that "Sustainability is at the forefront of our mind during every step of our design process from creation to end-of-life." At the beginning, this means designing products "designed to last for years," and then repairing Basewear through their Basewear Repair Program to "give it a second life and keep it out of the landfills." In their manufacturing process, Tera Kaia prioritizes recycled fabrics in addition to treating and reusing wastewater created during the textile dyeing process. When distributing products, they use all compostable or reused shipping packaging. Tera Kaia's new products, the TOURA 2 and MARA line (Crop Top, High Cut, and High Waist Bottoms), are made of all post-consumer recycled materials. These products are equally durable and comfortable as the old ones, which were made of all new materials.
The Bottom Line
Overall, I cannot recommend Tera Kaia Basewear more highly. My favorite product that I tested was the MARA Crop Top because it is a unique, fast-drying layer that is versatile, comfortable, and incredibly flattering. I have been wearing it non-stop since I got it, and plan to wear it until it wears out enough to send it to the Basewear Repair Program. The TOURA Brief Bottoms are an amazing piece that washes easily, stays in place when swimming or exercising, and looks awesome on every body. Plus, it feels great to be supporting a small, women-owned business that prioritizes sustainable practices and empowering outdoor ladies!
Buy Each Product Below:
TOURA Low Cut Basewear Top: $68