For anyone who prefers short hikes or extra light gear, hiking sandals are a great choice to add to their collection. They usually weigh far less than any other hiking shoes available but are also tough enough to handle the rocks and trails you climb.
Not all sandals are built the same, so there are a few things you need to know so you can pick the right pair for what you need.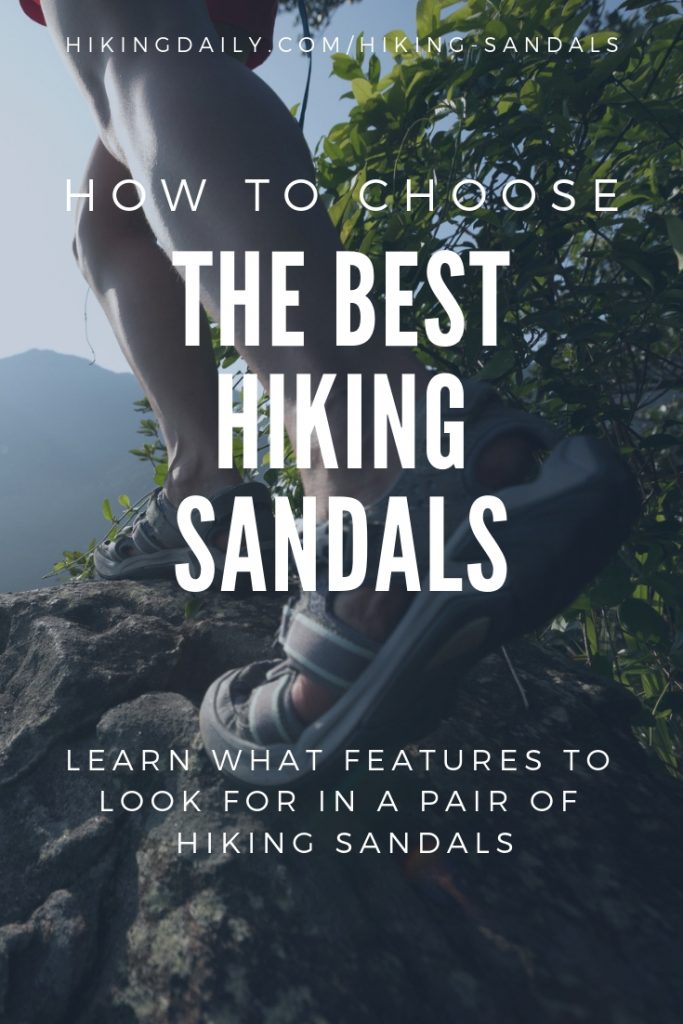 Hiking Sandals Overview
When to use hiking sandals
You will want to bring hiking sandals if you have a mellow hike, are going through short spurts of water, or to lounge in while camping. If you're going on multiple day trips or camping, it's great to switch into these and give your usual hiking shoes time to breathe or dry.
Hiking sandals are not always the best option depending on the type of trip you plan to take. If you have a long hike, a trail full of rocks, or you're going to deal with bad weather, you'll want to use your regular hiking shoes for those adventures.
Advantages/disadvantages of hiking sandals
Hiking sandals are usually not good for rough terrain due to the lack of stable grip and overall foot support. This can lead to slipping and twisting your ankle or falling.
They can also be great for hiking through wet conditions such as low-level rivers because you don't have to get your socks and hiking shoes wet. If you need to go through water it's easy to slip these on, cross over, and then can quickly dry off your feet to keep hiking.
How To Choose The Best Hiking Sandals
Let's cover some important considerations that will help you choose the best hiking sandals for your hiking needs.
1) The Fit
Like all shoes, it's important to find ones that are a good fit for your foot. You want to make sure they're snug enough to stay on your feet but roomy enough to not dig into your skin.
Most hiking sandals come with adjustable straps so you can make them tighter or looser depending on the activity you're currently doing.
You'll want to keep in mind that most hiking sandals will be used with and without socks, depending on the type of environment and weather you're in, so make sure you pick a size that will be comfortable for both conditions.
2) Comfort
Arch Support
The one thing that separates hiking sandals from regular beach sandals is the durable, quality arch support and base. Most beach sandals come with a flat, weak base which is fine for the beach or by the pool, but if you're hiking you want a shoe that can support your feet and handle the trails.
Cushioning
For hiking sandals, you'll find that some have firmer cushioning than others. If you plan to put in some serious miles with them, you should look on the firmer side so they can give your feet the support they need during the distance. However, if you plan to wear them in more relaxed environments, you can go for the softer ones.
Shock resistance
As above, the same factors come into play when it comes to shock resistance. If you plan to hike a lot or be around rockier/tougher areas, you'll want to keep an eye out for sandals that have built-in shock resistance. This will help keep your ankles strong and supported.
3) Traction
Like most gear that goes on your feet, traction is a huge factor you'll want to consider. Most hiking sandals have good traction, especially compared to beach sandals. With every pair you consider, flip them over to get a good look at the tread on the bottom. Double check that there's a decent amount of tread, especially along the heels and toes.
Soles
You'll want to make sure the sole of any hiking sandals you're considering buying have a stable sole. Don't be afraid to bend the shoe and see how much flexibility it has. You want them to be flexible but sturdy enough to handle rocks and a variety of terrain.
Be sure to keep an eye out and make sure the sole itself has good grip on it. If there isn't any kind of ridges or grips, in wet conditions your foot will slide all over the sole of your shoe, making them uncomfortable.
4) Toe Protection
When it comes to toe protection, you'll mostly have two options: open-toe and closed toe sandals. You'll want the extra toe protection if you plan to hike along rocky or steep terrain. This will keep your toes safe and free from being scratched. It will also give you extra grip if you plan to climb anything steep.
5) Durability
Similar to hiking shoes, hiking sandals are usually built with durable materials that will keep them lasting much longer than beach sandals.
Materials
The most common hiking sandal materials you'll find on the market are:
Leather – This isn't as common as other types of materials, but some sturdy hiking sandals will have leather straps.
Nylon – The most common hiking sandal material. You'll find that most of the options have nylon material on everywhere but the sole of the shoe.
Polyester – Along with nylon, polyester is common for webbing on most hiking sandals
Vibram – Incredibly common as the sole material since it's sturdy and can last through a ton of hikes.
6) Coverage
You'll have to analyze what types of hikes you plan to do with your hiking sandals so you know whether to look for ones with more or less coverage.
Some have skinny, minimalist straps and some have a good amount of coverage. If you're looking to do short hikes without a lot of steep inclines or go through water, ones with less coverage should work perfectly.
If you're looking to do hikes in cooler weather or on more difficult terrain, the more coverage the better would work.
7) Use/Versatility
Although hiking sandals can be used for a variety of activities, you'll want to keep your usual hikes in mind when shopping for some. How long are the hikes you usually do? Do you like to stop along the way? Are they steep or rocky? Do you hike in more wet or dry conditions? Answering these questions will help determine the right pair for you.
8) Waterproof hiking sandals
If you plan to go through a lot of wet conditions or water, there are some waterproof hiking sandals available. These will keep your feet dry and give you the ability to keep going without needing to take them off or having your feet be as uncomfortable.
9) Wearing with Socks vs. No socks
If you plan to wear your hiking sandals over long distance, you might want to consider wearing socks. This will prevent them from absorbing your sweat and will keep your feet dry. Socks can also help prevent blisters over a long distance. They can also keep your feet warm if you're in cool conditions and prevent sunburn if you're hiking in sunny weather.
Top Brands of Hiking Sandals
Keen – known for their hiking sandals that provide a good amount of coverage and toe coverage
Teva – Usually have much lighter pairs that are perfect if you're looking for minimal coverage
Chaco – same as Teva in regards to lighter shoes with open coverage
Merrell – has a wide variety of hiking sandals, including some that are very relaxed with only a handful of leather straps.
Top 3 Picks: Best Hiking Sandals For Women
1) Keen Women's Whisper Sandal
This sandal from Keen provides toe coverage and a solid grip on your foot that can handle all of the elements.
2) Teva Women's Tirra Sandal
This hiking sandal from Teva gives you a little more breathing room without sacrificing durability. There's also a heel shock absorber, so your feet won't feel as much pressure while hiking.
3) Budget Pick: Northside Womens Burke II Sport Athletic Sandal
This hiking sandal from Northside is perfect for someone who wants to get a good, quality pair without breaking the bank. There are comfortable straps with adjustable laces and toe support.
Check out this article for more of the best hiking sandals for women to get for this hiking season.
Top 3 Picks: Best Hiking Sandals For Men
1) KEEN Men's Newport H2 Sandal
These hiking sandals made by Keen provide good, solid coverage along with toe support. It also has an adjustable lace so you can make them tighter or looser.
2) Teva Men's Hurricane XLT Sandal
For anyone in the marketing for a minimal hiking sandal, the Men's Hurricane XLT from Teva are your best bet. With only a few straps, they feel incredibly light on your feet.
3) Budget Pick: ATIKA Men's Sports Sandals Trail Outdoor Water Shoes
If you're looking for a solid hiking sandal that won't break the bank, these ones from ATIKA are a great option. There's solid heel support along with quality tread so you won't slip, even on slanted surfaces.