Some seasons or climates are consistently wet. You may face rain and wet weather for a good portion of a hike or backpacking trip. Hiking in the rain requires a different focus when it comes to your preparation and gear selection. If you are not prepared, get wet, and have days of rain, hiking can become miserable. Let's get you ready! Read on for the best wet weather hiking tips.
Benefits of hiking in the rain
For some people, the idea of hiking in wet weather is a turn-off and not a fun time at all. However, there are certain benefits.
Some really cool, beautiful places are rainy (Pacific North West, Ireland, UK) most of the time – not much you can do about it
Locations that get a lot of rain can be super green and gorgeous
Less crowded – rainy hikes and hiking days are less busy on the trails – solitude!
In hot/humid climates, it can be welcome and refreshing
Wet weather is so different and is an experience in itself just like Winter hiking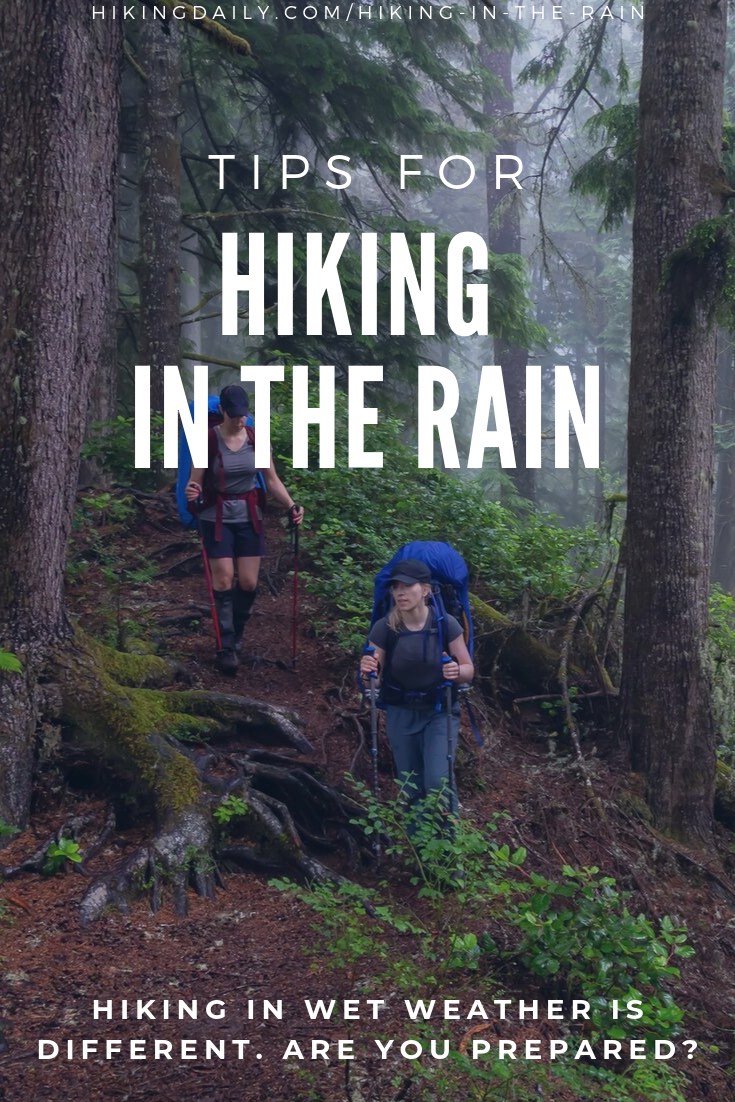 Must-have gear for hiking in the rain
First, take a look at the ten essentials of hiking. This is always a great starting point for developing your checklist for a big hike or backpacking adventure.
Your backpack: keep it dry (and your gear inside)
It is super important to keep your gear dry. Even if your hiking backpack or hiking daypack claims to be waterproof, it likely is not. If you face heavy rain (and downpours) for hours or days it is likely that water will eventually seep through the seams or the zipper. Once things get wet they can be challenging to dry out. Especially if you face persistent wet weather. Being wet and cold for days is not fun. Protect what's inside your pack!
How to protect what's in your pack:
Backpack raincover – keep the rain away from your pack seams and zippers
Dry sacks – use one for gear/electronics, one for clothing (or divide
Waterproof cases – another option for phones, sensitive gear
Garbage/trash + Ziploc bags – affordable, quick and easy extra protection (use sparingly and recycle usage)
Duct tape – great for fast emergency repairs and waterproofing
Okay, now you know how to keep your backpack and gear inside it dry. Super easy.
So, what's next? Let's take a look at some additional gear that can make hiking in the rain a good time.
More hiking gear for rain + wet weather
Waterproof map
Trekking poles – no need to slip around, stay stable, and conserve energy
Extra blister treatment supplies – wet feet often lead to blisters (no fun)
Bandana or small towel – keep your face and eyewear dry
Waterproof matches or fire starter
Decent Tent – get the best tent you can afford that is waterproof and has a good rain fly
Clothing tips for hiking in the rain
Are you ready for the rainfall?
Before you hit the trails take a look at all your rain gear and hiking clothes. Lay it all out on the floor. You never know what condition it may be in if you have not used it for a while. Without taking a close look I threw my lightweight softshell jacket (aka my rain jacket) in my bag for a spring ski. When I got to the hill I realized all of the water-resistant treatment on the inside fabric was flaking off. It had totally decomposed. The jacket was ineffective. So, these things can happen! Be safe and thoroughly review your chosen hiking outfits.
Okay, let's get into some of our top tips for wet weather.
Materials/Fabric
Do NOT take/wear cotton or denim clothing (it holds water, makes you feel cold and can lead to hypothermia)
Pack clothing and hiking shirts made of moisture-wicking materials such as wool, nylon or polyester
Opt for synthetic insulation in your jackets and pants because down becomes less effective when wet (brrr…chilly)
Rain gear tips
Examine your current rain gear (rain jacket, rain pants, rain hat) to see if it is in good condition
If you are buying new rain gear buy a quality rain jacket and pair of rain pants

Should be waterproof/breathable (Gore-Tex) and windproof
Get rain gear with ventilation zippers to regulate your body heat

Take a rain hat (many hikers overlook) – it'll keep the rain well off your face which is more comfortable
Renew DWR on your rain gear each hiking season – eventually, it decomposes and becomes ineffective
Footwear (hiking boots + hiking shoes) tips
Check your footwear – make sure your hiking boots or hiking shoes are in great condition

Be sure there are no rips in fabric/leather
Renew waterproofing (leather hiking boots)
Treads and lug patterns should not be worn out – deep lugs are necessary for navigating mud and gripping wet slick grounds

Other footwear considerations

Hiking boots/shoes with synthetic uppers dry more quickly, are waterproof (with Gore-Tex), are lighter and more nimble, and most often more comfortable
Hiking boots with leather uppers are naturally waterproof (if sealed), more durable and protective, but are heavier/clunkier, and often cause blisters
If you are backpacking for days you might want some campsite shoes
Other wet weather clothing tips
Take gaiters to keep your socks dry and prevent water from getting into your footwear
Pack extra hiking socks – comfortable, dry socks prevent blisters and keep feet warm
Take extra clothes because once they get wet they often remain wet
Get a good base layer and mid-layer that has some wool content to keep warm

A wool/synthetic blend is ideal because synthetic materials wick moisture and dry more quickly
Final tips for wet weather hiking
At times, hiking in the rain can be draining in mind and body. Here are some tips to help cope with long stretches of hiking in wet weather.
Take food and snacks you love and that are easy to eat and prepare
Be sure to drink an adequate amount of water to avoid dehydration

Some hikers drink less in cold and wet weather however if you are working hard you need the water

Choose interesting trails that have rewarding destinations (killer views)
Work at staying dry because once wet it is tough to dry out

Take shelter and a break if it can help stay dry

Weather – be safe and watch for lightning and severe weather storms
Your attitude/mindset determines your experience – if you know it is going to be wet and rainy accept it and embrace it
---
Fall is often a wet and rainy season in many locations. Check out our complete guide to Fall hiking outfits for more ideas on how to cope with wet weather.
We use affiliate links and may receive a small commission on purchases. Please read our disclosure.