I started dehydrating my backpacking food before I hiked the John Muir Trail in the summer of 2020.
There were two big reasons for making my food and meals for backpacking with a dehydrator. First of all, I was attempting a zero waste thru-hike. Secondly, I was hoping to save some money.
When I'm not backpacking, I try to minimize my waste as much as possible. I wanted my imperfect zero-waste lifestyle to follow me onto the trail.
By dehydrating my food for my thru-hike, I could reuse bags from home to minimize waste and protect the planet that I love to explore. Environmentalism and adventuring go hand in hand. Dehydrating my food is part of how I make that happen.
Store-bought backpacking meals (check REI) are expensive. Especially when you are planning a long adventure like a thru-hike.
Check out the prices for popular brands of pre-packaged backpacking meals.
The costs of these meals add up quickly. Dehydrating your food helps you save hundreds of dollars while still eating well in the backcountry.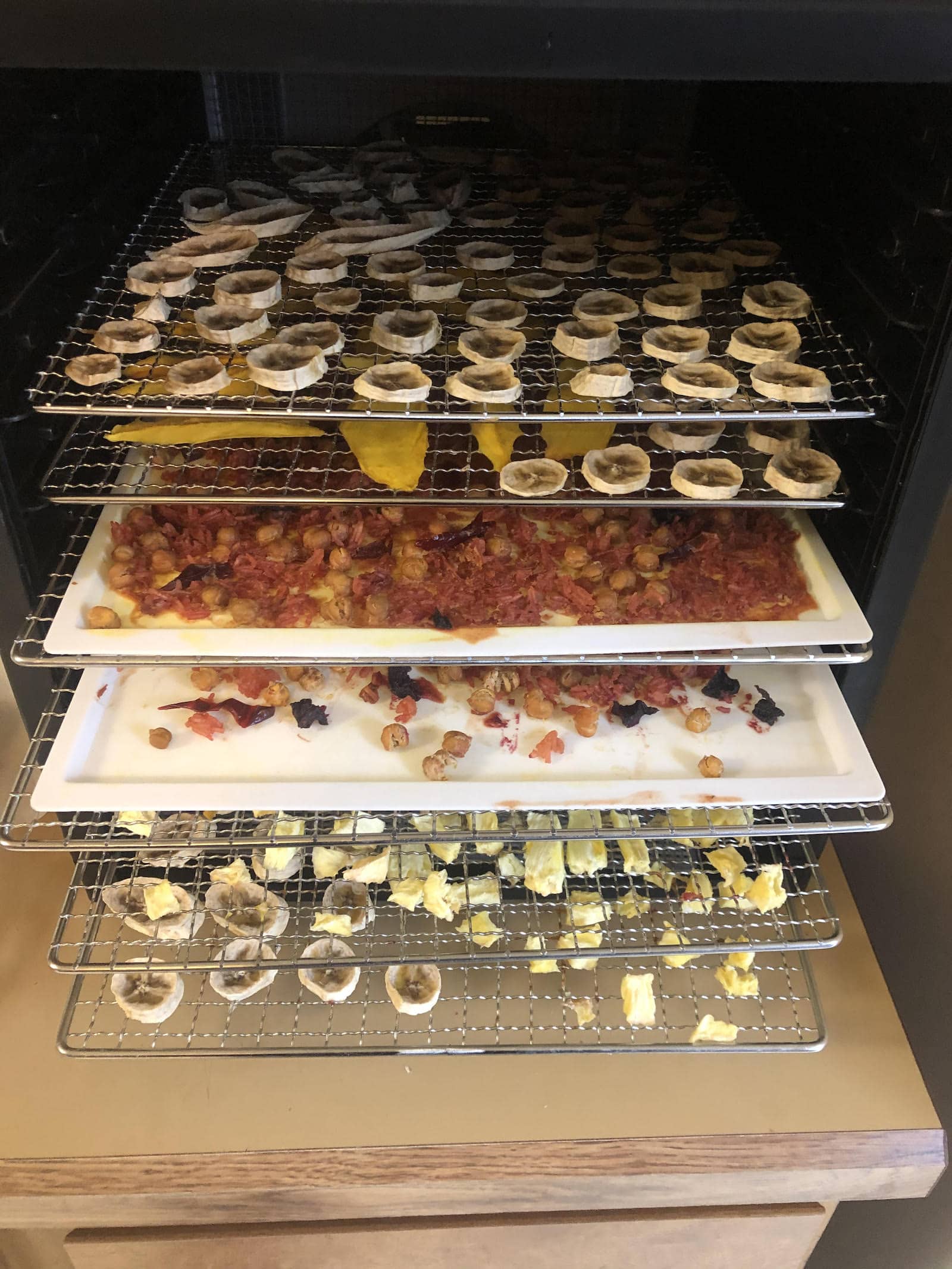 What are the best food dehydrators?
In short, it really doesn't matter. As long as it works, you'll be able to dehydrate your food.
People stress out over buying the "right" dehydrator like they stress out over the perfect spork. At the end of the day, what you get will do the job. I bought a brandless 8-rack dehydrator on Facebook marketplace for $80, which worked perfectly for me. If money and planet protection is part of your motivation for dehydrating, then shopping used is always the right choice.
That being said, you can't go wrong with an Excalibur food dehydrator. Their square trays maximize cook time and guarantee to fit as much as possible on each tray.
Looking for something cheaper? The Nesco Gardenmaster could be perfect for you. Its round trays maximize airflow without compromising your wallet.
Top tips for dehydrating your backpacking meals and food
So let's get into it. You have a dehydrator, and you are ready to cook. Where do you start?
1) Minimize Fats
The golden rule of dehydrating food is to minimize fats.
This means no oils, no coconut milk, no dairy, and no avocado, which complicates cooking lots of meats. Luckily for me, I am mostly vegan, so I don't incorporate any dairy or meat into my foods. This is a good rule of thumb for dehydrating food. By making it vegan, you are minimizing the risk of "what happens if I do it wrong?". Vegan food has much lower stakes, especially if you are prepping your meals several months in advance, as I like to do.
The reason fats can't be dehydrated is that dehydrating slowly sucks the water out of the food that you are cooking. Fats can't be absorbed in the same way as water and end up staying in the food that you cook. This can make your freshly dehydrated curry a breeding ground for mold, and this is the last thing you want to eat after an exhausting 20-mile day.
2) Temperature and cooking time
Most DIY backpacking guides give detailed outlines of recipes with strict temperature requirements and sensible cook times.
After following many recipes, I decided that unless you are trying to make the best dried mango you've ever eaten, then temperature and cook time don't really matter.
I typically put fruit and soups in at the same time at about 150 degrees Fahrenheit. After about 6 hours of cooking, I'll check on everything. Sometimes, some of the fruit will be done, while other pieces will be hours away from perfection.
Cutting your fruits and veggies in the same size and shape will minimize the range of cook times but won't guarantee anything.
Basically, the more liquid the food you are dehydrating has, the longer it will take to dehydrate. For instance, a soup will take longer to dehydrate than apple slices.
When checking on your food, especially meals like soups, chili, etc., mixing them around on the cooking sheet will help speed up the process.
How to make an amazing dehydrated backpacking meal
I start each meal with a solid base. My favorites are small carbs, like, couscous, rice, potato flakes, orzo, quinoa, lentils, and rice noodles. The size is important as the smaller the grain, the quicker they both dehydrate and rehydrate when you are ready to eat.
Once I have chosen a base, then I add protein, vegetables, and sauce.
The sauce is the most important part, as all backpacking meals are really just glorified mush – different flavors, different ingredients, but always mush. The sauce brings your mush to life and transforms your food from a sad spoonful of glop like in your elementary school cafeteria to a homemade meal of goodness that you're excited to eat.
Tips and tricks for success
A lot of flavors are lost in the dehydrating process. I highly recommend over-seasoning your food. Or even adding extra seasoning to your food after dehydrating as this will guarantee that your food really tastes like home. I like to backpack with extra salt, pepper, and sriracha powder just in case my meals need an extra kick.
The smaller you chop your vegetables, the faster they will dehydrate and rehydrate. Small pieces are especially important with extra dense food like carrots and potatoes.
Smash your beans before dehydrating them. I like to use a fork to do the smashing. This will speed up the rehydration process.
When cutting your fruits and veggies, try to cut your produce in a way that minimizes sharp edges. Typically, the easiest way to do this is by peeling your produce. Sharp edges can cut holes in your bags. Rounded edges are super important if you plan to vacuum seal your food.
Evenly spread your meals out on your tray. An even distribution will guarantee that your entire meal cooks at a constant rate.
My favorite DIY dehydrated meal recipes
Chili with noodles
Add noodles to your favorite chili recipe. This gives you an extra boost of energy on the trail. Just make sure to use a small noodle, smash your beans before cooking, and minimize your oil use for the perfect backpacking meal. When my hiker hunger is extra ravenous, this is one of the only meals that will fully satisfy my hunger.
Everything soup
Nothing's better than my "everything soup" on the trail. I throw anything and everything I can scrounge from my kitchen into a crockpot and let it cook for a few hours.
Normally this consists of some rice, some lentils, tomatoes, carrots, sweet potatoes, and pepper. You name the vegetable or the bean, and it's been in my delicious "everything soup".
Make sure to over-season it and simmer it for a few hours in the crock pot.
Once it's cooked to perfection, spread it out on your dehydrating trays. This kind of food will probably take about 12 hours.
Best dried fruit
Dried fruit is my favorite snack, especially while hiking.
It gives me the fruit I need, a sugar boost, antioxidants for days, and lots of fiber.
The two easiest, in my opinion, yummiest fruits to dehydrate are pineapple and apple.
Store-bought dried pineapple is normally coated in artificial sweeteners and extra sugar. The homemade stuff is truly game-changing and will become your absolute favorite snack on and off the trail. Do yourself a solid and start making yourself this yummy treat. Dried apples are also incredibly delicious. I like to add a bit of cinnamon, and they instantly transport me to a thanksgiving feast. These make the perfect addition to your morning oatmeal.
Top benefits of dehydrating food for backpacking
When I started making my backpacking food, it was all about reducing waste and saving money, but there are so many more benefits.
Making your dehydrated food guarantees that you know what you are eating on the trail.
Packaged backpacking meals are overly processed and full of questionable ingredients that you don't know how to pronounce.
Most store-bought meals lack vegetables. When pounding miles a day in and day out, it is extra important to fuel your body with healthy "fresh" foods.
Lastly, planning adventures is half the fun. Making meals ahead of time gets me in the thru-hiking mindset weeks before I step onto the trail. Each night that I eat one of my homemade dinners, I feel immense gratitude for putting in the time, effort, and love into my food.
Conclusion
Buy a dehydrator and transform your backpacking meals into something delicious, affordable, eco-friendly, and healthy.