This watch is no longer available so do check out your options of the best GPS hiking watches.
Looking for an amazing GPS watch for hiking that isn't quite as expensive as the Garmin Fenix 6? Check out the  Casio Protrek WSD-F30, the newest outdoor smartwatch in the Casio Protrek lineup. At just over half the price of the Fenix 6, the Protrek WSD-F30 is a much more affordable option. And this watch is packed with many of the same features. If you have the money, you should definitely buy this watch. It is so awesome.
Before we get into the details of our review, check out this video produced by Casio for a quick overview of this awesome GPS hiking watch.
The Casio Protrek WSD-F30 has some great features that stand out and make it a really good GPS watch for hiking.
Cool Design
This is a good looking watch. It comes in three color versions: Blue, black, and orange. You can also change the look of this GPS watch by revolving through the 9 preloaded watch faces. The WSD-F30 watch casing has been slimmed down compared to its bulky predecessor (the WSD-F20) so it can fit a wider range of wrist sizes. At the same time, the screen size has been increased.
Full-color maps on the watch
The WSD-F30 is the only other (new) hiking watch that offers detailed color topographical maps on the watch. Push the map button and display your current location on the map at any time. So easy. This hiking watch accesses and supports three satellite positioning systems and provides a stable position. Store and access up to 5 maps of world locations on the watch and navigate with ease. Maps can be used online or offline. No connection is required once you have downloaded your hiking maps. View your current location on the map at any time. Totally awesome.
Dual display = long battery life
The WSD-F30 has a dual-layer OLED/Monochrome display. This helps to deliver a long battery life. The OLED display is used for color maps and is activated only when required. The Monochrome display is used for regular watch functions as well as sensor information (compass, altimeter, barometer).
To help with power management, the WSD-F30 has three different modes: Normal activity, Extend mode, and multi-timepiece mode. Normal provides up to 1.5 days of battery life while using all watch functions. Extend mode gives up to 3 days of battery life by managing the type of display used while still allowing the use of GPS. Multi-timepiece mode uses only the monochrome display, doesn't allow any GPS or smartphone notifications and extends battery life up to one month.
Super tough and rugged
The WSD-F30 is built tough for your outdoor lifestyle. This watch is compliant with Military Standard MIL-STD-810G testing. It is also 5-bar (50m) water-resistant.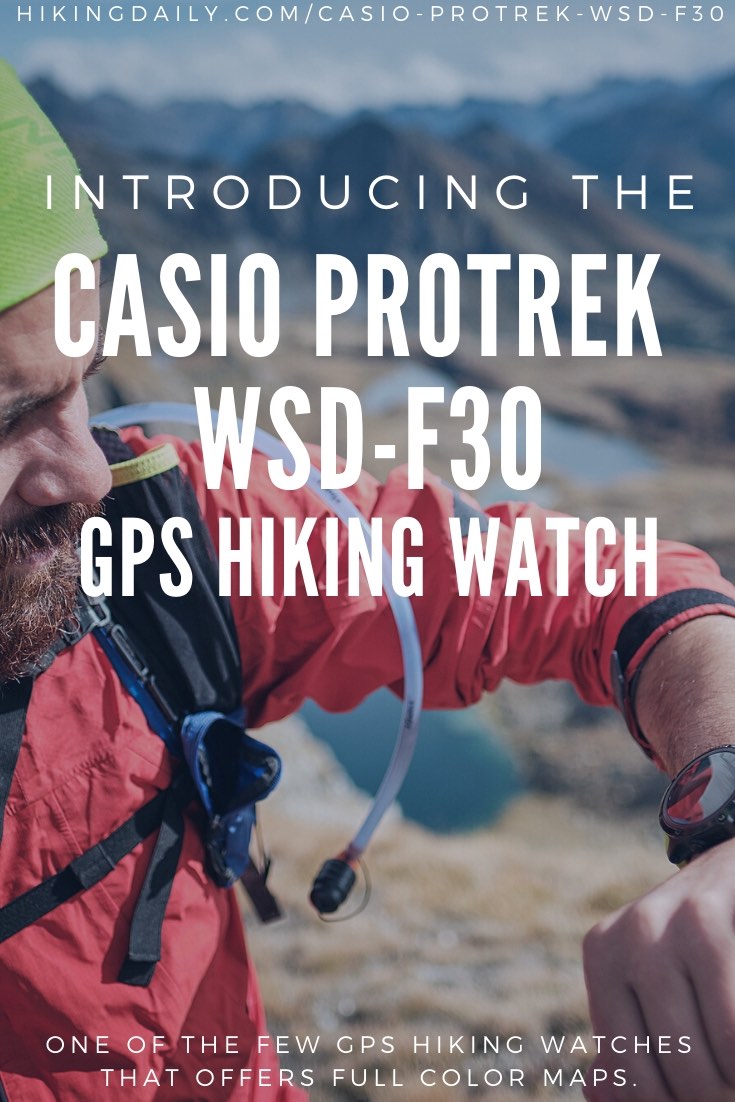 Okay, now let's review the key features of this awesome hiking watch.
Key features of the Protrek WSD-F30
Full-color maps powered by Google maps (download for offline use) with GPS navigation
Create your own original maps with memos and markers
Multi-GNSS support (GPS, GLONASS, and Michibiki)
Durable – meets U.S. military standards (MIL-STD-810G)
Long battery life (up to 3 days with GPS and maps)
Large color display at 1.2 inches in diameter (390×390 pixels)
Triple Sensor (Barometer, Altimeter, and Compass)
Touchscreen
Microphone – send voice text messages directly via smartphone, or leverage voice control functions
5-bar water resistance (50m)
Sunrise/sunset times
Moment Setter – receive data notifications such as sunset time, distance traveled, altitude progress, calories burned, and more
Music on the phone via Google Play Music
Smartphone notifications
4 GB internal storage
Location Memory – record details and viewpoints of your hike
ViewRanger app – get offline maps and routes for navigation, detect location, turn by turn navigation, check stats, and more
Other notable features of the Protrek WSD-F30
Powered by Wear OS by Google
Connect to WhatsApp
Google translate on watch
Cool apps for: Snowsports, fitness, cycling, golf, fishing, trail running
Operating temperature: -10℃ to 40℃ (14℉ to 104℉)
Magnetic crimped charging terminal
Where can I get this killer GPS hiking watch?
This watch was for sale at REI and on the CASIO websites, but no longer.
We use affiliate links and may receive a small commission on purchases. Please read our disclosure.