This is our guide to the best hiking sandals for women. We have reviewed all the top sellers made by all the best brands and these are our top picks for women to get if you want hiking footwear with great ventilation.
The technology of sandals has advanced a lot since Teva popularized a more rugged, waterproof sandal that was designed specifically for the outdoors. Hiking sandals, are more comfortable, durable and have better traction than ever. Thus in certain conditions, sandals may be a better option than your hiking boots and shoes.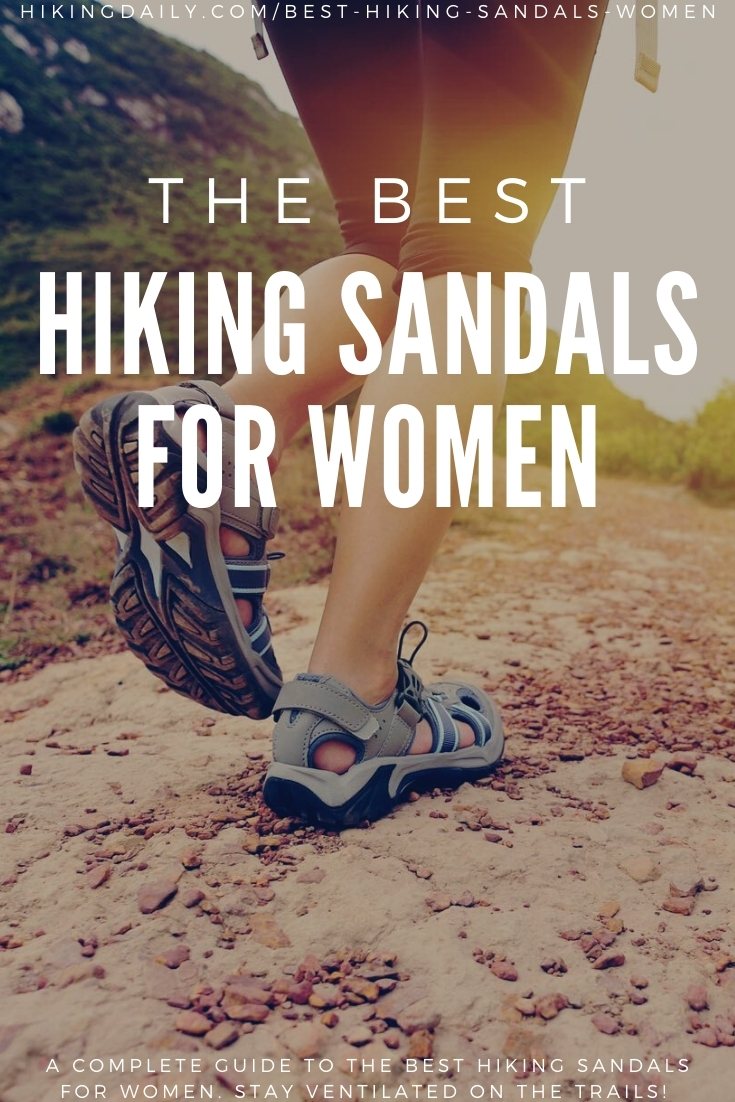 When hiking sandals are a good option:
Lower elevations and easier flatter trails
Hiking trails that are less rocky (butter soft dirt trails)
Hikes that you expect to encounter water or wet conditions
Backup footwear (campsite) on long hikes and trekking adventures
In our in-depth hiking sandals guide, we discussed the top considerations to keep in mind when choosing sandals. Let's quickly review what you should think about when picking a hiking sandal.
Choosing the best hiking sandals for women (what to think about)
The Fit: Make sure your foot isn't sliding around and that the straps work to keep your foot snug
Comfort: Arch support; cushioning; Shock resistance
Traction: Look for sturdy soles and rugged treads
Toe Protection: open toe (easy going trails) vs. closed toe (more rugged trails)
Durability: Look for Vibram soles
Coverage: Some sandals have more coverage over the foot while others are more open
Use/Versatility: Sandals that are more casual and less rugged will not be as versatile
Waterproof or not: Is it important to keep your feet dry (think about where you are headed)
Socks vs. no socks: Socks might be a good idea if you are planning to use the sandals on long distances
Can be re-soled: Pick a pair that can be re-soled for better value and a longer life span
The top brands of hiking sandals for women:
Chaco
Keen
Teva
Hoka One One
Okay, we know how to choose the best hiking sandals for different hiking scenarios. And, we know the best brands that focus on making sandals that can handle rugged terrain.
---
Top 10 Best Hiking Sandals For Women
After great scrutiny, we think that these are the best hiking sandals women can buy this year.
All of these sandals are great for hiking. Some offer more protection and support while others are more lightweight. Pick out a sandal according to your needs.
Rugged and versatile
Toe protection
Multi-directional lug pattern in the tread for great traction
Comfortable (and washable) webbing upper
Drawstring bungee lacing provides a snug fit on the foot
Great sandal for water
Stability shank
The footbed is designed to cradle the foot
Materials used to provide natural odor control
Why get this hiking sandal? One of the most rugged and durable sandal with toe protection. And so it takes the number 1 spot on our list of the best hiking sandals for women.
Synthetic uppers with strategic cut-outs for water drainage
Gusseted neoprene construction locks feet in place and reduces friction
Quick-lace system with lace storage
Rubberized toe cap is protective against trail debris
Rubberized EVA midsole provides cushion and support
Sticky rubber outsoles for excellent grip
4mm multi-directional lugs
Why get this hiking sandal? This sandal is truly made with hiking in mind. It is protective and has awesome traction.
Aggressive hiking sandal
Rugged lightweight construction
Durable quick-dry webbing uppers
Hook and loop closures for easy in and out
Molded polyurethane midsoles provide excellent cushion and support
Super grippy rugged "spider" rubber outsole performs in wet and dry environments
Open toe (some prefer the freedom)
Amazing cushioning from polyurethane (PU) midsole
Qualify as women's vegan hiking sandals
Why get this hiking sandal? A super rugged sandal for those that want an open toe area.
Rugged Durabrasion Rubber outsoles deliver excellent traction
Super durable polyester webbing upper
EVA foam midsole provides amazing lightweight cushioning
Nylon shank provides support and stability on uneven technical terrain
Soft heel-strap padding
Water-ready sandals
Easy hook and loop closures
Why get this hiking sandal? Rugged sole with a throwback Teva strap style.
Cool sporty look
Flexibility, fit and protection in a lightweight sandal
Bungee lacing for a custom and secure fit
Multi-directional grooves in the tread for natural flexibility and improved ground contact
Contoured arch support
TPU stability shank
PFC free materials
Machine washable
Why get this hiking sandal? A great sporty and lightweight hiking sandal for women.
Lightweight performance hiking sandal
Prides itself as a women's specific fit
Toe protection and more coverage on top of the foot
Elastic cording offers an easy to adjust and secure fit
Multi-directional lug pattern tread for solid traction
Thermoplastic polyurethane (TPU) stability shank
Metatomical footbed provides excellent support and cradles the natural contours of the foot
Washable upper (by hand)
Machine washable hiking sandal
Why get this hiking sandal? A lightweight option that also offers tremendous protection of the feet.
A more stylish hiking sandal
Elegant infinity upper crafted from a single piece of lightweight webbing
Polyester webbing is soft against the skin
Zinc-based anti-microbial treatment
Outsole is super durable and provides great traction
Nylon shank stabilizes and supports your foot
Why get this hiking sandal? This hiking sandal is all about style points. Aka "cute hiking sandal for women"
Stylish yet rugged
Double strap uppers give a wraparound customized fit
Toe loop for secure footing and movement
Dual-density polyurethane (PU) midsole for incredible cushioning
Vegan-friendly construction
Non-marking rubber outsole
Tread and rubber compound of the outsole ensures superior wet traction
Why get this hiking sandal? This sandal gets top points for being both stylish and rugged.
Ultralight hiking sandal (20% lighter than Classic Z sandals by Chaco)
A modern more stylish look
Pull-through adjustable webbing straps
Toe loop to keep foot secure
Vegan friendly and rubber outsole with 25% recycled materials
Extra-soft PU compound used in midsole for exceptional comfort
Why get this hiking sandal? Perfect for those that want an ultralight women's hiking sandal that is also stylish.
An all-terrain, closed-toe sport sandal
More durable like a hiking shoe
Breathable mesh upper
Non-marking outsole
Women's specific dual density EVR midsole
Why get this hiking sandal? Combines the look of a sandal and a shoe.
So, there you have it, the best hiking sandals for women to buy for this Spring and Summer hiking season. If you are backpacking, trekking, or camping this year any of these hiking sandals are a fantastic complement to your hiking shoes or hiking boots. Especially, if you plan on hiking in wet conditions.