For some hiking excursions or backpacking trips, hiking sandals might be a good option. These days, men's hiking sandals are better than ever!
I can clearly remember when Teva launched their original sandals in the 1980s. Totally original at the time because you could wear them in water unlike leather sandals. They were a decent prototype, and somewhat functional.
Today, sandals are far more comfortable, supportive, lighter in weight, and offer incredible foot protection, grip and traction.
In this guide, we cover the newest and best hiking sandals for men to get this Spring and Summer.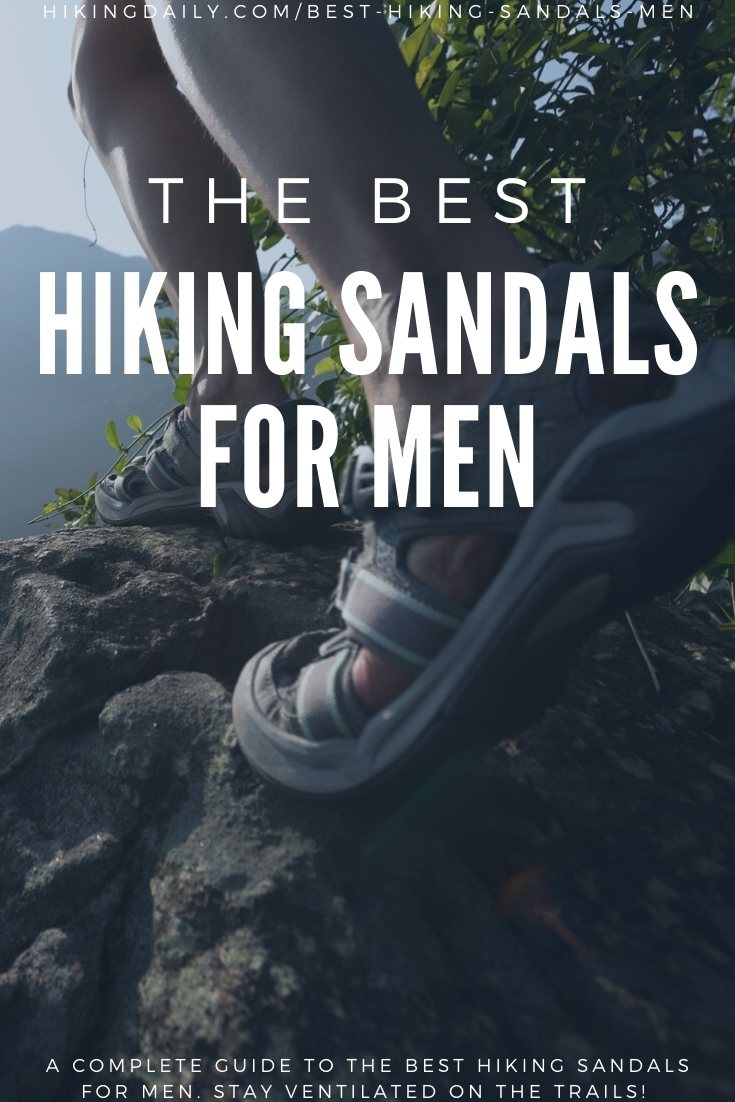 This list of the best men's hiking sandals is roughly organized from most protective and durable to the most open-aired sandals. So you will find hiking sandals at the top of the list that is more like well-ventilated hiking shoes. At the bottom of the list, you will find hiking sandals that are more like traditional sandals in their appearance. Nevertheless, they are all more rugged and durable compared to regular old sandals.
The Keen Arroya II sandals mash up the concepts of a hiking shoe and a sandal in one package. Of all the hiking sandals featured, this one is the most protective and probably leans closer to a shoe than a sandal.
Water-resistant leather upper is durable and protective
Secure fit lacing system locks your foot in place
Thick rubber outsole and tread delivers outstanding grip on rough terrain
4mm multi-directional lugs
Protective rubber toe cap

Dual density EVA midsole is supportive

Internal torsion stability shank
Super breathable with cut-out vents
This is a versatile outdoors sandal is fast and athletic looking and will perform well in wet and dry conditions.
Synthetic upper with drainage cut-outs
Gusseted neoprene in upper keeps your foot secure
Quick-lace drawcord lacing system
Rubberized EVA midsole provides cushion and support
Rubber outsole with broad multi-directional lugs
Protective rubber toe cap
Another fantastic hybrid of the hiking shoe and sandal that performs very well in both wet and dry conditions in the great outdoors.
Quick-drying synthetic uppers
Plastic buckle for easy in and out
Hook and loop closure provides a solid fit and quick on and off
Lightweight EVA midsole is cushiony and comfortable
Nylon shank for stability and support on uneven terrain
Rugged spider rubber outsole is durable and has amazing traction on wet slippery surfaces
Qualifies as vegan footwear
The Targhee III is a rugged sandal that takes inspiration from the very popular Targhee III hiking shoe.
Waterproof premium leather upper is durable and protective
EVA midsole delivers lightweight cushioning and support
KEEN.ALL-TERRAIN rubber outsole delivers excellent traction
Multi-directional lug treads
Protective rubber toe cap
Large open areas for maximum ventilation
Quick dry lining
The Keen Newport H2 sandals are a more versatile option. Wear these on the trails, around town, at the beach, and in the water.
Washable polyester webbing upper
Multi-directional lug tread pattern provides amazing grip
Razor-siped sole improves traction on a variety of surfaces
Compression molded EVA midsole
Secure fit lacing system
Quick dry lining
Want a lightweight all-terrain sandal that performs on a variety of surfaces? Look no further. The Teva Terra Fi 5 Universal sandals are cushiony, supportive, durable, sturdy, grippy, ultra-lightweight, and super ventilated. Teva insists these are good enough for multi-day hikes.
Quick-dry recycled polyester webbing wraps around your feet
Easy hook-and-loop closure for quick on and off
Molded PU (polyurethane) midsole cushions and supports even with a heavy pack
TPU shank provides added support and stabilization on uneven terrain
Rugged Spider Rubber outsole performs very well in wet conditions
Vegan footwear
The Teva Hurricane XLT2 sandals are great to take along on day hikes or light hikes.
Quick-dry recycled polyester webbing
Easy hook-and-loop closure for quick on and off and snug fit
Lightweight EVA midsole for comfortable cushion
Nylon shank adds stability and support on uneven terrain
Durable and rugged rubber outsole provides great traction
The Ecco Yucatan sandals can be worn on the trails for day hikes, light hikes, around the campsite, or for simply for everyday use and comfort.
Durable nubuck leather uppers
Hook-and-loop straps at toes, instep, and heels provide a custom fit
Spandex and nylon lining wicks moisture and dries quickly
PU midsoles with hard EVA shanks to support feet
Rubber outsoles grip in wet and dry conditions and across varied terrain
A super combination of soft pillowy comfort under your feet, a custom wrap around fit, and great traction with 3.5 mm lugs.
Custom adjustable strap system
Polyester webbing upper wraps around your foot
High-performance ChacoGrip rubber outsole
LUVSEAT dual-density soft PU midsole for cushion
3.5mm lugs and multi-directional tread pattern
The Bedrock Cairn 3D adventure sandals are lightweight and supportive with a sculpted footbed.
Premium polyester webbing with 3-point adjustment zones
Simple, minimalist design
Exclusive Vibram Regolith rubber outsoles are lightweight, durable, and grippy on dry surfaces
Deep groovy multi-directional tread pattern
Plugless toe posts with aluminum hardware are durable
Anatomically molded footbed
If you want Bedrock sandals that perform better in dry or wet conditions, check out the Bedrock Cairn 3D Pro II adventure sandals.
---
How to choose a pair of sandals for hiking
Here's what you should consider when you choose a new pair of sandals for your hikes. Pay close attention to these features so that you get the best hiking sandals for your needs.
Sizing
Sizing will first depend on whether you will wear hiking socks or not. The point of hiking sandals is to be free, use them in wet conditions, or to have the most ventilation possible in drier climates. So, maybe ditch the idea of wearing socks. There isn't much value to socks as long as you keep your feet dry and clean to prevent blistering and rubbing.
To ensure you get the right size, which may be different from your shoe size, we recommend trying on several pairs to compare how they feel under your foot. It might be a good idea to try a few different sizes for each pair you like. Make sure all the indentations in the footbed and the arch support feature aligns properly with the shape of your feet and toes. Also, pay close attention to how much room is behind the your heel and in front of your toes. Pull the straps snug and be sure that your feet are not sliding around. Your feet and toes should feel secure.
Traction (the outsole)
The traction of modern hiking sandals are really amazing these days. The durability and grip of the outsoles on hiking sandals are on par with many hiking shoes or trail runners.
We recommend choosing a sandal that has a multi-directional and deep lug tread pattern. This will provide the best traction on varied terrain.
Support
The support of a sandal is determined by the midsole construction. This is the layer sandwiched between the outsole (tread) and the insole (under your feet).
Midsoles are made of ethylene vinyl acetate (EVA) or polyurethane (PU).
In most cases, an EVA midsole is going to be lighter, provide more soft cushion, but is less durable. These types of midsoles are better suite for hikers that will carry less weight.
A PU midsole is firmer, more supportive, and more durable, but less squishy. These midsoles are best suited for hikers that will carry a backpack heavier than 30 pounds.
Lacing / straps
There are are few different ways that your foot can be strapped in to hiking sandals.
Some sandals are more enclosed and offer more foot protection. They have a more traditional lacing system that pulls a lace through nylon eyelets.
Most sandals use webbing to secure your foot. Each brand offers a unique style of webbing, and clasps or buckles to customize the fit. All wrap around your instep and heel area and will have a one or two buckle system. Most sandals have straps that wrap over your toes area and can be adjusted and secured by velcro.
Webbing and lining
Take a good look at the webbing and lining that secures your feet underneath straps and in the heel, instep and toe area. Some sandals offer a softer, more substantial and comfortable lining. This will help prevent uncomfortable rubbing and blistering.
Foot and toe protection
As you can see in this collection of the best hiking sandals, some are more enclosed like a shoe, while others are more open like a traditional sandal. Take some time to think about the conditions you will use your sandals.
Are you hiking on flat buttery dirt trails? In this case you would require less foot protection.
Or, are you likely to encounter rough rocky terrain? In this type of terrain you might want more toe protection. Also, you might want a stiffer PU midsole, an outsole with a multi-directional tread pattern with deeper lugs, and a sandal that has an internal shank for added support and stability.
If you end up getting a pair of sandals that are more open in style, be sure to use sun block on your feet! Also, be aware to watch out for snakes since your foot will be more exposed.
Managing moisture and blisters
Of course, sandals are great to wear in water. However, keep in mind that wet webbing can cause discomfort (rubbing) and blisters.
To avoid getting blisters, keep your feet dry, and free of any debris, sand, or pebbles. Take a small quick-dry towel with you so that you can dry off your feet. You may want to take a snack or lunch break and leave your sandals in the sun to dry before you get moving again.
---
This conclude our guide to the best men's hiking sandals. If you are a woman, be sure to check out our guide to the best hiking sandals for women.
We use affiliate links and may receive a small commission on purchases. Please read our disclosure.