This is a complete checklist of the best hiking clothes you need in your closet and backpack for a variety of hiking adventures and conditions.
In this guide, we cover everything you need to know about hiking specific clothes, the materials, and the best hiking clothing items you can buy right now.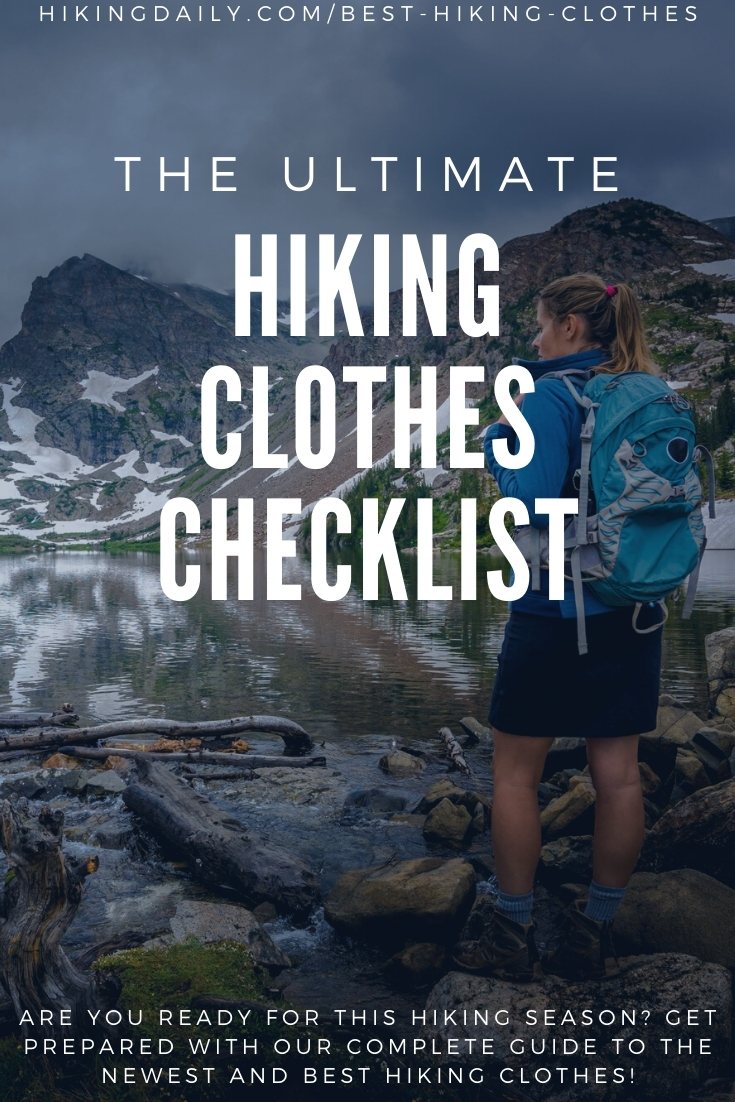 Hiking Clothes: 18+ Key Items To Consider:
On every outdoor adventure, preparation is key. Here are some key items and tips to consider for any hike.
An Overall Pro Tip:
When buying a piece of hiking clothing (or any gear, for that matter) it is always worth the extra bucks for a higher quality item. It will last longer, perform better, and save you time and money in the future.
Additionally, if you want a more sustainable and affordable option, buy used. You can find high quality, lightly worn outdoor clothing through sites like Patagonia Worn Wear and REI Used Gear. Some groups on Facebook create local marketplaces to buy and sell used/new gear. If you're in Colorado, for example, check out the Colorado Outdoor Gear Exchange. If not, simply search *your state/city* outdoor gear exchange. Here, you can find epic deals and practice your haggling skills. Happy hunting!
1) Hiking Shirts
The selection of hiking shirts is far and wide. Short-sleeved, long-sleeved, organic, synthetic – you name it.
Here are some top brands where you're sure to find the best fit:
As usual, REI Co-Op provides a generous amount of affordable options. This brand is perfect for general and versatile hiking shirts.
Smartwool is iconic for their year-round, temperature regulating, no-stink Merino wool. Whether you need a base layer for winter hikes or shirt for summer backpacking, Smartwool has you covered (get it?).
Since its foundation, Patagonia has consistently supplied durable, modern, and sustainable outdoor clothing. Their shirts are no different. The brand's use of high quality, recycled fibers like polyester and nylon make Patagonia a consistent favorite.
2) Bug Shirts For Hiking
If you are hiking in bug-friendly regions like the Everglades, long sleeves, pants, and bug repellent are essential. Here are a few options to help shield you from pesky ticks, mosquitoes, and other outdoor critters.
ExOfficio's outdoor clothing line, BugsAway blends invisible, odorless insect repellent within its fabric fibers. The repellent lasts through 70 washes and is effective against common insects like ants, flies, ticks, and mosquitoes. Not only does ExOfficio provide bug shirts, but the BugsAway selection offers socks, pants, hats, and underwear!
Some insect species, like the notorious Siberian mosquitoes, are relentless – even with the use of potent repellents. If you are hiking in an area with a high concentration of insects, it is best to use a wearable net. Sea to Summit offers an insect barrier for every part of your body – each with the option to include insect repellent within its fibers (similar to BugsAway). As the brand says, "you may look silly but you'll be bug bite free. Your choice.
Bug Jacket and Mittens
Price:$29.95 – $36.95
Sizes: S, M, L, XL
Bug Pants and Socks
Price: $26.95 – $33.95
Sizes: S, M, L, XL
Mosquito Head Net
Price: $9.95 – $12.95
3) Hiking Shorts
Many outdoor clothing brands offer shorts designed for hiking.
These are some of our favorite pairs of hiking shorts.
Kühl is an online outdoor clothing company that provides consistently durable and well-designed products. Its commitment to high quality, sustainable designs is unsurprising, considering the brand is the brainchild of three passionate outdoorsmen, including Conrad Anker. Their hiking shorts range from $60 to $70 for women and $60 to $80 for men.
Columbia, like REI Co-op, gives you the best bang for your buck. Their shorts range from $15 to $60 and are sure to fit within your budget. Additionally, Columbia Sportswear owns smaller, popular brands like Sorel, PrAna, and Mountain Hardwear. If you don't like Columbia's selection, you can find great, high-quality shorts at PrAna and Mountain Hardwear!
Pro Tip: Most standard running shorts have the same moisture-wicking, breathable features as hiking shorts. By wearing running instead of a new pair of hiking shorts, you can spend the extra bucks on a higher quality jacket or pack.
4) Hiking Pants
A great pair of hiking pants will offer protection from all the elements (and bugs). When choosing a pair, there are some features you should keep in mind.
First, there are three main styles of hiking pants: standard, rollup, and convertible. Standard pants are non-convertible and meant for a full length. They are less versatile but are ideal for cold conditions or extra sun/bug protection. Roll-up models provide a little more ventilation than standard designs. Convertible pants are the most versatile and help you adapt to quickly changing weather.
Second, don't underestimate the color! While style should never be your priority when buying outdoor gear, wearing lighter colors in warm conditions and darker colors in colder, will significantly improve your comfort.
Third, consider water resistant or proof pants. Although they are often more expensive, it is a solid investment. The extra bucks you spend will keep you dryer, warmer, and far more comfortable.
Like their shorts, KÜHL and Columbia provide great options for hiking pants for men and women.
Pro Tip: Are you having trouble deciding between shorts or pants for your hike? Stress no more! Convertible hiking pants give you the best of both worlds. With these, you can transform your hot and sweaty pants into a pair of refreshing, breathable shorts! Here are some options we love:
REI Co-Op Sahara Convertible Pants
Price: $69.95
Fit: women's regular, men's regular, men's plus size, women's petite, women's plus size, women's tall, girls, boys
UPF Rating: 50+
Features: These pants are made of lightweight, quick-drying nylon/spandex blend and coated with durable water repellent (DWR). These pants come in multiple versions for all ages and sizes.
Price: $89
UPF Rating: 50
Features: The Kliffside Convertible Pants are made of the same lightweight and quick-drying nylon and spandex combo as the Sahara pants above. These pants are well fitted, coated with durable water repellent (DWR), and equipped with cargo pockets.
Price: $95
UPF Rating: 40
Features: The Liberator Convertible pants are among Kühl's most popular. It contains a breathable, high tech blend of nylon, polyester, spandex, and cotton. Although you should usually avoid cotton (even blends), these pants are designed with water wicking nylon on the inside and soft cotton on the surface. In this case, the cotton helps keep the pants dry, as it pulls moisture out of the interior nylon.
5) Hiking Gaiters
Ah, the persistent shoe pebble and wet sock. Somehow, no matter how hard we try, Earth's elements find a way to sneak into our hiking shoes. However, there is a solution: gaiters!
Gaiters are an effective layer that cover vulnerable points around your shoe. Choosing which ones to buy depends on your activity, favored height, and preferred features. Gaiters for hiking are usually lightweight and breathable. They are designed to prevent dirt, rain, and pebbles from entering your shoe. For mild conditions, short, over-the-ankle gaiters are ideal. However, if you plan to hike in heavy brush, deep snow, or wet environments, opt for a mid-calf or knee gaiter (height should increase for more extreme conditions).
Price: $44.95
Height: over-the-ankle; 9.25 in
Size: S,M,L,XL
Features: These small, over-the-ankle gaiters are perfect for puddles and snow, rocks and debris.
Price: $35
Height: mid-calf; 9.5 in
Features: The Rocky Mountain Low gaiters will shield you from sand, wet brush, and light snow. They are ideal for light-to-midweight hikes.
Outdoor Research: Verglas Gaiters (MEN | WOMEN)
Price: $65
Height: Women: knee; 15 in and Men: knee; 17 in
Features: The Verglas Gaiters are built with thick, waterproof nylon to protect against heavy bushwacking and deep snow. They are equipped with comfortable and adjustable buckles and lace hooks for an impenetrable secure.
Pro Tip: Most gaiters come with specific features that are extremely helpful in certain environments. For example, if you are hiking in wet or snowy conditions, be sure to wear waterproof gaiters. If you anticipate buggy conditions, buy gaiters made of insect repellent material, like the BugOut Gaiters from Outdoor Research – your mosquito-prone ankles will thank you.
6) Underwear
Let's talk about undies! Base layers are the foundation of every layering system. There are three key things to consider when choosing a base layer.
Weight
As described above under fabric weights, the weight of your base layer should be heavier in cold conditions and lighter when warm.
Fit
A snug fit is optimal for your hiking underwear. The primary purpose of a base layer is to wick away moisture, so it must be close to your skin. While a loose fit may be more comfortable in warm conditions and allow greater breathability, it will hinder the base layer's ability to efficiently control moisture.
Fabric
The best base layers are made of durable, odor-resistant, moisture-wicking fibers like polyester and merino wool. You can learn more about these fabrics here.
7) Hiking Socks
We put a lot of thought into the hiking shoes and down shells we wear. While these are important, sometimes we forget the value of a great hiking sock! Similar to most outdoor gear, hiking socks come in different sizes, fabric, and designs. To find the perfect sock, you should consider three characteristics: the height, fabric, and fit.
Check out the best hiking socks at REI.
Sock Height
There are four standard sock heights: no-show, ankle, crew, and knee-high. Socks are meant to protect your skin from abrasion. Therefore, the height you choose depends on your footwear. Crew socks are the most common hiking sock, for they rise above the ankle and shelter your skin from most hiking boots.
Material
Hiking socks are almost never a single material. Instead, they are made of quick-drying, water-wicking blends. Most, however, are primarily made of wool. Due to its temperature regulating and antibacterial properties, wool is widely used and recommended. Wool socks are sometimes blended with synthetic fibers like polyester and nylon to quicken drying.
Fit
Your sock should be snug, but not tightly fit. To determine your sock size, use the size label on the packaging.
Cushion
Hiking socks differ in cushioning. On one hand, light cushioning on the heel and ball of the foot is best for warm conditions. On the other hand, medium cushioning provides warmth for cooler conditions. For more extreme weather, some socks are made with heavy cushioning. These are only necessary for mountaineering or winter hiking trips. If medium cushioning is too little and heavy cushioning is too much, you can use a sock liner to add extra warmth and prevent blisters.
The three best sock brands are REI Co-op, Darn Trough, and Smartwool. Each offers classic hiking socks made of high quality, merino wool. They are all about the same price range, although REI Co-op tends to be cheaper. Their products are equal in quality and popularity.
8) Fleece Top/Jacket
A fleece jacket is a great, insulating middle layer. They are breathable to keep you from overheating, but quick drying to keep you warm – even when damp. Additionally, most fleece is made of 100% polyester which allows for greater durability.
Patagonia has consistently dominated the fleece market. Their contemporary designs are pioneers in the outdoor clothing industry and have earned countless awards. The fleece materials are colorful, durable, fair trade, and recycled. It was hard to choose just one, but we narrowed our favorite fleece to the new R1 Fleece Hoody.
Our Top Pick: R1 Fleece Hoody (MEN | WOMEN)
Price: $159
Why We Recommend This: The slim fit and balaclava-style hood makes this jacket a layering staple for mountain guides and weekend warriors. Its gridded fleece pattern channels hot air and moisture throughout the jacket. The minimalist design is lightweight and breathable. As a Patagonia product, you can send in your well-loved, ripped R1 Fleece Hoody for a satisfaction-guaranteed repair.
Pro Tip: Patagonia Worn Wear sells gently used Patagonia products for great prices! Before buying a new product, check to see if there's a used version in your size. It's better for the Earth and your wallet!
9) Windbreakers
Windbreakers are an invaluable outer shell that shields your inner layers from wind chill. These are our top windbreaker picks:
Our Top Pick: Patagonia Houdini Jacket (MEN | WOMEN)
Price: $99
Weight: 3.6 oz
DWR Coating: Yes
Why We Recommend This: The Houdini Jacket is breathable, light, and compact-able. However, unlike most ultralight windbreakers, the Houdini does a great job of protecting you from wind and light rain.
10) Softshell Jacket
Soft shells are outer layers that emphasize breathability and flexibility for active movement. They combine light rain and wind protection but are not completely waterproof.
Our Top Pick: Arc'teryx Gamma MX Hoody (MEN | WOMEN)
Price: $349
Weight: 19.9oz
Why We Recommend This: The major drawback for most Arc'teryx gear is its price. Despite this, Arc'teryx consistently creates extraordinarily durable and well-tailored gear. The Gamma MX Hoody is breathable, stretchy, comfortable, and well fitted. It is equipped with a wind-resistant, moisture-shedding outer face and a light inner fleece for extra warmth. It is slightly heavy, however, its sturdy material allows greater weather resistance. Ultimately, $349 for a highly functional shell that will last forever is a great deal.
Price: $96.75
Weight: 13.9 oz
Why We Recommend This: The Ferrosi Hooded Jacket is Outdoor Research's most popular item. It is lightweight and mobile, yet extremely durable. The soft shell doesn't have the same weather-resistant abilities as the Gamma MX, but for its low price and weight, the Ferrosi is a great performer in milder and active climates.
11) Rain Gear
Wet weather should never keep you inside. In order to maximize your time in the great outdoors, here are a few key items to prepare you for a comfortable and dry adventure in rainy conditions.
Trekking Poles
As rocks get slippery and creeks grow higher, trekking poles are helpful to keep you on your feet. Try the lightweight and adjustable Black Diamond Alpine Carbon Cork.
Extra Blister Supplies
When wet feet absorb moisture, they become prone to blisters. Blisters can ruin your trip, so it is important to pack a blister treatment kit rain or shine. Try the Spenco 2nd Skin Blister Kit at REI.
Poncho
While it is best to have a multi-use, waterproof hardshell, a poncho is a cheap, compact option to keep you dry during quick, unexpected showers. For only $5, we recommend the Red Ledge Vinyl Poncho.
Raincoat
Every rain jacket offers a certain degree of weather resistance. You can choose between hard or soft shell and water resistant or waterproof. Hard shells are waterproof but less breathable than water resistant soft shells. Before purchasing a raincoat, keep in mind if you anticipate mild (soft shell) or extreme (hard shell) conditions.
Rain Pants
Hard and soft shells don't just apply to jackets. Rain pants offer great protection for your legs to keep you dry. Try the wind resistant and waterproof REI Co-op Talusphere Pants for women and men.
Gaiters
Earlier in this clothing guide, we emphasized the importance of gaiters in wet conditions.
Hiking Umbrella
Hiking umbrellas provide ultralight, attachable protection from UV rays and rain. At only 8 oz and $39, Gossamer Gear's Liteflex Hiking Umbrella is by far the best on the market.
12) Insulated Outerwear
Insulated outerwear gives you exceptional temperature regulation and warmth. The best and most popular insulator by far is down.
How down insulation works:
Down is derived from goose and duck feathers. These feathers trap and circulate the body heat you emit. This gives it great temperature regulating properties to keep you perfectly warm. Before you buy a down jacket or pants, check if it is recycled. Some outdoor gear companies like Patagonia use down reclaimed from recycled comforters and cushions. Fill Power measures the quality of down. It calculates how many cubic inches an ounce of down can fill. For high quality down, look for a fill power of at least 550. The higher the fill power, the more warmth it will produce.
Down has one weakness – moisture. If down gets wet, it loses its warming properties. Some brands offer water-resistant down or down gear covered in DWR. This is an important feature that increases the longevity and performance of your down.
Over time, synthetic insulation has advanced in technology and popularity. These fibers, usually made of polyester, mimic the clumping and heat-trapping properties of down. The main disadvantages of synthetic insulation are its lack of durability and heavier weight. These cons, however, are compensated by its lower price, hypoallergenic properties, and water-resistance.
There are three primary types of synthetic insulation: PrimaLoft, Climashield, and Thermoball. PrimaLoft was designed to be an environmentally friendly, high performing option for synthetic insulation. It is water-resistant and retains 98% of thermal efficiency even when wet. You can find PrimaLoft products at Patagonia. Climashield is less popular but known for its durability. It is used in tactical and combat clothing and can be found at Helikon-Tex. Thermoball was designed by North Face and the creators of PrimaLoft. It is lightweight, retains heat when wet, and featured in many North Face products.
Gore-Tex is the outdoor industries highest performing waterproof protection. It is extraordinarily durable and weather resistant, while still allowing breathability. For any waterproof outer layer, make sure it is Gore-Tex.
13) Sleeping Clothes / Vapor Barrier Liners (for very cold conditions)
Winter camping or hikes in extremely cold conditions require extra preparation. For your sleeping clothes, layer up and never wear cotton. Since you won't be moving, it is important to wear thick and insulating layers.
Pro Tip: Extra socks are always a good idea.
For extreme cold, bring a vapor barrier liner. VBLs are non-breathable and do not allow any moisture. These products are expensive and niche, but worth the investment if you will be in frigid temperatures. Due to their small market, many large outdoor retailers like REI and Mountain Hardwear don't supply vapor barrier liners. If you want a specific product, it may take some online hunting. You can purchase a VPL sleeping bag liner here or VPL socks and mittens here.
14) Headwear (Hats For Sun protection, Bug protection, Cold temperatures)
Your noggin needs protection. Depending on the climate, there are a few key headwear items to consider for your hike. In sunny conditions, always wear a hat! UV rays, especially at high altitudes, are extremely harmful. While your favorite baseball cap provides adequate protection, try a bucket hat for neck protection too!
Hiking hats aren't only for warm and sunny weather! A warm, wool hat like the iconic Patagonia Speedway Beanie will keep you significantly warmer.
Additionally, if you anticipate buggy conditions, a head net to protect you from flies, mosquitoes, and other insects you would rather not have on your face.
15) Handwear (Liners, Shells, Winter Gloves)
There are plenty of great options to keep your hands warm during cold hikes.
Classic winter gloves give you extra warmth and mobility on winter hikes, so your hands aren't stuck in your pocket. Liners can be worn individually in cool conditions or used under your gloves for extra warmth. Smartwool has a great collection of tech-compatible wool gloves. Shells like the REI Co-op Minimalist GTX Mittens can be worn over liners for waterproof and windproof protection.
Pro Tip: Choosing between mittens and gloves is based on your preference. However, mittens are almost always warmer.
16) Hiking Footwear
Finding the right hiking shoes is always a difficult task. To find your perfect match, keep in mind these three hiking footwear types:
Hiking Shoes
Hiking shoes are ideal for day trail-hikes. They are flexible, low-cut, and lightweight. If you plan to do some scrambling or technical hikes, opt for approach shoes. These are bottom-lined with sticky rubber to enhance support on sketchy terrain. Some of the best approach shoes are made by La Sportiva, a reputable rock climbing and running brand.
Check out the newest and best hiking shoes for women, and the best hiking shoes for men.
Hiking Boots
Hiking boots provide better support than hiking shoes and are normally designed with a mid to high cut.
Keen footwear is a leading brand for hiking shoes and boots. I myself am a loyal customer.
Check out the best hiking boots for men and the best hiking boots for women for this upcoming season. We examined hundreds of pairs and these are the top 20 hiking boots to get this year.
Hiking Sandals
Have you been on a college campus and noticed large amounts of students wearing strappy rubber sandals?
Those are the highly distinguished Chaco brand – a hiking sandal that boasts great breathability and comfort. These sandals are not only perfect for walking to your next class but on quick day hikes in warm conditions.
17) Hiking Skirts
Every adventuring woman knows the difficulty of finding a perfect pair of hiking shorts or pants. They're often too small, too short, too tight, or too loose. If you still haven't found your perfect match, it may be time to try hiking skirts! Skirts are a great versatile layer and provide unparalleled ventilation.
For any season, try the Patagonia Women's Fleetwith Skort. For winter conditions, layer up with the Smartwool Women's SmartLoft 60 Lightweight Skirt.
18) Hiking Vests
Vests are ideal in mild temperatures or cooler conditions where you'll be active. They are a great, lightweight alternative to mid-layer jackets that offer equal warmth and superior movement.
Hiking vests come in all shapes, sizes, and material.
Large outdoor gear brands like REI Co-op, The North Face, and Patagonia offer great designs.
For a great deal, try the REI Co-op Down Vest for women or men.
---
Buying Advice: How To Choose The Best Hiking + Backpacking Clothes
We covered all the newest and best items of hiking clothes that you can get. Now, let's review some key concepts and features to consider when picking out your hiking wardrobe. First, let's talk about the different fibers commonly found in hiking clothes.
Common Fibers In Hiking Clothes:
The major no-no of outdoor clothing is cotton. Every Boy Scout and mountaineer will warn you that "cotton kills." This includes denim, flannel and 50/50 blends. The problem with cotton is its inability to quickly dry. As it gains moisture, the fiber becomes heavier and loses most of its thermal properties.
Most outdoor clothing is made of nylon or polyester and in some cases a blend with spandex. These are the best fabrics for hiking clothes. They are both lightweight, quick drying and easy to wash. Choosing between the two is difficult at first, but there are a few factors to consider.
First, nylon is often more durable and weather-resistant. However, its production is more expensive. Consequently, gear made of nylon tends to be more expensive. On the other hand, polyester is cheaper and provides better UV resistance. Additionally, you can buy clothing made of 100% recycled polyester from brands like Patagonia.
If you are seeking a natural alternative, some outdoor clothing is made of merino wool and hemp. Merino is by far the most versatile wool on the market. The fiber comes from sheep that survive -10°C degree winters to 30°C summers. It is breathable, water wicking, durable, odor resistant and still provides natural sun protection. Hemp is an inexpensive, weather resistant fabric with a low environmental impact. It requires no pesticides, little water and improves surrounding soil. Still, many states and countries have banned the production of Hemp due to its association with marijuana.
When you research what your gear is made of, make sure it follows the bluesign standard. First adopted by Patagonia, the system ensures your products are sustainably and safely made. In addition to Patagonia, REI, Mountain Hardwear and Marmot are other credible members.
Fabric Weights:
All outdoor clothing is either lightweight, midweight, or heavy. When considering which item to pick, take into account your preferences. For example, do you normally run hot or cold? Here are a few fabrics to help make your decision a little easier and a lot better.
Most synthetic performance fabrics like nylon and polyester are designed to be breathable and lightweight. If you want a warmer alternative and don't mind the extra mass, choose midweight or heavy clothing made of merino wool.
To determine the weight of clothing fabric, look for its GSM (grams per square meter). While it depends on the fabric and brand, it is common that as GSM increases, so does the quality and price.
Layering Your Hiking Clothes:
Those who watch The Bachelor know how important a contestant's 'layers' are. Hikers are the same.
Layering is an ancient, surefire strategy for every outdoorsman and woman. It involves wearing multiple pieces of clothing so you can adjust to a changing environment. Even if the forecast says one thing, it is vital for you to bring at least three primary layers on every outdoor adventure.
Layering necessities are trifold. First is the base layer, which is used to wick sweat away from the skin to ensure it remains dry. This includes long underwear in cold conditions or quick-drying, next-to-skin layers in warmer temperatures.
Next is the middle/insulating layer. This helps retain body heat so you can brave the cold. When choosing a middle layer, down or synthetic insulated hiking jackets are the warmest options. If you are worried about overheating, opt for a breathable polyester fleece.
Finally is the outer layer. Also known as a shell, this layer protects you from wind, rain, snow, and other unexpected conditions. Without a waterproof shell, the first and second layers lose their warmth. Pro tip: make sure to consider a bottom outer layer like rain pants!
Fit + Features of Hiking Clothes
The best fit and features are entirely subjective. However, here are some pro tips to consider when buying your hiking clothes.
Whether you're deep powder skiing or winter backpacking, fitted layers will keep you the warmest. Conversely, loose layers encourage airflow and are therefore better for warm conditions. The best layers, both fitted and loose, are equipped with ventilating fabric. These sweat-wicking, breathable fibers, such as polyester, keep you dry in cool and warm weather.
Wearing clothes that are not the right fit hurts your comfort and performance. It is essential that your gear fits your torso and leg length. If you were blessed with long legs or a long torso, it may be hard to find a jacket or pants long enough for you. When searching for new hiking gear, check if the brand offers "tall" or "extended" sizes. PrAna, for example, has a "short, regular, or tall" inseam option for their pants.
The UPF is the sun protection rating of a clothing item. Protection against UV rays is a great benefit of some hiking clothes. Shirts and pants with a UPF rated 40 and above provide excellent protection.
Some clothing items may include "DWR" under features. This stands for durable water repellent and means the item is water resistant. Usually, DWR breaks down with wear and washes, so it may need to be reapplied in the future.