For any passionate outdoor explorers, hiking and backpacking tents are a hard decision but an important one. Making the right choice will help make your whole hiking experience so much better. You don't want to wake up in the middle of the night only to realize you have the wrong tent for your needs.
This guide will help walk you through what you need to know so you can have a good experience and be ready for any elements you come across.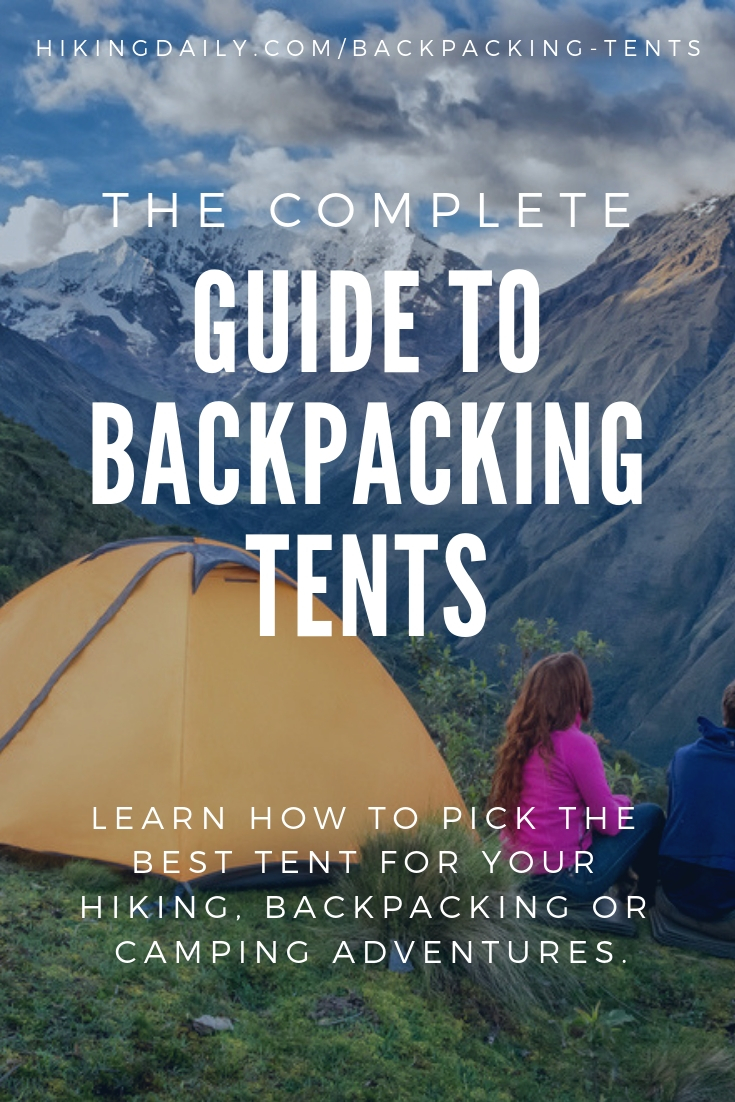 Considerations When Choosing A Backpacking Tent
There are a number of things that you should consider to ensure that you pick the best backpacking tent for your overall needs.
Environmental
The first and most important thing you need to think about when it comes to picking out a hiking tent is what kind of environment you're going to be in. While you can't predict the weather for the entire trip (depending on its length), you can prepare to the best of your ability.
Some of the top elements you'll need to consider are wind, rain, snow, and bug protection.
Seasonality
This goes along with the weather, but it's important to note what type of season tent you want to buy. A three-season tent is perfect for most types of weather. They have a double-wall, meaning the tent body and the rain fly, and they usually have some mesh paneling to help increase ventilation.
Four-season backpacking tents can be used at any point in the year, but they're best for winter hikes. They're built to endure the harsher elements, but keep in mind that the extra layers make them usually heavier to carry. Each one is built solid and usually have less mesh and are made out of thicker material. Four-season tents also usually have a layer that reaches to the ground to keep out snow. Some even have an internal pole so you can set them up even in the middle of a harsh snowstorm.
Campsite compatibility
The next thing you need to consider is what kind of terrain you'll be camping on throughout your journey.
This means will you be sleeping on rocky or flat surfaces? Are there a lot of trees (which provide shade but also usually produce tree roots that stick out)? Is your area small or is it more of an open campsite?
Portability
Once you have the conditions written down and know exactly what you need, the next thing you need to consider is how easy it is to move around. You don't want to pick just any tent that'll work for the conditions you'll be in because you might end up with one that's far too heavy, which can be a nightmare for a long trip.
First, think about capacity and sizing, aka how many people need to fit into your backpacking tent. If you're considering something like a hammock tent, you'll also need to keep your own weight in mind so you can pick the right tent.
Second, you'll need to think about the weight of the actual tent. There are lightweight options and medium weight. One of the big factors between the two is the number of tent poles that are included, which will quickly add weight more than other factors.
Adaptability
Since you are buying a hiking/backpacking tent, you'll probably want to take it on multiple trips so you do want to keep in mind how adaptable it is.
On a trip, you might also come across a ton of different weather conditions, especially considering how long your trip might be. In that case, you'll want to keep in mind how each tent can adapt to a variety of conditions.
You'll want to consider the different ways some of these hiking tents can be pitched as well. For example, if you're stuck in the middle of a snowstorm, you'll want a tent that can be pitched from the inside so you can stay warm and out of the elements while you set it up.
Condensation Resistance + Ventilation
Keeping the inside of your backpacking tent dry and ventilated are other factors you'll want to consider. The more ventilation you have, the cooler the inside of your tent will be. This is best for dry, warm climates and certainly not ideal for cold temperatures.
Depending on the type of climate you're in, you'll also want to think of ways you can keep condensation out of your tent. Keep in mind if you typically hike in more humid conditions (depending on where you live/travel) or if it's more of a dry area.
Single-wall backpacking tents usually have condensation appear on the inside, especially in humid temperatures, due to there being no rain fly for ventilation.
Usable space requirements
Depending on how much space you'll have and how much protection you need, you'll want to look at the space requirements for the tent when it's fully set up.
If you know you'll only have a small, narrow amount of space, you don't want to pick a tent that's tall and wide to bring with you.
To calculate how much space you'll need for the floor, the standard is 25 inches of width per person. If you're hiking with multiple people or bringing your dog, you'll want to factor them in as well. Length-wise, backpacking tents around 80 inches (about 6.5 feet) will usually accommodate any height.
Ease of tent setup
If you know you'll have time before setting up camp, you might not worry too much about how easy a tent is to set up. However, if you might get caught in the rain or snow or will be dealing with varying weather conditions, you'll want to have a tent that's fast to set up.
Weight
A good rule of thumb is that you want your tent to weigh 2.5 lbs for each person that will be sleeping in the tent. On the tent box, you should see something that says "packaged weight" and that's the total of everything combined together. Keep in mind that you can spread out the materials amongst everyone going on the trip together, depending on the tent size.
Features To Consider
Tent doors + zippers
Tent doors are the next factors you want to keep in mind. The more doors there are, the more weight there will be due to the extra material and zippers. It's up to you how many doors you want depending on how many people will be sleeping in the tent and its overall size.
Interior features of backpacking and hiking tents
Tents come with all kinds of customization options. For the interior, some have loops, pockets, places for lights, etc. Each feature will add more weight, but some are worth it depending on what you need or want.
Rain flys
The rainfly is the second layer that comes with your tent that essentially helps keep out moisture and prevents wind from blowing through your tent.
If you're camping in hot weather without any rain, then the fly is debatable. Not putting it on will keep your tent ventilated and cooler for those hot nights. On cooler nights you'll want to put the rain fly on to make sure you stay warm inside.
Rain fly's are available on both lightweight and heavier tents.
Vestibules
Some tents come with vestibules which give you extra space to store things. This gives you the ability to store things like gear or shoes outside of your tent. Most tents come with these already built-in, but there are some that offer even more storage, depending on what you need.
Tent Fabrics/Materials
Uncoated
It's optional to find tent material that is uncoated, meaning it hasn't had waterproof layering put onto it.
Coated
As you might guess, coated tents are more waterproof. Most tents come with this already applied. You can also re-apply a waterproof coating each season or more frequently based on the number of trips you do each year, or how long your tent has been stored unused.
Bug mesh features
If you're camping somewhere with a lot of bugs, sometimes you want to have good ventilation but without letting all the bugs in the area as well. That's why you should take a look at the bug mesh that's installed to make sure it's the right shape and size for the bugs you'll be encountering.
There are also some bug shelters that are purely just to keep bugs out, which is an option depending on what you'll encounter on your hikes.
Waterproof/breathable membranes
Different layers of your tent will have either waterproof or breathable membranes. Once you've analyzed the type of environment and weather you'll be in, you'll be able to pick a tent with different features.
Cuben Fiber
You'll find that a large majority of ultralight tents are made out of Cuben fiber. Often, this material will be more expensive than other materials, but depending on how much you camp and what kind of experience you want, it might be worth considering.
Cuben fiber also tends to dry faster than other types of materials, giving you the ability to pack up and go much faster.
Tent Construction/Types
Lightweight tents
There are a wide variety of lightweight backpacking tent options. Some double tents have the layers combined to take some of the weight out. You'll want to keep both weight and durability in mind when it comes to each tent.
Cabin Style tents
Cabin style tents are some of the biggest tents on the market. They usually have multiple doors, high ceilings, and sometimes separate rooms. They are often not built for backpacking due to the massive size.
Dome tents
Similar to cabin style tents, dome tents come in a wide variety of options. Some are big, come with partial or full-coverage rain flys, have multiple rooms, offer windows, and so on. Dome tents are some of the more popular options available and often have the two top crossing poles, thus creating the "dome" look. If you want more storage and space inside, a dome tent is most likely what you should buy.
Double-wall
A double-wall tent has two layers: the tent body and the fly. The fly usually comes separate so you can adjust your tent depending on the weather you're in. Leaving the fly on helps keep your tent dry and warm, and taking it off cools it down inside.
Single-wall
Single-wall tents have both the tent body and the fly combined into one fabric, and as you can imagine they're usually much lighter than other types of tents.
Bivy sacks
For small trips, solo hiking, or small spaces, bivy sacks are a great option. They're small, so they won't take up much weight in your bag. Imagine a sleeping bag, but with good enough protection to sleep in and take with you on the go. Bivy sacks are usually easy to set up and only take a few minutes to take apart.
Tarp Systems/Shelters
Tarp systems and shelters are a great option when it comes to protecting your camping area from the elements. You can use them regardless of what type of backpacking tent you choose to use (dome, hammock, etc) or even just for quick cover so you can cook or take a break.
Flats
Flat tarps are some of the easiest to transport and are usually the least expensive compared to other types. Generally, they don't come with extra features so it's just a flat surface to use as you need.
A-Frames
With a tarp, it's possible to form an A-frame over your tent/bivy sack/etc. They're not always easy to pitch, so be sure to practice before you're out in the dark trying to figure it out. A-frames aren't always perfect when it comes to keeping out wind, but they can make a good shelter.
Mids
Mids are a great option if you're looking to camp in questionable weather. They usually have two poles and can handle a lot of weather options, including snow.
Modular Components For Backpacking Tents
Groundsheets/cloths
Groundsheets are a great option for anyone who wants to focus on making their carrying load even lighter. Most of them are relatively cheap and incredibly small for carrying on the go. Some are made with more cloth-like materials that are there to prevent flooding and let the ground underneath it breathe.
Tent footprints
Tent footprints are similar to groundsheets, but are usually thicker and can handle more wear and tear. A tent footprint is an extra layer to protect your tent against sharp rocks or gravel under your tent, extending the life of your tent.
Bug prevention gear
Keeping bugs out of your tent and off your body can make your experience so much better. You have a few options to keep them away:
Head nets – you wear these around your head to keep bugs off your face
Bug skirts – bug skirts are an extra layer to keep bugs out of your camp
Bug nests – go around your tent for extra bug prevention
Bug bivies – if you camp bivies, you might want to add an extra layer of mesh that keeps bugs off of you while you sleep
Hammocks / Hammock Backpacking Tents
If you choose to go with a hammock, you'll come across two main varieties of tents. We'll break down what each one is and the pros and cons of each.
Gathered-end hammocks
Gathered-end hammocks are much lighter than bridge hammocks, due to there being no bridge. They're also usually cheaper and fit into small bags for easy carrying. Generally, they only take a few minutes to set up.
Bridge hammocks
Bridge hammocks are much heavier due to the poles, but they provide a different type of sleeping surface and usually are made out of stronger materials. Depending on how you like to sleep and how much room you need, you'll have to choose between the two. If you prefer to sleep on your side, a bridge hammock will be much more comfortable than a gathered-end hammock.
Tent Care
After you finally make your choice and pick a tent or hammock you want to make sure you get the most out of it with proper care. Here are some tips you'll want to keep in mind so you can do your best to prevent any damage.
Choose established campsites first
By choosing an established campsite, you're more likely to avoid sharp rocks and have smoother ground for sleeping. This will help you avoid wear and tear plus will help you avoid damaging any nature.
Use a tent footprint or groundsheet
A footprint or groundsheet will help save the bottom of your tent. They're almost always light and worth the investment.
Avoid long term sun exposure
Keeping your tent out of direct sunlight will help keep the material together and strong for years to come.
Set up slowly and be slow with zippers
Every time you put your tent up and down, you should focus on making sure you are careful with the fabric. You don't want anything to happen to the tent fabric or the poles which can easily happen if you're rushing. The same goes for your zippers. If they get caught, just go slow and try to unstick it without forcing them.
Leave boots and food outside
Leaving your shoes and food outside will prevent crumbs and mud from getting all throughout the inside of your tent. Even if you do this, be sure to shake out your tent after your adventures to make sure all debris comes out.
Keep tent dry
If you get caught in some rain or tough weather, make sure you give your tent time to dry out or do as soon as you can.
How To Clean Hiking Tents
One easy way to clean your tent is to simply set it up and wipe it down with a mild soap. Then, wash it off and let it dry completely. Make sure you do not use detergent or put it in your washer since that can hurt your tent and take off the waterproof layer.
Waterproofing
Most tents will come with waterproof layering already added, but you can also add more or redo the layer if it has worn off from your various adventures.
Tent repairs and patching
Even with all of your extra care, you're still sure to have some rips and tears here and there. There are some cheap kits online you can buy to carry on the go for quick repairs or put them on when you're back home.
Seam sealer is cheap for fixing any open leaks throughout your tent.
A pole repair sleeve is one of the fastest ways to fix your broken or damaged poles.
The Top Brands Of Hiking And Backpacking Tents
REI
Big Agnes
MSR
Nemo
MEC (Canada)
Marmot
Mountain Hardwear
Sierra Designs
The North Face
Kelty
Eureka
Where To Buy Hiking And Backpacking Tents
REI
MEC (Canada)
Backcountry
Bass Pro Shops
Amazon
Local camping and outdoors store